The Expressionist art movement emerged in the northern part of Europe in the early 20th century. It's one of the most radical modern art movements in history.
Expressionist artists aimed to portray things the way they felt them as opposed to how they appeared to everybody. This subjective element allowed them to convey their own emotions or ideas.
The movement emerged before World War I and remained popular in the Weimar Republic, the name of modern-day Germany between 1918 and 1933.
In Germany, multiple spinoffs of Expressionism emerged, including movements known as Die Brücke, Der Blaue Reiter, the Berlin Secession, and the Dresden Secession. These movements are collectively referred to as "German Expressionism."
Let's take a closer look at some of the most famous Expressionist paintings in history, artworks produced by the most renowned artists of this modern art movement.
1. The Scream – Edvard Munch
Date created: 1893
Dimensions: 91 x 73.5 centimeters (35.8 x 28.9 inches)
Location: National Gallery, Oslo, Norway
The Scream isn't just one of the most famous Expressionist paintings, it's also one of the most iconic pictures ever produced. The alien-like figure in the foreground with the distinctive expression of agony has been reproduced in numerous forms of media.
It's also the most famous painting in the oeuvre of Edvard Munch (1863-1944), the man who can be considered to be the founding father of Expressionism. The painting depicts a view of a fjord and a hill near Oslo. There are 2 pastel versions and 2 oil versions of this artwork which look very similar to each other.
2. Blue Horse I – Franz Marc
Date created: 1911
Dimensions: 112 × 84.5 centimeters (44 × 33.3 inches)
Location: Städtische Galerie im Lenbachhaus, Munich, Germany
Blue Horse I is a painting in a series of blue horse paintings by Expressionist artist Franz Marc (1880-1916). The German artist presented these paintings in exhibitions that were titled "Der Blaue Reiter" or "The Blue Rider," one of the main movements of German Expressionism.
This particular painting by Marc was based on a sketch that the German artist made earlier. The blue color of the horse is the expression of the Der Blaue Reiter art movement. The distorted colors of the painting resemble those used by the Fauvist artists who emerged in the early 20th century as well.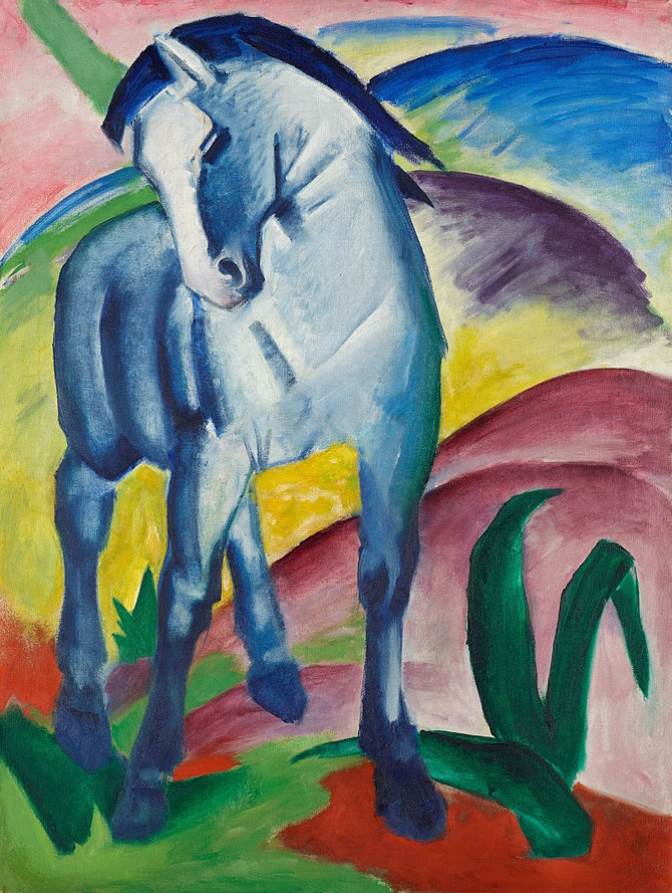 3. Self-Portrait as a Soldier – Ernst Ludwig Kirchner
Date created: 1915
Dimensions: 69 × 61 centimeters (27 × 24 inches)
Location: Allen Memorial Art Museum, Oberlin, Ohio, United States
Self-Portrait as a Soldier is a painting produced by Ernst Ludwig Kirchner (1880-1938) following his medical discharge when he was serving as a soldier in World War I. Kirchner was one of the founding members of an art group called "Die Brücke" or "The Bridge." These artists were pivotal in the development of German Expressionism.
The painting depicts the fragile mental state and poor physical health of the artist during this period in history. This was a time of extreme turbulence in Europe and the painting is an expression of this feeling of anxiety.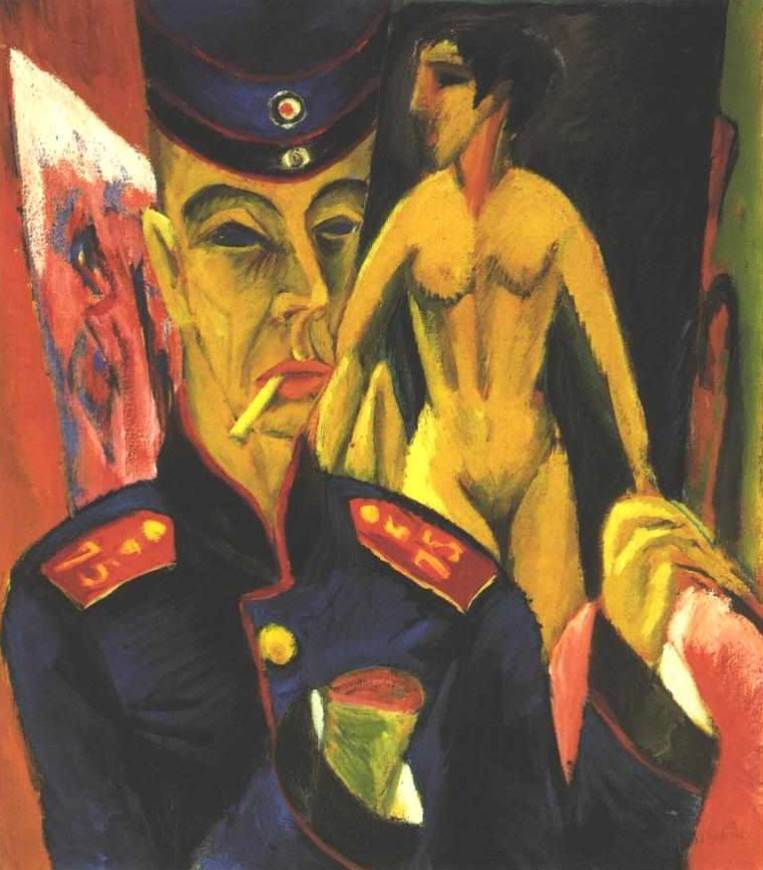 4. The Blue Rider – Wassily Kandinsky
Date created: 1903
Dimensions: 55 × 60 centimeters (22 × 24 inches)
Location: Private collection
The Blue Rider is one of the best-known works by Wassily Kandinsky (1866-1944), a Russian artist who emigrated to Germany and who ended up teaching at the prestigious Bauhaus art school. This painting shares the same name as the art movement Der Blaue Riter which he co-founded with his colleague Franz Marc.
The painting depicts a man wearing a blue outfit who is riding on a white horse in a meadow. There's a forest in the background as well. The painting is considered to be an important work in the artist's oeuvre because he gradually moved away from the ideals of the Impressionist artists to a form of modern art and eventually abstract art.
5. Castle and Sun – Paul Klee
Date created: 1928
Dimensions: 50 x 59 centimeters (19.68 x 23.22 inches)
Location: Private collection
Castle and Sun is one of the most remarkable works by Swiss artist Paul Klee (1879-1940). Klee has been associated with a wide variety of art movements, including Expressionism, Cubism, and Surrealism, but retained an individual style of painting.
This painting features vivid red colors and depicts a cityscape. It's the artist's version of a sweltering city on a hot summer day. The geometric forms used by Klee are a predecessor to the abstract forms used by members of the Bauhaus school.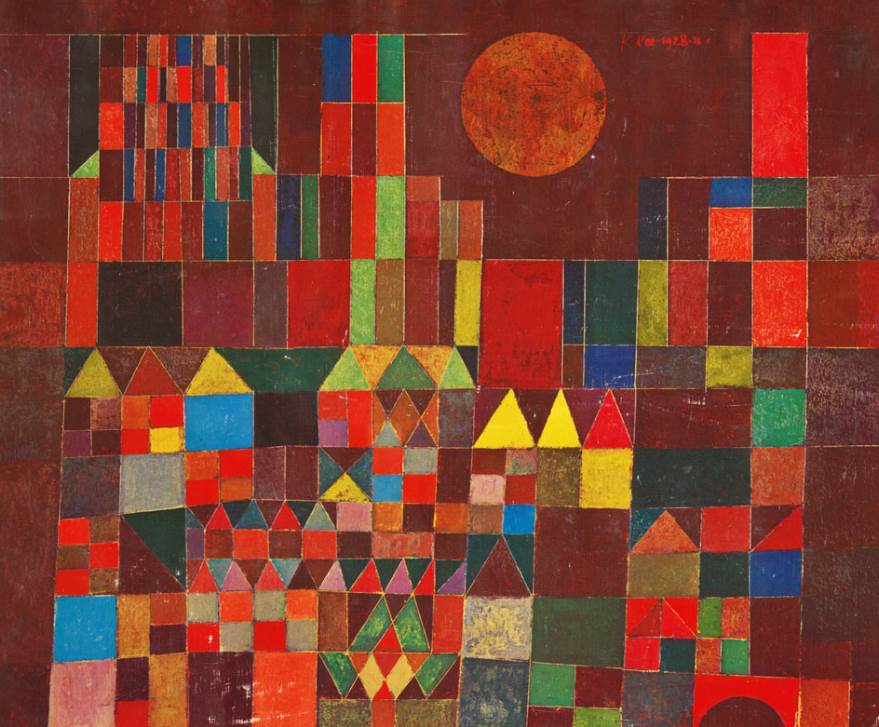 6. The Old Guitarist – Pablo Picasso
Date created: 1903-1904
Dimensions: 122.9 × 82.6 centimeters (48.4 × 32.5 inches)
Location: Art Institute of Chicago, Chicago, United States
The Old Guitarist is a painting by Picasso that the Spanish artist produced during his Blue Period. This period was in the early 20th century, a time that Pablo Picasso (1881-1973) was far from the famous artist he ended up becoming. This is emphasized by the dark and gloomy paintings that he produced in this period of his artistic career.
The painting depicts an old guitarist on the streets of Barcelona. The man is wearing torn clothes and hangs over his guitar. The gloomy nature of this painting reflects the dark period that Picasso went through and why it's considered to be one of the most famous Expressionist paintings in history.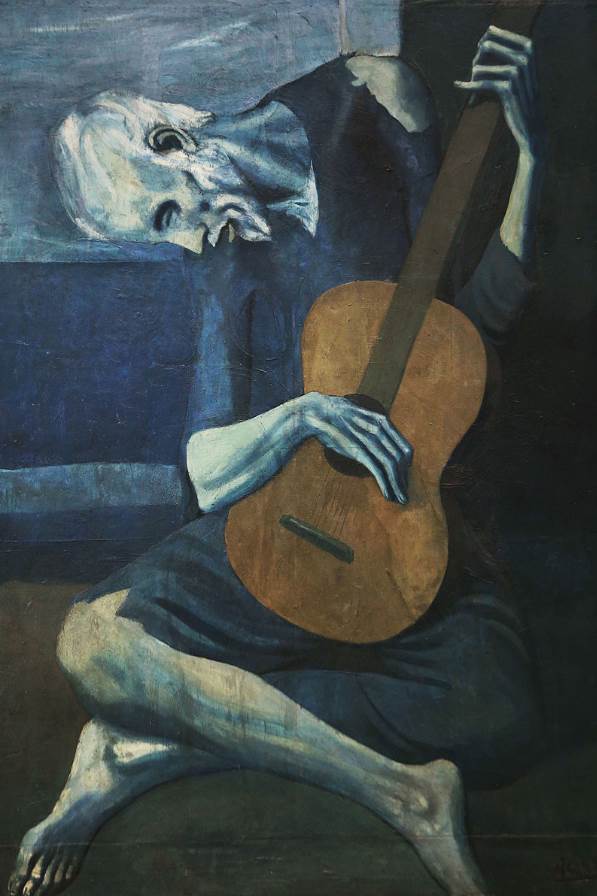 7. The Dance of Life – Edvard Munch
Date created: 1899-1900
Dimensions: 125 x 191 centimeters (49.21 x 75.19 inches)
Location: National Museum of Art, Oslo, Norway
The Dance of Life is another fascinating painting in the oeuvre of Edvard Munch. It depicts numerous women in various stages of their lives, ranging from young virgin women in white clothes to an old woman wearing black clothes.
The painting was part of a larger cycle called "The frieze of Life" and is believed to have been an expression of the artist's view toward the women in his life. Munch was probably inspired by a play called "Dansen Gaar" by Helge Rode.
8. Berlin Street Scene – Ernst Ludwig Kirchner
Date created: 1913
Dimensions: 121 × 95 centimeters (48 × 37 inches)
Location: Neue Galerie, New York City, United States
Berlin Street Scene is one of the multiple paintings in a cycle featuring a wide variety of street scenes by Ernst Ludwig Kirchner. The main subjects of the paintings in this cycle are prostitutes with their clients in an urban setting.
Kirchner produced these paintings between 1913 and 1915 and they feature a wide variety of color schemes. These are considered to be some of the most important works of the German Expressionist art movement. This painting depicts two men and two women who provocatively look at them.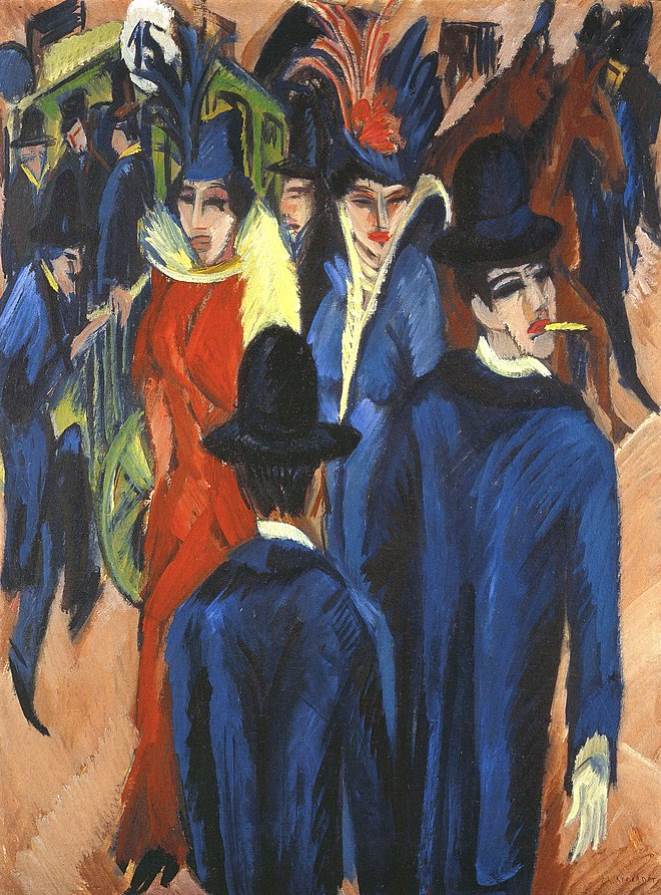 9. The Last Supper – Emil Nolde
Date created: 1909
Dimensions: 86 x 107 centimeters (33.85 x 42.12 inches)
Location: National Gallery of Denmark, Copenhagen, Denmark
The Last Supper is arguably one of the most popular subjects in the history of art. Artists from just about every art movement have reproduced da Vinci's masterpiece which can be found at the Santa Maria delle Grazie church in Milan.
The Last Supper by Tintoretto already differed substantially when it was completed in the 16th century. This remarkable painting by Emil Nolde is the Expressionist version of the same topic and can easily be described as one of the most peculiar ones as well.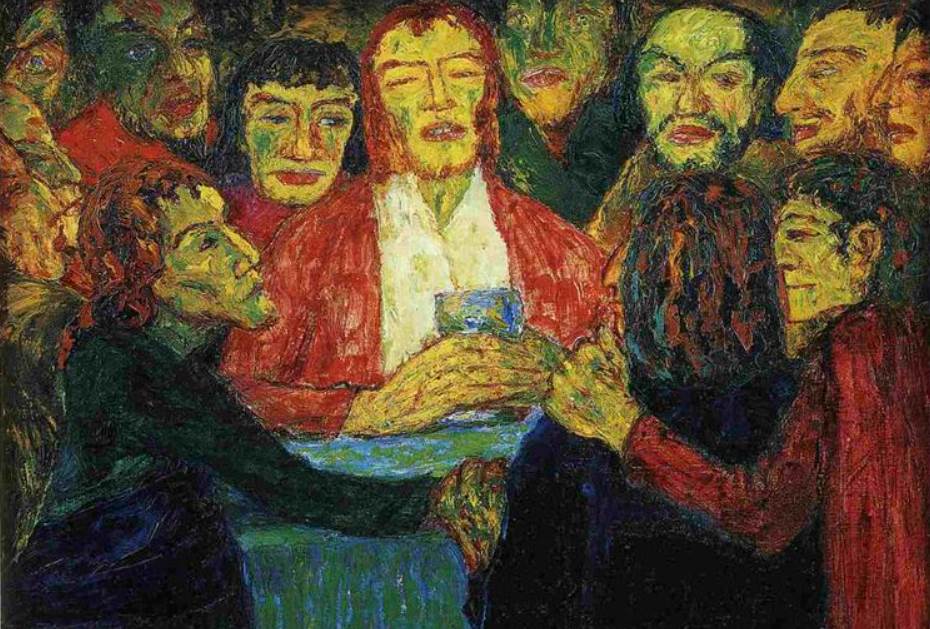 10. Fish Magic – Paul Klee
Date created: 1925
Dimensions: 77.2 × 98.4 centimeters (30.4 × 38.7 inches)
Location: Philadelphia Museum of Art, Philadelphia, United States
Fish Magic is another fascinating painting by individualistic artist Paul Klee. The painting was produced remarkably as Klee scratched away the thick black paint to uncover the multi-colored palette that lay beneath it.
Fishes, flowers, and other peculiar creatures are what emerged in this painting that can indeed be described as something magical. The painting was donated to the Philadelphia Museum of art in 1950 from the collection of Walter and Louise Arensberg.