If you have to pick one artist from the modern era then this famous Spanish artist will be among the first to come to mind. He singlehandedly revolutionized modern art and produced some of the most famous works of art in history.
Let's take a closer look at some of the most interesting facts about Pablo Picasso (1881-1973), a man with a life story that is just as intriguing as the Cubist art he created.
1. He was a child prodigy who born to become an artist
Pablo Picasso was born on October 25, 1881, in Málaga, a city in the Andalusia region in southern Spain. His father was named Don José Ruiz y Blasco and he was a painter who specialized in depicting birds.
His father was also a professor of art at the local art schools and also spent time as the curator of a museum. It's fair to conclude that the young Pablo inherited the talent and interest in the world of art from his father.
To emphasize this notion, the young Pablo's first words were "piz, piz," short for "lápiz," the Spanish word for pencil. Yes, Picasso already wanted to pick up a pencil or a brush when he was still an infant.
His family first moved to A Coruña in 1891 and Barcelona in 1895. Although he briefly received formal education with the help of his father, he never liked school and decided to go his way at an early age.
2. He moved to Paris in 1900 and lived in poverty for multiple years
His father initially trained him while he was still a child and he started making great progress in the years 1893 and 1894. At the end of the century, a brief "Modernist Period" started which was heavily influenced by the works of Edvard Munch and El Greco.
Shortly after he moved to Paris as an ambitious young painter who wanted to make a name for himself. This initially didn't work out as planned and he had to live in a shabby apartment together with his friend, the poet Max Jacob.
The first years in Paris can be summarized as his "Blue Period" (1901-1904) and a "Rose Period" (1904-1906), both reflecting the particular emotions he felt during this time in his life.
Although his works weren't always appreciated back then as they are today, he made a lot of friends during his period in Paris and often hung out with them in the Montmartre district of Paris where he lived and worked.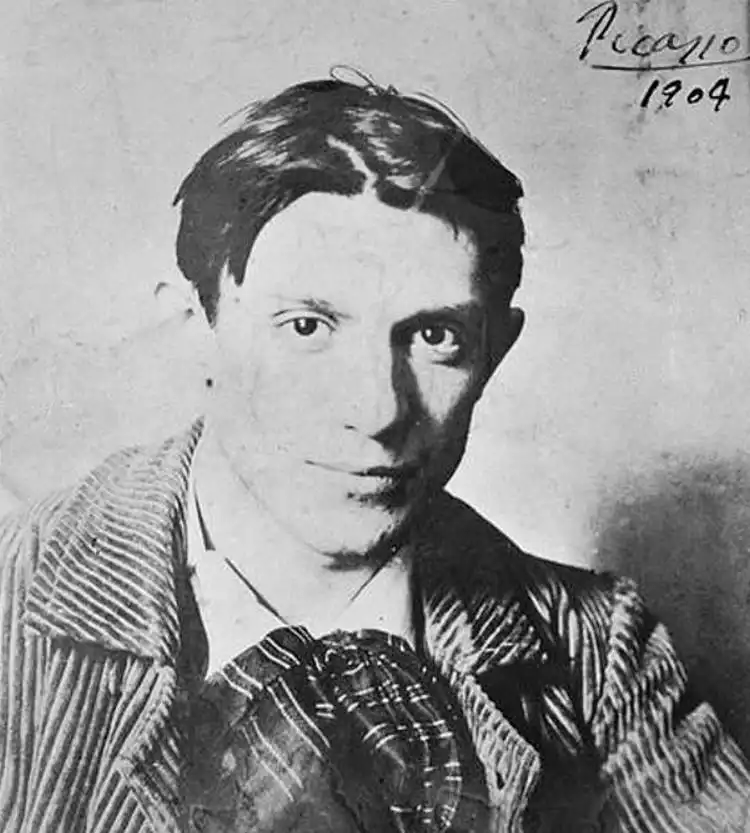 3. Picasso was once a suspect in the theft of the Mona Lisa painting
Pablo Picasso was not only an artist but also an art collector during the early 20th century. He often engaged in sketchy deals and even once purchased stolen artworks from a colleague artist named Géry Pieret.
This turned out to be a big mistake because it led to Pablo being accused of stealing the Mona Lisa painting at the Louvre Museum. This theft happened in the year 1911, an event that turned the relatively unknown painting at the Louvre at the time into the world-famous work of art it is today.
One of his friends, a poet named Guillaume Apollinaire, implicated Picasso in the crime but both were later cleared of all accusations.
4. He was the co-founder of an early 20th-century art movement
Together with French artist Georges Braque (1882-1963), one of the Fauvist artists who emerged in the early 20th century, he developed a revolutionary new style referred to as Cubism.
Both Cubist artists were later joined by several of their colleagues, including Jean Metzinger, Albert Gleizes, and Robert Delaunay, to name just a few of the pioneers of the movement.
This phase can again be divided into 2 distinct different phases, Analytic Cubism between 1909 and 1912 and Synthetic Cubism between 1912 and 1919.
The movement revolutionized modern art as the depicted objects were broken up and reassembled into abstract forms. It's therefore considered to be one of the most influential forms of art of the 20th century and it laid the foundation for Picasso's superstardom.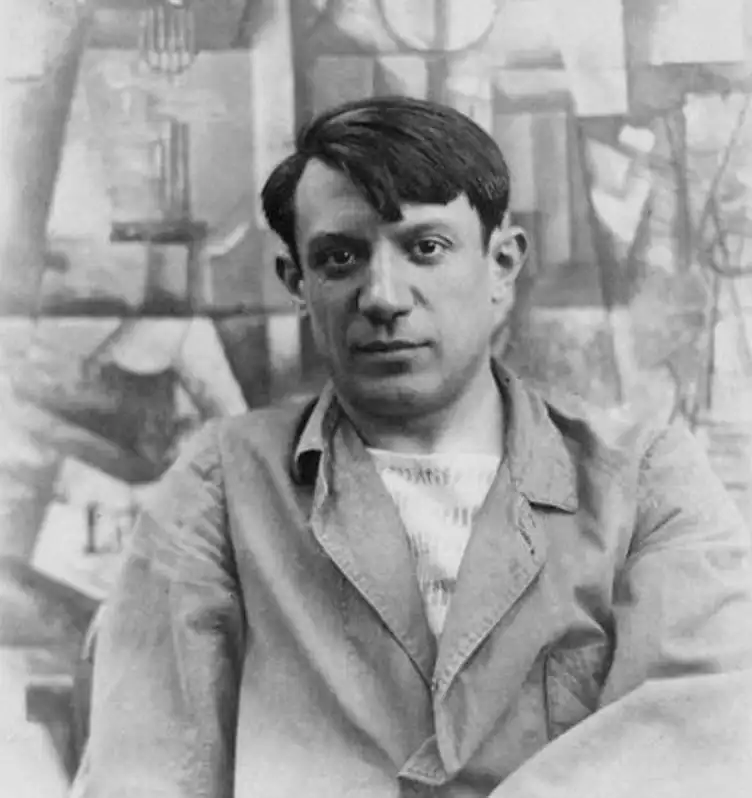 5. He adopted a wide variety of artistic styles throughout his career
Although Cubism was the style that made him world-famous, it wasn't the only art style he embraced during his extended career. He was an extremely versatile artist who experimented with a large number of styles.
He was briefly inspired by Neoclassical artists after visiting Italy in 1917 and was declared a Surrealist artist by André Breton (1896-1966), the founding father of Surrealism, in 1925.
Regardless of these experiments, his style and technique remained easily recognizable, something that shines through when he reproduced works of other famous artists such as, for example, his version of "Las Meninas" (1656) by Diego Velázquez (1599-1660).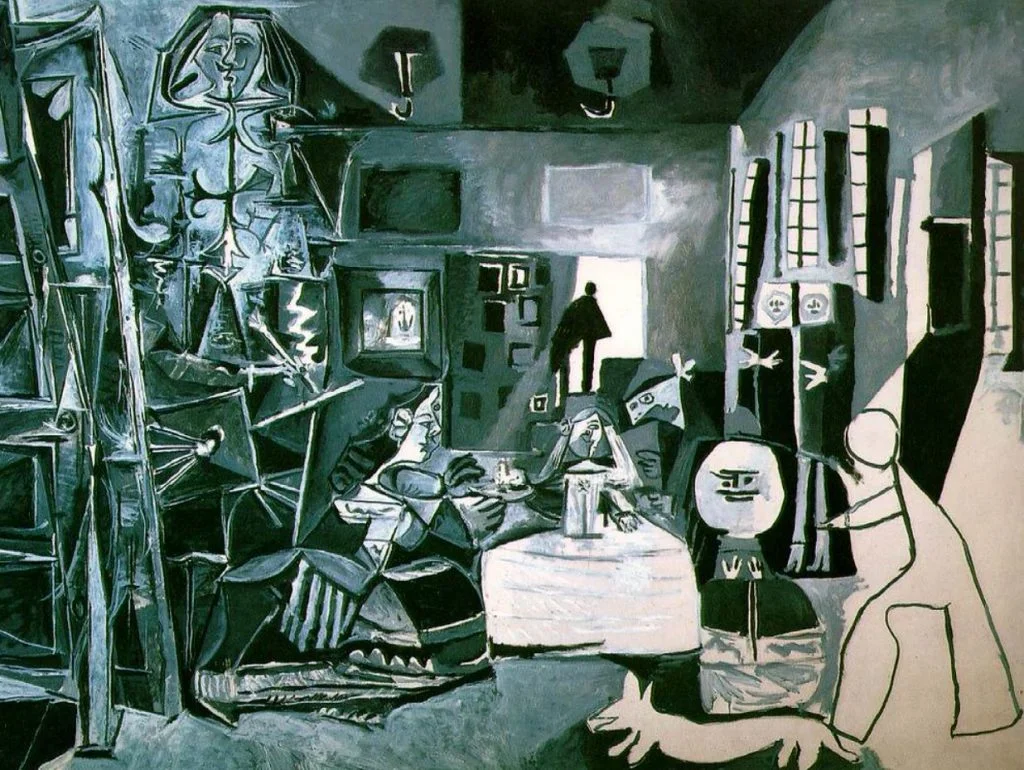 6. Picasso created several world-famous anti-war paintings
Of all the famous paintings that Pablo Picasso created, there's one that sticks out above all the rest. Guernica (1937) is an immense grey, black and white painting with dimensions of 349.3 × 776.6 centimeters (137.4 × 305.5 inches) that is considered to be the most famous anti-war painting in history.
It depicts the German bombing of the Spanish town of Guernica which is located in the Basque region of the country. It represents human suffering and served as a clear political statement just before the start of World War II.
It was painted in Paris and was displayed at the Paris Salon of 1937, followed by multiple exhibitions worldwide in an attempt to raise funds for the Spanish cause.
Another famous anti-war painting by the artist is called "Massacre in Korea" (1951) and was a reaction to the atrocities committed during the Korean War.
7. It's unclear what his famous Chicago Picasso represents
If you walk across Daley Plaza in Downtown Chicago, you'll notice a remarkable work of art positioned at the edge of the square. This untitled sculpture was created by Pablo Picasso and is therefore referred to as the "Chicago Picasso."
The artist was very enthusiastic about being able to produce this work which eventually ended up standing 15 meters (50 feet) tall. He was so happy with the commission that he even refused to be paid the $100,000 he was promised and simply donated it to the people of Chicago.
Although the sculpture can represent just about anything, the upper part appears to be an abstract representation of an Afghan hound. He even referred to this as follows:
Right now I have an Afghan Hound named Kabul. He is elegant, with graceful proportions, and I love the way he moves. I put a representation of his head on a statue that I created for Daley Plaza in Chicago and I do think of him sometimes while I am in my studio.
8. He left behind an incredible oeuvre of fine art after he passed away
Picasso wasn't just one of the most influential artists of the 20th century, he was also one of the most prolific ones. It appears to be nearly impossible but he left behind an oeuvre of over 45,000 works of art after he passed away, including:
1,885 paintings
1,228 sculptures
3,222 ceramics
7,089 drawings
150 sketchbooks
1,000's of prints
What's makes these numbers even more incredible is that these were just the unsold works of art that he still owned upon his death in 1973. A catalog compiled by Christian Zervos lists over 16,000 paintings and drawings of the Picasso.
Yes, this man was completely dedicated to his art!
9. He created some of the most expensive works of art in history
We didn't just list his work "Les Demoiselles d'Avignon" (1907) as the most valuable painting in museums today, but many of his works also have a track record of selling for record prices.
"Garçon à la pipe" (1905) sold for an incredible $104 million during an auction in 2004. This amount was shattered by "Women of Algiers" (1954-1955), a work derived from the 1834 painting by Eugène Delacroix, that sold for $179.3 million in 2015.
These are just a few of the long list of Picasso artworks that sold for millions of dollars.
10. Picasso has two museums dedicated to him in Paris and Barcelona
So what's the best place to admire some of the works by Pablo Picasso?
Although many of his works are on display in museums all around the world, there are two museums especially dedicated to his oeuvre:
The Musée Picasso houses over 5,000 works and is located at the Hotel Salé in Paris.
The Museu Picasso houses 4,251 works and is located in Barcelona.
If you want to discover how his career started then the museum in Barcelona is one of the best places to visit as it has a lot of his early works on display, including drawings and paintings he created during his childhood and teens.
As the artist once quoted:
Give me a museum and I'll fill it!
For an artist as prolific as Pablo Picasso, one museum wasn't enough.