Although this world-famous Spanish artist hardly needs an introduction, the career of Pablo Picasso (1881-1973) was so diverse that it still might hold some secrets.
Picasso traveled to Paris for the first time in 1900 and this was a period in which the aspiring artist experienced poverty. His Blue Period emerged from this between 1901 and 1903. This was followed by his Rose period between 1904 ad 1906 when things started coming together.
He developed a radical painting technique after being influenced by the Fauvist artists in Paris, especially Henri Matisse (1869-1954). He painted many of his most famous works as a pioneering Cubist artist between 1907 and 1919.
After being influenced by the Surrealist artists in the 1920s, he started incorporating elements of this art movement into his works as well. His later works are a wonderful mix of elements from the early phase of his career.
In this article, you'll discover some of the most famous Pablo Picasso paintings. These Cubist artworks define this influential and legendary artist.
1. Les Demoiselles d'Avignon
Date created: 1907
Dimensions: 243.9 × 233.7 centimeters (96 × 92 inches)
Location: Museum of Modern Art (MoMA), New York City, United States
Les Demoiselles d'Avignon is a painting that as originally titled "The Brothel of Avignon." This is remarkable because it depicts 5 naked prostitutes on Carrer d'Avinyó, a street in Barcelona. The way that Picasso depicted these women is confrontational, to say the least.
The painting was produced in the Montmartre district of Paris, more specifically the artist's studio named the Bateau-Lavoir where he worked at the time. Despite fierce opposition at the time, it's considered to be a classic painting of modern art and one of the most valuable artworks in museums today.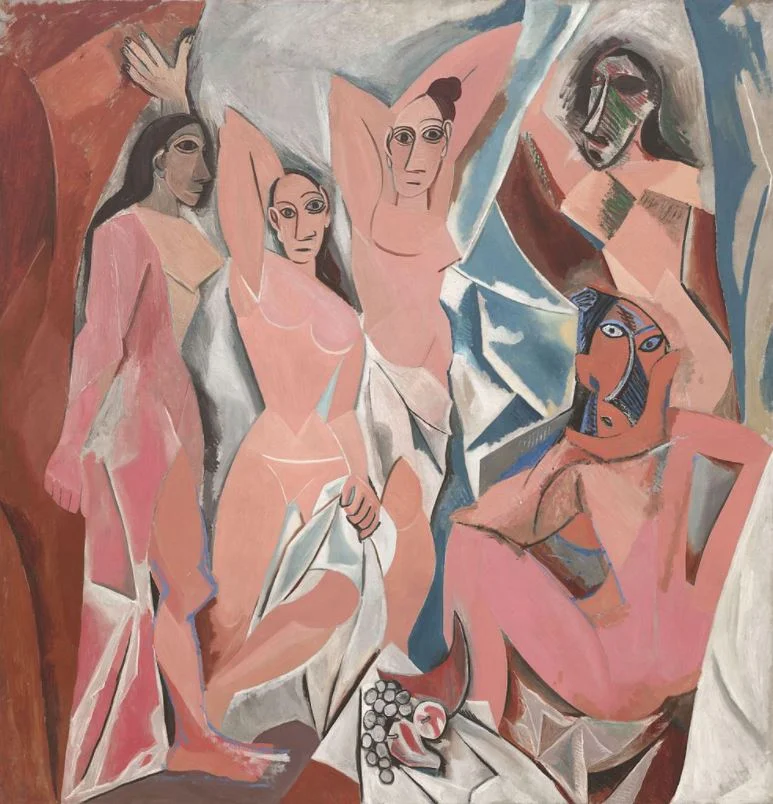 2. Guernica
Date created: 1937
Dimensions: 349.3 × 776.6 centimeters (137.4 × 305.5 inches)
Location: Museo Reina Sofía, Madrid, Spain
Guernica is arguably the most famous anti-ar painting ever produced. Picasso started working on this painting following the bombing of Guernica that happened on April 26, 1937. The German Luftwaffe decimated the small Basque country town during the Spanish Civil War.
The panting was the artist's attempt to visualize the devastation. It was instantly displayed at the 1937 Paris International Exposition and the painting toured the world shortly after. The proceedings of these exhibitions were used for the Spanish war relief.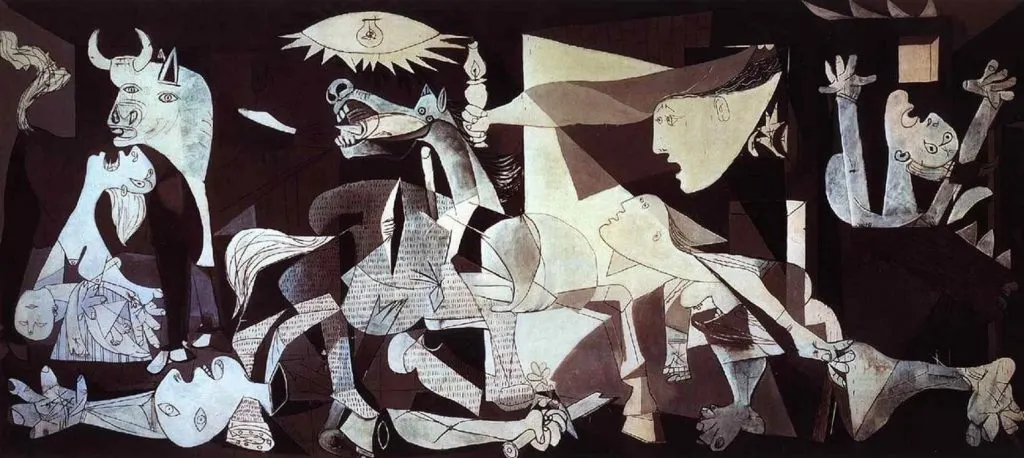 3. Girl before a Mirror
Date created: 1932
Dimensions: 162.3 × 130.2 centimeters (63.9 × 51.3 inches)
Location: Museum of Modern Art (MoMA), New York City, United States
---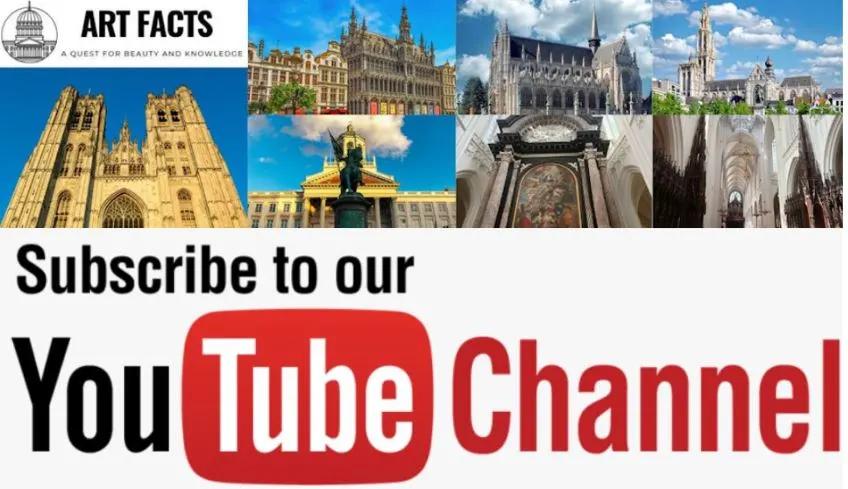 ---
Girl before a Mirror is a painting that depicts Picasso's lover, the French model Marie-Thérèse Walter (1909-1979). She was the artist's muse for an extended period of time and the reason why he divorced his first wife, the Russian ballet dancer Olga Khokhlova (1891-1955).
Picasso depicted the young woman (she was only 17 years old when their relationship started) while she stands in front of a mirror. It's the typical style with Surrealist influences that Picasso often used during the final period of his life (which still lasted over 4 more decades).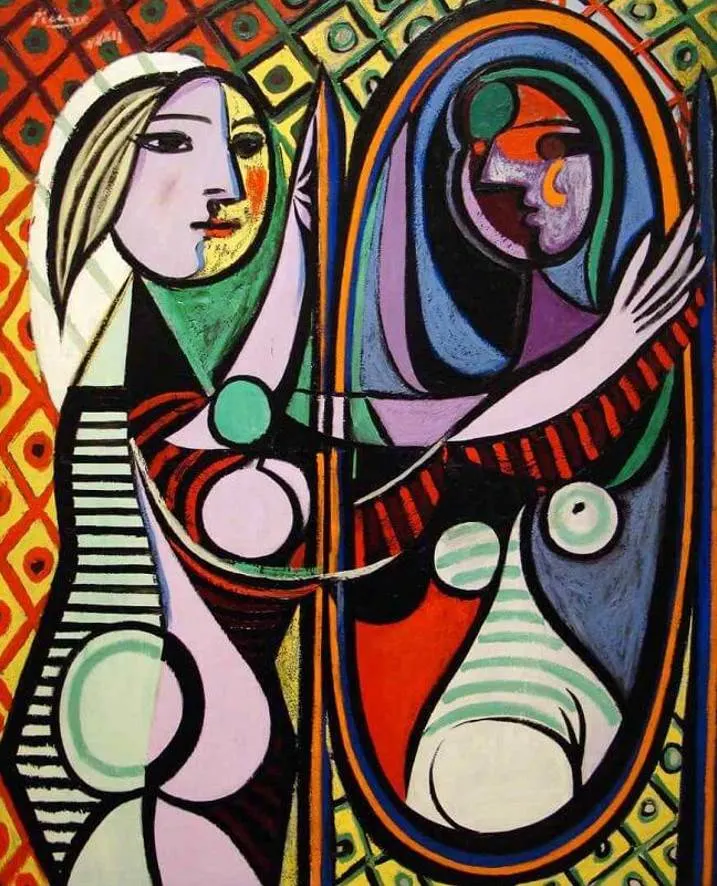 4. The Old Guitarist
Date created: 1903-1904
Dimensions: 122.9 × 82.6 centimeters (48.4 × 32.5 inches)
Location: Art Institute of Chicago, United States
The Old Guitarist is considered to be the most famous painting of Picasso's Blue Period. This was a period in which he was still trying to find his true identity, a process that would take a lot more years after the completion of this fascinating work of art.
He was influenced by the works of El Greco, a Greek-born Spanish artist who had a distinctive style in the late 16th and early 17th centuries. It depicts an old man wearing torn clothes on the streets of Barcelona, and the panting breathes the blueish hue that makes this period of the artist so special.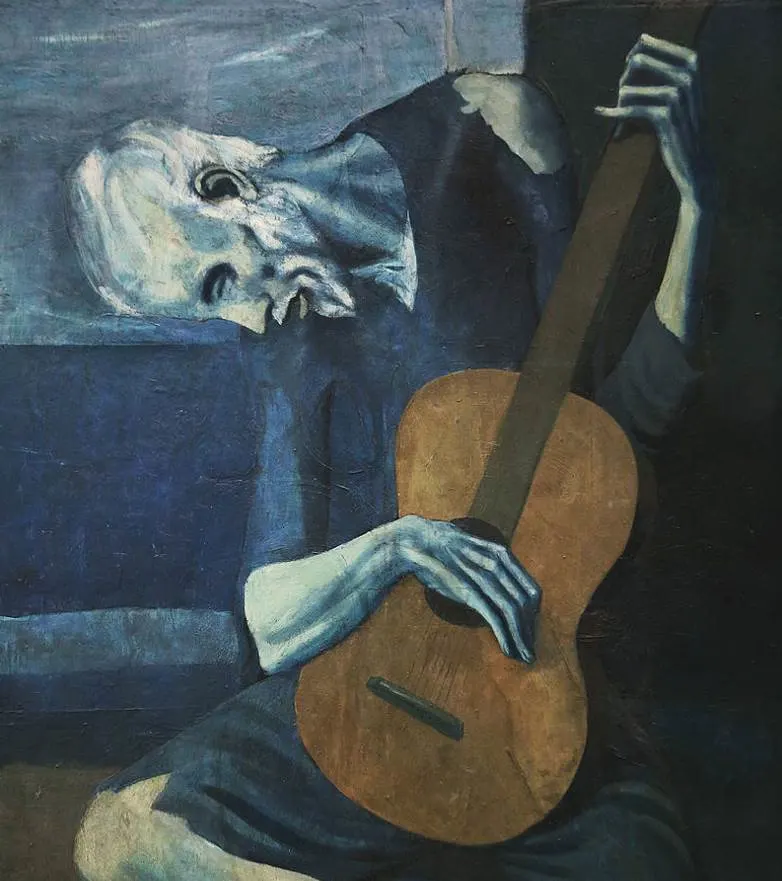 5. La Vie
Date created: 1903
Dimensions: 196.5 x 129.2 centimeters (77.36 x 50.86 inches)
Location: Cleveland Museum of Art, Cleveland, United States
La Vie (Life) is another famous Picasso painting that was produced during the artist's blue period. It depicts a young couple who faces a woman holding a baby. In the background, there are two paintings, one of a naked couple and a naked woman, both in a crouching position.
Art historians have been debating the subject matter of the painting for well over a century now and they still haven't concluded what Picasso meant. What's certain is that the man is a friend of the artist, fellow painter Carlos Casagemas, who committed suicide shortly before he started working on this painting.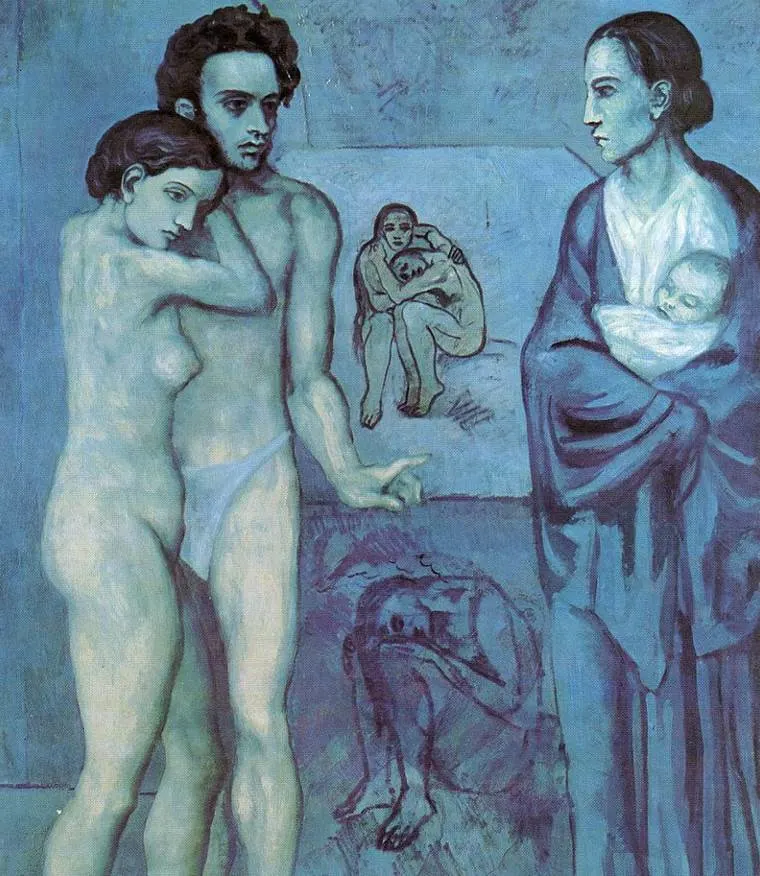 6. The Weeping Woman
Date created: 1937
Dimensions: 61 × 50 centimeters (23.25 × 19.68 inches)
Location: Tate Modern, London, United Kingdom
The Weeping Woman is another painting that depicts one of Picasso's lovers, this time Dora Maar (1907-1997). She was a French photographer, painter, and poet, who was the reason why he broke up with his previous lover, Marie-Thérèse Walter.
We can see the Surrealist influence in this painting which was painted in response to the bombing of Guernica. It was completed around the same time that he worked on the monumental work of art that depicts the destruction of the town. it's part of a series of paintings with this subject matter.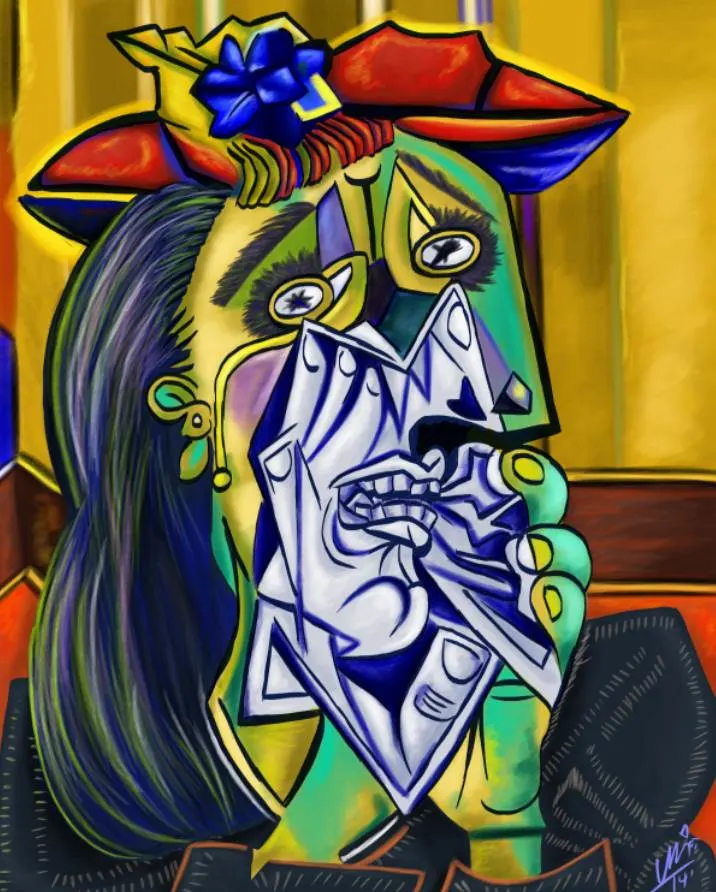 7. The Dream
Date created: 1932
Dimensions: 130 × 97 centimeters (51 × 38 inches)
Location: Private collection
The Dream depicts Marie-Thérèse Walter who was 22 years old at the time. There's an erotic sentiment to this painting and it's one of the many peculiar artworks that he produced around this time. It features very simplistic fields of contrasting colors which resemble his early Cubist phase.
The fact that this is a rather simplistic painting hasn't changed the fact that art collectors put an incredibly high value on it. This was emphasized by the fact that it sold for an amazing $155 million on March 26, 2013, to a private collector. It's still one of the most expensive paintings ever sold today.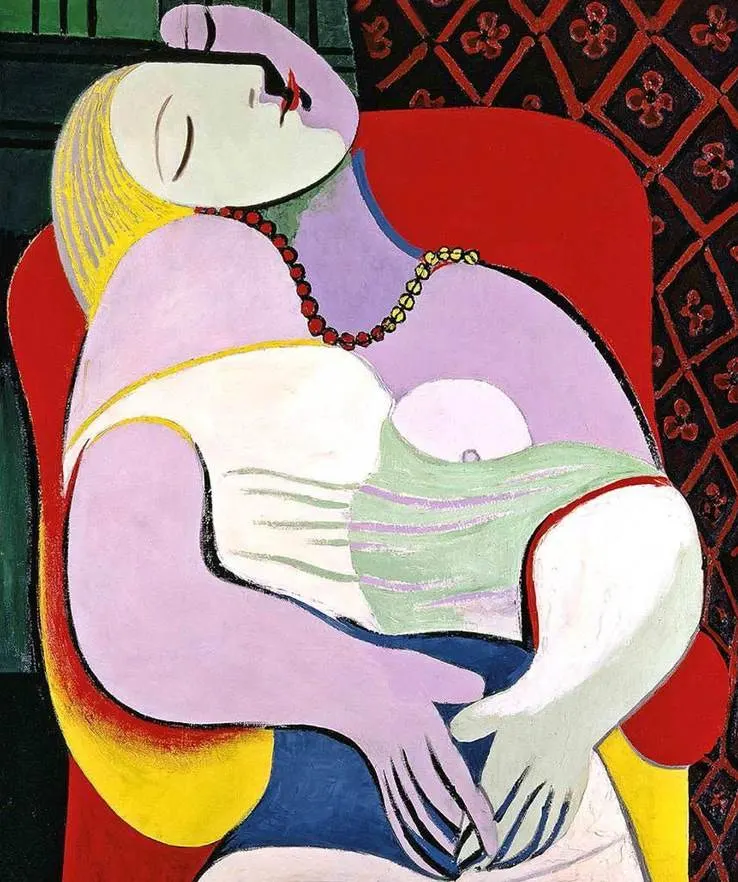 8. Portrait of Gertrude Stein
Date created: 1905-1906
Dimensions: 100 × 81.3 centimeters (39 × 32 inches)
Location: MET Museum, New York City, United States
The Portrait of Gertrude Stein is arguably one of the most important Pablo Picasso paintings. He was struggling as an artist in the early 20th century and this translated into the gloomy Blue Period. Once he tasted his first commercial successes, his use of colors radically changed, resulting in his Rose Period.
The painting depicts an American art collector named Gertrude Stein (1874-1946) who became an important patron of the artists. She helped to launch his career during this phase and was rewarded with this remarkable painting. She held onto it during the two World Wars and it was still in her possession when she passed away.
9. Girl with Mandolin
Date created: 1910
Dimensions: 100.3 x 73.6 centimeters (39.5 x 29 inches)
Location: Museum of Modern Art (MoMA), New York City, United States
Girl with Mandolin is the best example of a painting produced during a phase of Picasso's career known as "analytical Cubism." He developed this style together with his colleague George Braque (1882-1963), the French artist who played an important role in the development of both Fauvism and Cubism.
The idea was to produce color fields of brownish and neutral colors that produce the image when put together. He came up with the idea for this painting after spending a Summer vacation in Cadaqués with his model Fernande Olivier (1881-1963). This is a seaside town in Catalonia.
10. Yo, Picasso
Date created: 1901
Dimensions: 73.5 × 60.5 centimeters (28.9 × 23.8 inches)
Location: Private collection
Yo, Picasso is an early self-portrait of the artist, before he became world-famous. It provides a remarkable glimpse of Picasso before he became the successful artist we know today, right at the beginning of his Blue Period in the early 20th century.
The fact that this painting is special was recognized in the 1980s. It was first bought by American entrepreneur and art collector Wendell Cherry for $5.6 million in 1981. Greek billionaire Stavros Niarchos purchased the work in May 1989 at Sotheby's for $47.85 million. This still makes it one of the most expensive paintings in the world today.