This Russian artist received an art education in Odessa when he was a child, but he still decided to study law and economics at the University in Moscow.
Wassily Kandinsky (1866-1944) never lost his fascination for art and more specifically color, and this led him to pursue a career as an artist by moving to Munich in 1896.
He was already in his early thirties at the time and already carved a successful career for himself teaching law and economics when he made the move.
Munich was an important cultural center at the time and Kandinsky enrolled at the Academy of Fine Arts in the city, one of the oldest and most prestigious art schools in Germany.
During the years before the outbreak of World War I he co-founded "Der Blaue Reiter" with German artists Franz Marc (1880-1916) and August Macke (1887-1914). This was an artistic group active in Munich before WWI.
He was initially influenced by the Impressionists in France, especially the paintings of Claude Monet (1840-1926). He is mostly known today as one of the founding fathers of abstract art.
In this article, you'll discover some of the most famous paintings by Wassily Kandinsky so you can understand why he was such an important artist.
1. The Blue Rider
Date created: 1903
Dimensions: 55 × 60 centimeters (22 × 24 inches)
Location: Private collection
The Blue Rider is the most famous painting of Wassily Kandinsky's early period. This was an era that marked the start of modern art and the Russian painter was still trying to find his artistic purpose. He experimented with a lot of different styles during this time.
Although this work is relatively small and seemingly insignificant, it sparked Kandinsky's interest in abstraction, something that would define his oeuvre several years later. This painting also served as the inspiration for the name of the "Der Blaue Reiter" art group he founded nearly a decade later.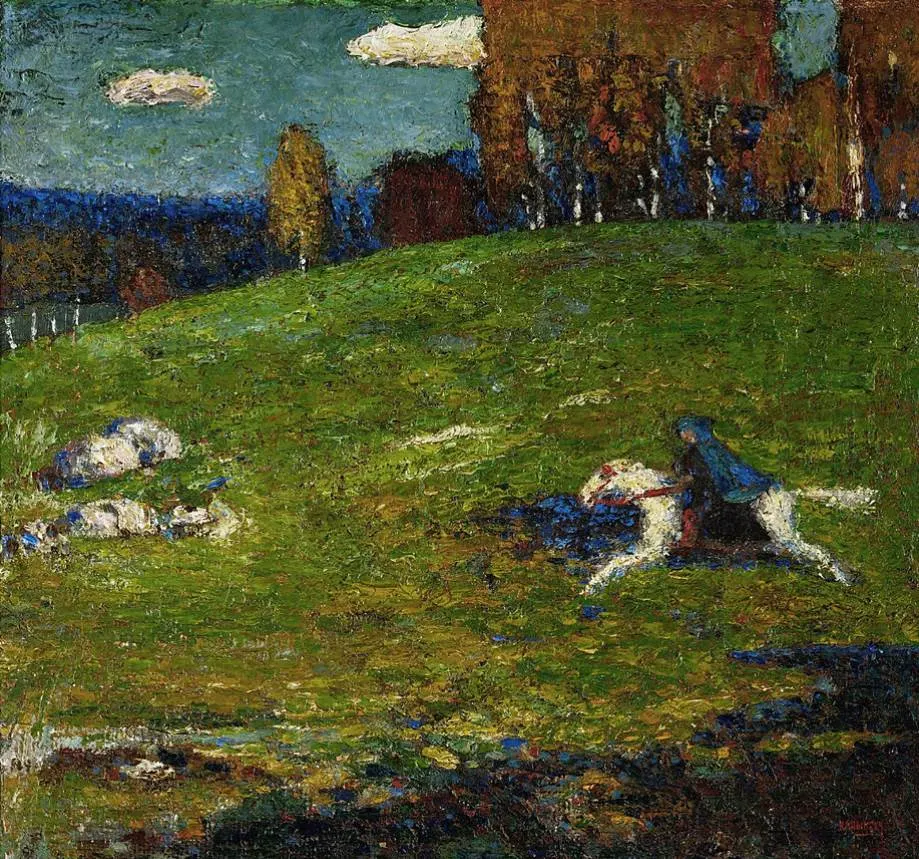 2. Couple on Horseback
Date created: 1906-1907
Dimensions: 55 x 50.5 centimeters (21.6 x 19.8 inches)
Location: Lenbachhaus, Munich, Germany
---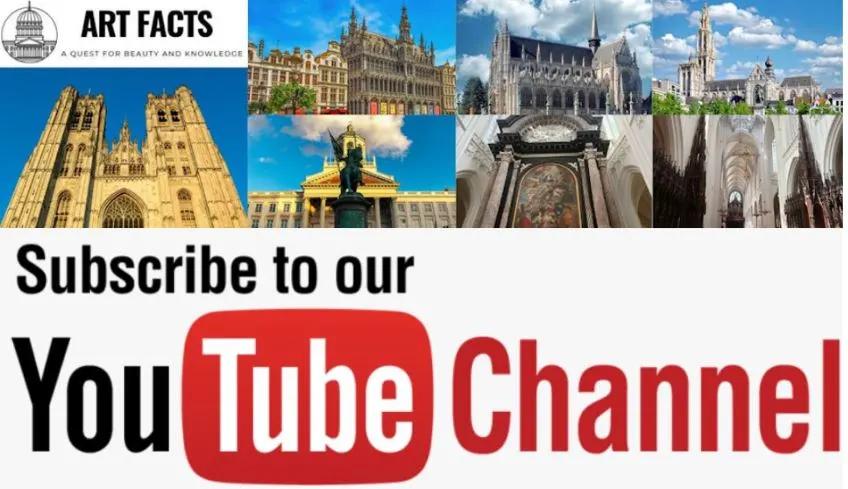 ---
Couple on Horseback or "Couple Riding" is another painting from the early phase of Kandinsky's artistic career. It highlights the enormous talent that he was blessed with and depicts a couple wearing traditional Russian costumes while riding a horse.
In the distance, we can see a city near a river and several domes which resemble those in Moscow. The dots in this painting was Kandinsy's experiment with the Pointillist technique devised by Georges Seurat (1859-1891) in the early 1880s.
3. Landscape with Factory Chimney
Date created: 1910
Dimensions: 66.2 × 82 centimeters (26.1 × 32.3 inches)
Location: Guggenheim Museum, New York City, United States
Landscape with Factory Chimney is a painting that somewhat resembles the Fauvism Paintings that were produced by Les Fauves in France in the first decade of the 20th century. Kandinsky started exhibiting his works at the Salon d'Automne in Paris in 1904 where he surely came across these colorful artworks.
The dots of his earlier paintings were kept to a minimum and the unnatural colors of the subject matter were typical of Fauvism artworks. The main difference is that it was a precursor to the abstract art that he started producing around the same time.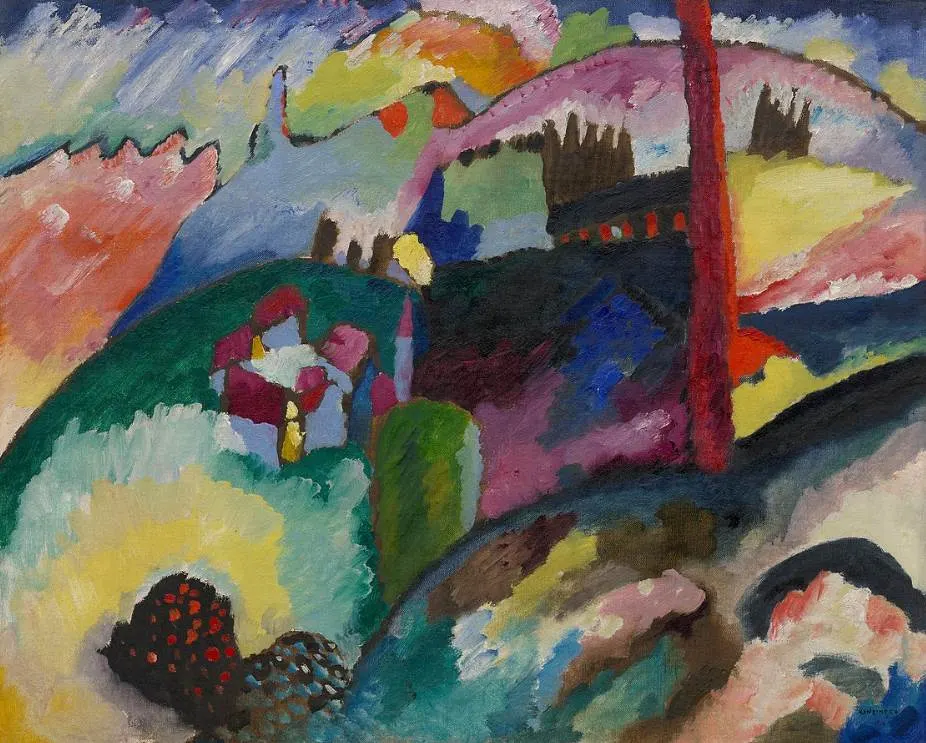 4. Lyrical (The Rider)
Lyrical is also known as "The Rider" and is a painting in which Wassily Kandinsky aimed to depict a man riding a horse with a minimal amount of elements. The first consists of nothing more than lines while the rider is depicted as patches of green, yellow, and red.
This work marks his permanent department from his previous influences such as Impressionism, Fauvism, and Pointillism, and was a definite step in the direction of abstract art. His earlier painting The Blue Rider laid the foundation for this newly found insight.
5. Untitled (First Abstract Watercolor)
Date created: 1913
Dimensions: 49.6 cm (19.5 in); width: 64.8 cm (19.5 x 25.5 inches)
Location: National Museum of Modern Art, Centre Georges Pompidou, Paris, France
Untitled is the title used to describe the first-ever completely abstract work of art that Wassily Kandinsky produced. It's a watercolor painting produced with Indian ink and depicts a large number of abstract elements in a chaotic composition.
Although this work appears to be rather unremarkable, it's the cornerstone of abstract art. Kandinsky's experiments eventually led to the widespread appeal of abstraction in art and this painting certainly played a major role in its development.
6. Improvisation 27 (Garden of Love II)
Date created: 1912
Dimensions: 120.3 × 140.3 centimeters (47.37 × 55.25 inches)
Location: MET Museum, New York City, United States
Improvisation 27 (Garden of Love II) is another very important work of art that Kandinsky produced shortly before the outbreak of World War I. His main goal was to reject the material elements in art and transform it into a spiritual experience.
In order to achieve this goal, he experimented with both colors and abstract forms. This remarkable work of art depicts 3 different versions of an embracing couple surrounded by circling elements that resemble snakes. That's why he referred to it as "Garden of Love II," a reference to the Biblical Garden of Eden.
7. Composition VII
Date created: 1913
Dimensions: 200.6 × 302.2 centimeters (79 x 119 inches)
Location: State Tretyakov Gallery, Moscow, Russia
Composition VII is the title of one of the 10 composition paintings by Wassily Kandinsky. It's considered to be the first large-scale abstract work of art in history. While his earlier works still produced representational figures to explain what they were about, this work completely ditches this notion.
Regardless of this, art historians have deciphered the painting as a representation of several religious subjects. These include the Resurrection, Judgment Day, the Flood, and the Garden of Eden. This large work of art has a very special place in art history, that's for sure.
8. On White II
Date created: 1923
Dimensions: 105 x 98 centimeters (41.3 x 38.5 inches)
Location: National Museum of Modern Art, Centre Georges Pompidou, Paris, France
On White II is the title of another famous painting by Kandinsky in which he uses pure colors to convey what the work is about. White and black are representative of life and death in the artist's oeuvre and this work is a great example of how abstract art can send a message.
The Russian artist completed this work shortly after he had returned to Germany following the Russian Revolution. He became a teacher at the Bauhaus School and taught both simple design classes and advanced theory subjects. This and other paintings he completed during this period led to his second book titled "Point and Line to Plane" (1926).
9. Composition 8
Date created: 1923
Dimensions: 140 × 201 centimeters (55.11 x 79.13 inches)
Location: Guggenheim Museum, New York City, United States
Composition 8 is a painting that Kandinsky considered to be his most important achievement in the years following World War I. This inevitably makes it one of the most famous Wassily Kandinsky paintings in history, and that's not something to be taken lightly.
He considered it to be the culmination of his studies related to form and colors and how they could convey a message in abstract art. It features a lot of circles, an element that the artist referred to as:
The circle is the synthesis of the greatest opposition. It combines the concentric and the eccentric in a single form and in equilibrium. Of the three primary forms, it points most clearly to the fourth dimension.
10. Composition X
Date created: 1939
Dimensions: 130 × 195 centimeters (51 × 77 inches)
Location: Kunstsammlung Nordrhein-Westfalen, Düsseldorf, Germany
Composition X or "Composition 10" was the final of the 10 large-scale composition paintings that Wassily Kandinsky completed. He painted it around the time that the Second World War broke out and this is reflected by the dominant black background in this work.
Kandinsky was already 73 years old at the time and he considered black to be a visual expression of death. Perhaps he saw the end coming and wanted to make a final statement through his art. Like most of his other works, the colorful shapes that float against the black background can be interpreted in endless ways by the viewer.