One of the greatest Spanish artists in history was once a poor man himself who could identify himself with beggars and outcasts.
Pablo Picasso (1881-1973) became one of the most famous artists in history, but a period in the early 20th century tells us that this wasn't always an easy road.
Let's take a closer look at some of the most interesting facts about The Old Guitarist, one of Picasso's Masterpieces with a remarkable story to tell.
1. The painting was completed between 1903 and 1904
The Old Guitarist is a remarkable work of art by Pablo Picasso, one of the leading Cubist artists of his time who had a rough start at the beginning of his career.
The artist was born in Málaga, a city in Andalusia in southern Spain. His father was an art teacher who quickly recognized the immense talent of his son.
The main problem with Picasso in the early phase of his career was that he denounced academic art. He aimed to make a name for himself during a time when modern art was still in its infancy.
This blue painting was completed in late 1903 and early 1904, a time that the artist lived on and off in Barcelona and Paris.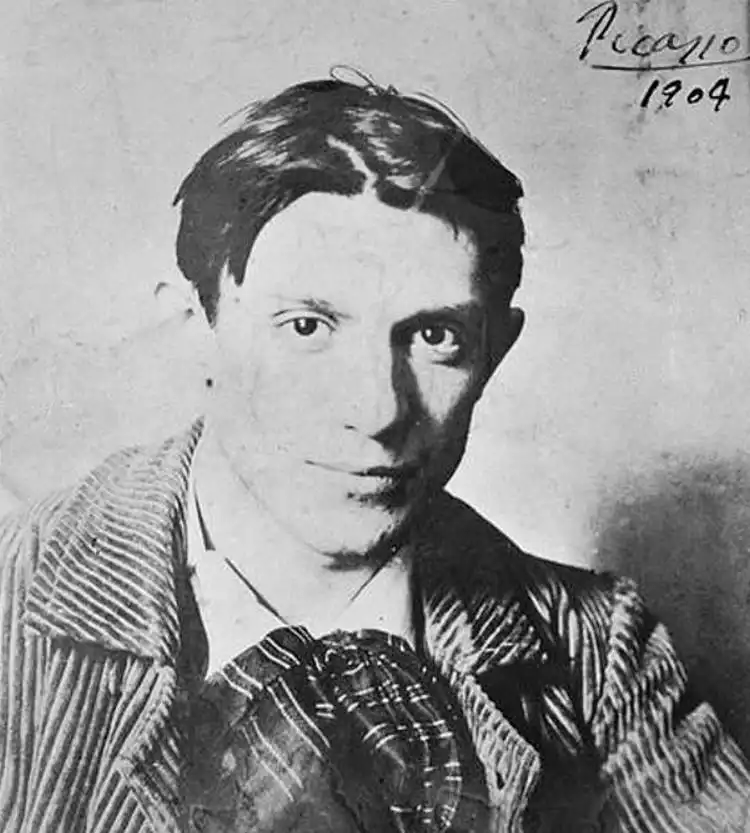 2. It's one of the most famous works of Picasso's Blue Period
The fact that he had a much harder time gaining recognition than he had hoped for when visiting Paris, the art capital of Europe at the time, wasn't the only struggle he went through.
He initially moved to Paris with his friend Carlos Casagemas (1880-1901), a Catalan poet and painter. a failed love affair resulted in his suicide on February 17, 1901, barely a year after the two had moved to the French capital.
This tragic event resulted in Picasso living in squalor conditions for several years. The result was the gloomy paintings he produced during a time now referred to as his "Blue Period." This period is related to the Expressionist paintings produced by Expressionist artists around that same time.
Apart from an equally gloomy painting called "La Vie," which is believed to depict his deceased friend and girlfriend, The Old Guitarist is considered to be the ultimate masterpiece of this period in Picasso's career.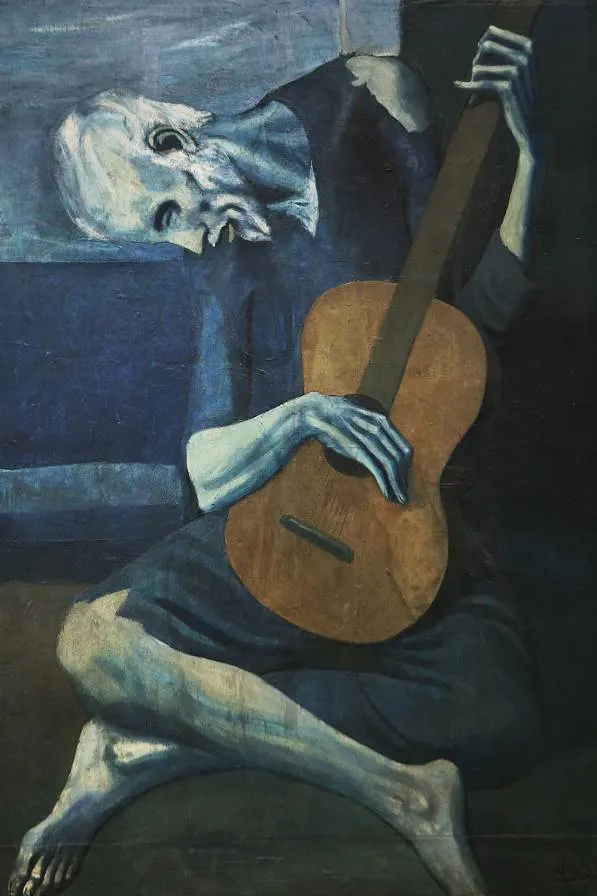 3. It depicts an old guitarist on the streets of Barcelona
Picasso lived in Paris, Madrid, and Barcelona during his Blue Period. He struggled to make a living and this is reflected in the blue and grey colors of his paintings.
This particular work depicts an elderly musician who is wearing worn-out clothes and who hangs over his guitar.
The Picasso family had moved to Barcelona in 1895 where the artist's father managed to earn a position at the School of Fine Arts. Pablo Picasso considered this to be his true home.
The painting is believed to depict an old guitarist who played while living in poor conditions on the streets of Barcelona.
4. Picasso's main focus was on depicting the miserable state of the old man
The artist in the painting appears to be strikingly miserable, almost without a sense of life in him at all. The color scheme used by Picasso enhances this notion further.
The monochromatic color scheme of the painting almost disassociates the artist from time and space because of the two-dimensional effect it creates.
It's fair to conclude that there is hardly a sign of life in the man who appears to clutch onto his guitar using his final breath. His guitar is therefore the symbol of his only hope in this world.
5. Two completely different paintings were found underneath the guitarist's body
Perhaps one of the most remarkable facts about The Old Guitarist by Pablo Picasso is that this wasn't the first painting that the artist worked on using this canvas.
Recent infrared scanning unveiled several other figures beneath the old man playing his guitar.
This painting depicted an old woman, a mother, and her child kneeling behind her. It also featured a cow licking the head of a calf nearby.
Picasso mentioned this composition in a letter sent a couple of months before he started painting this masterpiece of his Blue Period. Why he never completed it remains a mystery.
6. The painting was once owned by two avid American art collectors
The painting is one of the world acquired by Helen Louise Birch and her husband, Frederic Clay Bartlett. The man was an artist himself and one of the founding members of the Arts Club of Chicago.
Together with his wife, he amassed a fascinating collection of Post-Impressionist paintings by some of the most renowned Post-Impressionist artists in history.
The couple was pivotal in the development of modern art in the United States and not only allowed artists to study the paintings in their impressive collection but also promoted the work of contemporary American artists.
7. How big is The Old Guitarist by Pablo Picasso?
The painting is an oil on panel painting and far from being the largest painting in the impressive oeuvre of Pablo Picasso.
This painting has dimensions of 122.9 × 82.6 centimeters (48.4 × 32.5 inches).
8. Where is the painting located today?
The story of the art collection of Helen Louise Birch and her husband, Frederic Clay Bartlett is a rather tragic one.
After just 6.5 years of marriage, Helen Louise Birch died of cancer. To honor his wife, Bartlett donated their entire collection to the Art Institute of Chicago.
This donation happened in May of the year 1926. Today, this painting along with dozens of other masterpieces by legendary artists can be admired at this popular museum in Chicago.