The teenage years of Norwegian artist Edvard Munch (1863-1944) were difficult. This would turn out to become a blessing for his artistic career in multiple ways.
Mental illness ran in the family and both his mother and his favorite sister passed away when he was still young. He was sickly himself and often skipped school, a time he used to sharpen his drawing skills.
He studied at the Royal School of Art and Design in Kristiania in the 1880s, the name at the time of the Norwegian capital Oslo. During this period, he was influenced by the paintings of the Impressionist artists in France.
It wasn't until he met a local nihilist named Hans Jæger (1854-1910) that he found his true artistic purpose. He started implementing "soul painting," a technique that formed the base of the Expressionist artists of the early 20th century.
Let's take a closer look at some of the most famous paintings by Edvard Munch, Expressionist artworks that allow you to look into the soul of this fascinating Norwegian artist.
1. The Scream
Date created: 1893
Dimensions: 91 × 73.5 centimeters (36 × 28.9 inches)
Location: National Gallery, Oslo, Norway
The Scream isn't just one of the most famous Edvard Munch paintings, it's also one of the most iconic and best-known paintings ever produced. It's also one of the defining paintings of the Expressionist movement which is defined by depicting the world from a subjective perspective.
Munch reportedly painted this work after going on an afternoon stroll and realizing that the clouds had turned blood red. He heard a scream of nature which is reflected by the agonizing face of the main figure in the work. He produced many variations of this work using different materials, including oil, pastel, and tempera.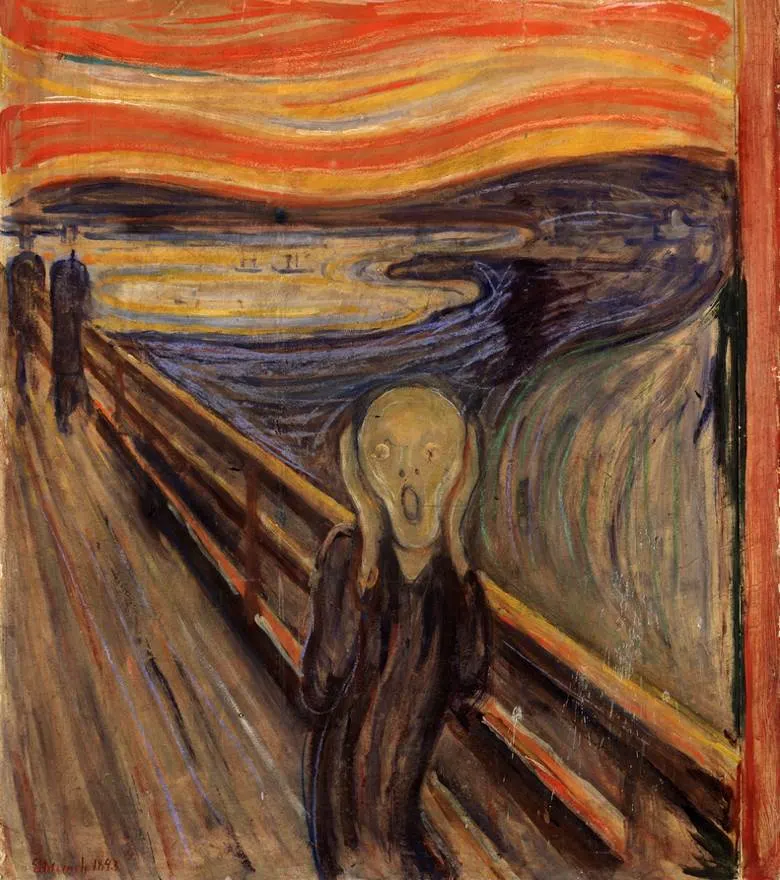 2. The Sick Child
Date created: 1885-1886
Dimensions: 120 x 118.5 centimeters
Location: National Gallery, Oslo, Norway
The Sick Child is the name of a group of 6 paintings that depict the same subject. Here we can see his older sister Johanne Sophie (1862–1877) shortly before she passed away. Her mother can be seen sobbing next to her bed as the girl suffers from tuberculosis.
Johanne Sophie was the artist's favorite sister so this moment was very traumatic for him. He expressed his feelings on numerous occasions through his art and painted several versions of this particular moment. This is emphasized by the fact that he copied this exact painting 6 times over 40 years.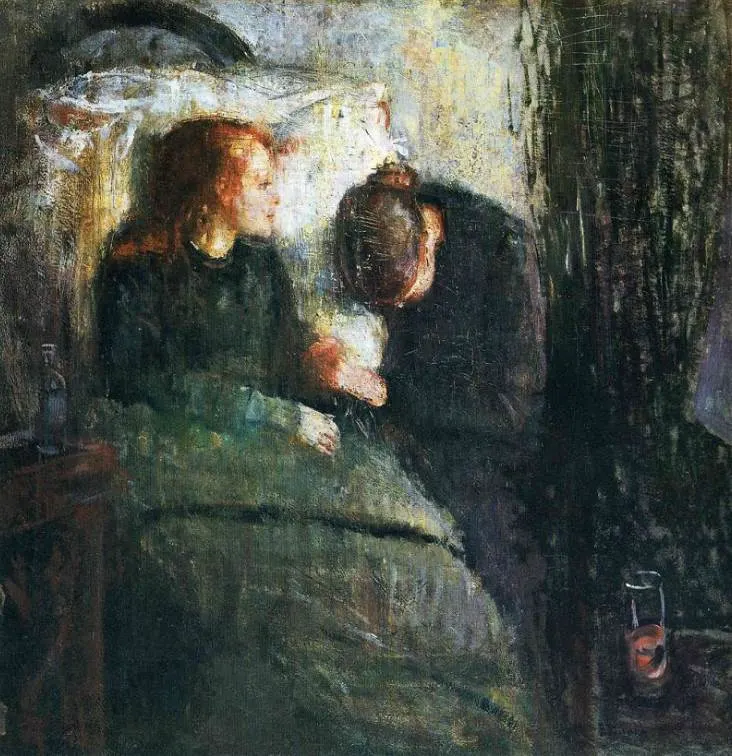 3. Anxiety
Date created: 1894
Dimensions: 94 × 74 centimeters (37 × 29.1 inches)
Location: Munch Museum, Oslo, Norway
---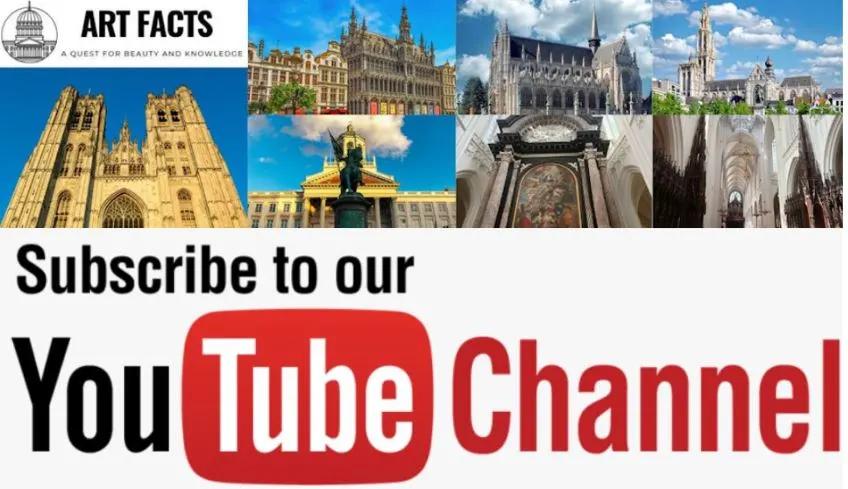 ---
Anxiety is a painting that Edvard Munch produced just a year after he completed the first version of his iconic The Scream. The resemblance between the two works, which both feature similar figures with faces of agony and a red sky, is therefore striking.
Like many other Edvard Munch paintings, this one does not make you happy. It's believed the artist attempted to express his feelings of both despair and heartbreak in this work, a recurrent theme in the artist's oeuvre who was on the verge of a mental breakdown for extended periods of his life.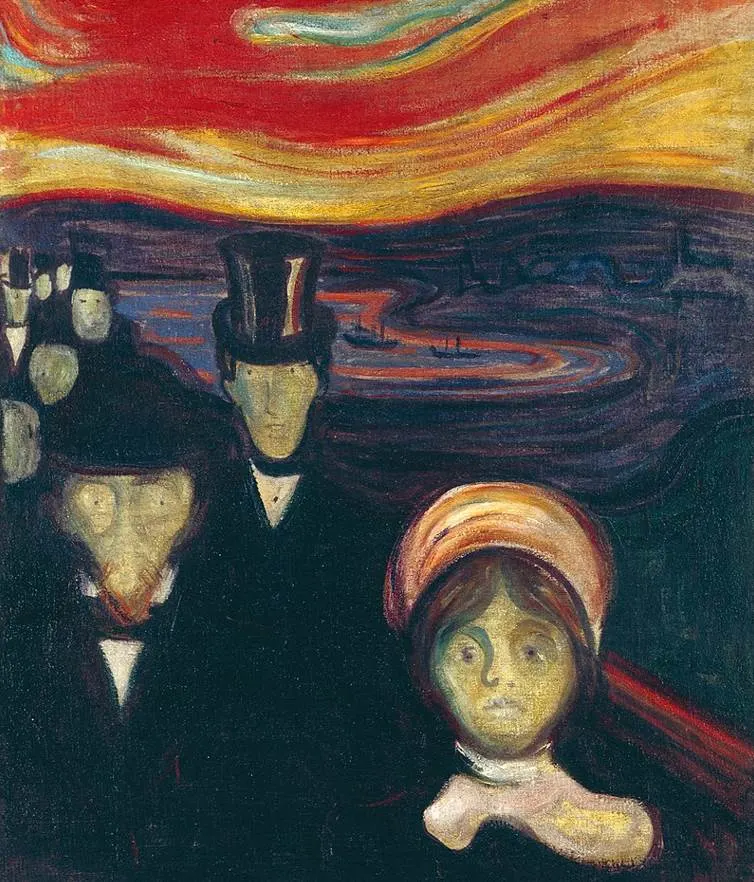 4. Madonna
Date created: 1894
Dimensions: 90 × 68 centimeters (35 × 27 inches)
Location: Munch Museum, Oslo, Norway
Madonna is the name of several versions of the same painting that depict a half-naked woman wearing a red hat. He gave several names to these paintings, including "Madonna" and "Loving Woman," and the identification of the woman as the Virgin Mary has therefore been disputed.
3 versions can be admired at museums, including the Munch Museum and National Gallery in Oslo, and the Kunsthalle in Hamburg. The version at the Munch Museum was stolen in 2004 and only recovered 2 years later with little damage.
5. Puberty
Date created: 1894-1895
Dimensions: 151.5 × 110 centimeters (59.62 × 43.37 inches)
Location: National Gallery, Oslo, Norway
Puberty is one of the most remarkable paintings in a frieze he produced during the 1890s called "The Frieze of Life." It depicts a young girl who is sitting naked at the edge of her bed. The painting is often associated with the fear of emerging sexuality.
The painting looks remarkably similar to a work by Belgian artist and symbolist artist Félicien Rops. This etching is called "Le Plus Bel Amour De Don Juan" or "Don Juan's Greatest Love." Munch continuously proclaimed that he was not influenced by this work, regardless of the similarities.
6. The Dance of Life
Date created: 1899-1900
Dimensions: 125 x 191 centimeters (49.2 x 75.1 inches)
Location: National Gallery of Art, Oslo, Norway
The Dance of Life is another work that was part of Munch's project called "The Frieze of Life." It depicts women at various stages of their lives, including a virgin dressed in white on the left and a widow dressed in black on the right.
The women don't necessarily appear to be happy, not even the wife wearing a red dress in the middle. It's assumed that the artist had mixed feelings about the women in his own life which he reflected in this remarkable work of art.
7. Love and Pain (Vampire)
Date created: 1895
Dimensions: 91 x 109 centimeters (35.8 x 42.9 inches)
Location: Munch Museum, Oslo, Norway
Love and Pain is the name given to 6 works depicting the same subject. We can see a couple with eh woman who is either kissing or biting the man on his neck. That's why it has been referred to as "Vampire" as well, a name not given to the work by the artist himself.
Munch produced the main series of 6 paintings between 1893 and 1895. He produced several variations of this subject throughout his career. One version that was completed in 1894 was sold for $38.2 million at an auction in 2008, a record for an Edvard Munch painting at the time.
8. The Yellow Log
Date created: 1912
Dimensions: 159.5 x 129.5 centimeters (62.79 x 50.98 inches)
Location: Munch Museum, Oslo, Norway
The Yellow log is a landscape painting and one of a series in which wood and logs played a key role. This painting was produced during a period when he felt better in life, something emphasized by the fact that this work became more colorful and less pessimistic.
The main motif of the landscapes painted by Edvard Munch was to integrate a remarkable perspective. He wanted to use a particular perspective to integrate a sense of motion. The highlighted yellow log is the perfect example of this painting technique.
9. Model by the Wicker Chair
Date created: 1919-1921
Dimensions: 122.5 x 100 centimeters (48.2 x 39.3 inches)
Location: Munch Museum, Oslo, Norway
Model by the Wicker Chair is one of the many nudes in the oeuvre of Edvard Munch. It depicts a colorful scene with a naked female standing next to a wicker chair. This painting was produced during a period in which numerous women offered their services to him as nude models.
The original version of this painting is located at the Munch Museum in Oslo but another version is part of the collection of the MET Museum in New York City. The Munch Museum bequeathed it to the MET from the artist's collection after his death in 1944.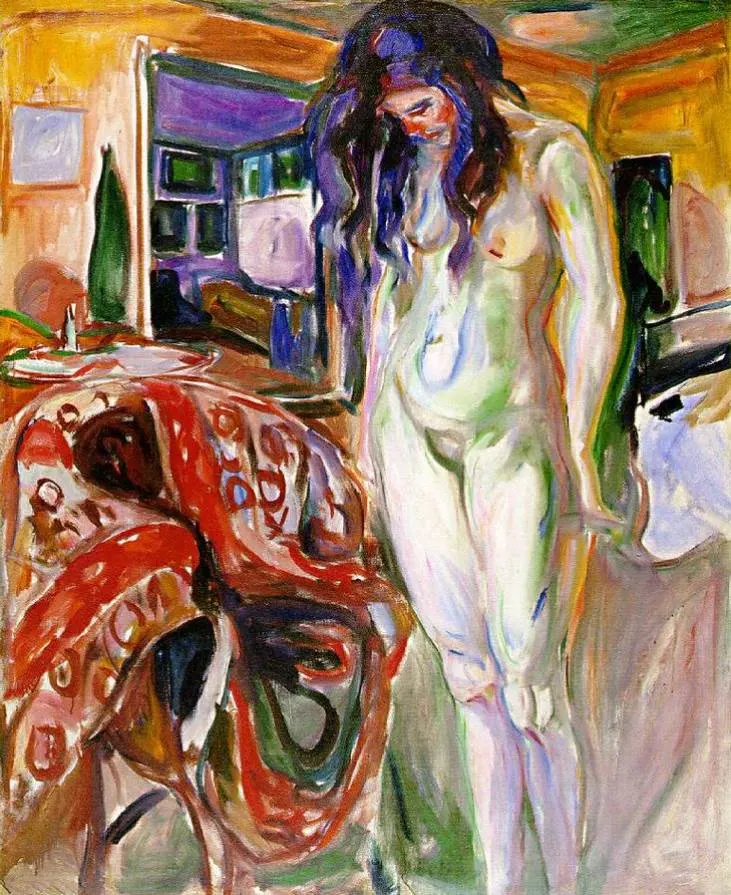 10. Inger on the Beach
Date created: 1889
Dimensions: 126 × 161 centimeters (50 × 63 inches)
Location: Kunstmuseum, Bergen, Norway
Inger on the Beach is a painting that the artist produced when he was still in his twenties. It depicts his younger sister Inger on a lovely summer day as she stares at the water in a small Norwegian port town called Åsgårdstrand, approximately 100 kilometers (62 miles) south of Oslo.
The artist already experimented with this particular pose 5 years earlier. In a painting called "Morning" (1884), he depicted a young girl sitting at the edge of the bed. The girl was 14 years old at the time and this location would become important in the life of Munch. He purchased a house here in 1897 and spent numerous Summers here.