This article allows you to discover the history of architecture. It ranges from the first buildings that were ever constructed to immense towers that dominate the skyline of huge metropolitan areas today.
We have listed the various architectural movements in chronological order. This way you can discover these movements and their most famous buildings on a single page.
Please note: This page will constantly be updated as more posts are published on Art Facts. Make sure to bookmark this article for future reference.
Mesopotamian Architecture – 5500-600 B.C.
Mesopotamia is a historic region between the Tigris and Euphrates Rivers that comprises most of modern-day Iraq. It's considered to be the cradle of civilization which is also why it's the first place in the world where architecture emerged.
Because it covers thousands of years, Mesopotamian architecture encompasses multiple cultures and styles. The ancient city of Babylon and the majestic ziggurats that dominate the desert landscape today are some highlights.
Learn about Mesopotamian Architecture on Art Facts
Mesopotamian Buildings A-Z
---
Ancient Egyptian Architecture – 3100 B.C.-300 A.D.
Ancient Egyptian architecture is another term that is used to describe architecture that covers thousands of years. This is commonly split into different periods until the conquest of Egypt by the Romans in the 1st century B.C.
The Egyptians constructed a wide variety of buildings, including pyramids, temples, palaces, and tombs. The incredible scale of these structures, many of which were aligned astronomically with an incredible level of precision, still baffles historians and archaeologists today.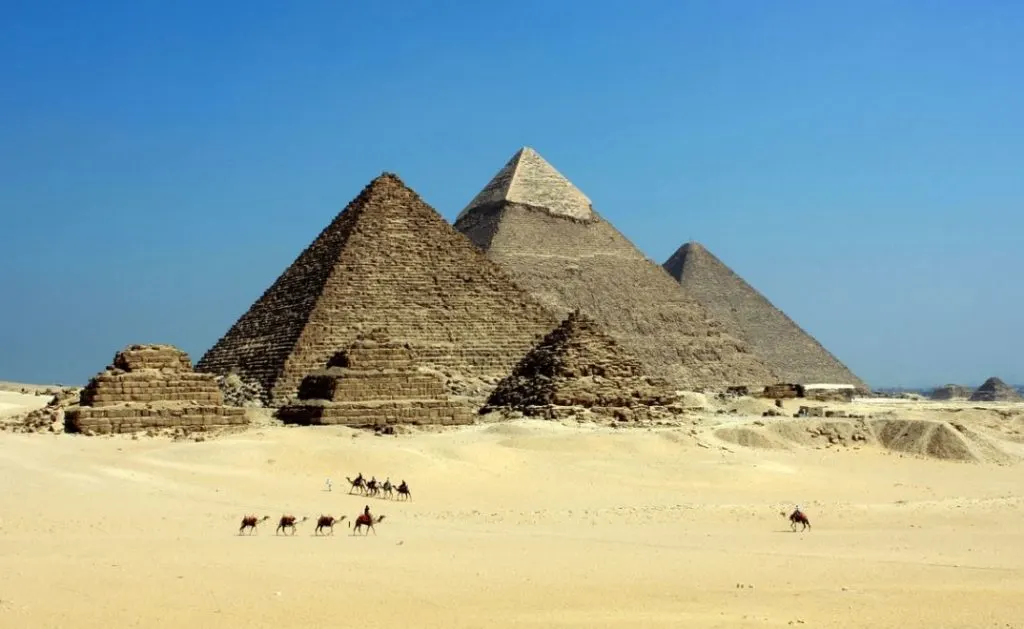 Learn about Ancient Egyptian Architecture on Art Facts
Ancient Egyptian Buildings A-Z
---
Ancient Greek Architecture – 700-44 B.C.
---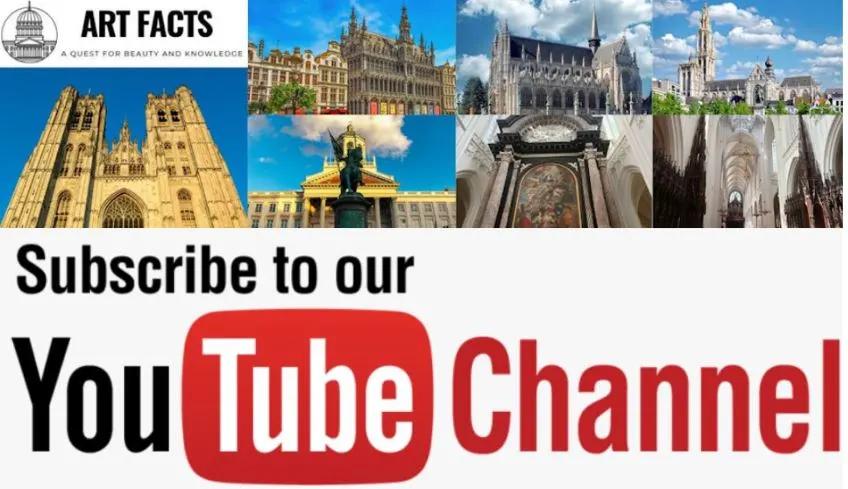 ---
Ancient Greek architecture defines the architecture that emerged in the Greek-speaking region of Europe. This includes the Greek mainland, the Peloponnese peninsula, the Greek islands, and some overseas colonies.
The most famous example of Greek architecture is the Greek temples. Many temples are in ruins today but the core ideals of how they constructed buildings have been replicated all around the world, including in modern times. This makes Greek architecture extremely influential.
Learn More about Ancient Greek Architecture on Art Facts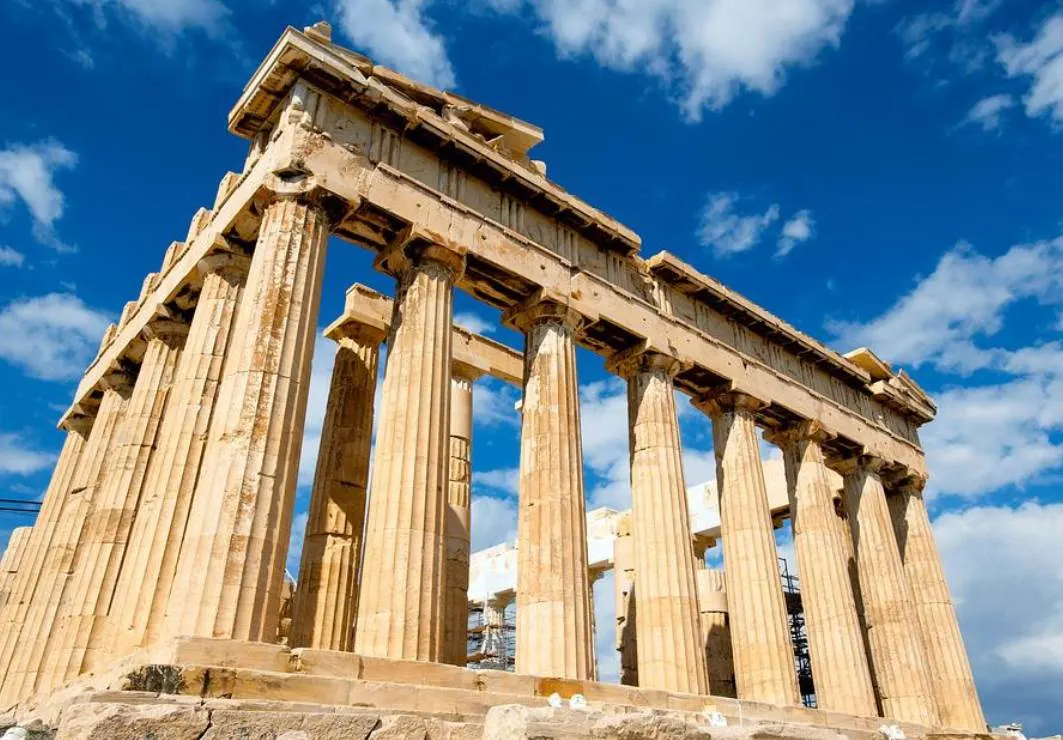 Ancient Greek Buildings A-Z
---
Ancient Roman Architecture – 509 B.C.-330 A.D.
Ancient Roman architecture emerged from the establishment of the Roman Republic in the 6th century B.C. and was very much inspired by Greek architecture. The Romans did, however, invent many new things to make it a distinctive architectural style.
The Romans also pioneered several things such as the use of reinforced concrete which allowed them to build immense structures. Arches, bathhouses, domes, and amphitheaters are some of the most famous Roman buildings.
Learn about Ancient Roman Architecture on Art Facts
Ancient Roman Buildings A-Z
---
Byzantine Architecture – 330-1453 A.D.
Byzantine Architecture is an extension of Ancient Roman architecture and starts when the capital of the Roman Empire was moved to Byzantium in the year 330 A.D. The style continued until the Fall of the Eastern Roman Empire in 1453. Because both styles occurred in the Roman Empire, there is hardly a difference between Roman and Byzantine architecture in the first centuries.
Although most Byzantine buildings are extremely robust, an element that influenced Romanesque buildings during the Middle Ages, the interiors were often incredibly decorated with marble and gold mosaics.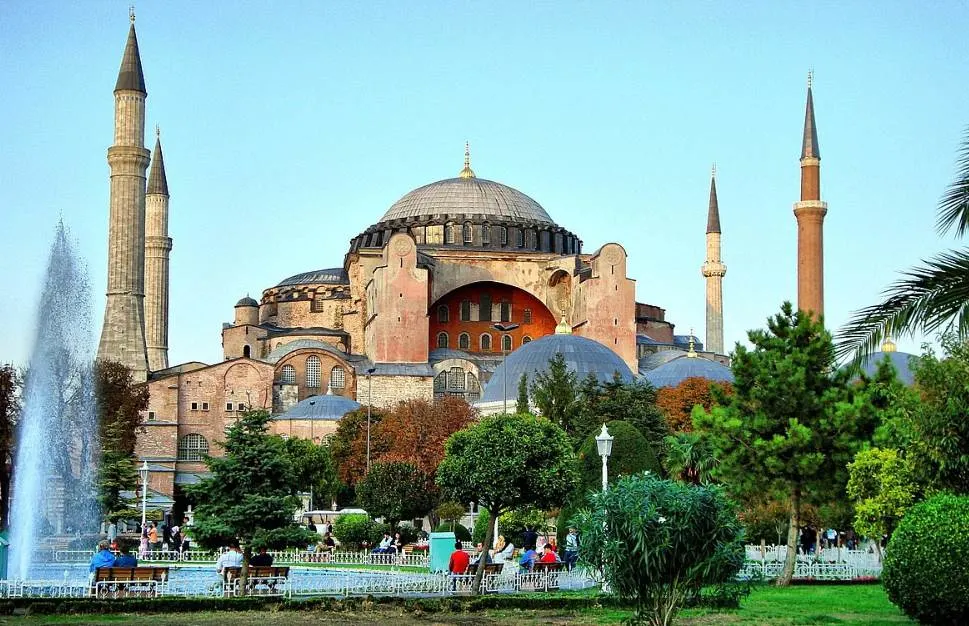 Learn about Byzantine Architecture on Art Facts
Byzantine Buildings A-Z
---
Islamic Architecture – 7th century-Today
Islamic architecture describes the architectural styles that emerged from the beginning of Islam in the 7th century until today. Because the Islamic World has such a wide range, these styles differ a lot based on the local culture.
The earliest Islamic buildings were heavily influenced by other architectural styles such as Mesopotamian, Roman, and Byzantine architecture. Mosques, minarets, madrases, tombs, and palaces are just a few of the feats of architecture that encompass this style.
Learn about Islamic Architecture on Art Facts
Islamic Buildings A-Z
---
Romanesque Architecture – 800-1200
Romanesque architecture is a medieval architectural style that was heavily influenced by Roman and Byzantine architecture. A robust design with thick walls and semi-circular arches are some of the key features of this style.
This was a period in history when many castles were constructed all around Europe. The most notable Romanesque buildings, however, are the large number of churches of which several survive intact.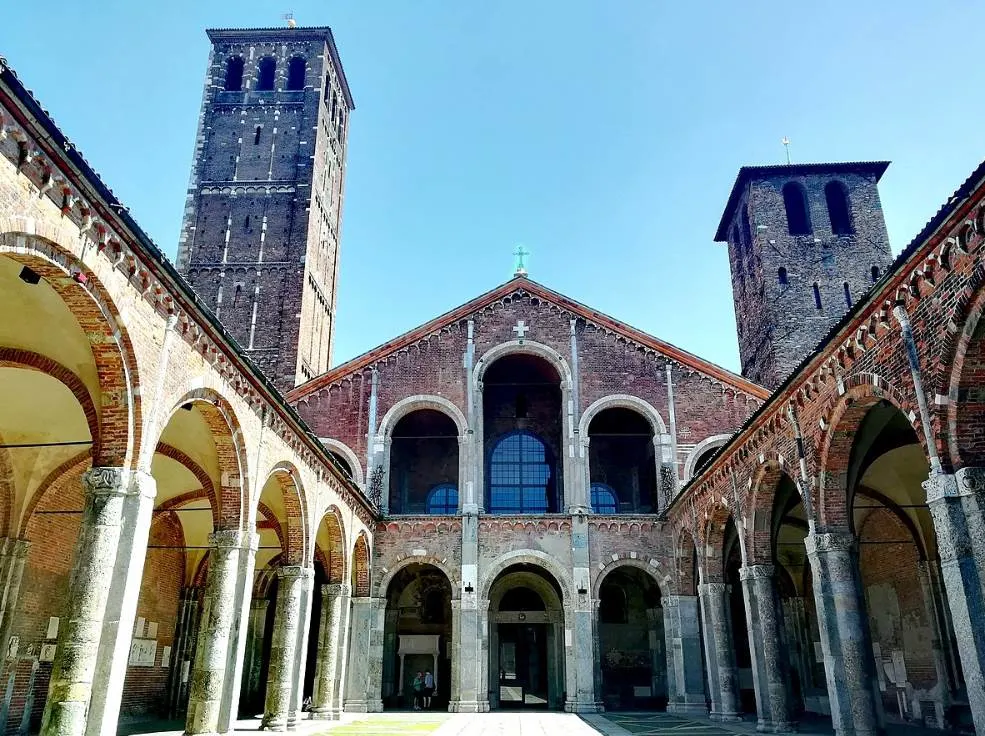 Learn about Romanesque Architecture on Art Facts
Romanesque Buildings A-Z
---
Gothic Architecture – 1100-1450
Gothic Architecture was the dominant style in Europe for multiple centuries until it was replaced with Renaissance architecture. It evolved from Romanesque architecture and emerged in the Île-de-France region and other parts of northern France.
The Gothic style is different from Romanesque architecture in its use of pointed arches and pointed windows. It often features a pointy spire that required additional structural support from flying buttresses.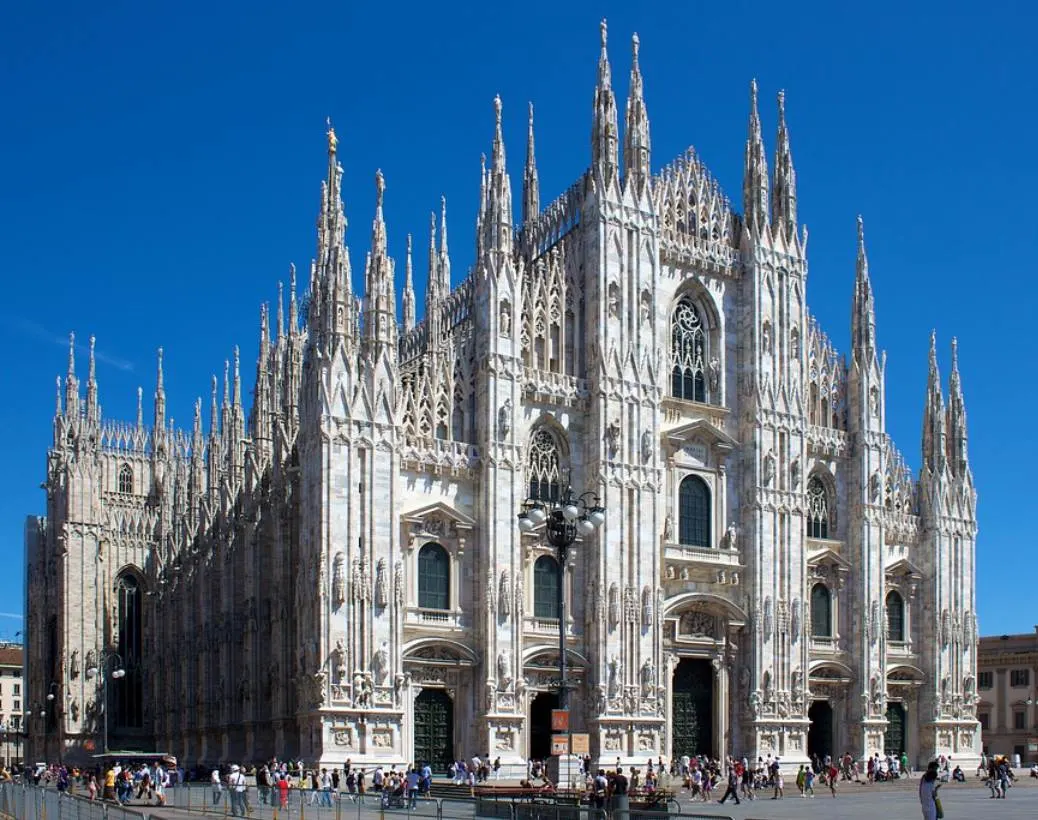 Learn about Gothic Architecture on Art Facts
Gothic Buildings A-Z
---
Renaissance Architecture – 1400-1600
Renaissance Architecture emerged a the same time that the large cultural changes in Europe took place in the 15th and 16th centuries. The revival of classical antiquity also translated into the world of architecture during this fascinating period.
This also means that elements from classical architecture were borrowed and incorporated into Renaissance buildings. Columns, pilasters, lintels, amazing domes, and harmonious design are just a few elements that characterize this architectural style.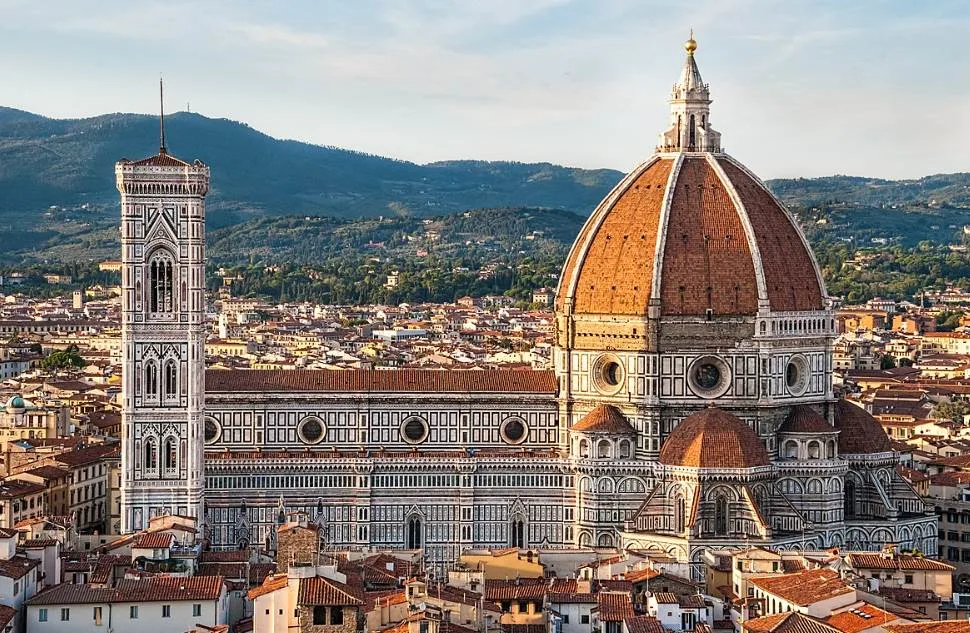 Learn about Renaissance Architecture on Art Facts
Renaissance Buildings A-Z
---
Baroque Architecture – 1584-1750
Baroque Architecture moved away from the harmonious ideals of Renaissance architecture, although it incorporated many of the same elements. It's a style that is dominated by theatrical features and exuberant decorations to instill a sense of awe.
There are three distinct periods of architecture during the Baroque era, including the Early, High, and Late Baroque periods. The Early period started in the late 16th century and the Late Baroque era lasted until the mid-18th century in some parts of Europe and overseas.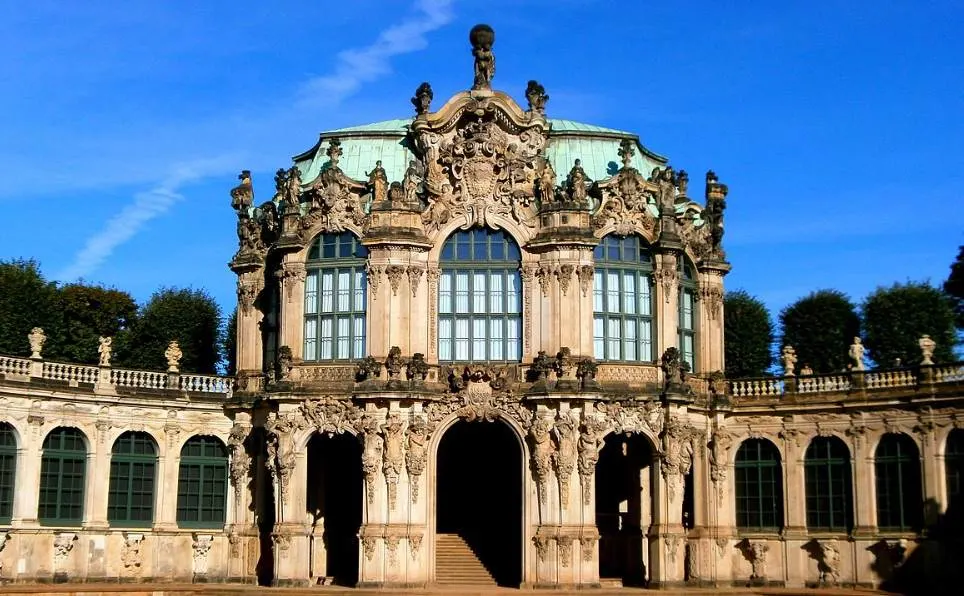 Learn about Baroque Architecture on Art Facts
Baroque Buildings A-Z
---
Rococo Architecture – 1730-1760s
Rococo Architecture is also known as Late Baroque and just like in the visual arts, it took the Baroque style a step further. This means even more curves and exuberant decorations than the already very theatrical Baroque architecture.
The style emerged in France in the 1730s as a reaction to the extremely formal style of Louis XIV which has been dominant until then. It was originally known as "style Rocaille" and spread rather quickly throughout Europe.
Learn about Rococo Architecture on Art Facts
Rococo Buildings A-Z
---
Neoclassical Architecture – 1750-1930
Neoclassical Architecture emerged in Europe in the 18th century and revolved around bringing back the architectural ideals of classical antiquity. Especially ancient Greek and Ancient Roman architecture became very popular during this era.
The revival of classical architecture already started during the Renaissance, but the Neoclassical era was all about copying famous buildings from the past. Long colonnades supporting large domes and pediments featuring sculptural reliefs are just a few of the elements that were incorporated.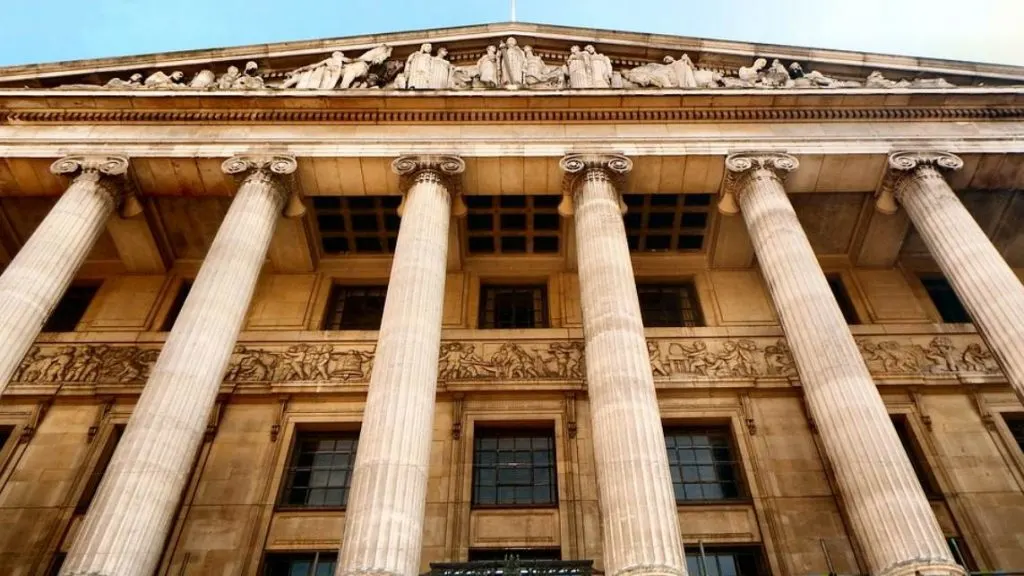 Learn about Neoclassical Architecture on Art Facts
Neoclassical Buildings A-Z
---
Romantic architecture – 1800-1860
Architecture during the Romantic era of the 19th century was mostly a reaction against the stiff ideals of Neoclassical architecture. It revolved around reviving styles from the past.
This often produced eclectic buildings that were motivated by a sense of nostalgia. It's certainly one of the hardest architectural styles to define, but the results were more often than not stunning.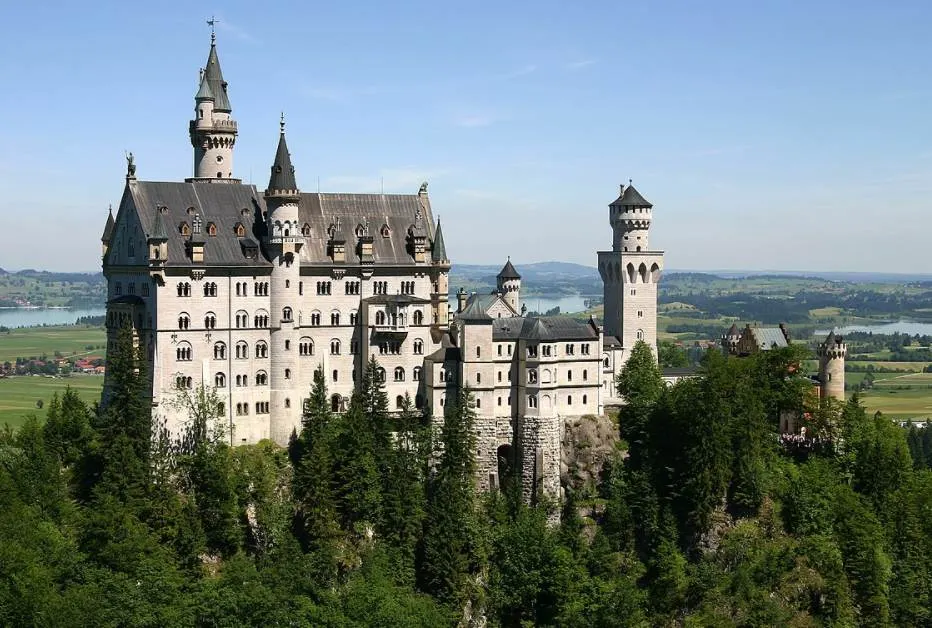 Learn about Romantic Architecture on Art Facts
Romantic Buildings A-Z
---
Gothic Revival Architecture – 1740-1880
Although Gothic Revival Architecture first emerged in England in the 1740s, it didn't expand until the 19th century. The style was all about bringing back the Gothic style which was dominant in Europe during the late Middle Ages.
In a sense, it was also about a feeling of nostalgia for the amazingly well-preserved Gothic buildings that can be found all across Europe. It was also an attempt to exceed the achievements of Neoclassical architecture.
Learn about Gothic Revival Architecture on Art Facts
Gothic Revival Buildings A-Z
---
Renaissance Revival Architecture – 1850-1914
Renaissance Revival architecture was another style of revival architecture that emerged in the mid-19th century. Although the style's name implies that it's a replica of Renaissance architecture, it was actually much broader than that.
It also incorporated other types of architecture such as Mannerism and Baroque. This resulted in eclectic buildings that went beyond the style of architecture that emerged in Florence in the 15th century. Another term for the style is "Neo-Renaissance."
Learn more about Renaissance Revival Architecture on Art Facts
Renaissance Revival Buildings A-Z
---
Beaux-Arts Architecture – 1890-1925
Beaux-Arts Architecture was the architectural style that was taught at the École des Beaux-Arts in Paris in the 19th century. It was very popular in France in the late 19th century and it eventually spread to other parts of the world as well.
The core values of the style were based on French Neoclassical architecture. The main difference was the fact that modern materials such as iron and glass were incorporated into the design as well. This laid the foundation for subsequent architectural movements of the 20th century.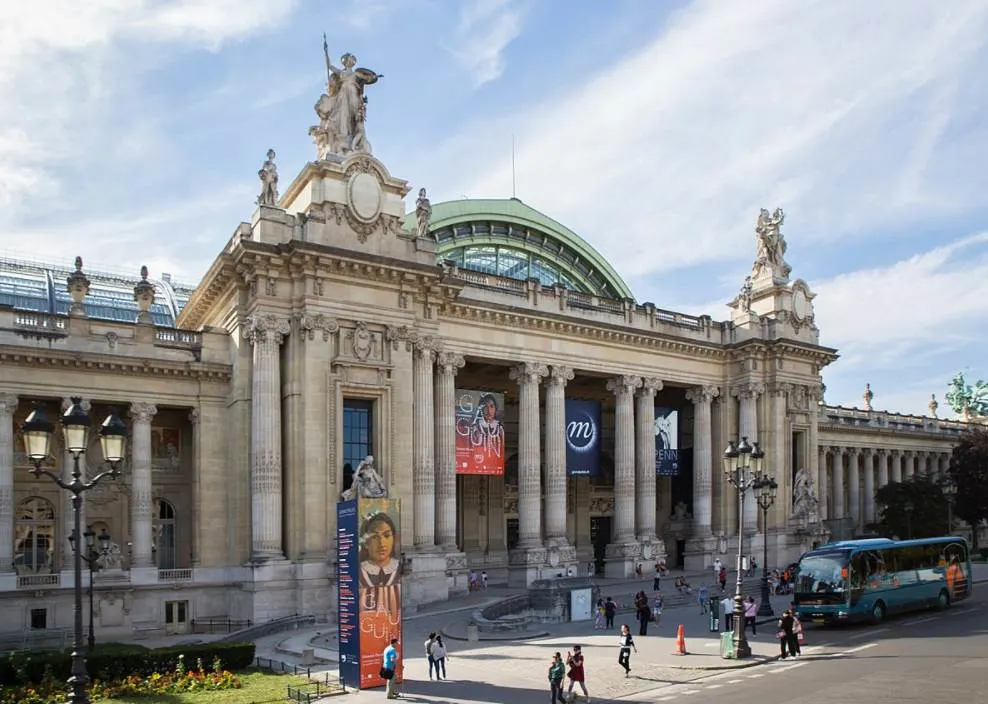 Learn about Beaux-Arts Architecture on Art Facts
Beaux-Arts Buildings A-Z
---
Art Nouveau Architecture – 1895-1914
Art Nouveau is an art movement that started with interior decorations. This radical new style was quickly incorporated into structures as well. This started in Belgium in the 1890s, the place where the style first emerged.
Just like in the visual arts, different types of movements that can be classified as Art Nouveau emerged in several locations. From Belgium, the style moved to Paris where it remained popular during the pre-World War I era.
Learn about Art Nouveau Architecture on Art Facts
Art Nouveau Buildings A-Z
---
Art Deco Architecture – 1910-1949
Art Deco is an architectural style that was developed in France shortly before the outbreak of World War I. Just like Art Nouveau, it encompassed a large number of fields, including decorations, interior design, and architecture., to name just a few.
This architectural style was often associated with luxury and glamour. This makes it no surprise that most of the tallest skyscrapers that were built before the Great Depression incorporated this style. After the Great Depression, the used materials became less expensive and included stainless steel and chrome plates.
Learn about Art Deco Architecture on Art Facts
Art Deco Buildings A-Z
---
International Style Architecture – 1920s-1970s
International Style Architecture was developed in the 1920s and 1930s. The term was coined in 1932 to describe the buildings that were constructed during the 1920s.
These structures were similar to modernist buildings. The style developed in several countries, including the Netherlands, Germany, and France. The use of mass-produced materials and the rejection of any form of decoration define this style.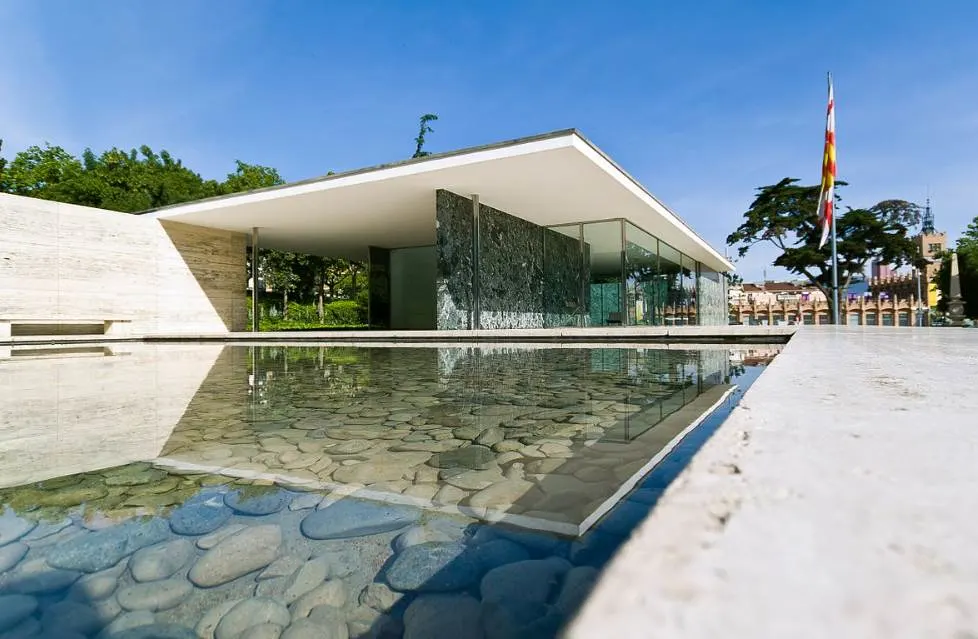 Learn about International Style Architecture on Art Facts
International Style Buildings A-Z
---
Brutalist Architecture – 1950-1980
Brutalist Architecture first emerged in the United Kingdom during the 1950s. It was one of the most popular styles during the rebuilding phase of the Post-World War II era which means it quickly spread all across Europe.
The style is defined by the fact that exposing bare materials was preferred over decorations. This often included structural elements as well. Exposed slabs of concrete and bricks and dull color schemes are other key elements of this style.
Learn about Brutalist Architecture on Art Facts
Brutalist Buildings A-Z
---
Postmodern Architecture – 1960-2005
Postmodern Architecture is an architectural movement that emerged in the 1960s. It was a reaction to modern architecture and especially the International style which was completely void of any form of decoration.
The main problem that Denise Scott Brown and her husband Robert Venturi had with international Style architecture is that it completely neglects the location and culture where the particular building is constructed. Postmodern architecture was very influential for other contemporary styles.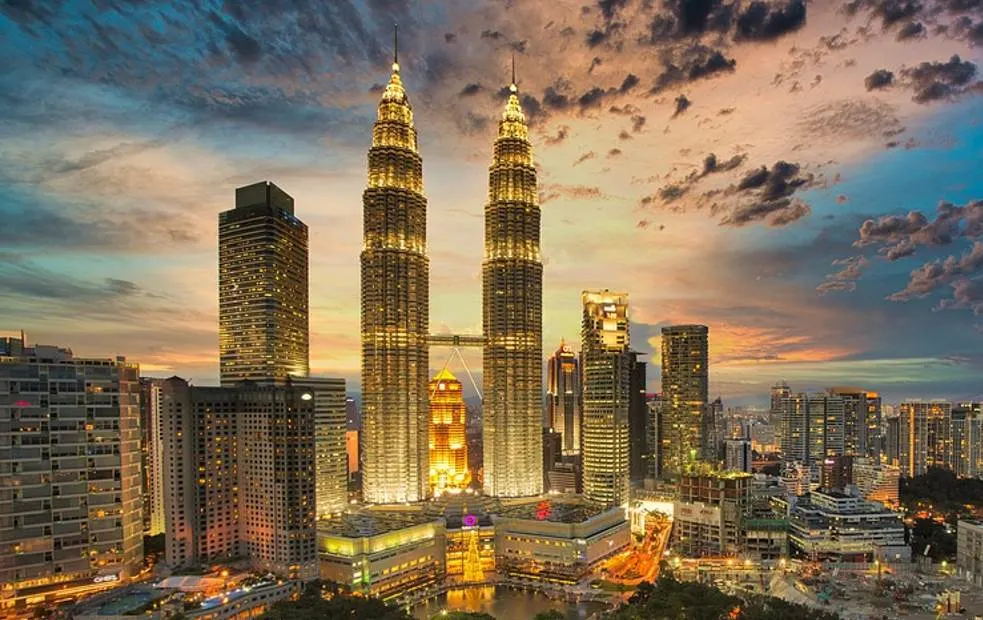 Learn about Postmodern Architecture on Art Facts
Postmodern Buildings A-Z
---
Neo-Futurism Architecture – 1960-Today
Neo-Futurism architecture is a movement that was derived from Futurism architecture, a rather obscure early-20th century movement from Italy. Architects Buckminster Fuller and Eero Saarinen pioneered the style in the 190s and 1970s.
It began as a way to rethink the aesthetics and functionality of buildings in the large metropolitan areas of the world. The style gained popularity once again in the late 20th and early 21st centuries with architects Zaha Hadid and Santiago Calatrava.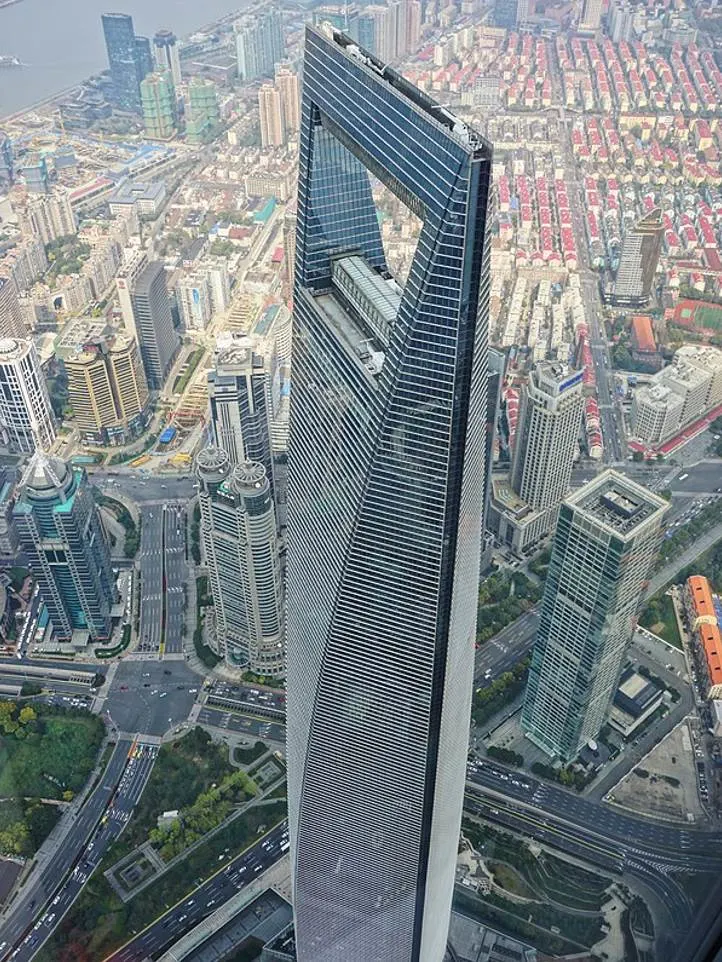 Learn more about Neo-Futurism Architecture in Art Facts
Neo-Futurism Buildings A-Z
---
High-Tech Architecture – 1970s-Today
High-Tech Architecture is also known as Structural Expressionism. It's a modern architectural style that highlights the structural elements of the building on its exterior and interior. Many elements were derived from technological advancements.
Some elements that define the style are refraining from materials used in buildings from the past and extensive use of aluminum, steel, and glass. The interior of buildings often doesn't feature load-bearing elements.
Learn more about High-Tech Architecture in Art Facts
High-Tech Buildings A-Z
Deconstructivist Architecture – 1982-Today
Deconstructivist Architecture is one of the most fascinating architectural styles ever conceived. It's a spinoff of Postmodern architecture that aims to make a building appear to be fragmented.
Although the name of the movement gives the impression that buildings are deconstructed, this is not an accurate description. The term is used because it breaks all rules of classical architecture, resulting in some of the most peculiar buildings ever built.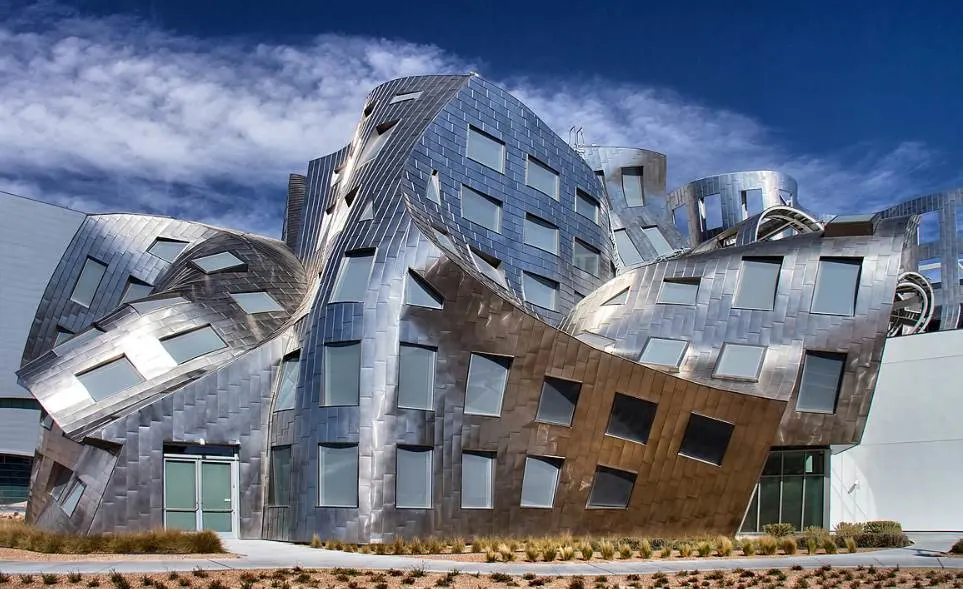 Learn about Deconstructivist Architecture on Art Facts
Deconstructivist Buildings A-Z
---