Unlike the fate of some other German artists who had a bright future ahead of them, the career of this artist wasn't abruptly ended during World War I.
Ernst Ludwig Kirchner (1880-1938) was one of the young German Expressionist artists in the early 20th century who radically changed the course of modern art.
He became one of the founding members of "Die Brücke" or "The Bridge" in Dresden in 1905. This was a time when he dedicated himself fully to his art.
Although the group was only active between 1905 and 1913, it was highly influential in the art scene of Germany in the years leading up to the war.
He volunteered as a soldier, but he had a mental breakdown in 1915 and was dismissed, something that probably saved his life.
Kirchner produced Expressionist paintings that incorporate bright and vivid colors which sometimes resemble the paintings of Vincent van Gogh which he greatly admired.
In this article, you'll discover some of the most famous paintings by Ernst Ludwig Kirchner so you can discover his unique and distinctive style.
1. Street, Dresden
Date created: 1908
Dimensions: 150.5 x 200.4 centimeters (59.25 x 78.89 inches)
Location: MoMA, New York City, United States
Street, Dresden is the title of a painting by Dresden that was completed while the artist was living and working in the German city of Dresden in the first decade of the 20th century. It depicts a crowded street in the city that looks rather gloomy.
Kirchner's Expressionist style is highlighted in the work which was his attempt to depict the busy urban life of a major city shortly after the turn of the 20th century. It was a time when Die Brüclke was developing its artistic purpose in which Kirchner played a pivotal role.
2. Marcella
Date created: 1909-1910
Dimensions: 76 x 60 centimeters (29.9 x 23.6 inches)
Location: Moderna Museet, Stockholm, Sweden
Marcella is a work that clearly shows the influence of the paintings of Edvard Munch (1863-1944) on the young German artist. The famous Norwegian painter was one of the first artists in history who highlighted his personal feelings in his art.
Kirchner replicated this and highlighted the feelings by using bold contrasting colors. The girl's white face is surrounded by green lines which is a remarkable color combination. Marcella was the teenage daughter of one of his neighbors and was often featured in Kirchner's paintings.
3. Berlin Street Scene
Date created: 1913
Dimensions: 121 × 95 centimeters (48 × 37 inches)
Location: Neue Galerie New York, New York City, United States
Berlin Street Scene is another painting by Kirchner in the series of street scenes that he produced shortly before he volunteered to fight in World War I in 1915. The most common subjects in these works are so-called "Kokotten," prostitutes who try to lure clients.
The central part of the painting is dominated by two prostitutes who try to talk to two gentlemen in the foreground. The two sisters Erna and Gerad Schilling. served as the models for the females. Erna was a dancer and model and his future lover. It's possible that the man looking at the viewer was a self-portrait of the artist.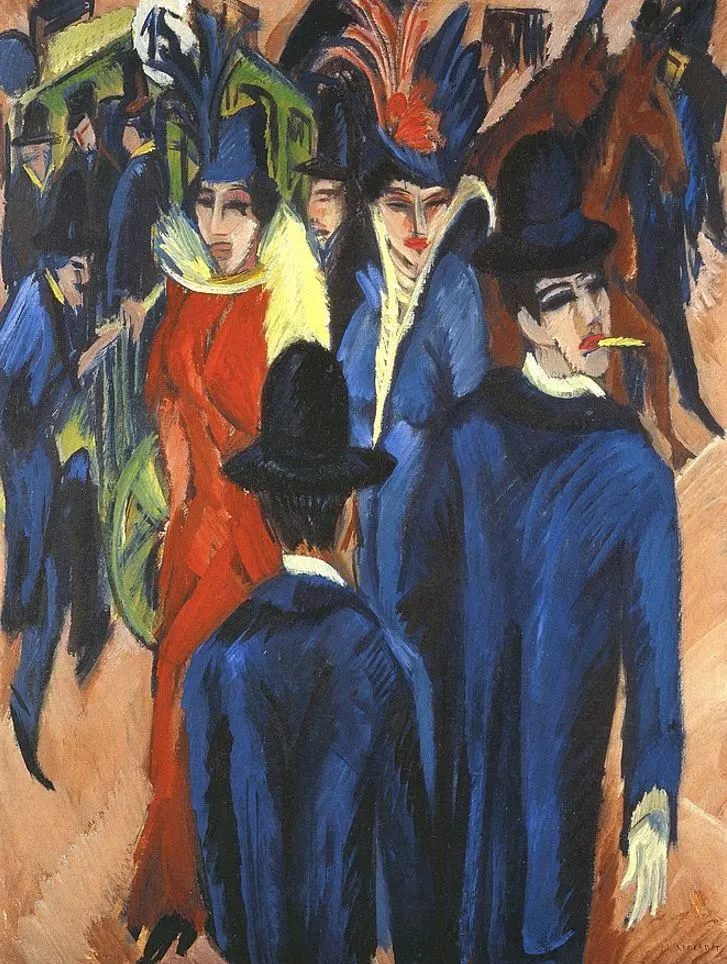 4. Four Wooden Sculptures
Date created: 1912
Dimensions: 70.49 x 60.48 centimeters (27.75 x 23.81 inches)
Location: Dallas Museum of Art, Dallas, United States
Four Wooden Sculptures is a rather peculiar painting that initially appears to depict a group of nude females. Upon closer inspection, these are actually small wooden sculptures that are attached to the base of a wooden mirror.
What's remarkable about these sculptures is that they were carved by Kirchner himself. Today, only the male figure on the left and the standing female on the right still exists. This painting is another prime example of the types of works he produced during his period in Die Brücke before World War I.
5. Self-Portrait as a Soldier
Date created: 1915
Dimensions: 69.2 × 60.9 centimeters (27.2 × 24 inches)
Location: Allen Memorial Art Museum, Oberlin, Ohio, United States
Self-Portrait as a Soldier is a self-portrait by Ernst Ludwig Kirchner which he completed shortly after he was discharged from the German army because of mental problems. The chaotic composition is believed to be a metaphor for the turbulent time in Europe at the time.
It's also a very personal work because it reflects the suffering he went through on the front as a soldier, something that drove him to the brink of insanity. The artist misses his right hand and he is positioned in front of a nude female in the background.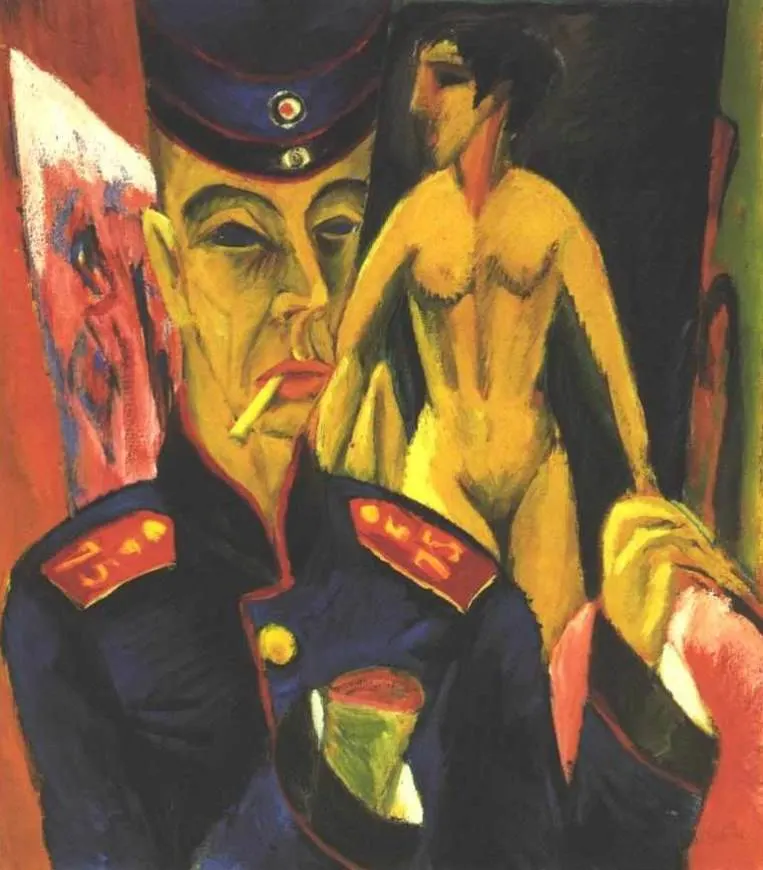 6. Fränzi in front of a Carved Chair
Fränzi in front of a Carved Chair is another portrait painting by Ernst Ludwig Kirchner which depicts the other teenage daughter of his neighbor in Dresden. Fränzi was the sister of the girl who appeared in an earlier work another one who often served as his model.
Fränzi and her sister Marzella lived in Friedrichstadt, a working-class neighborhood in Dresden, and were popular among the members of Die Brücke. The influence of artists such as van Gogh and Munch is clear in this work, but also that of the Fauvism Artists in France.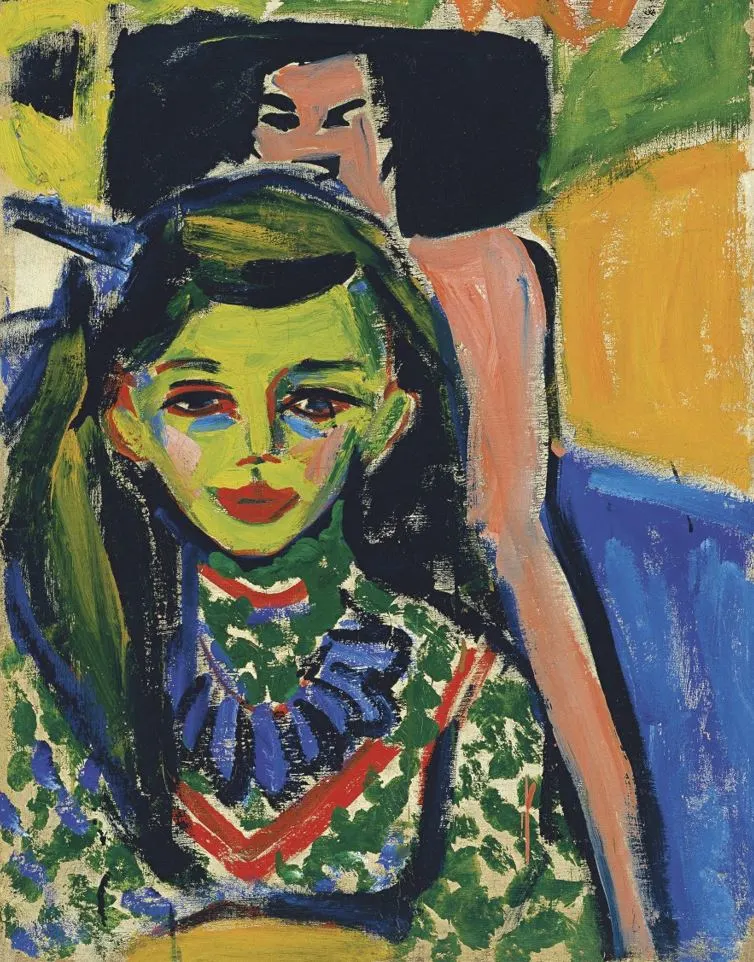 7. Alpine Kitchen
Date created: 1918
Dimensions: 121,5 × 121,5 centimeters (47.8 × 47.8 inches)
Location: Thyssen-Bornemisza Museum, Madrid, Spain
Alpine Kitchen is the title of a painting by Kirchner which depicts the interior of the Alpine hut that he stayed in around the time when the First World War came to a conclusion. This was located at an elevation of about 1,900 meters (6,233 feet) above sea level near the Swiss resort town of Davos.
This square painting has a remarkable composition and shows a wide range of household items. There's a table on which a person sits while working on what appears to be a lithographic stone. Whether this is the artist himself or his partner at the time, Erna Shilling remains up for debate.
8. View of Basel and the Rhine
Date created: 1928
Dimensions: 119.9 x 201 centimeters (47.2 x 79.1 inches)
Location: Saint Louis Art Museum, Saint Louis, United States
View of Basel and the Rhine is one of the many amazing landscape paintings that Ernst Ludwig Kirchner produced during the final decade of his life. It depicts the view of the Swiss city of Basel near the banks of the Rhine River which flows through it.
Although this work clearly depicts several landmarks in the city, it was a time when he was already experimenting with more abstract works of art. In my opinion, these colorful landscapes are some of the most fantastic works in his oeuvre.
9. Brücke bei Wiesen
Date created: 1926
Dimensions: 120 x 120 centimeters (47.2 x 47.2 inches)
Location: Kirchner Museum Davos, Davos, Switzerland
Brücke bei Wiesen or "Bridge near Wiesen" is another very colorful depiction of a famous landmark in Switzerland. Here we can see the amazing Wiesen Viaduct which is situated near the town of Wiesen, not too far from the larger town of Davos.
This single-track railway viaduct was constructed between 1906 and 1909 and has a maximum height of 88.9 meters (292 feet) above the ground below. This viaduct is still used today and Kirchner's painting is a pretty accurate depiction of this monumental structure.
10. The Red Tower in Halle
Date created: 1915
Dimensions: 120 × 91 centimeters (47 × 36 inches)
Location: Museum Folkwang, Essen, Germany
The Red Tower in Halle is the title of a painting that depicts a rather desolate view of the main market square of the German city of Halle. We can distinguish the Marktkirche on the left and a Gothic tower that is surrounded by a red brick building in the foreground.
A tram that is passing by is the only sign of life in this gloomy painting as smoke emerges in the distance. This work embodies the dark thoughts that plagued the artist at the start of World War I and his grim view of the future at the start of this devastating event in world history.