One of the most amazing art museums in the United States is located in the Museum District of Houston, Texas.
This area can be found just southwest of Downtown Houston and features 19 museums that collectively attract an astounding 9 million visitors every year.
The MFAH was expanded several times throughout its history and features a collection of over 70,000 items that span 6,000 years of history.
The museum was established in the year 1900 and the distinctive Neoclassical building known as the "Watkin Building" was completed in 1924.
The addition of the modern Nancy and Rich Kinder Building in 2020 brought the total gallery space to over 28,000 square meters (300,000 square feet), making it one of the largest museums in the United States and even the world.
In this article, you'll discover some of the most famous paintings at the Museum of Fine Arts, Houston, highlights of the collection that you can't miss during your visit.
1. Virgin and Child – Rogier van der Weyden
Date created: after 1454
Dimensions: 31.9 × 22.9 centimeters (12.6 × 9 inches)
The Virgin and Child is an oil on oak panel painting by the Early Netherlandish artist Rogier van der Weyden (1399-1464). This Flemish artist was one of the leading figures of the so-called Flemish Primitives, artists from the Low Countries who were pivotal in the development of the Renaissance in the northern part of Europe.
Although the authenticity of a Rogier van der Weyden painting has been questioned, recent examinations have confirmed that it was by the hand of this renowned artist. It's one of the multiple half-length Madonna paintings that he produced and ost probably his final as well.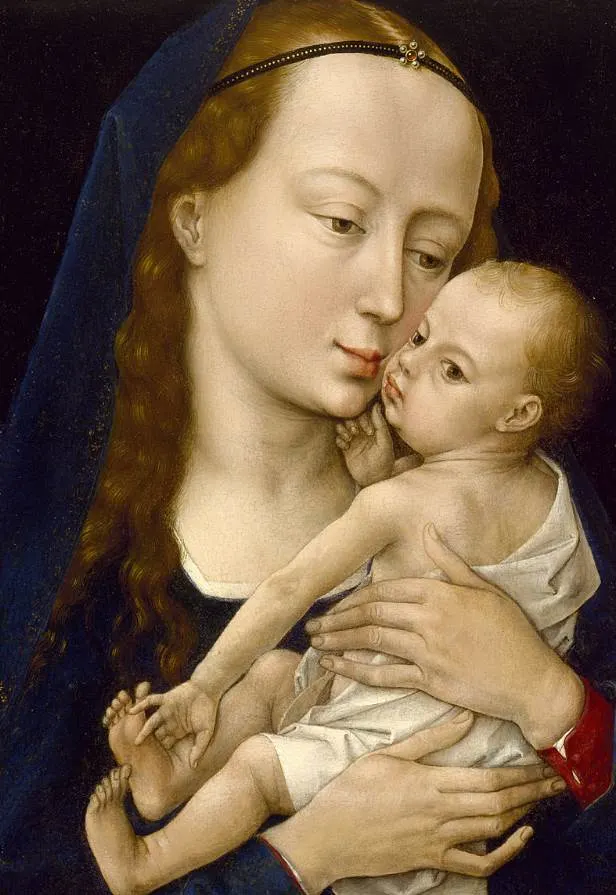 2. Portrait of an Elderly Woman – Hans Memling
Date created: 1480
Dimensions: 26.5 x 17.8 centimeters (14.6 × 10.6 inches)
Portrait of an Elderly Woman is another painting that transports you back in time, about 5 and half centuries ago. It was painted by the famous Renaissance artist Hans Memling (1430-1494), an artist who was born in Germany but who spent most of his career in Flanders. He was one of the pupils of Rogier van der Weyden.
---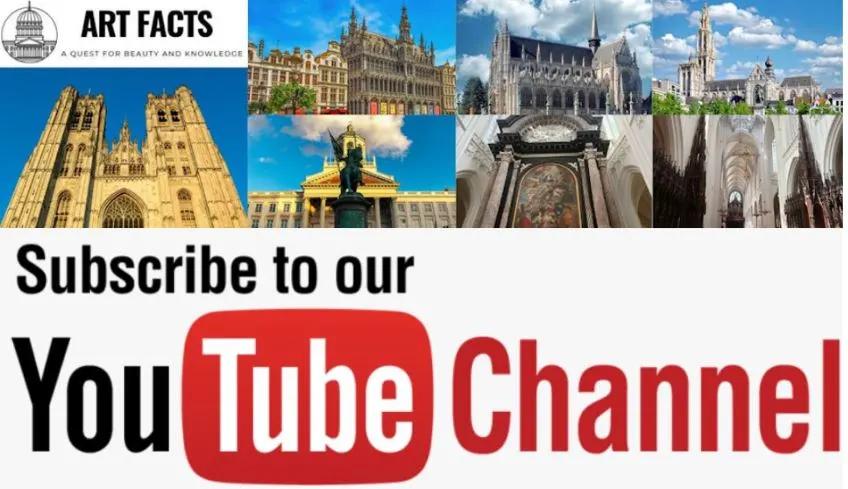 ---
After his master's death, he took over the role as the leading artist in Bruges and painted a large number of portraits from donors. This painting was most probably part of a larger painting that featured the original donor but which has now been lost. Whether it was a diptych or triptych remains unknown.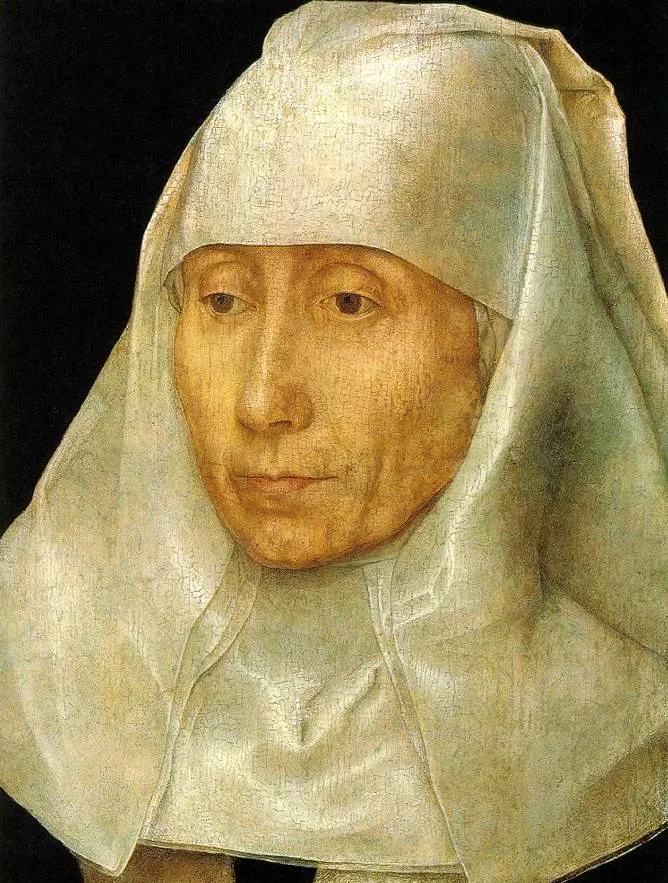 3. The Entrance to the Grand Canal, Venice – Canaletto
Date created: 1730
Dimensions: 49.6 × 73.6 centimeters (19.5 × 29 inches)
The Entrance to the Grand Canal, Venice, is a painting by a renowned Italian artist who mainly focused on landscapes named Giovanni Antonio Canal (1697-1768), better known by his nickname Canaletto. This artist of the Rococo era was from the Republic of Venice but was active in various parts of Europe, including Venice, Rome, and London.
His landscapes often intermingled real and imaginary elements, although many of the buildings we see in his works are accurate depictions. The church on the lefthand side of the painting is the amazing building in Venice called the Basilica of Santa Maria della Salute.
4. Ariadne Abandoned by Theseus – Angelica Kauffman
Date created: 1774
Dimensions: 63.8 × 90.9 centimeters (25.1 × 35.8 inches)
Ariadne Abandoned by Theseus is a remarkable painting by Angelica Kauffman (1741-1807), a Swiss artist who spent a lot of her time working abroad. She was one of the leading Neoclassical artists of her time, a notion emphasized by this painting that features a classical subject.
It's one of the multiple versions of the same subject that she painted although it's the only one that features a single figure. The work depicts a popular ancient Greek myth in which Ariadne, the daughter of King Minos, falls in love with Theseus, a volunteer to kill the Minotaur to which he was supposed to be sacrificed.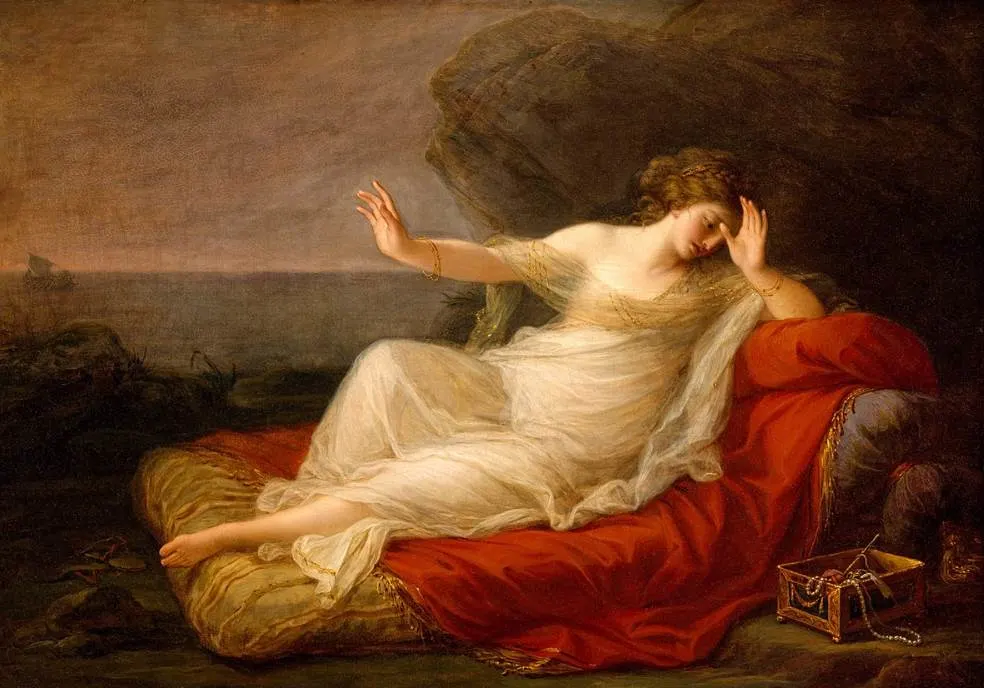 5. Sheerness as Seen From the Nore – J.M.W. Turner
Date created: 1808
Dimensions: 104.5 × 149.6 centimeters (41.14 x 58.89 inches)
Sheerness as Seen From the Nore is one of the typical paintings by J.M.W. Turner (1775-1851), the leading Romantic painter of his time who managed to capture the dramatic effects of the sea unlike anyone else. This painting reflects the early style of the artist which is less hazy than his later works.
Joseph Mallord Wiliam Turner was an English artist and a rather eccentric figure who made his name in the world of art by painting a moonlit seascape called "Fishermen at Sea" in 1796. He would exhibit numerous paintings at the Royal Academy in the following decades. This painting only entered the collection of the MFAH in 2005.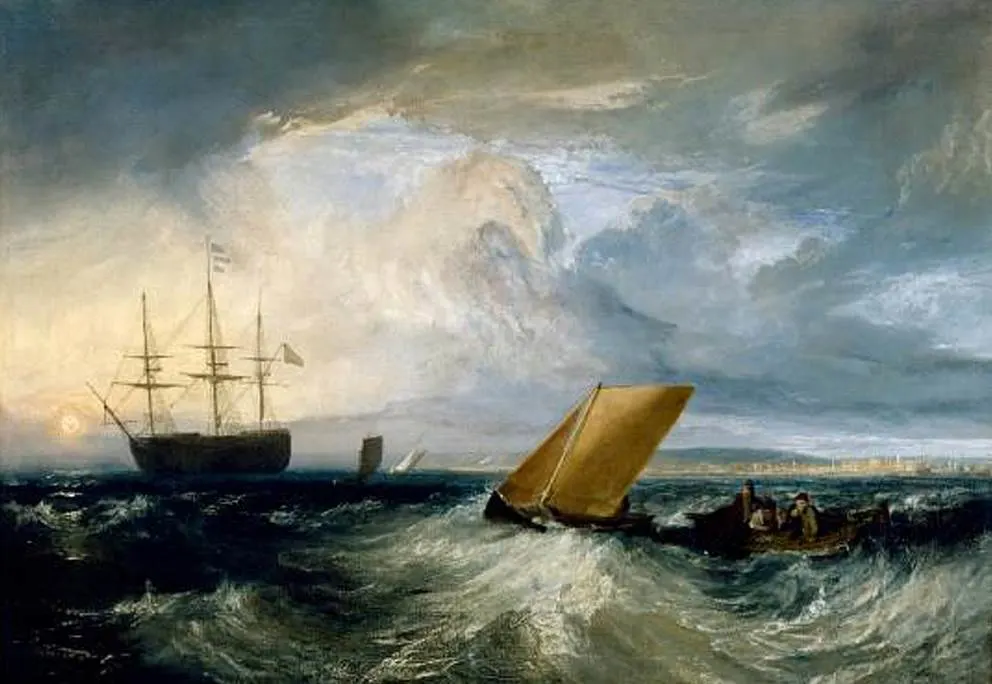 6. The Elder Sister – William-Adolphe Bouguereau
Date created: 1869
Dimensions: 130.2 × 97.2 centimeters (51.3 × 38.3 inches)
The Elder Sister is a fascinating work of art by William-Adolphe Bouguereau (1825-1905), a French artist who produced some of the most amazing Realism paintings of the 19th century. Bouguereau was an academic painter who produced historical, mythological, and contemporary paintings.
Bouguereau used his children as models for this heartwarming painting. His daughter Henriette is holding her baby brother Paul on her lap as she stares straight at the viewer. The artist put a high emphasis on the realistic depiction of the children's bodies, although the work has an idyllic feeling to it as well.
7. Les Orangers – Gustave Caillebotte
Date created: 1878
Dimensions: 155 × 117 centimeters (61 × 46 inches)
Les Orangers is one of the best-known works by the French Impressionist artist Gustave Caillebotte (1848-1894). He was a man who adored gardening and loved to depict gardens that were orderly and well-arranged. This notion is obvious from this remarkable composition.
The painting depicts a scene in the artist's family country estate in Yerres, a suburb in the southeastern part of Paris. The artist's brother Martial can be seen sitting down reading while the men's cousin Zoé Caillebotte is standing a bit further.
8. The Rocks – Vincent van Gogh
Date created: 1888
Dimensions: 54.9 × 65.7 centimeters (21.6 × 25.8 inches)
The Rocks is a painting by Vincent van Gogh that the artist painted while he was living in Arles, a small town in southern France where he had one of his most dramatic periods. The area of The Rocks is a rocky terrain called "Montmajour" just north of Arles.
This painting can be described as a typical van Gogh work featuring thick and wild brushstrokes. His remarkable and distinctive style shines through in this work because it allowed the Dutch artist to perfectly depict the rocky surface of this pristine piece of nature.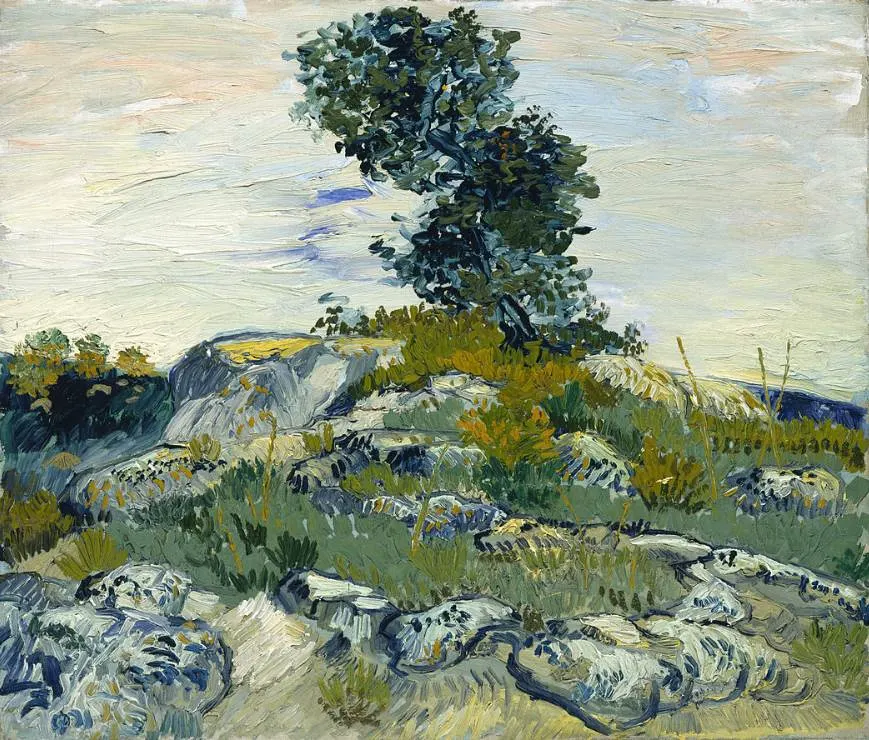 9. Water Lilies – Claude Monet
Date created: 1907
Dimensions: 92.1 × 81.1 centimeters (36.2 × 31.9 inches)
Water Lillies is one of the numerous paintings by Claude Monet (1840-1926) that depict the after lilies inside the pond of his garden. Monet spent the final decades of his life establishing his magnificent flower garden in his home in Giverny and painted approximately 250 versions of the water lilies in his pond.
These are some of the most famous paintings in the artist's oeuvre and some have sold for millions of dollars at auction. One version called "Nymphéas" was sold for an astounding $54 million in 2014. These works are typical Impressionist paintings that were produced "en plain air" (outdoors).
10. Woman in a Purple Coat – Henri Matisse
Date created: 1937
Dimensions: 81 × 65.2 centimeters (31.87 × 25.68 inches)
Woman in a Purple Coat is one of the most fascinating paintings by Henri Matisse (1869-1954), a man who was pivotal in the development of modern art in the early 20th century. This painting is considered to be one of the greatest examples of the mature and decorative style of Matisse.
This painting depicts the artist's model in the 1930s, a Russian refugee named Lydia Delectorskaya (1910-1998). She also became the artist's lover during this period and he depicted her in an extremely colorful setting wearing exotic Moroccan clothing.