When a German artist founded an art journal in the early 20th century, it defined an art movement that had reached its peak around this period in history.
Franz Marc (1880-1916) was an influential Expressionist artist who produced revolutionary paintings. These distinctive colorful artworks inspired many modern artists of future generations.
Let's take a closer look at some of the most interesting facts about Blue Horse I by Franz Marc, one of the most famous Expressionist paintings ever produced.
1. It was completed at the start of German Expressionism
Blue Horse I is one of the most distinctive blue paintings by Franz Marc, a German artist who was born in Munich, the capital city of the German state of Bavaria.
His father was a landscape painter so he inherited his artistic talent and interest in visual arts from him. He studied at the Academy of Fine Arts in Munich in the first decade of the 20th century.
He went on an extended trip to Paris between 1903 and 1907 and studied the copious amount of paintings that can be found in museums in the city, including the Louvre Museum.
He completed Blue Horse I in 1911, a period that marked the start of the German Expressionist art movement which only saw its peak in the 1920s.
Unfortunately, Franz Marc lost his life at the front of World War I during the Battle of Verdun in the Champagne region of France in 1916.
German Expressionism was a movement that, among paintings, encompassed a wide variety of fields. This included architecture, dance, painting, sculpture, and cinema.
Franz Marc was one of the leading figures in the development of German Expressionism. He developed a color theory based on spirituality in which blue plays a major role.
This was shortly after he met August Macke (1887-1914), another artist who lost his life during World War I.
The blue horse is a representation of having a breakthrough (in Marc's case his artistic career) and blue is a reference to the spiritual taking over materialism.
3. The content refers to Franz Marc's publication called "Der Blaue Reiter"
Along with the Russian artist and art theologist Wassily Kandinsky (1866-1944), Marc and Macke established a group called "Der Blaue Reiter" (The Blue Rider).
This wasn't a major artistic group such as other German Expressionist groups, especially "Die Brücke" (The Bridge) in Dresden, but rather a loose group of associated artists.
The group published an almanac in 1912 and displayed their works in several exhibitions, often receiving heavy criticism in the process.
The blue horse became the symbol of this short-lived artistic group and publication as it abruptly ended at the outbreak of World War I.
4. The painting was based on an earlier drawing by the artist
The members of Der Blaue Riter were originally part of the "Neue Künstlervereinigung München," an artistic groupm that was established in 1909.
Kandinsky was the first chairman of this group but the revolutionary members who became pioneers of modern art formed their own group just a few years later.
It was around this time, in June 1911, that Franz Marc produced the first study of what became the influential Blue Horse I painting.
This small drawing, not more than the size of a postcard, was referred to as "no. XXIV" in his sketchbook. It features the composition of the painting and was later titled "Young Horse in Mountain Landscape."
5. It wasn't the final time that Franz Marc painted a blue horse
Animals were a common subject of Franz Marc during these years, and he panted horses more than any other animal in his works.
He already painted regular horses before the idea of the Blue Rider group came about. His painting titled "Weidende Pferde III" (Grazing Horses III) was sold for a stunning £12,340,500 ($24,376,190) in 2008 at an auction at Sotheby's.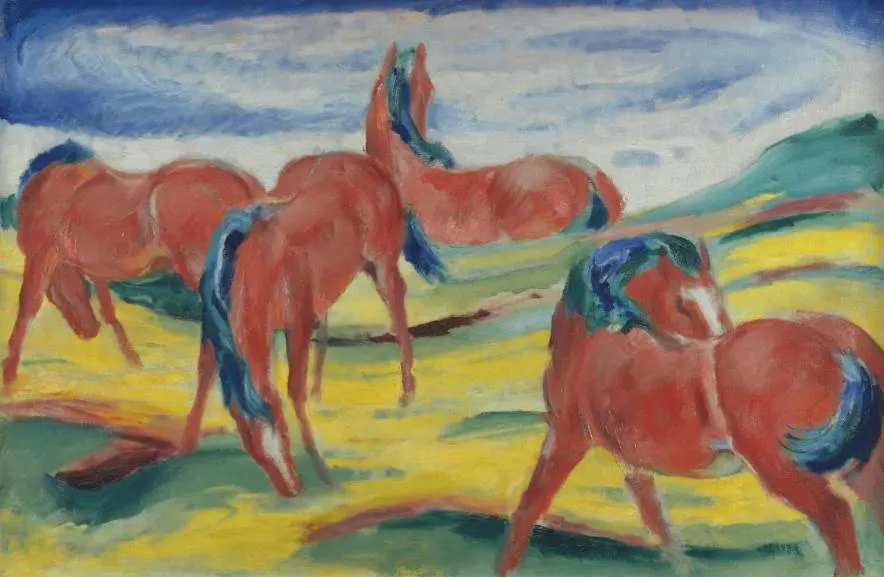 Although these horses are brown, a common color for a horse, they already include some shades of blue. The fact that this painting is a precursor for Der Blaue Riter is why it's so valuable.
Franz Marc painted several variations of Blue Horses in the following years, including "Die großen blauen Pferde" which can be found at the Walker Art Center in Minneapolis.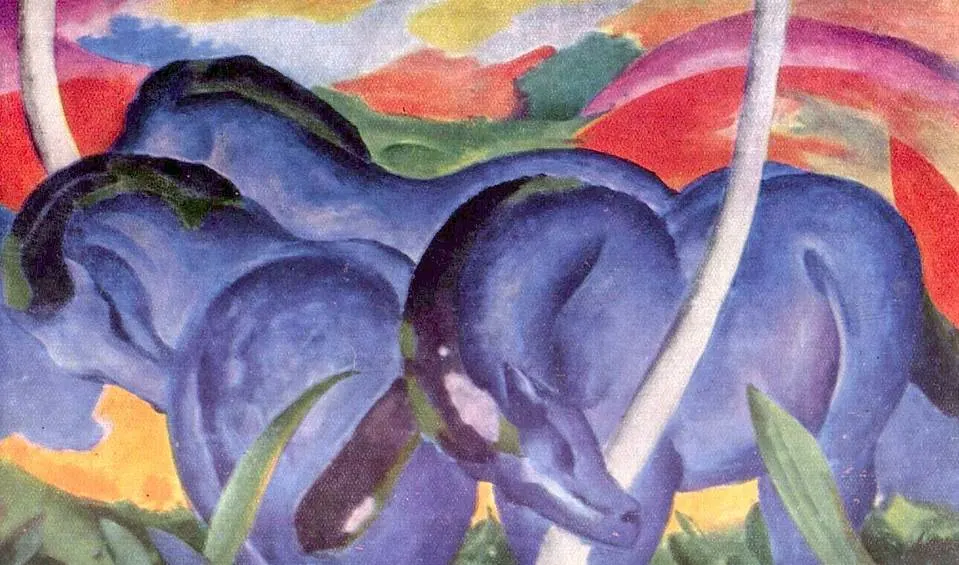 6. The influential painting was celebrated in 2012
German Expressionism had a profound effect on German society, especially following World War I and during the 1920s.
Der Blaue Riter and the iconic painting Blue Horse I played a major role in the development of visual arts in Germany and other parts of the world.
The German government recognized this and produced a stamp dedicated to this influential collaboration and the most famous painting by Franz Marc in 2012.
This was in celebration of the 100th anniversary of the establishment of The Blue Rider.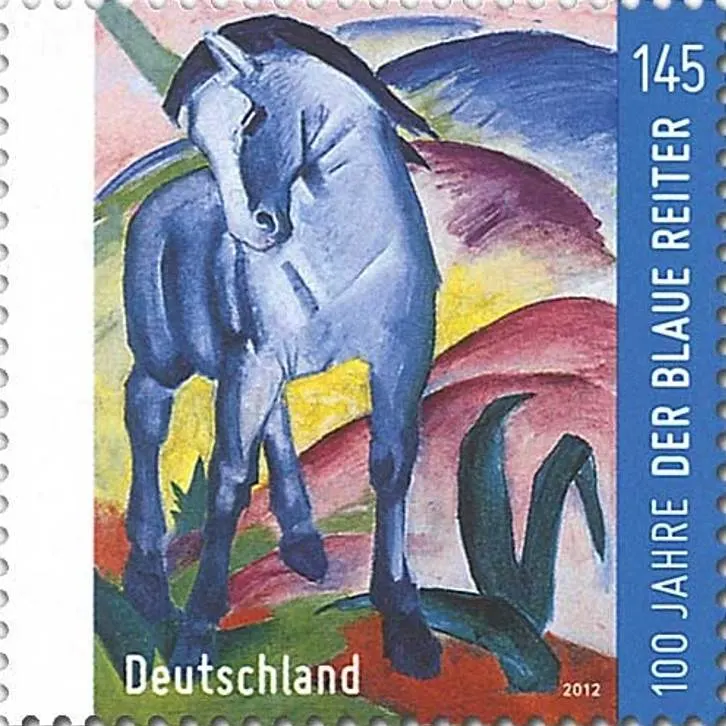 7. How big is Blue Horse I by Franz Marc?
The preparatory drawing of the painting only has dimensions of 10.2 x 17 centimeters (4.01 x 6.69 inches) and served as the inspiration for the much larger oil painting.
Blue Horse I by Franz Marc is an oil on canvas painting that has dimensions of 112 × 84.5 centimeters (44 × 33.3 inches).
8. Where is the painting located today?
Franz Marc has a museum that is dedicated to the paintings that he produced during his short career. The Franz Marc Museum is located in Kochel am See, Upper Bavaria.
It's here that you can admire sketch no. XXIV or "Young Horse in Mountain Landscape," along with approximately 2,000 other works.
Blue Horse I isn't part of the collection of the Franz Marc Museum but is on display at the Städtische Galerie I'm Lenbachhaus. This museum is located in the Kunstareal in Munich, the Museum Quarter of the city.
The original Florentine-style villa was expanded between 2009 and 2013. Many artworks are now housed in this modern new wing designed by renowned English architect Norman Foster.