The Roman goddess of Venus covered multiple fields, including love, beauty, desire, sex, fertility, prosperity, and victory.
With so many important functions, it's not hard to understand that she was one of the most popular goddesses in the ancient world.
This wasn't the only reason why Romans were so fond of her. In Roman mythology, Venus wasn't merely an imaginary deity but one of the ancestors of the Roman people.
Her son Aeneas, allegedly fled to Rome after the Fall of Troy. Julius Caesar used this story to pump up his propaganda campaign as he claimed to be a direct descendant of her.
She was portrayed frequently in Roman art and has been a popular subject in art ever since she was included once again in Renaissance paintings.
In this article, we'll check out some of the most famous Venus paintings, a list that overflows with beauty and grace.
1. The Birth of Venus – Sandro Botticelli
Date created: 1484-1486
Dimensions: 172.5 × 278.9 centimeters (67.9 × 109.6 inches)
Location: Uffizi Gallery, Florence, Italy
The Birth of Venus is arguably one of the best-recognized Venus paintings in the world. It was completed during the 1480s by Renaissance master Sandro Botticelli (1445-1510) and depicts Venus shortly after she was born. This means that the depicted island is probably Cythera, a Greek island traditionally believed to be her place of birth.
She emerged from the sea, a pose commonly referred to as "Venus Anadyomene." The painting is often associated with "Primavera," another masterpiece by Botticelli that features Venus. He completed both works in the 1480s and although they are not a pair, some elements overlap.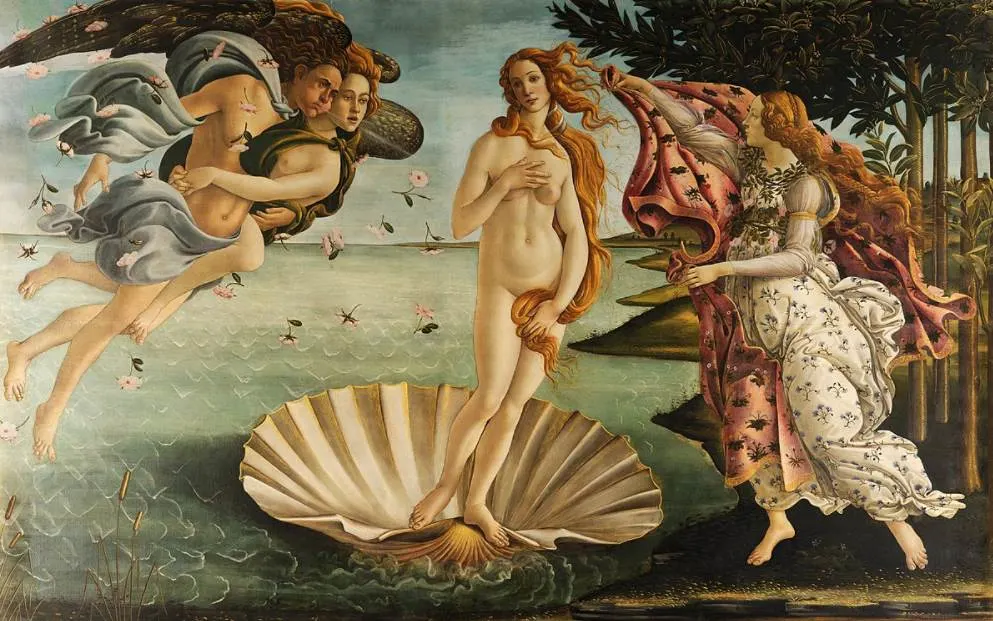 2. Sleeping Venus – Giorgione
Sleeping Venus is also sometimes referred to as the Dresden Venus, a reference to the location of the painting at the Old Masters Picture Gallery at the Zwinger Palace in Dresden. It was painted by the mysterious Renaissance artist (1477-1510) Giorgione and was probably incomplete when he passed away.
---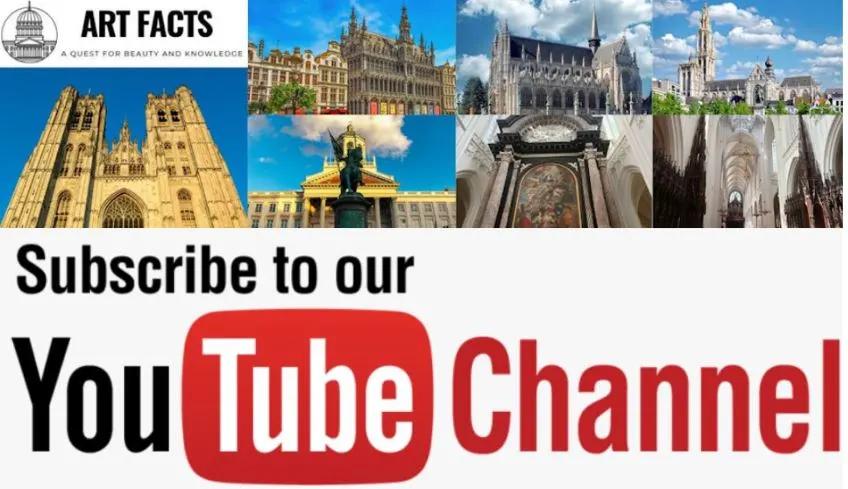 ---
Some art historians have suggested that Tiziano Vecelli (1488-1576) completed the painting. It depicts a nude female that represents the goddess Venus as she is sleeping. This reference was made because of a Cupid that was once placed at her feet, but this element was overpainted in the 19th century.
3. Venus of Urbino – Titian
Date created: 1534
Dimensions: 119 × 165 centimeters (47 × 65 inches)
Location: Uffizi Gallery, Florence, Italy
Venus of Urbino is a painting by Titian that he completed well over 2 decades after he presumably completed Giorgione's masterpiece. Venus is depicted similarly, although she is located in a sumptuous Renaissance palace and stares directly at the viewer.
The eroticism of this painting is anything but veiled, although it's not exactly sure why. It's possible that the painting depicts a courtesan or was intended as a gift for an upcoming marriage. The simplest explanation is that it merely depicts a beautiful young woman without any allegorical meaning attached to it.
4. Rokeby Venus – Diego Velázquez
Date created: 1647-1651
Dimensions: 122 × 177 centimeters (48 × 49.7 inches)
Location: National Gallery, London, United Kingdom
The Rokeby Venus is a painting by Velázquez, a Spanish artist who worked most of his career as a court painter for King Philip IV of Spain. The painting depicts Venus as she is lying on a bed while looking into a mirror that her son Cupid is holding.
The painting was most probably completed while Diego Velázquez (1599-1660) was on an extended trip to Italy. It's one of the most intriguing paintings in the artist's oeuvre because it's the only surviving nude painting by the Baroque master. After all, he wasn't allowed to paint nudes during his time at the Spanish court.
5. The Feast of Venus – Peter Paul Rubens
Date created: 1635-1636
Dimensions: 217 × 350 centimeters (85 × 140 inches)
Location: Kunsthistorisches Museum, Vienna, Austria
The Feast of Venus is a monumental work of art by Rubens, the Flemish artist who defined Baroque painting in the first half of the 17th century. It depicts an exuberant celebration of the Roman festival Veneralia which was held in honor of Venus Verticordia, a representation of the Roman goddess.
Peter Paul Rubens (1577-1640) was inspired by the world of Titian, who was in turn inspired by ancient Roman literature to depict this particular festival. It was painted during the final years of the artist's life and features an image of his second wife, Helena Fourment, in the bottom left corner.
6. Venus and Cupid – Lorenzo Lotto
Date created: 1530
Dimensions: 92.4 × 111.4 centimeters (36.4 × 43.9 inches)
Location: MET Museum, New York City, United States
Venus and Cupid is a painting by a renowned Italian artist of the High Renaissance named Lorenzo Lotto (1480-1557). It's assumed to be a commission that served as a wedding gift for a couple from either his native Venice or the Italian city of Bergamo.
The obscure details about the commission add to the mystery of this painting because it wasn't mentioned for the first time until the year 1918. It presumably entered the collection of a French art dealer in 1912 and was acquired by the Metropolitan Museum of Art in New York City in 1986.
7. Venus, Cupid, Folly and Time – Agnolo Bronzino
Date created: 1545
Dimensions: 146.1 × 116.2 centimeters (57.5 × 45.7 inches)
Location: National Gallery, London, United Kingdom
Venus, Cupid, Folly, and Time is the title of a famous painting by Mannerist artist Agnolo Bronzino (1503-1572). It's an allegorical painting of which the exact meaning remains unknown. It depicts Cupid and Venus kissing in the foreground and the allegory of folly is preparing to shower them with rose petals.
The peculiar-looking man in the top right corner is believed to be an allegory of time. It remains unknown what the other three figures in the painting represent. It's a typical Mannerist painting which again has a strong sense of eroticism about it, a common theme in Venus paintings.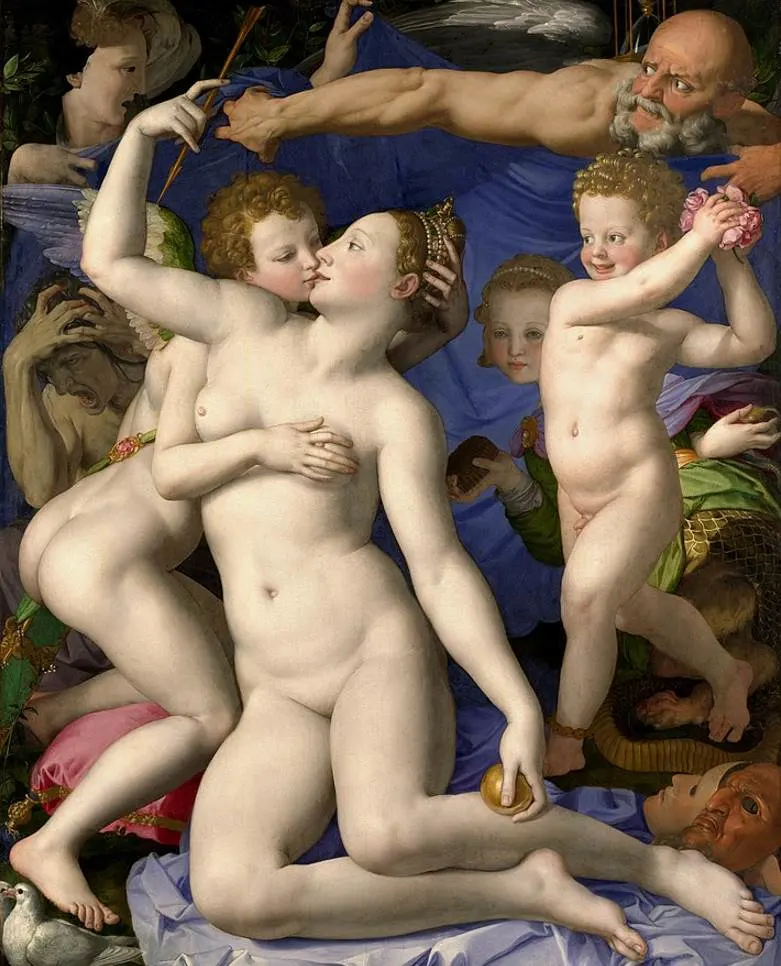 8. Venus and Cupid – Artemisia Gentileschi
Date created: 1625
Dimensions: 96.52 × 143.83 centimeters (38 x 56.63 inches)
Location: Virginia Museum of Fine Arts, Richmond, United States
Venus and Cupid is another Venus painting that depicts the Roman goddess while she is sleeping. She is completely naked except for a transparent cloth that covers her thighs. She lies on a magnificently depicted blue bed and a red and gold pillow as her son Cupid stands above her. It's one of Gentileshi's most famous paintings.
Little is known about the painting's history, except for the fact that it was certainly commissioned by an extremely rich patron. That's mainly because of the blue lapis lazuli that was used to depict the bed, an very expensive pigment at the time. Through the window, we can see a moonlight-lit temple dedicated to the Roman goddess Venus.
9. Mars Being Disarmed by Venus – Jacques-Louis David
Date created: 1824
Dimensions: 308 × 265 centimeters (121 × 104 inches)
Location: Musées Royaux des Beaux-Arts de Belgique, Brussels, Belgium
Mars Being Disarmed by Venus was the final painting by Jacques-Louis David (1748-1825), the leading Neoclassical artist of his time. He completed it while he was exiled to Brussels, modern-day Belgium, after the final fall of Napoleon Bonaparte, a man he fervently supported.
Jacques-Louis David started working on this huge painting in 1822 when he was 73 years old. He completed it the year that he passed away in 1825 and aimed to turn it into one of his ultimate masterpieces. It depicts Mars as he is disarmed by Venus' charm along with the Three Graces and Cupid.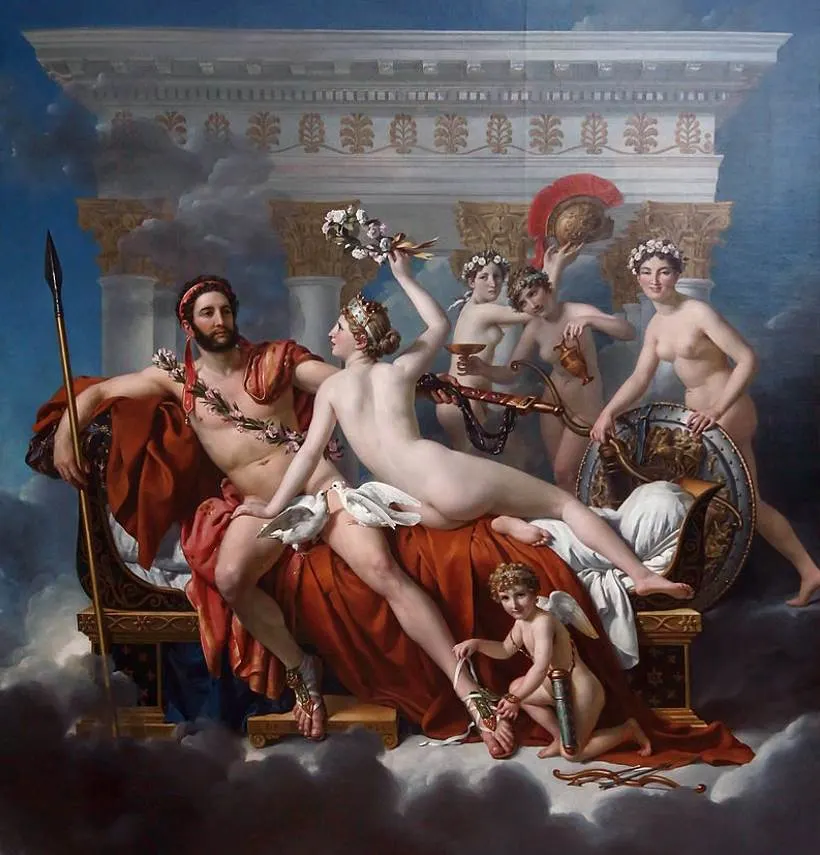 10. The Birth of Venus – William-Adolphe Bouguereau
Date created: 1879
Dimensions: 300 × 218 centimeters (120 × 86 inches)
Location: Musée d'Orsay, Paris, France
The Birth of Venus is a painting by French artist and Academic painter William-Adolphe Bouguereau (1825-1905). It's another magnificent depiction of Venus Anadyomene or "Venus rising from the Sea." It's fair to conclude that Botticelli's Birth of Venus formed a source of inspiration for Bouguereau.
Unlike what the title suggests, this painting by Bouguereau doesn't actually depict the north of the Roman goddess but her transportation from Cythera to Paphos in Cyprus. The depiction of Venus is the embodiment of female beauty and was derived from an earlier work by the artist titled The Nymphaeum (1878).
11. The Triumph of Venus – François Boucher
Date created: 1740
Dimensions: 130 × 162 centimeters (51 × 64 inches)
Location: Nationalmuseum, Stockholm, Sweden
The Triumph of Venus is a Rococo painting by one of the leading Rococo artists of the 18th century, Francois Boucher. It's not hard to understand why Venus paintings were popular during the Rococo era because this art movement was all about frivolity and idyllic beauty.
This is the French artist's version of the popular story of Venus rising from the sea. She is surrounded by nymphs and putti as she emerges from the sea as a fully grown woman. This painting was acquired by a Swedish art collector and politician named Carl Gustaf Tessin (1695-1770), the man who introduced Rococo art to his home country.