He was one of the most versatile and influential artists of the Renaissance, and in this post, you'll discover the ultimate list of interesting facts about Titian.
Related: Check out some of his most famous paintings!
1. According to his own account, he lived over 100 years
Titian was an Italian painter of the Venetian School who was born as Tiziano Vecelli or Vecellio. It's uncertain, however, what year he was born exactly, though. According to his own account in a letter he wrote as an old man, he was born in the year 1474.
If this was true, it means he would be at an extreme old age at the time of his death because he passed away on August 27, 1576. This means he would have at least been 101 at the time of death.
A lot of debate has surrounded his exact year of birth with some scholars claiming anywhere between 1488 and 1490. Until the 20th century, however, it was generally accepted that he died at the age of 99.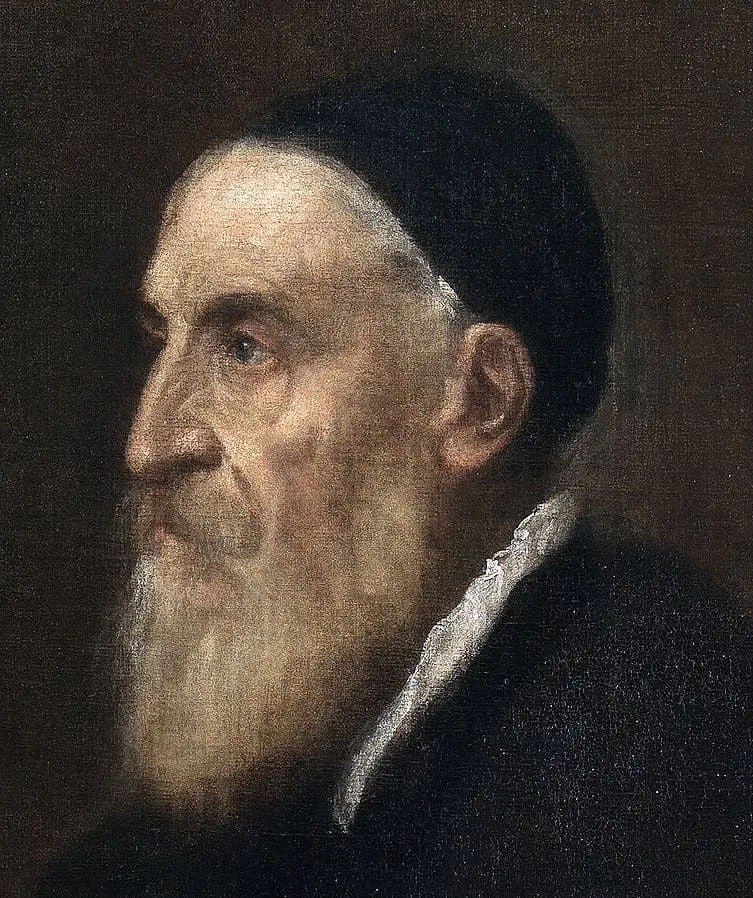 2. His nickname during his lifetime referred to his place of birth
During his lifetime he ent by a couple of nicknames, most prominently "da Cadore," which means "from Cadore." This is a reference to the place he was born in, namely Pieve di Cadore, a town in the province of Belluno in the northeast of Italy.
Back in the day, this town was part of the Republic of Venice, even though it's located about 110 kilometers (68 miles) to the north of the city of Venice.
Another nickname used to define his skill as a painter was "Il Divino," as well as the more poetic "The Sun Amidst Small Stars," a reference to the final line of Dante's Paradiso.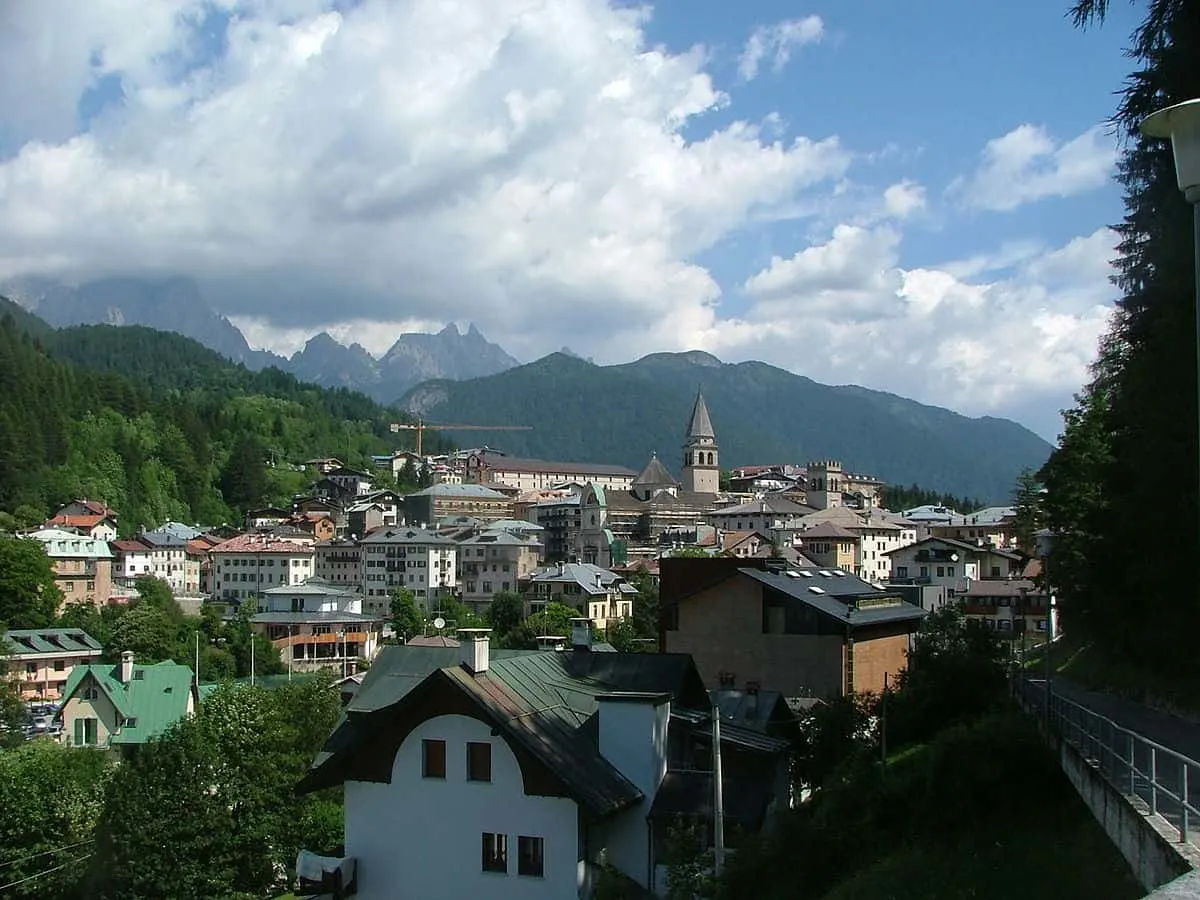 3. He entered the workshop of the Bellini brothers in his early teens
Titian was the son of Gregorio Vecellio and his wife Lucia, who were relatively well-off and respected citizens of the town. Many of his relatives were notaries and his father had a steady job as a guard at the castle of Pieve di Cadore.
---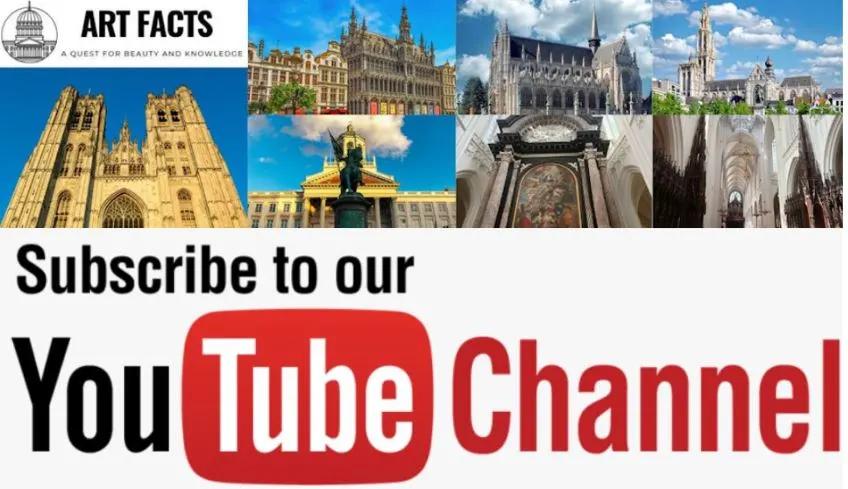 ---
His talent as a painter was recognized early on and in his early teens, his father dropped him off at one of his uncles in Venice and he eventually ended up in the workshop of the most famous painters in the city at the time, the brothers Gentile and Giovanni Bellini.
4. His brother became a moderately famous painter as well
One of the most interesting facts about Titian is that his older brother, Francesco Vecellio, also became a relatively famous painter in Venice and followed him to the workshop of Giovanni Bellini.
While he received numerous commissions during his lifetime, including the altarpiece of the "Chiesa di San Salvatore" in Venice, Francesco would never attain the same level of success as his younger brother Tiziano.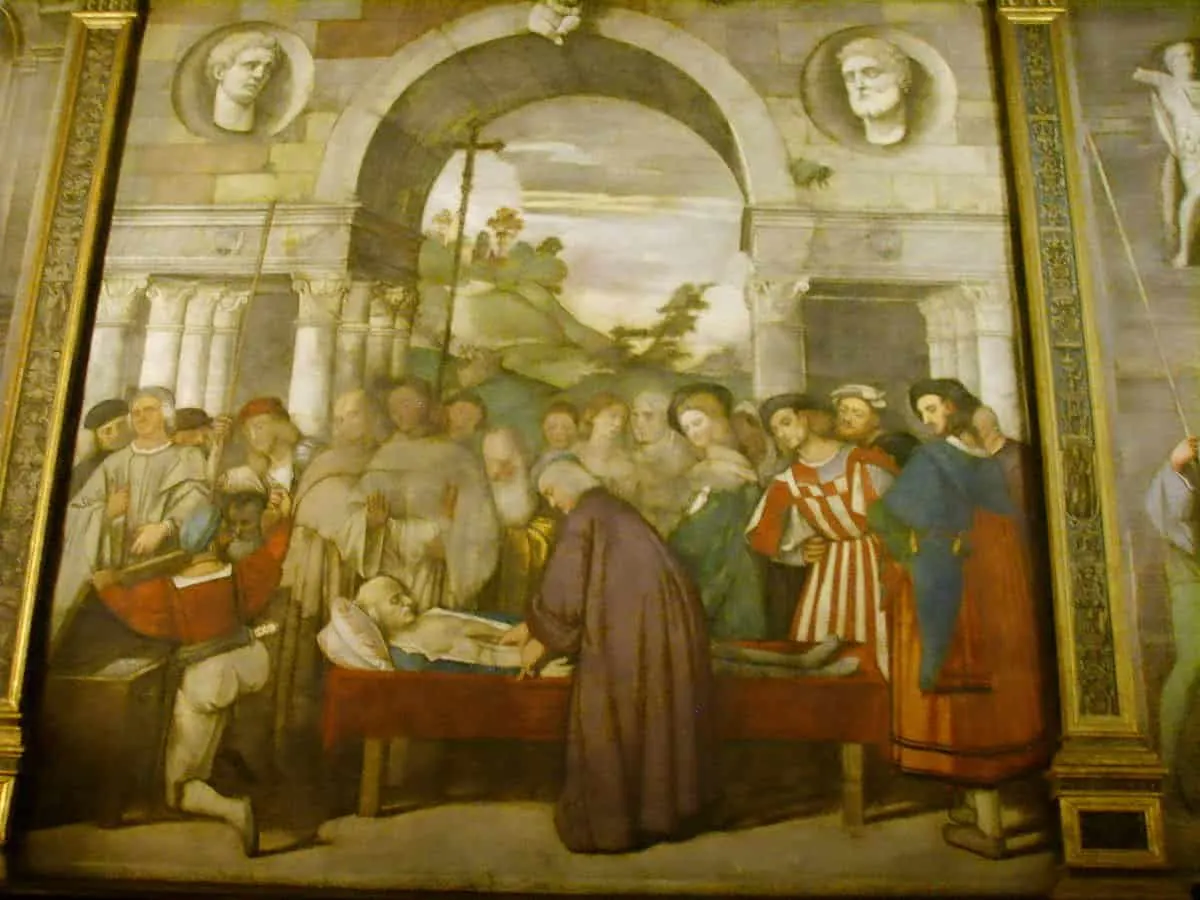 5. His early period is defined by a rivalry with one of his friends
During his time in the workshop of Bellini, which lasted until the death of Giovanni in 1516, he started receiving his first commissions and met a lot of other famous artists.
One of them named Giorgio da Castelfranco and nicknamed "Giorgione," would become one of the founders of the Venetian School together with Titian. Their rivalry during this period brought their art to another level, but unfortunately, Giorgione died in 1510 when he was in his early thirties.
Titian learned a lot from his master, even though many contemporaries already believed the quality of his works already exceeded the quality of the works of Giorgione.
6. He's one of the most renowned portrait-painters in history
He started creating portraits early on in his career and one of his first portraits was a painting called "A Man with a Quilted Sleeve." Even though the quality of this early work has been praised, it's uncertain who Titian depicted.
The painting was created around 1509-1510 and can now be admired at the National Gallery in London.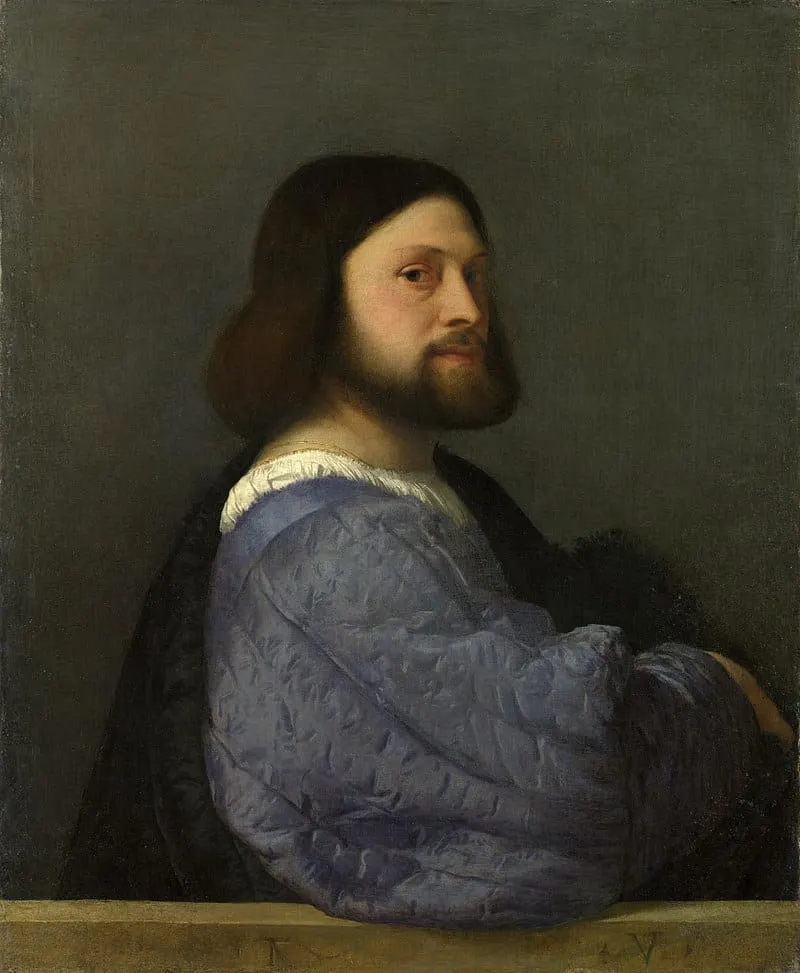 7. A Dutch Baroque artist used the composition of his first portrait
This painting, which was possibly created when Titian was in his early twenties (in case he was born around 1588-1590 according to art historians), emphasizes the influence Titan had as an artist on future generations.
Famous Baroque artist Rembrandt (1606-1669) borrowed the remarkable pose of the man in two of the self-portraits he created. He probably saw the painting in Amsterdam as it was being shipped from France to London, which is how it eventually ended up at the National Gallery.
8. He created his ultimate masterpiece shortly after his master died
In the year 1516, which was the year that his master Giovanni Bellini died which made him the most renowned painter in Venice at the time, he started working on a commission for the high altar of the Basilica di Santa Maria Gloriosa dei Frari in Venice.
He worked on the "Assumption of the Virgin" for more than 2 years before it was completed in 1519 and it would end up becoming one of his ultimate masterpieces. It has dimensions of 690 × 360 centimeters (270 × 140 inches) which is still the largest altarpiece in all of Venice.
The painting was revolutionary at the time because it perfectly integrated 3 different stories into one single painting, a composition that catapulted him to become the ultimate master north of Rome at the time.
9. He acquired the same level of admiration as other famous artists
One of the most remarkable facts about Titan is that the level of fame he acquired during this early period in his career was literally at the same level as some of the most renowned artists of the Renaissance.
Yes, this means that his contemporaries saw his work as being of the same level as the works of artists such as Michelangelo, Raphael, and Leonardo da Vinci.
This is emphasized by the fact that he constantly received commissions from higher and higher levels of clientele, ultimately resulting in orders from the Popes and the Habsburg Rulers!
10. He became a perfectionist during the last quarter-century of his life
During his career, his versatility knew no bounds. While he was a very popular portrait painter, he was also capable of creating huge religious or mythological works that featured magnificent landscapes and dramatic scenes.
As he matured, he became a true perfectionist and sometimes retouched paintings he worked on 10 years earlier. This gradually got worse as he got older and his self-criticism during the final 25 years of his life was extraordinary.
11. Titian was the undisputed master of the Venetian School for 6 decades
One of the most amazing facts about Titian is that he stayed at the top of his game until the final years of his life. He continued to accept commissions while he was most probably approaching his nineties.
This also means that he stayed one of the ultimate masters of the 16th century for a period of over 60 years, meaning he dominated art in Italy and beyond for over 6 decades, quite an achievement!
12. His final painting was supposed to decorate his own tomb
While the quality of his work didn't suffer one bit as he was entering the final stage of his life, his work did become more grim and depressing. This is emphasized by the fact that his final work was a dark version of the Pietà, the same subject of Michelangelo's first and final sculptures as well.
His final work wasn't a commission but was a work he created with the intention of it to decorate his tomb at the Basilica di Santa Maria Gloriosa dei Frari in Venice. The work is now on display at the Gallerie dell'Accademia in the city.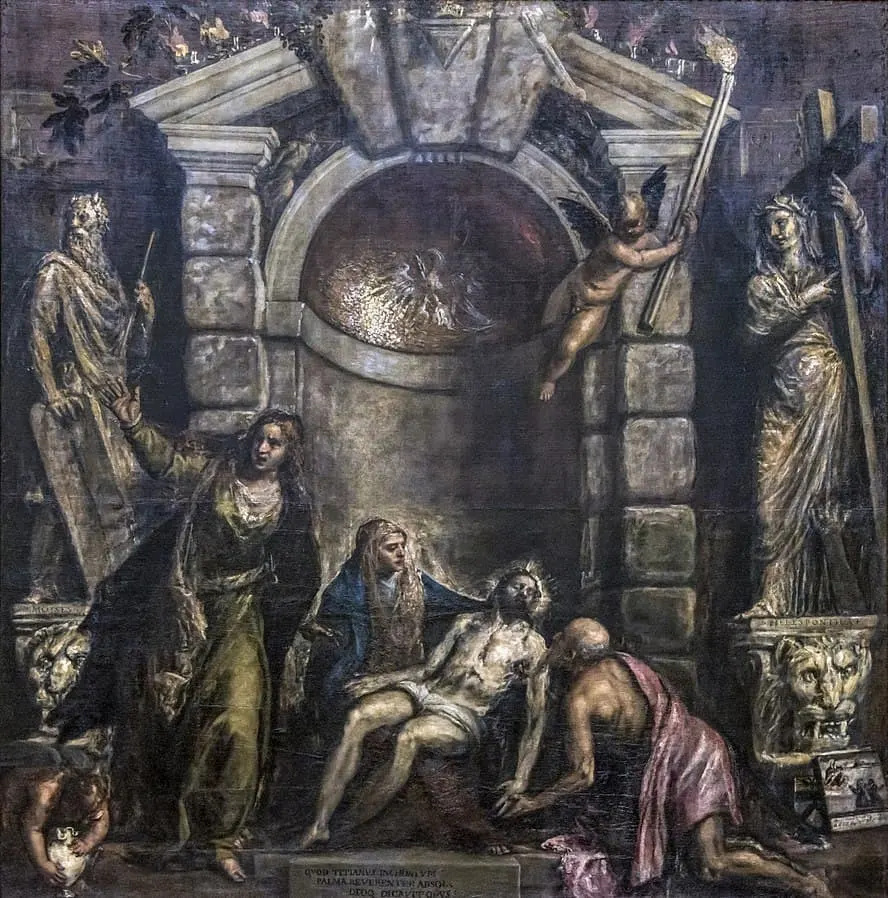 13. Both his wife and daughter died in childbirth
Titian suffered at least two major tragedies during his lifetime, and remarkably, these tragedies were identical. First, his wife Cecilia with whom he had 2 sons died in the year 1530 while she was delivering another child.
Titian remarried and had a daughter with his second wife named Lavinia whom he often painted. She got married but suffered the same faith as his first wife as she died during childbirth in the year 1560.
14. Titian once had Tintoretto as a pupil but he sent him home
At one point, the famous Renaissance artist had a pupil who was referred to as Tintoretto (1518-1594). Shortly after he was accepted, he sent the young boy back home because he didn't like the subject of the drawings he made.
Tintoretto would eventually become one of the most famous Mannerist artists in history. His paintings are characterized by dramatic scenes and bold use of perspective, the exact style he was sent home for by Titian!
15. He created a total of 400 works of art of which 300 survived
It's fair to conclude that Titian left behind a magnificent oeuvre of masterpieces. He created a total of 400 paintings of which at least 300 survived until today.
Some of these works are some of the most valuable paintings in the world, something emphasized by the purchase of one of his famous works called "Diana and Actaeon," jointly by the National Gallery in London and the Scottish National Gallery for a sum of £50 million in 2009.
Both museums bought another painting called "Diana and Callisto" for £45 million in March 2012!