This Italian artist was born during the first couple of years of the High Renaissance, a time when multiple extremely talented artists converged.
Agnolo di Cosimo (1503-1572) is better known by his nickname "Bronzino" and was a Mannerist artist. This was the period in art history that followed the High Renaissance.
He worked for large periods of his career as the court painter of Cosimo I de Medici, Grand Duke of Tuscany (1519-1574). While he mainly focused on portraits, his oeuvre also consists of several religious and mythological paintings.
In this article, we'll take a closer look at some of the most interesting facts about Venus, Cupid, Folly, and Time, one of Bronzino's most enigmatic works.
1. It was completed shortly after he started working for the Grand Duke of Tuscany
Bronzino was born and raised in Florence, the capital city of the Tuscany region in Central Italy. He was trained by a local artist named Pontormo (1494-1557) when he was still a young teenager.
Both men continued to work together for as long as his master lived and he was very much influenced by him. His works did, however, not feature the dramatic facial expressions used by Pontormo.
The artist produced his first paintings for Cosimo I de' Medici in 1539, the year that he married Eleanor of Toledo (1522-1562). This initial work was very much appreciated by the Grand Duke and he continued to hire Bronzino for portraits.
The Portrait of Eleanor of Toledo and her Son (1545) is one of the most famous portraits of the 16th century and the first to depict the ruler's heir.
Venus, Cupid, Folly, and Time is a painting by Bronzino that was completed around the same time in 1545.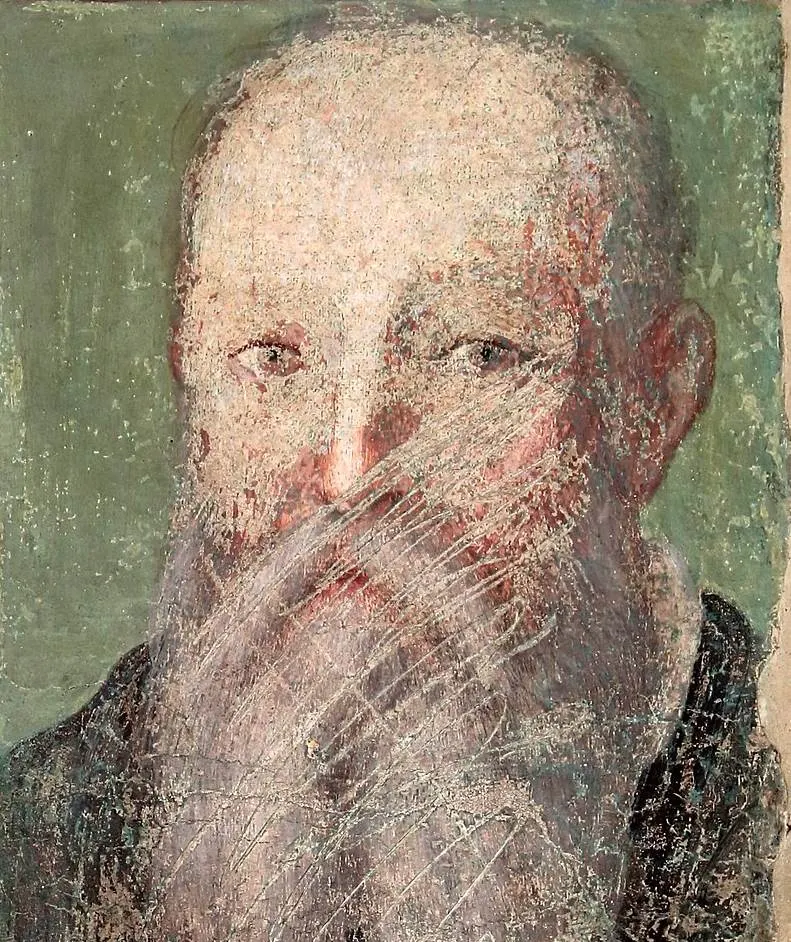 2. Art historians have debated what the painting depicts for centuries
---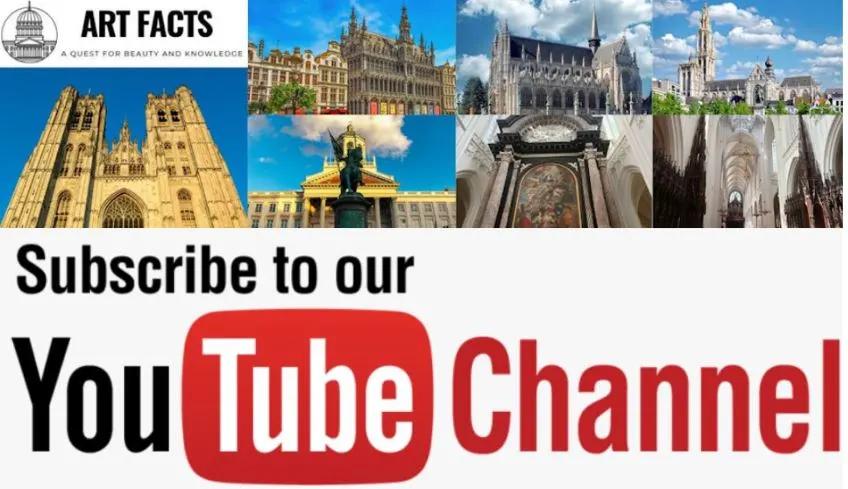 ---
The Venus painting has gone by several names throughout its history, including "An Allegory of Venus and Cupid" and "A Triumph of Venus."
That's mainly because art historians have debated what this enigmatic painting is about for many centuries.
The current title describes what some figures might represent. The only figures that can be positively identified are Venus herself and Cupid who is kissing his mother while trying to steal her crown.
Venus holds a golden apple, something she won in the Judgement of Paris according to the story from Greek Mythology.
Folly is believed to be the smiling child to the right who is about to shower both of them with rose petals.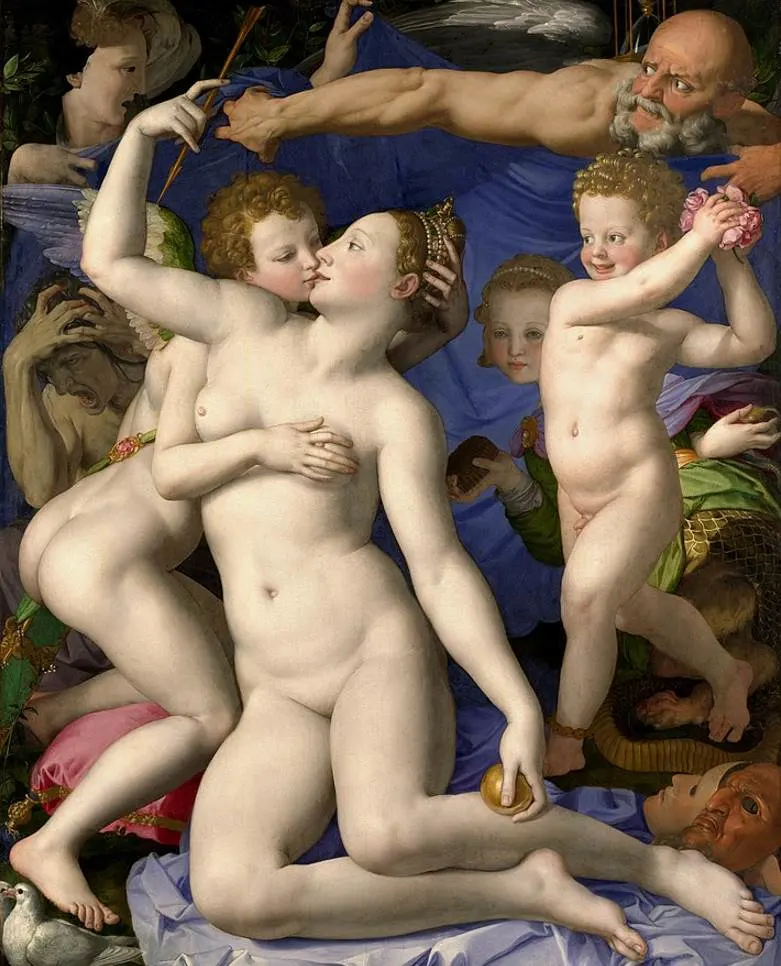 3. It was probably commissioned to serve as a gift for the King of France
Bronzino painted dozens of portraits of the Grand Duke of Tuscany and his family. Sometimes, however, he received commissions for religious or mythological paintings as well.
This painting might have been commissioned by Cosimo I himself to be presented to King Francis I of France as a gift.
The painting might be the one described by Vasari which was sent to France. The erotic overtone in this work is believed to have been something that appealed to the French king and the members of his court.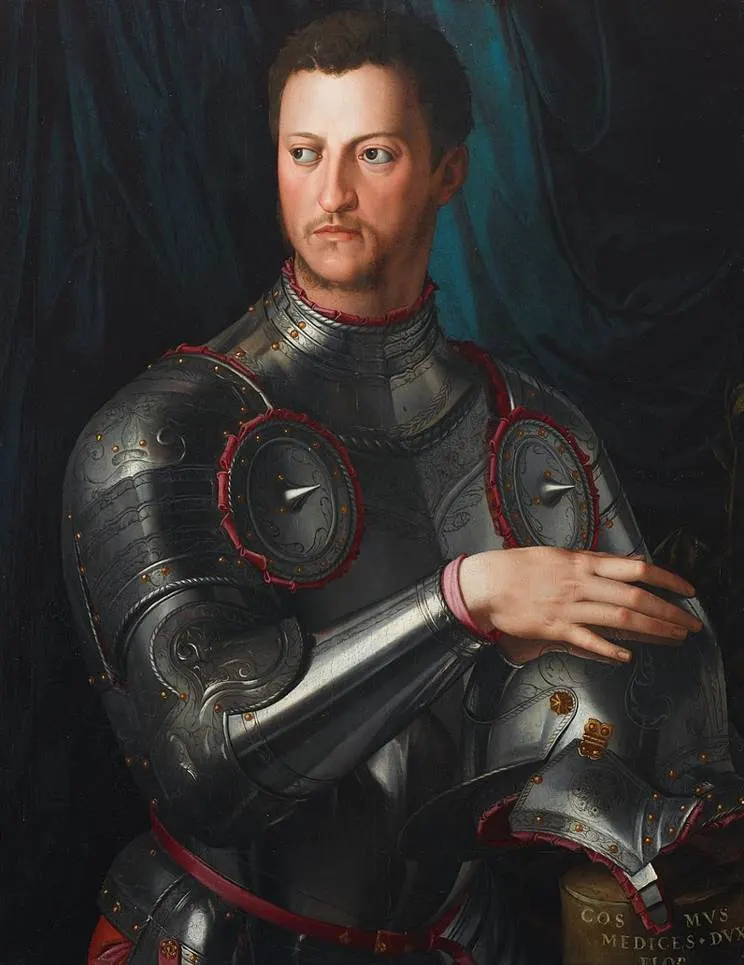 4. Vasari identified the figures in the 16th century without mentioning time
Giorgio Vasari (1511-1574) wrote a description of the painting that was sent to France and this includes an explanation as to what the figures are about.
While this appears to be pretty accurate, he still left out some crucial figures which means that he probably didn't know what they represented.
He made a picture of singular beauty, which was sent to King Francis in France in which was a nude Venus with Cupid kissing her, and on one side Pleasure and Play with other Loves. On the other, Fraud, Jealousy, and other passions of love.
5. The figure opposite the old man in the top section might represent oblivion
The upper section of the painting is dominated by an old man who appears to be pulling a curtain. The hourglass behind him has led art historians to believe that he serves as an allegory of time.
Opposite the old man, we can see another figure who is pulling on the curtain. He also appears to be losing his mask, a notion confirmed by two masks in the bottom right corner.
This peculiar figure in the top left corner might represent oblivion, a term used to describe the ceasing of consciousness after death.
6. The old woman on the left might depict jealousy or a sexually transmitted infection
The hideous old woman to the left of Venus is believed to be an allegory of Jealousy. Another theory suggests that she represents the outbreak of syphilis, a sexually transmitted infection.
The child-like figure with the body of a sphinx is even more mysterious and might represent either pleasure or fraud. She looks innocent, but has twisted hands and holds a honeycomb.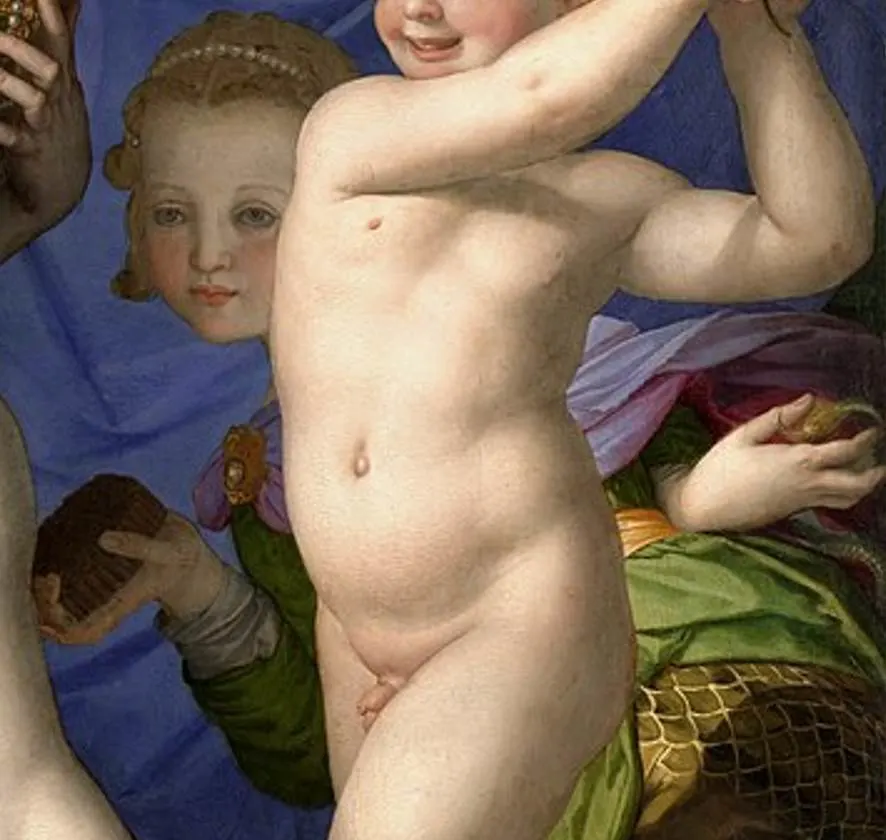 7. How big is Venus, Cupid, Folly, and Time by Bronzino?
Venus, Cupid, Folly, and Time by Bronzino is a medium-sized oil-on-wood painting that has dimensions of 146.1 × 116.2 centimeters (57.5 × 45.7 inches).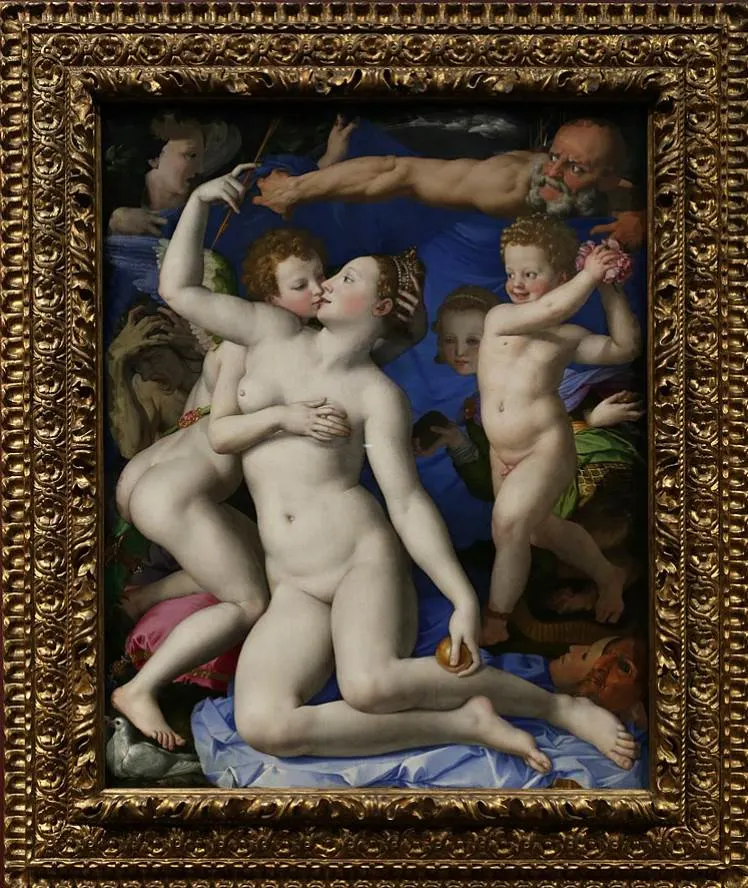 8. Where is the painting located today?
The painting was sent to France upon completion and remained there until napoleon Bonaparte brought it to Vienna.
Here, it entered the collection of Johann Keglević in the year 1813. He was a member of the Croatian nobility.
The painting was acquired by one of the most popular museums in London in 1860 and it remains part of the collection of the National Gallery today.