The first two decades of the 16th century marked the High Renaissance, a period in history when multiple talented Renaissance artists produced works of art.
Agnolo di Cosimo (1503-1572), better known by his nickname "Bronzino," was born at the start of it and was surely influenced by painters who worked n his native Florence.
The Mannerist artist managed to fill the void that was left behind by Renaissance masters such as Raphael and Leonardo da Vinci after they passed away.
He became one of the most respected artists in his home city and was hired by Cosimo I, the Grand Duke of Tuscany between 1537 and 1569, and spent most of his career as his court painter.
Although he mainly produced portraits of the Duke and his family members, he also completed many famous religious and mythological Mannerist paintings.
In this article, you'll discover some of the most famous paintings by Bronzino.
1. Venus, Cupid, Folly, and Time
Date created: 1545
Dimensions: 146.1 × 116.2 centimeters (57.5 × 45.7 inches)
Location: National Gallery, London, United Kingdom
Venus, Cupid, Folly, and Time is the title of the most enigmatic and mysterious painting that Bronzino ever completed. Art historians have been debating the exact meaning of all figures for centuries and there is no general consensus as to what they represent.
Giorgio Vasari gave a hint as to what it depicts in the 16th century and that's why the painting is titled the way it is. Venus holds a golden apple which she won in the Judgement of Paris and she is being kissed by Cupid. The little kid on the right is about to shower them with rose petals and might represent folly.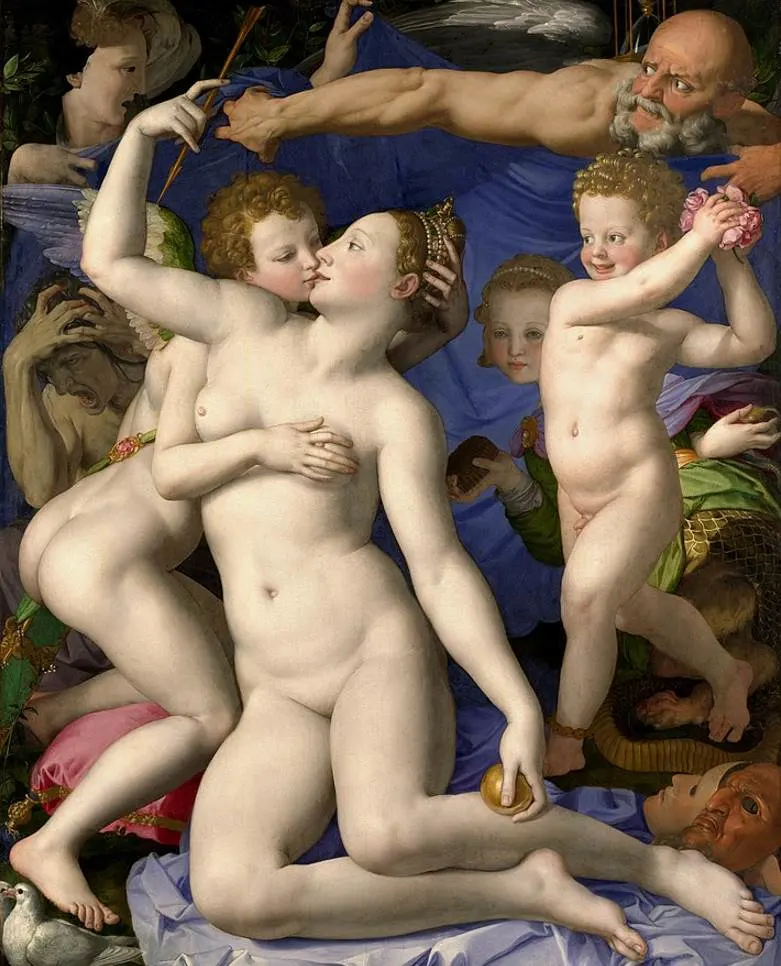 2. Portrait of Cosimo I de Medici
Date created: 1545
Dimensions: 74 × 58 centimeters (29 × 23 inches)
Location: Uffizi Gallery, Florence, Italy
The Portrait of Cosimo I de Medici is the title of one of several portraits that Bronzino made of his patron, Grand Duke Cosimo I de Medici. He is depicted in his younger years as the painting was completed while he was still in his twenties.
---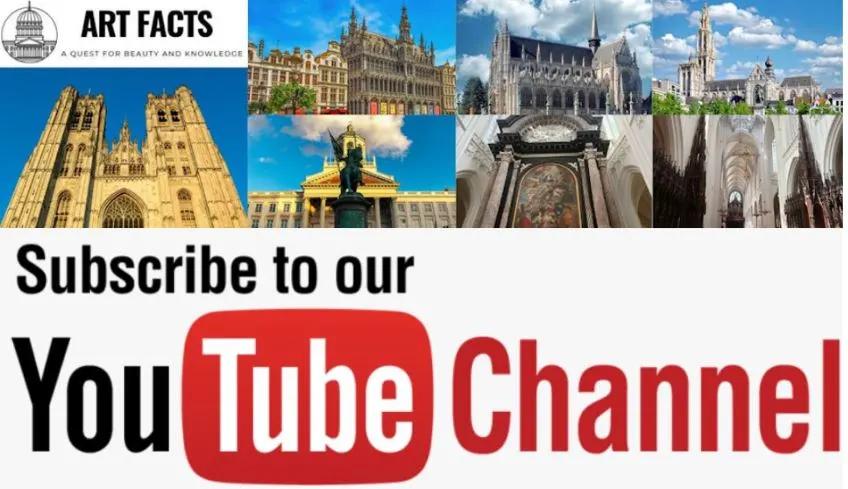 ---
The painting was commissioned to celebrate the fact that Cosimo had managed to get rid of a Spanish garrison that was stationed in Florence. Both Pope Clement VII (Giulio de' Medici) and Holy Roman Emperor Charles V gave the green light for Florence to become an imperial duchy run by the Medici family.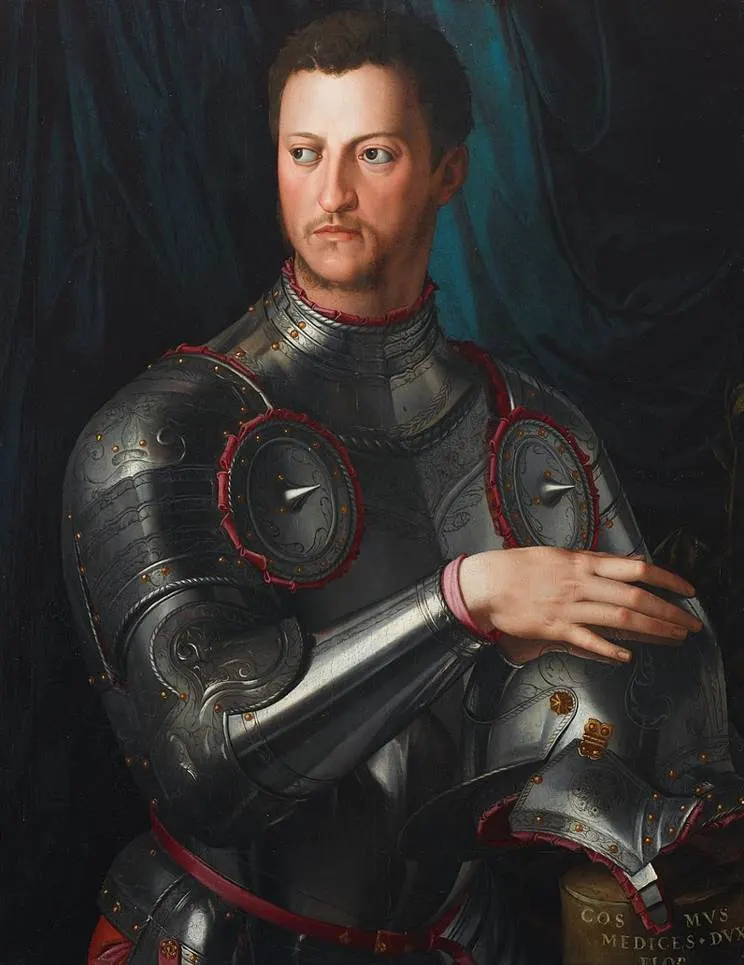 3. Portrait of Eleanor of Toledo and Her Son
Date created: 1545
Dimensions: 115 × 96 centimeters (45 × 38 inches)
Location: Uffizi Gallery, Florence, Italy
The Portrait of Eleanor of Toledo and her Son depicts the wife of Cosimo I, Eleanor of Toledo (1522-1562). The marriage between the Florentine ruler and the Spanish noblewoman happened in 1539 and this was also the year that Bronzino earned his first commission from his future patron.
The painting also depicts one of the couple's sons, most probably Giovanni who was born in 1543. This would make the by about 2 years old at the time. It's a significant work because it was the first portrait commissioned by a ruler which shows his heir. This means it was used as a propaganda piece to solidify Cosimo's rule.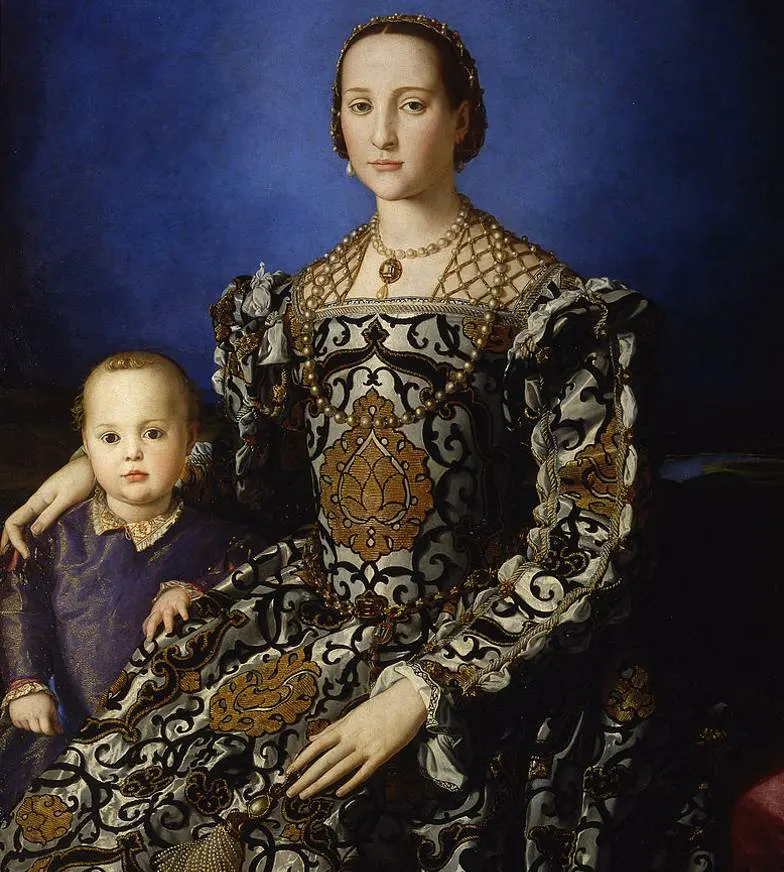 4. Pietà with Mary Magdalene
Date created: 1530
Dimensions: 105 x 100 centimeters (41.3 x 39.3 inches)
Location: Uffizi Gallery, Florence, Italy
Pietà with Mary Magdalene or simply "Pietà" is the title of an early work by Bronzino. The artist was still only in his twenties when he completed this painting and still a decade before he earned the first commission of Cosimo.
The Florentine artist was trained in the studio of Pontormo (1494-1557), one of the leading Mannerist artists in Florence at the time. This work clearly shows the influence of his master who often integrated dramatic effects on the faces of the people he painted. Bronzino's style gradually became calmer and less dramatic as his career moved forward.
5. Portrait of a Young Man with a Book
Date created: 1540
Dimensions: 95,6 × 74,9 centimeters (37.6 × 29.5 inches)
Location: MET, New York City, United States
Portrait of a Young Man with a Book is another famous portrait by Bronzino which depicts a proud young man. The youngster is holding a book that might hint at his profession as a poet or a writer. The book he holds is believed to feature poetry.
What's remarkable about this portrait is that the identity of the somewhat arrogant young man is unknown. It is, however, fairly certain that it was one of Bronzino's close friends. He hung out in literary circles in Florence and the painter was a renowned poet himself.
6. Deposition of Christ
Date created: 1545
Dimensions: 268 × 173 centimeters (106 × 68 inches)
Location: Musée des Beaux-Arts, Besançon, France
Deposition of Christ is the title of a large painting by Bronzino that supposedly depicts Jesus Christ who is being taken down from the cross after his crucifixion. This is not very accurate because the scene we can see here is actually the lamentation as many of Jesus' friends and family mourn over his dead body.
This large work was commissioned to be hung at the chapel of Eleanora of Toledo at the Palazzo Vecchio. It was never hung there, however, because Cosimo I offered it as a diplomatic gift to a French associate of Charles V who hung it in his private chapel in Besançon. That's why the painting can be admired today in the local museum of this French city.
7. Crossing of the Red Sea
Date created: 1542
Dimensions: 320 × 490 centimeters (130 × 190 inches)
Location: Palazzo Vecchio, Florence, Italy
Crossing of the Red Sea is a monumental fresco that decorates the interior of the Palazzo Vecchio in Florence. Unlike the Deposition of Christ, this painting does decorate the chapel of Eleanor of Toledo because it was painted on the walls of this small space on the second floor of the palace.
It's one of three frescoes that Bronzino completed for this chapel, all of the depicting stories related to Moses derived from the Book of Exodus and the Book of Numbers. This work depicts the people of the Nation of Israel crossing the Red Sea. Moses can be seen commanding Joshua to lead his people to the promised land.
8. Panciatichi Holy Family
Date created: 1540
Dimensions: 117 x 93 centimeters (46 x 36.6 inches)
Location: Uffizi Gallery, Florence, Italy
Panciatichi Holy Family is the title of a painting that was most likely commissioned by Bartolomeo Panciatichi (1507-1582), an Italian politician and associate of Cosimo I. It's one of at least two paintings that Bronzino completed for this man as he also completed his portrait.
The reason why we can be fairly certain that he commissioned it is that the coat of arms of the Panciatichi can be seen flying in the top left corner of the work. The subsequent history remains unclear as it was only mentioned for the first time at the Uffizi in 1704.
9. Portrait of Bia de' Medici
Date created: 1542
Dimensions: 64 × 48 centimeters (25 × 19 inches)
Location: Uffizi Gallery, Florence, Italy
The Portrait of Bia de' Medici is a painting that depicts Bianca de' Medici (1536-1542), the illegitimate daughter of Cosimo I. The mother of the girl remains unknown and Cosimo was still a teenager, perhaps not older than 16 years old, when he fathered her.
The girl died when she was barely six years old when she died from a fever in 1542. This was also the year that this portrait was completed and art historians assume that Cosimo commissioned it to commemorate his little girl. This theory is made strong because it hung in the private quarters of the Grand Duke's palace.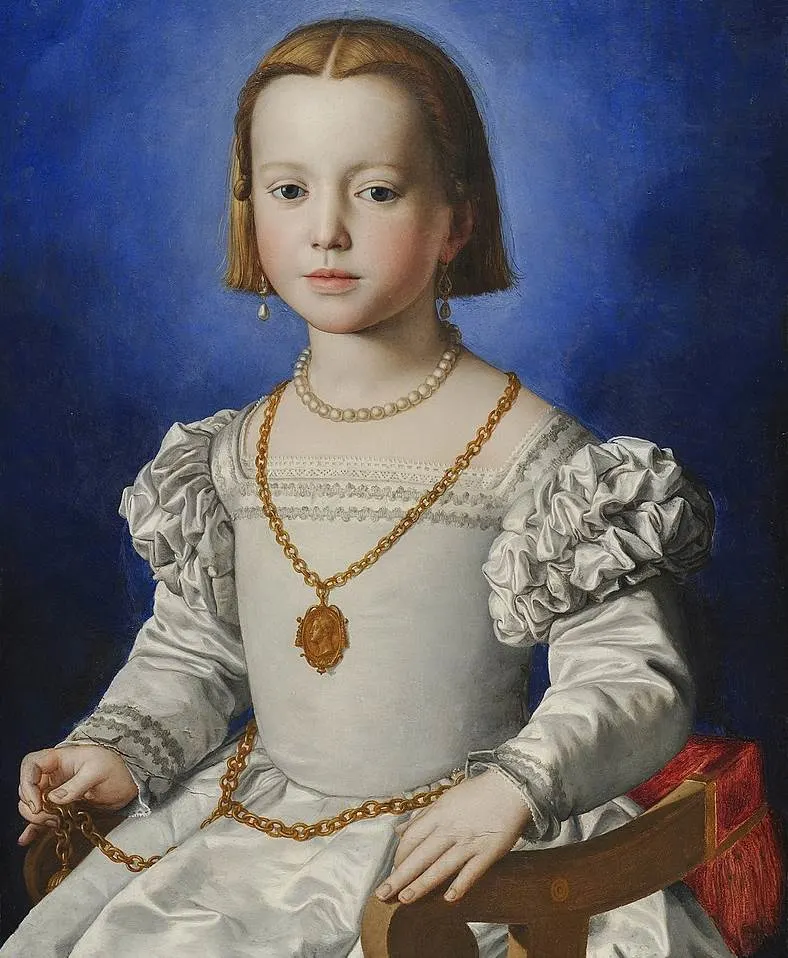 10. Allegory of Happiness by Bronzino
Date created: 1567
Dimensions: 40 x 30 centimeters (15.7 x 11.8 inches)
Location: Uffizi Gallery, Florence, Italy
The Allegory of Happiness is a relatively small oil on copper painting by Bronzino which he completed in the year 1567 during the final decade of the artist's life. It's believed to have been commissioned to decorate the Studiolo of Francesco I, a small room in the Palazzo Vecchio.
This small barrel-vaulted room was commissioned by Francesco I de Medici, Grand Duke of Tuscany, the man who became the Second Grand Duke of Tuscany in 1574 and successor of Cosimo I. It was completed between 1570 and 1572 and this work was one of 34 paintings decorating its walls.