When famous Realism artists emerged in France after the French Revolution of 1848, they wanted to portray the common man as he was.
They went against the idealized paintings of Neoclassical artists and the often overly dramatized paintings of Romantic artists. These two art movements had been dominant during the first half of the 19th century.
It went hand in hand with the political situation at the time. The Second Republic was established which renewed interest in the working class. The "right to work principle" was established and workshops were created all across France.
This formed the inspiration for artists like Gustave Courbet (1819-1877) who wrote the Realist Manifesto in 1855. The movement emerged in other parts of Europe and the United States as well, sometimes with less emphasis on what Courbet wrote down.
In this article, we'll take a closer look at some of the most famous Realism paintings, artworks that define the Realism art movement.
1. The Gleaners – Jean-François Millet
Date created: 1857
Dimensions: 83.8 × 111.8 centimeters (33 × 44 inches)
Location: Musée d'Orsay, Paris, France
The Gleaners is one of the most iconic Realism paintings ever produced. It depicts 3 women as they are gleaning a recently harvested field of wheat. This tiring job is a reflection of the sympathy felt by Realism artists for the common workers by Jean François Millet (1814-1875).
This type of job was looked down upon by the higher classes of society in France in the 19th century and especially academic artists. This doesn't make it surprising that the upper classes didn't appreciate this painting by Millet when it was displayed at the Paris Salon of 1857.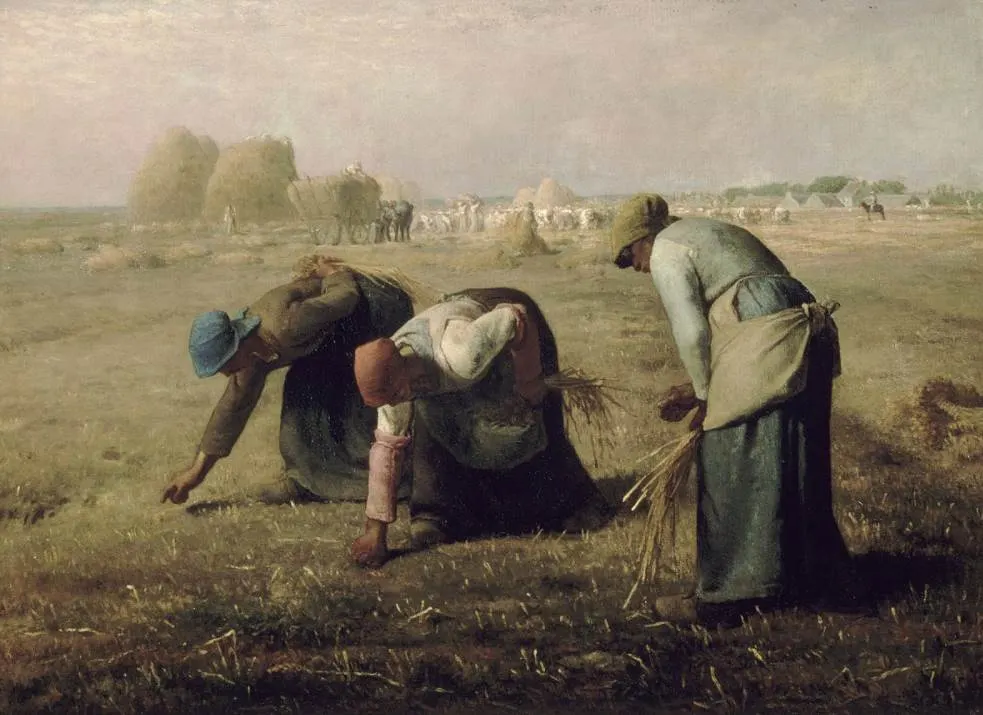 2. A Burial At Ornans – Gustave Courbet
Date created: 1849-1850
Dimensions: 315 × 660 centimeters (124 × 260 inches)
Location: Musée d'Orsay, Paris, France
A Burial At Ornans is one of the most famous Gustave Courbet paintings and an extremely significant work by a French artist in the 19th century. The painting depicts an actual event that took place in September 1848, the burial of Courbet's great-uncle.
This also means that most of the people in the painting were people that were present at this burial. In that sense, it resembles El Greco's painting called the "Burial of the Count of Orgaz" (1586), another painting that realistically depicts a funeral.
3. Nighthawks – Edward Hopper
Date created: 1942
Dimensions: 84.1 × 152.4 centimeters (33.1 x 60 inches)
Location: Art Institute of Chicago, Chicago, United States
---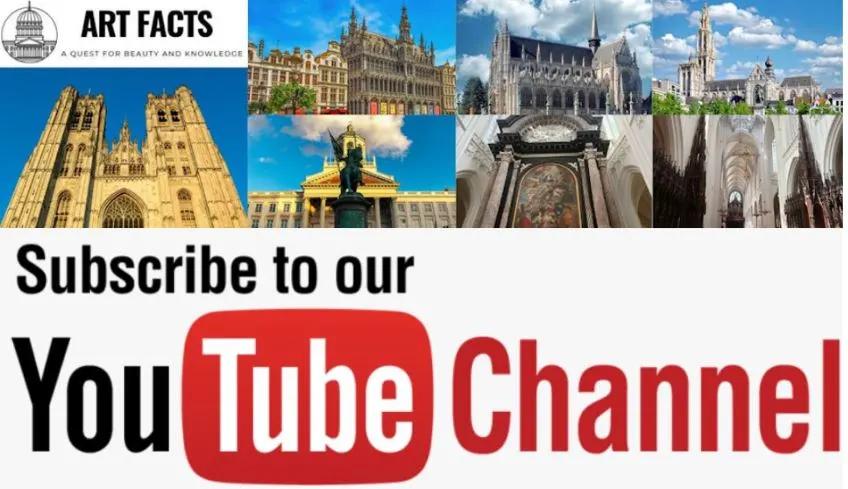 ---
Nighthawks is one of the most famous American paintings ever produced by the renowned American artist Edward Hopper (1882-1967). It depicts a late-night diner with a huge glass window that is brightly illuminated in a gloomy city landscape.
The painting by Hopper was instantly bought by the Art Institute of Chicago upon completion in 1942 for $3,000 and has been on display at the museum ever since. It has become one of the greatest attractions of this museum and has been replicated in various forms of media.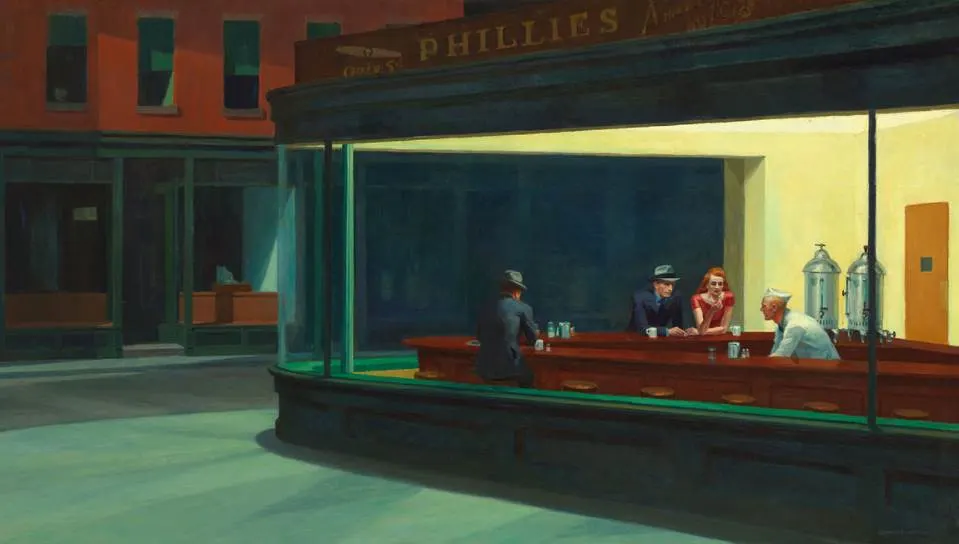 4. Paris Street, Rainy Day – Gustave Caillebotte
Date created: 1877
Dimensions: 212.2 × 276.2 centimeters (83.5 × 108.7 inches)
Location: Art Institute of Chicago, Chicago, United States
Paris Street, Rainy Day is the best-known painting by French artist Gustave Caillebotte (1848-1894). Caillebotte eventually became a member of the Impressionists but his paintings are distinctively more realistic than other Impressionist artists.
This is reflected in this magnificent scene of a street in Paris as people walk across the glistening cobblestone road. The artist was highly interested in photography and this is clear in this extremely realistic work of art.
5. Snap the Whip – Winslow Homer
Date created: 1872
Dimensions: 56 × 91.4 centimeters (22 × 36 inches)
Location: Butler Institute of American Art, Youngstown, Ohio, United States
Snap the Whip depicts a children's game played by a group of children in rural America. This scene takes place in the period following the American Civil War (1861-1865) which was a time when more and more Americans started living in large cities.
The Reconstruction era (1865-1877), as it's called, was also a period in which nostalgia about rural life before the devastating war was strong. Winslow Homer tried to reflect this by painting a group of boys while he spent the summer months in New York's Hudson Valley. It's one of Homer's most famous paintings.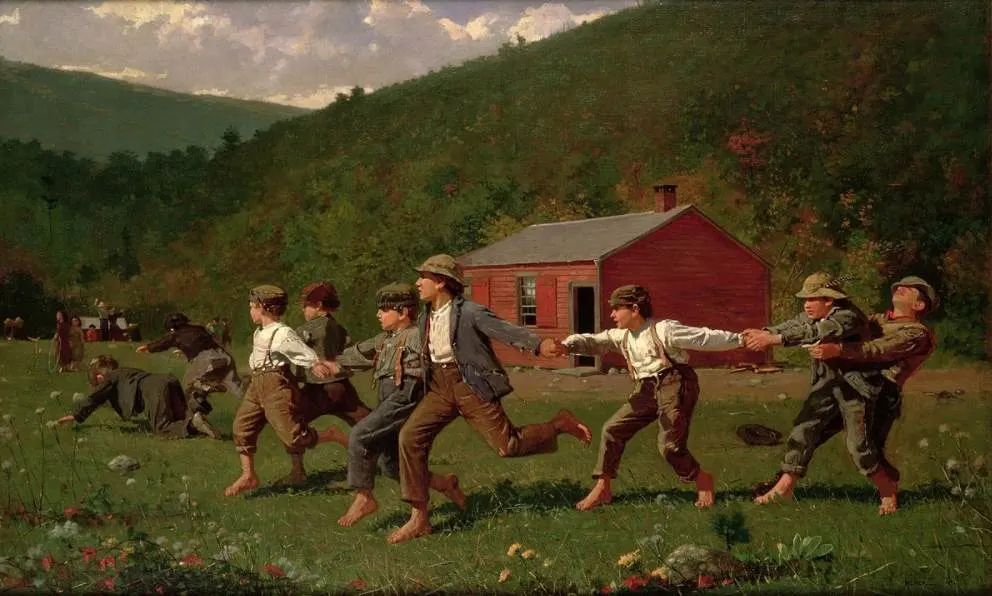 6. Breton Brother and Sister – William-Adolphe Bouguereau
Date created: 1871
Dimensions: 129.2 × 89.2 centimeters (50.9 × 35.1 inches)
Location: MET Museum, New York City, United States
Breton Brother and Sister is an extremely realistic portrait of a young girl and her little brother in Brittany, France. They are wearing traditional clothes and it's assumed that the artist was inspired to paint this work during one of his trips to the region.
William-Adolphe Bouguereau was an Academic painter who sometimes depicted common people such as shepherds and haymakers. Although he completed this remarkable painting in 1871, it's assumed that he produced it from sketches that he had made many years earlier in the 1860s.
7. Barge Haulers on the Volga – Ilya Repin
Date created: 1870-1873
Dimensions: 131.5 × 281 centimeters (51.8 × 111 inches)
Location: State Russian Museum, St. Petersburg, Russia
Barge Haulers on the Volga is one of the most famous works by Russian Realism painter Ilya Repin (1844-1930). The workers can be seen hauling a boat on the banks of the mighty Volga River, not a pleasant job by any means.
The realistic depiction of the work highlights the exhaustion of the men. Some of them are about to collapse from the hot weather and only one young man can be seen standing up straight. It's believed this is an actual scene of real people who Repin encountered during his travels through the country.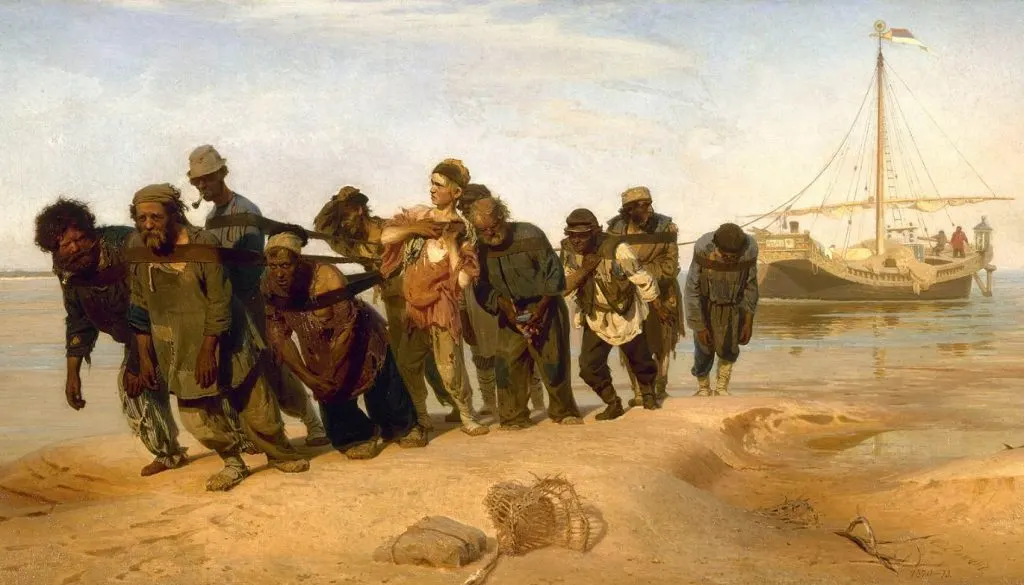 8. The Artist's Studio – Gustave Courbet
Date created: 1855
Dimensions: 361 × 598 centimeters (142 × 235 inches)
Location: Musée d'Orsay, Paris, France
The Artist's Studio is officially known as "The Painter's Studio: A real allegory summing up seven years of my artistic and moral life," and is another monumental work of art by Gustave Courbet. It depicts an interpretation of his studio in the artist's home town of Ornans.
Courbet worked hard to complete this painting for the Paris World Fair of 1855. Although 11 of his works had been accepted, the Artist's Studio was not among them. The artist held a lifelong grudge for this, a notion emphasized by the fact that he opened his exhibition called the "The Pavilion of Realism" during the official event in 1855.
9. October – Jules Bastien-Lepage
October is a painting also known as "Picking Potatoes" or "The Potatoe Gatherers" and is one of the best-known works by French artist Jules Bastien-Lepage (1848-1884). He developed a naturalistic style that emerged from the later phase of the Realism movement in France.
The painting depicts a scene near his home village of Damville in the northeastern part of the country. The painting was acquired by an Australian entrepreneur who lived in London in the late 19th century which is why it can now be admired in Melbourne.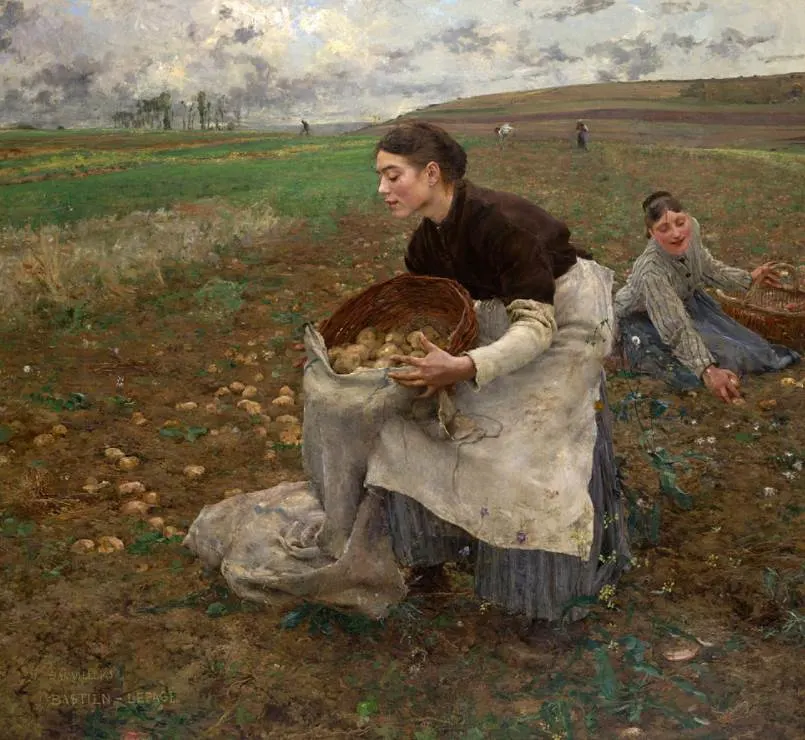 10. Eventide: A Scene in the Westminster Union – Hubert von Herkomer
Date created: 1878
Dimensions: 198.5 × 110.5 centimeters (78.1 × 43.5 inches)
Location: Walker Art Gallery, Liverpool, United Kingdom
Eventide: A Scene in the Westminster Union is considered to be the most famous work by Bavarian-born British artist Herbert von Herkomer. It depicts a group of elderly women at St James's Workhouse, in Soho, London, during the 1870s.
The painting was praised for its extremely realistic depiction of an actual scene in a workhouse. It was, however, criticized by academic critics when it was displayed at both the Royal Academy in 1878 and the Paris Salon in 1879. This was the faith of many famous Realism paintings depicting the common people of the lower classes of society in the 19th century.