If you want to admire modern artworks then you can hardly find a better museum than the MoMA or "Museum of Modern Art" in New York City. It's one of the largest of its kind in the world and an extremely influential one as well.
It features a large number of modern artworks ranging from architecture and design items to drawings, paintings, sculptures, photographs, prints, illustrated books, films, and even electronic media.
The museum was established in 1929 and has been housed in its present location since 1939. Just a few blocks north of Rockefeller Cente, it's nestled in between the skyscrapers of Midtown Manhatten on 53rd Street in between Fifth and Sixth Avenues.
In this article, you'll discover some of the most famous paintings at the MoMA, artworks that you simply have to see when you visit this amazing museum.
1. The Starry Night – Vincent van Gogh
Date created: 1889
Dimensions: 73.7 × 92.1 centimeters (29.01 × 36.26 inches)
The Starry Night is without a doubt the most famous painting by Vincent van Gogh (1853-1890), the Post-Impressionist artist who had a troubled life. His state of mind is perfectly reflected in this remarkable work of art that he painted from his bedroom window of a mental hospital in Southern France.
The Dutch artist used a similar starry sky in two other paintings called "Café Terrace at Night" and "Starry Night over the Rhône." These were painted before during his stay in Arles. It's one of the most iconic and best-recognizable paintings ever created.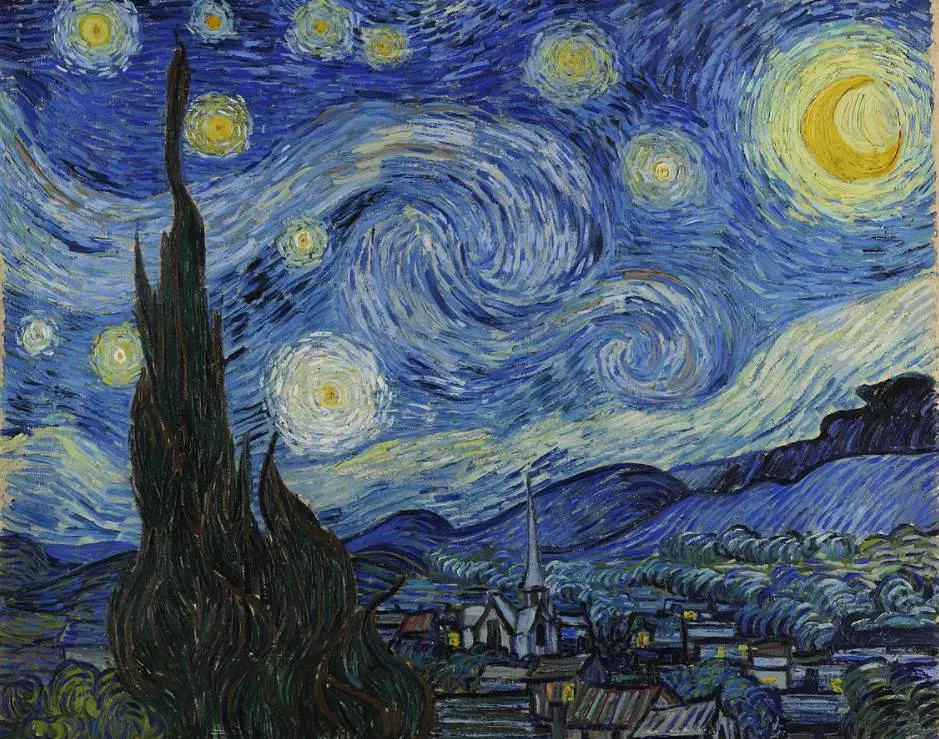 2. The Persistence of Memory – Salvador Dalí
Date created: 1931
Dimensions: 24 × 33 centimeters (9.5 × 13 inches)
The Persistence of Memory is an iconic Surrealist painting produced by Surrealist artist Salvador Dalí (1904-1989). The Spanish artist integrated melting clocks into this remarkable painting, elements that have been used frequently in various forms of media. It's Dalí's most famous painting.
The melting clocks, which are in fact pocket watches, have been described as a metaphor for the relativity of time and space. It could have been inspired by the theory of Albert Einstein (1879-1955) related to special relativity, although the artist himself denied this claim and jokingly called them Camembert (French cheese) melting in the sun.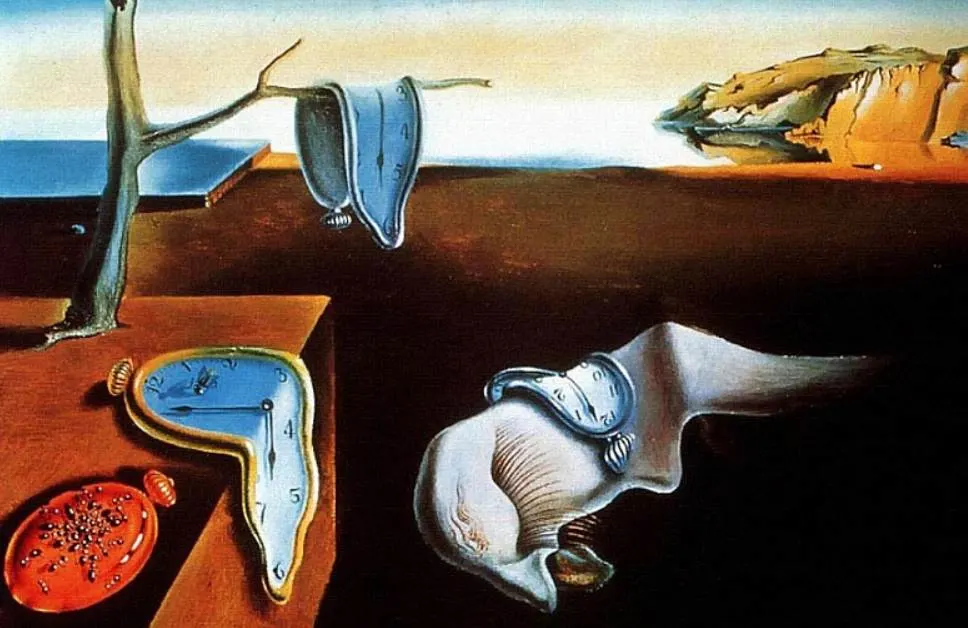 3. Les Demoiselles d'Avignon – Pablo Picasso
Date created: 1907
Dimensions: 243.9 × 233.7 centimeters (96 × 92 inches)
Les Demoiselles d'Avignon is one of the largest and most significant paintings in the oeuvre of Pablo Picasso (1881-1973), the world-famous Cubist artist. He was one of the most influential and best-known artists of the 20th century and transformed the world of modern art.
---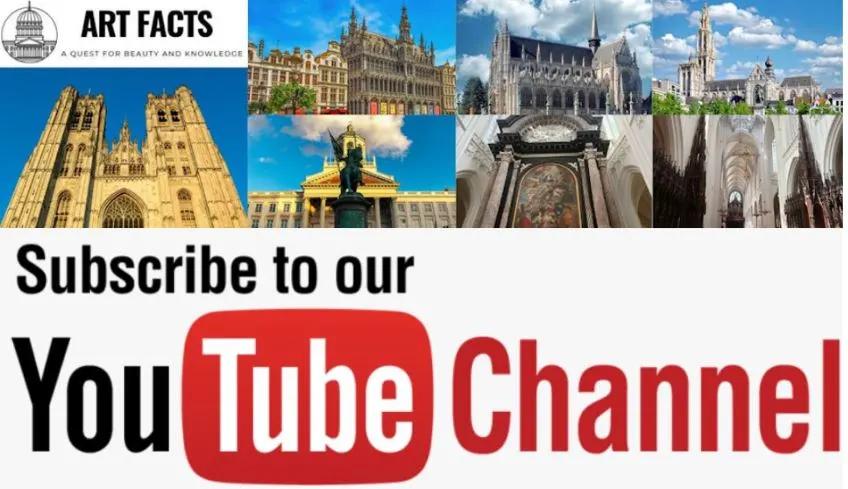 ---
The Cubist painting depicts 5 prostitutes who worked on the Carrer d'Avinyó in Barcelona, Spain. The figures appear to be deformed and unattractive, revolutionary features at the time and the main reason why the painting made it to the top of our list of most expensive paintings in museums today.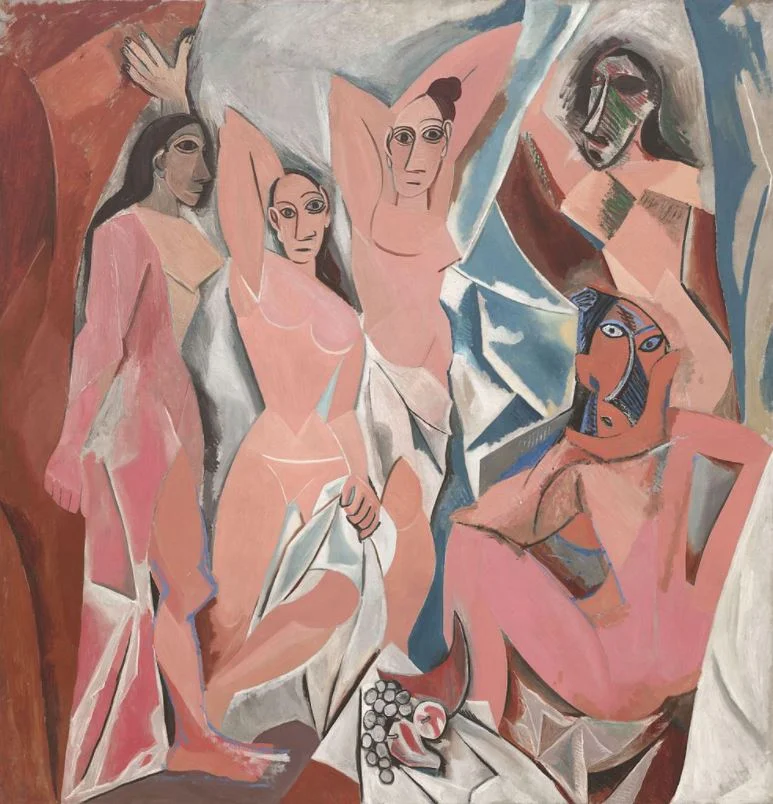 4. Campbell's Soup Cans – Andy Warhol
Date created: 1962
Dimensions: 51 × 41 centimeters (20 x 16 inches) for each of the 32 canvases
Campbell's Soup Cans is the most iconic work of art by Pop art artist Andy Warhol (1928-1987), a man who was the leading figure of this art movement in the late 1950s and 1960s. It's the epitome of using ordinary objects to produce works of art.
This was the definition of the Pop Art movement and the American artist used the 32 varieties of canned soup that were offered by Campbell's in the early 1960s. The artwork was produced using Synthetic polymer paint on canvas.
5. Christina's World – Andrew Wyeth
Date created: 1948
Dimensions: 81.9 × 121.3 centimeters (32.25 × 47.75 inches)
Christina's World by American artist Andrew Wyeth is one of the best-recognizable artworks produced in the United States halfway through the 20th century. The work resembles the works of Realism artists of the 19th century and was produced using an old material called egg tempera.
The backstory of this painting is rather tragic. It depicts a woman named Anna Christina Olson (1893-1968) as she is crawling across a field towards a house in the distance. The woman suffered from degenerative muscular disorder and refused to use a wheelchair. This forced her to crawl this way since she was 30 years old.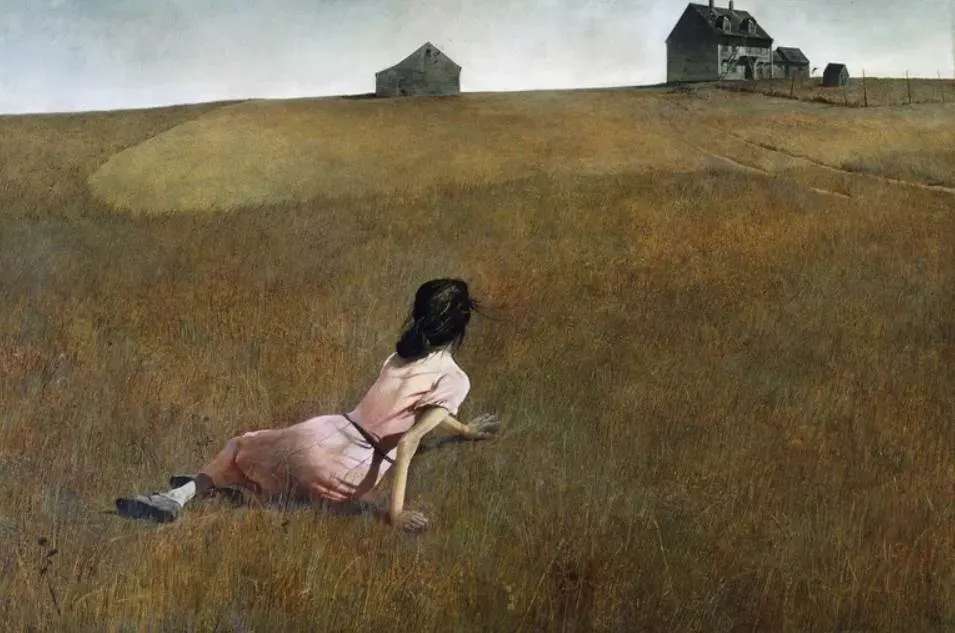 6. The Lovers – René Magritte
Date created: 1948
Dimensions: 54 x 73.4 centimeters (21.37 x 28.87 inches)
The Lovers is one of the many peculiar paintings produced by Belgian artist René Magritte, and one of 4 paintings in a series called "Les Amants." It depicts two lovers who try to kiss each other but are held back by the fabric that they are wearing on their heads.
The Surrealists artists of the first half of the 20th century were highly interested in veils and masks as they considered them to be a metaphor for the hidden things in life. Another explanation might be that the two lovers might not completely know each other's secrets.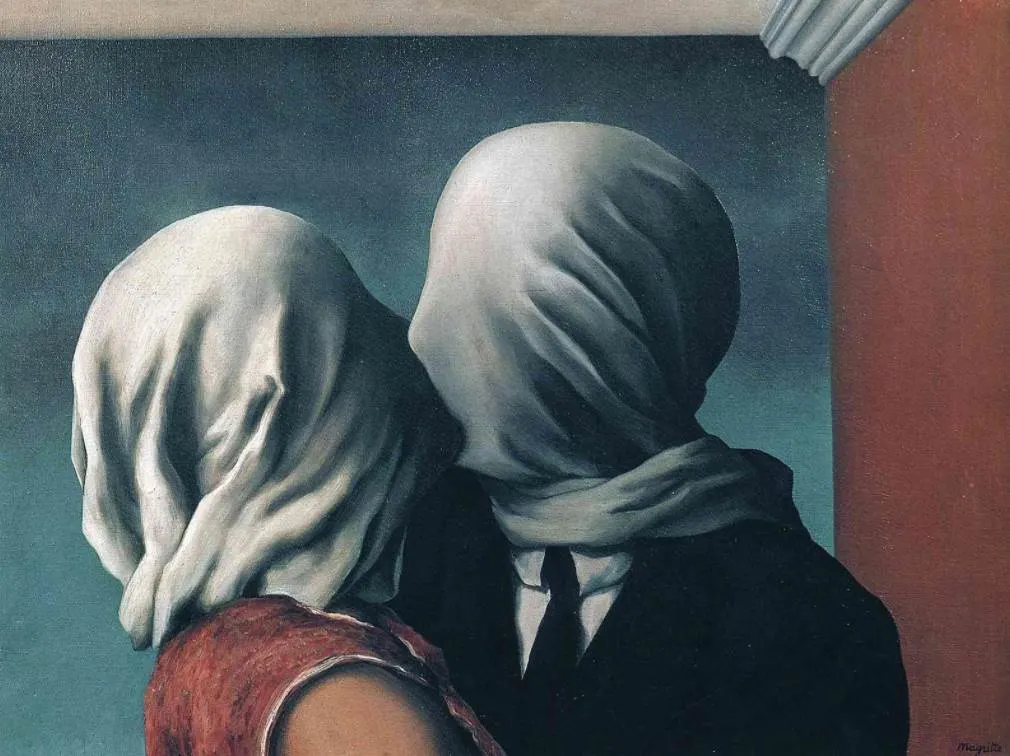 7. I and the Village – Marc Chagall
Date created: 1911
Dimensions: 192.1 × 151.4 centimeters (75.6 × 59.6 inches)
I and the Village is a famous painting by Russian artist Marc Chagall (1887-1985), a man who spent most of his career in France. It was painted in the typical Cubist style as many elements of the overall composition overlap each other.
Chagall was born in Belarus, a country in Eastern Europe that was part of the Russian Empire at the time. The various elements of the local culture in Chagall's native country, blend nicely in a painting that has been described as a "Cubist fairy tale."
8. Boy in a Red Vest – Paul Cézanne
Date created: 1888-1890
Dimensions: 81 × 85 centimeters (31.8 × 33.4 inches)
Boy in a Red Vest is one of the most famous paintings in the oeuvre of Paul Cézanne, the renowned French artist who formed the bridge between Post-Impressionism and the modern artist of the early 20th century and beyond.
It's one of the multiple variations of the same subject that Cézanne produced between 1889 and 1890. This was a period when Cézanne already developed his mature style using recognizable brushstrokes and plains of color to form larger fields. His style heavily included both Fauvism artists and Cubist artists in the following decades.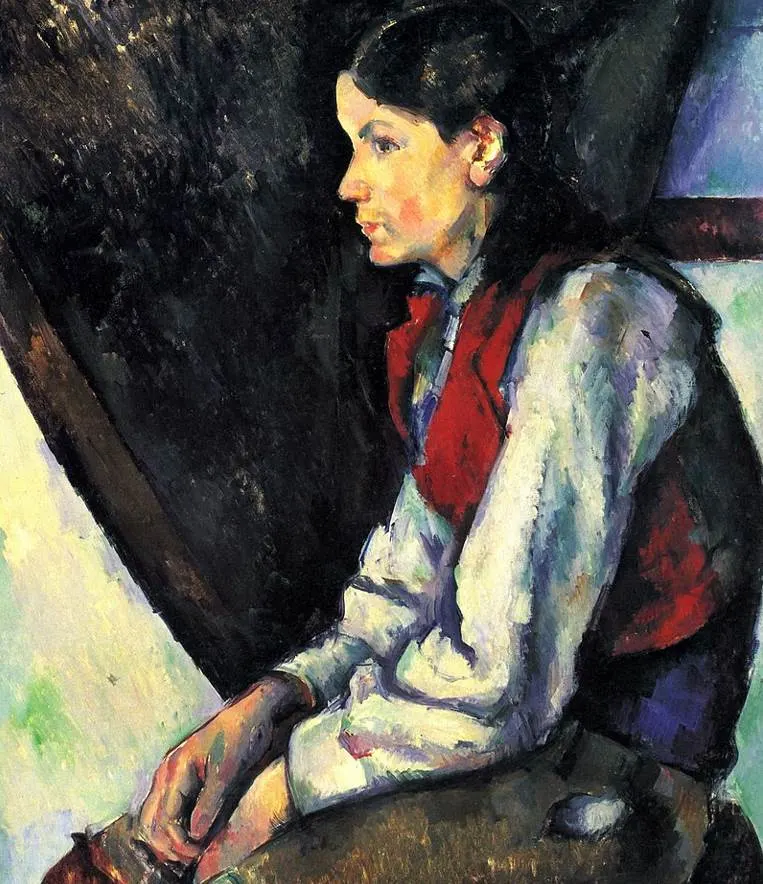 9. The Dream – Henri Rousseau
Date created: 1910
Dimensions: 204.5 × 298.5 centimeters (80.5 × 117.5 inches)
The Dream is one of the most famous works by Post-Impressionist artist Henri Rousseau (1844-1910). It's a very large painting and one of the 25 works of the artist that depict a jungle subject. It's a significant work in his oeuvre because it was the final painting that he ever produced.
The Dream is a reference to an experience by the artist's Polish mistress from his youth, a woman named Yadwigha (Jadwiga). She is lying naked in a jungle surrounded by lotus flowers and animals. She is reaching her arm toward a snake charmer who is playing his flute towards the viewer.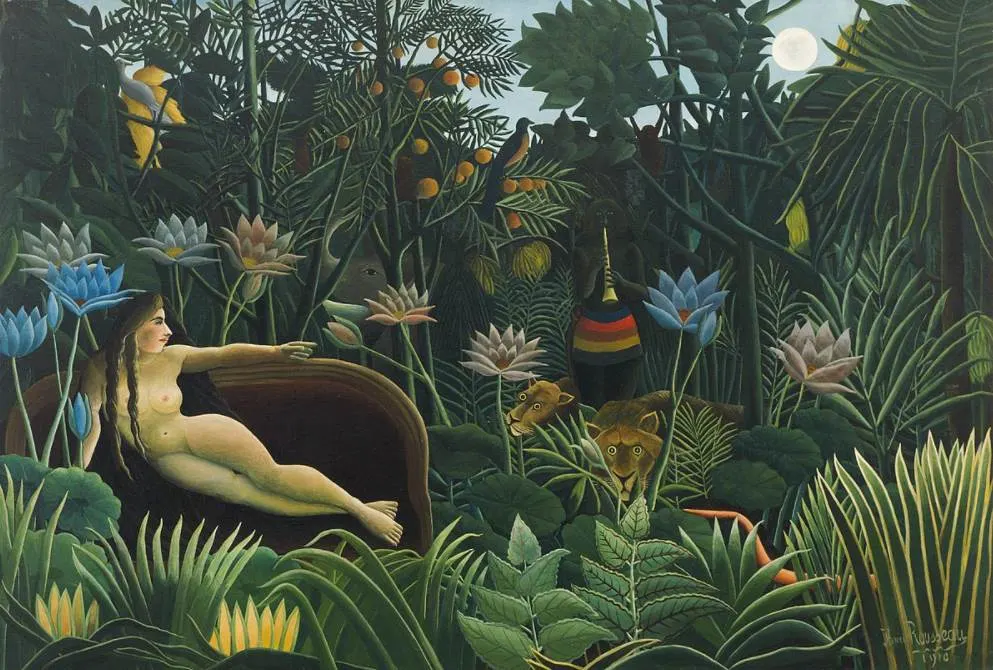 10. Girl before a Mirror – Pablo Picasso
Date created: 1932
Dimensions: 162.3 × 130.2 centimeters (63.9 × 51.3 inches)
Girl before a Mirror is another remarkable work of art by Pablo Picasso. It was produced exactly 25 years after the completed Les Demoiselles d'Avignon and clearly emphasizes the difference in style from his early period.
The painting depicts the artist's lover and mistress, a woman named Marie-Thérèse Walter (1909-1977) as she is standing in front of a mirror while looking at her reflection. It was painted while the artist was already 50 years old and at the height of his career.