There are a few examples of people who only fully focused on art later on in life, and this French artist is probably one of the most notable ones.
Henri Rousseau (1844-1910) was a customs officer and tax collector for most of his adult life. He started collecting tolls in 1871 in his twenties and only started fully focusing on his art at the age of 49.
Another remarkable aspect about Rousseau, a man who was mockingly referred to as "Le Douanier" during his artistic career, is that he was largely self-thought.
Regardless of this notion, he still aimed to become a successful academic painter. This was never going to happen, but he couldn't have picked up his brushes at a better time.
The Post-Impressionist artist started exhibiting his paintings regularly in 1886 at the Salon des Indépendants and gradually gained a following of admirers.
These were young aspiring artists who eventually became the first modern artists in history such as Henri Matisse (1869-1954) and Pablo Picasso (1881-1973).
Let's take a closer look at some of the most famous paintings by Henri Rousseau so you can understand why his oeuvre was so influential for young Avant-Garde artists.
1. The Dream
Date created: 1910
Dimensions: 204.5 × 298.5 centimeters (80.5 × 117.5 inches)
Location: MoMA, New York City, United States
The Dream was one of the final paintings that Henri Rousseau completed during his lifetime. It depicts a beautiful naked woman who is lying on a couch in the middle of the jungle. She is surrounded by tropical plants and creatures and we can distinguish a flute player in the bushes.
The idea behind the painting was that it depicts the artist's lover from his childhood years, a Polish woman named "Yadwigha," who is being transported to the jungle while dreaming. It's a huge work of art that was exhibited at the Salon des Indépendants in 1910 just a few months before the artist passed away.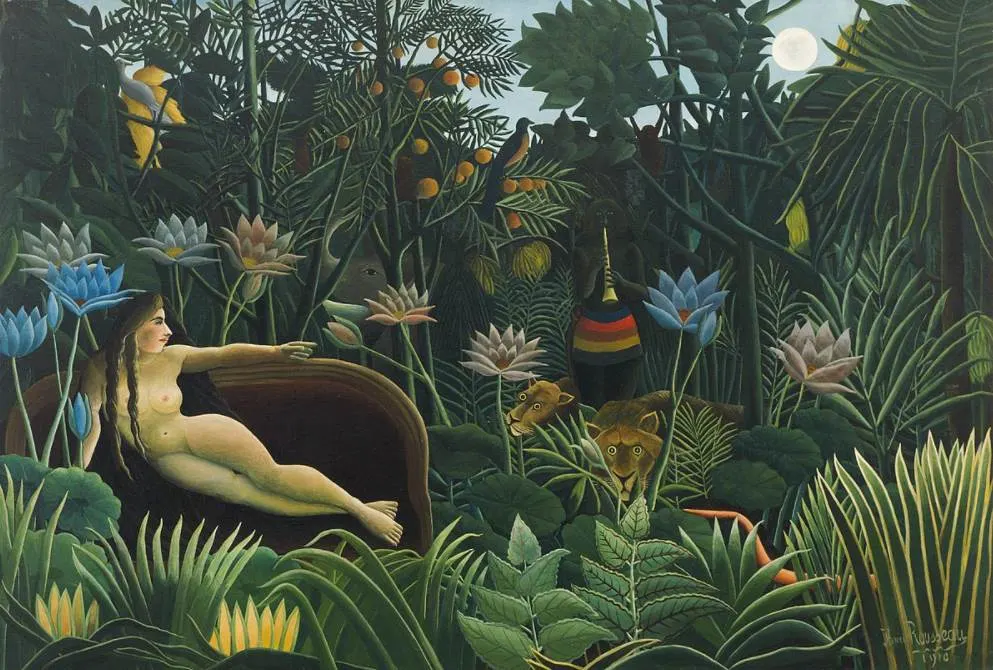 2. The Sleeping Gypsy
Date created: 1897
Dimensions: 129.5 × 200.7 centimeters (51 × 79 inches)
Location: MoMA, New York City, United States
---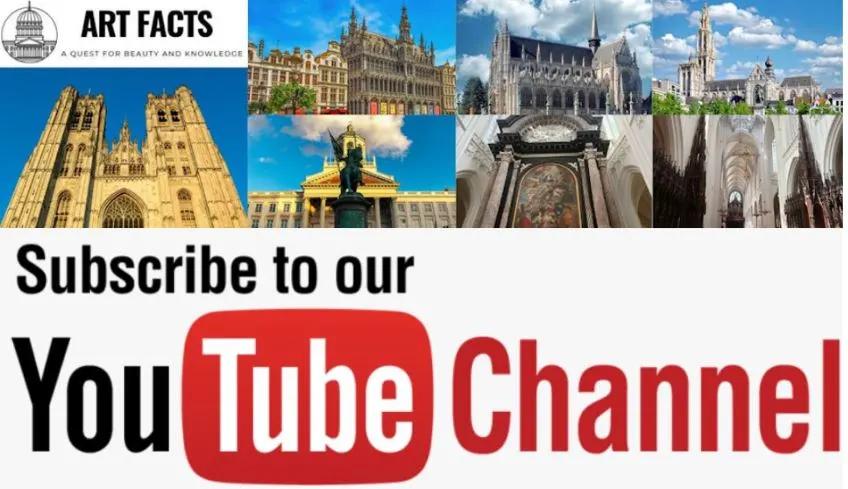 ---
The Sleeping Gypsy is another world-famous Rousseau painting that was completed in the late 19th century. He had moved to a studio in Montmartre just a few years earlier, a place where he stayed the rest of his life. He could officially call himself a full-time painter at the time.
This painting depicts a black gypsy woman while she is sleeping next to her mandolin and jar of drinking water. A lion is approaching her with curious eyes in the moonlit desert landscape. The painting emphasizes the interest in the Romani People that Rousseau, an interest shared by most people in France at the turn of the century.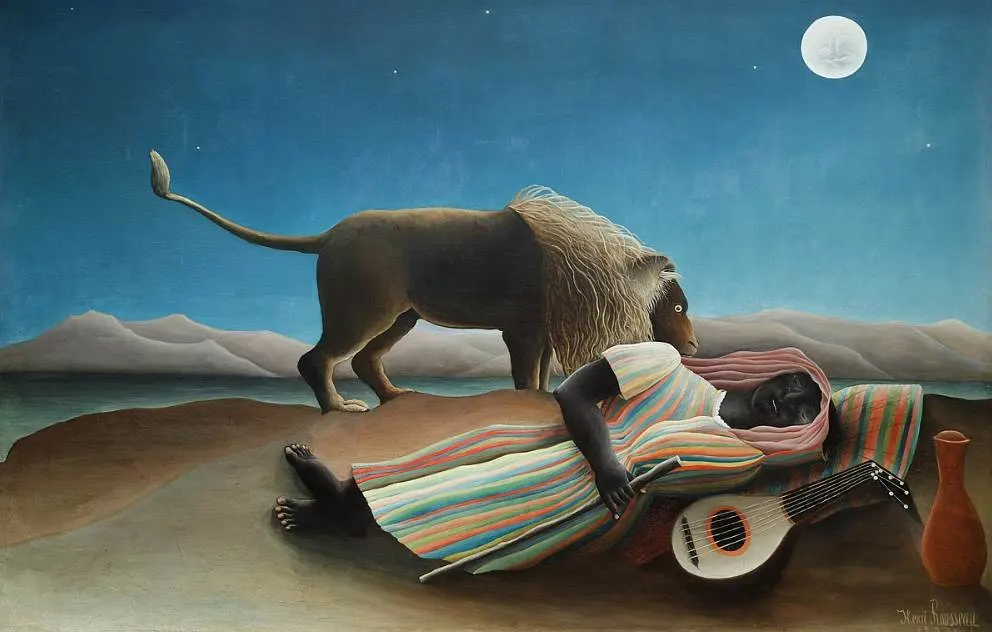 3. Tiger in a Tropical Storm
Date created: 1891
Dimensions: 130 × 162 centimeters (51.12 × 63.75 inches)
Location: National Gallery, London, United Kingdom
Tiger in a Tropical Storm is a significant painting in the oeuvre of Henri Rousseau. That's because it was the first over 25 jungle paintings that he produced during his career. It depicts a tiger that is illuminated by a flash of lightning in the jungle while the rain is pouring down.
The wild animal appears to be ready to attack the unsuspecting prey which is why Rousseau first exhibited the painting under the title "Surprise!" He attempted to try to be accepted at the Académie de Peinture et de Sculpture but was refused multiple times. His works continued to receive mixed reviews from academic art critics, including this one.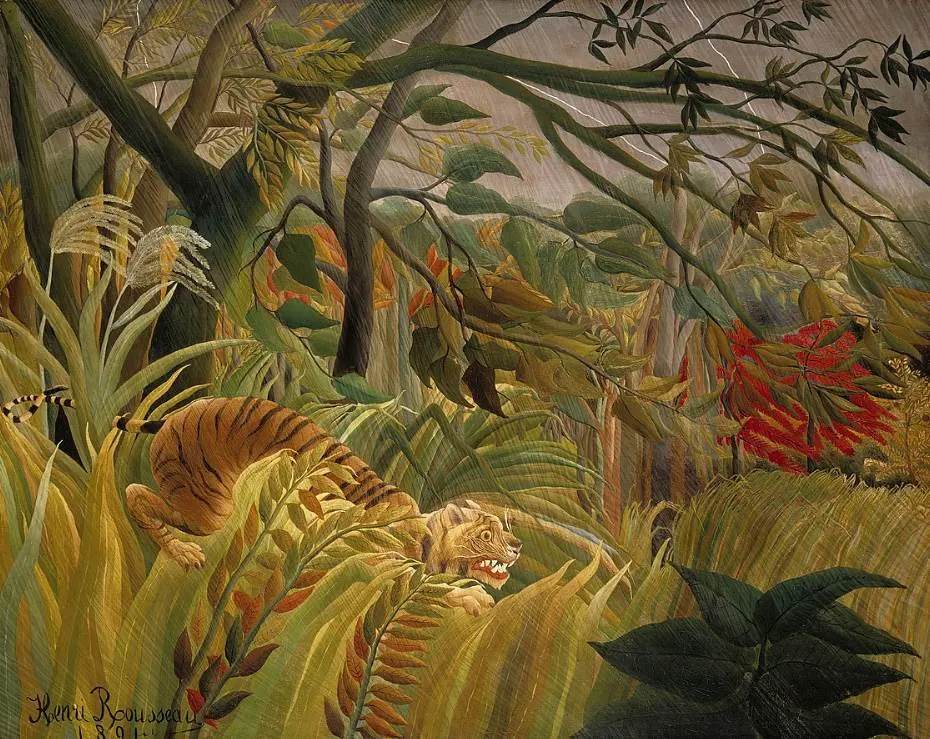 4. The Snake Charmer
Date created: 1907
Dimensions: 169 × 189.5 centimeters (67 × 74.6 inches)
Location: Musée d'Orsay, Paris, France
The Snake Charmer is another painting that was completed during the final years of the artist's life and features a flute player or "snake charmer," a recurring figure in his works. The woman plays the flute in a moonlit jungle with her eyes wide open. A snake is dangling around her shoulders.
What's remarkable about his painting is that it was a commission from Berthe, Comtesse de Delaunay, the mother of Rousseau's colleague and admirer Robert Delaunay (1885-1941). It's a fascinating work of art that incorporates several elements that define Rousseau's oeuvre, including the tropical plants and animals.
5. Carnival Evening
Date created: 1886
Dimensions: 117.3 x 89.5 centimeters (46.1 x 35.2 inches)
Location: Philadelphia Museum of Art, Philadelphia, United States
Carnival Evening is a painting that the artist completed shortly after he started exhibiting his works frequently. It depicts a couple wearing carnival costumes in a moonlit landscape that features barren trees. The forest is very dark while the couple appears to be illuminated.
Another remarkable element in this fantastical painting is the face that appears out of the empty hut and the street light that appears to be illuminating it. Yes, Carnival Evening is one of the most enigmatic paintings by the artist because of the abundance of peculiarities.
6. Boy on the Rocks
Date created: 1895-1897
Dimensions: 55.4 × 45.7 centimeters (21.8 × 18 inches)
Location: National Gallery of Art, Washington, D.C., United States
Boy on the Rocks is another painting by Henri Rousseau that can be described as strange. It depicts a boy who is sitting on pointy rocks near the ocean. The odd appearance of the child makes it look as if Rousseau attempted to paint a caricature than an actual portrait.
The painting has been described to possess some unexplainable "dreamlike force" and a sense of "Mysterious poetry." One art critic commented on this painting saying:
Only a child can so bestride the world with such ease, and only a childlike artist with a simple, naïve vision can understand this elevation and make us see it as dauntingly true.
7. The Hungry Lion Throws Itself on the Antelope
Date created: 1905
Dimensions: 200 × 301 centimeters (78.75 × 118.5 inches)
Location: Beyeler Foundation, Riehen, Switzerland
The Hungry Lion Throws Itself on the Antelope is another jungle painting by Henri Rousseau and one that took a lot of time to be completed. He received tonnes of negative comments on his previous jungle artworks that he stopped producing works on this subject for over a decade.
He didn't change his approach to depicting a tropical forest, though. He got his inspiration from the Botanical Garden in Paris which he visited frequently to make preparatory drawings. The inspiration for the wild animals in the center came from an exhibit of stuffed animals at the National Museum of National History (which is situated next to the garden) titled "Senegal Lion Devouring an Antelope."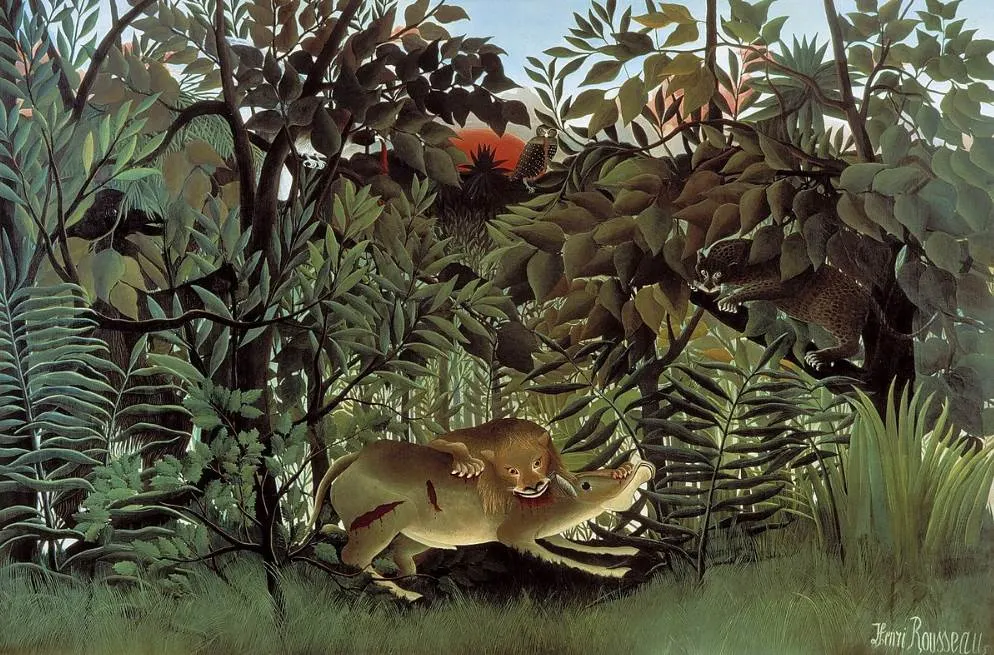 8. The Football Players
Date created: 1908
Dimensions: 100.3 x 81.1 centimeters (39.5 x 31.93 inches)
Location: Solomon R. Guggenheim Museum, New York City, United States
The Football Players is considered to be Rousseau's attempt to depict modern life, in this case, a relatively new sport called rugby. The enthusiastic players have a mustache that resembles that of the artist himself as they stare toward the viewer while playing the game in a remarkable way.
It's no surprise that academic art critics scratched their heads when they first laid eyes upon the painting of Henri Rousseau. His art is still defined as simple or naive today and nobody except a loyal group of followers understood the genius of his art. Who else would have painted tough rugby players wearing cuddly pajama outfits, right?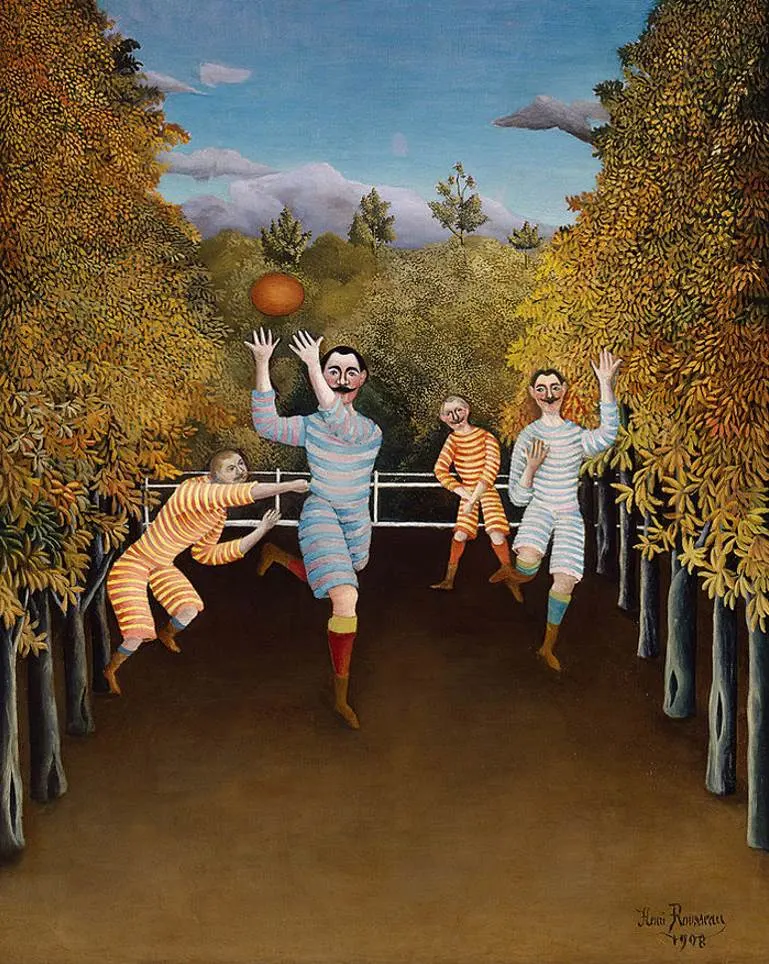 9. The Repast of the Lion
Date created: 1907
Dimensions: 113.7 × 160 centimeters (44.8 × 63 inches)
Location: MET Museum, New York City, United States
The Repast of the Lion is a painting with a strikingly similar composition as the work titled "The Hungry Lion Throws Itself on the Antelope." One could even argue that it's an accompanying painting because here we can see the lion feasting on the prey that he just caught.
The sun dominates the central part of the painting and he got the inspiration for the lion from illustrations that were published in contemporary magazines. It's one of several of his works that were first displayed at the Salon d'Automne in 1907, just 3 years before he passed away.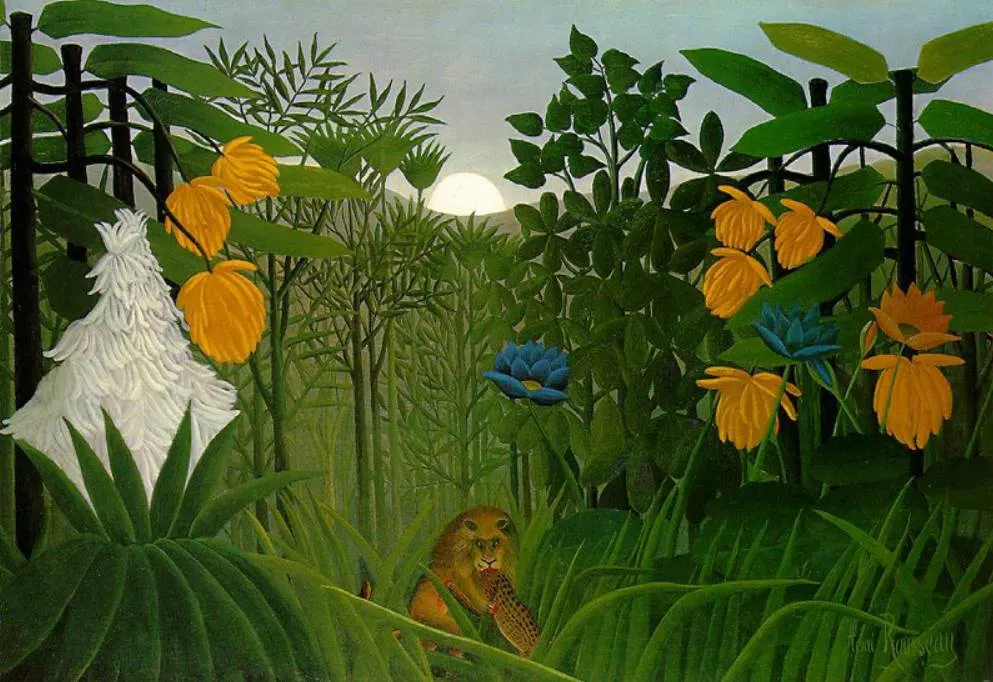 10. Self-portrait of the Artist with a Lamp
Date created: 1903
Dimensions: 23 x 19 centimeters (9 x 7.4 inches)
Location: Musée Picasso, Paris, France
The oeuvre of one of the most influential artists at the turn of the 19th and 20th centuries wouldn't have been complete without a self-portrait. He produced several self-portraits, including one that depicts him as an orchestra conductor.
Another one depicts Rousseau when he's holding a palette with the cityscape of Paris in the background. This painting is part of the collection of the National Gallery in Prague and is titled Self Portrait from L'ile Saint Louis. The Self-portrait of the Artist with a Lamp resembles figures that he often used such as in The Football Players.