If you enjoy fine art and you plan to visit Washington D.C., then the National Gallery of Art should be on top of your bucket list. In this museum in the U.S. national capital, you can find some of the most amazing paintings ever produced by the greatest masters in history.
The museum is located on the National Mall, an immense landscaped garden where you can find a large number of memorials and monuments. It features a Neoclassical West building and a modern East Building, as well as an adjoining sculpture garden.
The national art museum opened its doors in 1937 and is free of charge to enter, making it one of the most popular museums in the United States.
Let's take a closer look at some of the most famous paintings at the National Gallery of Art, masterpieces you should not miss when you visit this museum in Washington D.C.
1. Ginevra de Benci – Leonardo da Vinci
Date created: 1474-1478
Dimensions: 38.1 × 37 centimeters (15 × 15 inches)
The small size of Ginevra de Benci doesn't mean that this delicate little painting isn't considered to be one of the ultimate masterpieces of Leonardo da Vinci. It was created when da Vinci (1452-1519) was still in his early twenties and can measure up to the Mona Lisa Painting at the Louvre in Paris.
The painting depicts a 15th-century Florentine aristocrat who was still a teenager when the painting was created. It has to be on top of your list of Paintings at the National Gallery to see because it's the only chance you'll have of seeing a da Vince masterpiece in the Americas.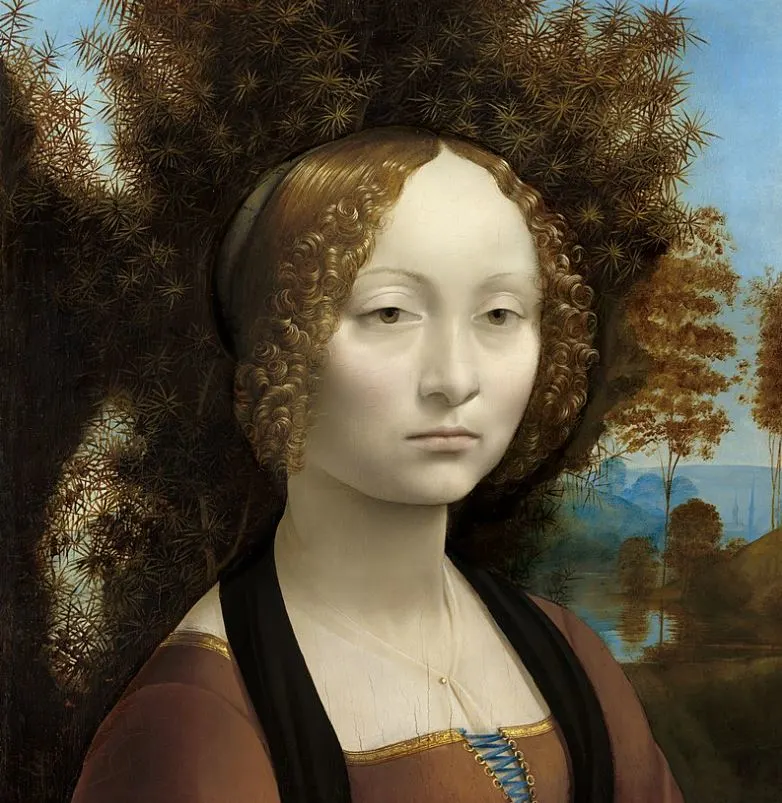 2. Woman Holding a Balance – Johannes Vermeer
Date created: 1662-1663
Dimensions: 42.5 × 38 centimeters (16.7 × 15 inches)
Woman Holding a Balance is another delicate work of art depicting a woman in a domestic setting, the trademark of the Baroque artist and Dutch Golden Age painter Johannes Vermeer (1632-1675). It was originally known as "Woman Weighing Gold" but the balance that she is holding is empty.
The woman is pregnant and the painting behind her is one depicting the Last Judgement which means that this Vermeer painting probably has a religious undertone, although interpretations vary among art historians. It's also possible that the woman depicts Vermeer's wife, Catarina Vermeer.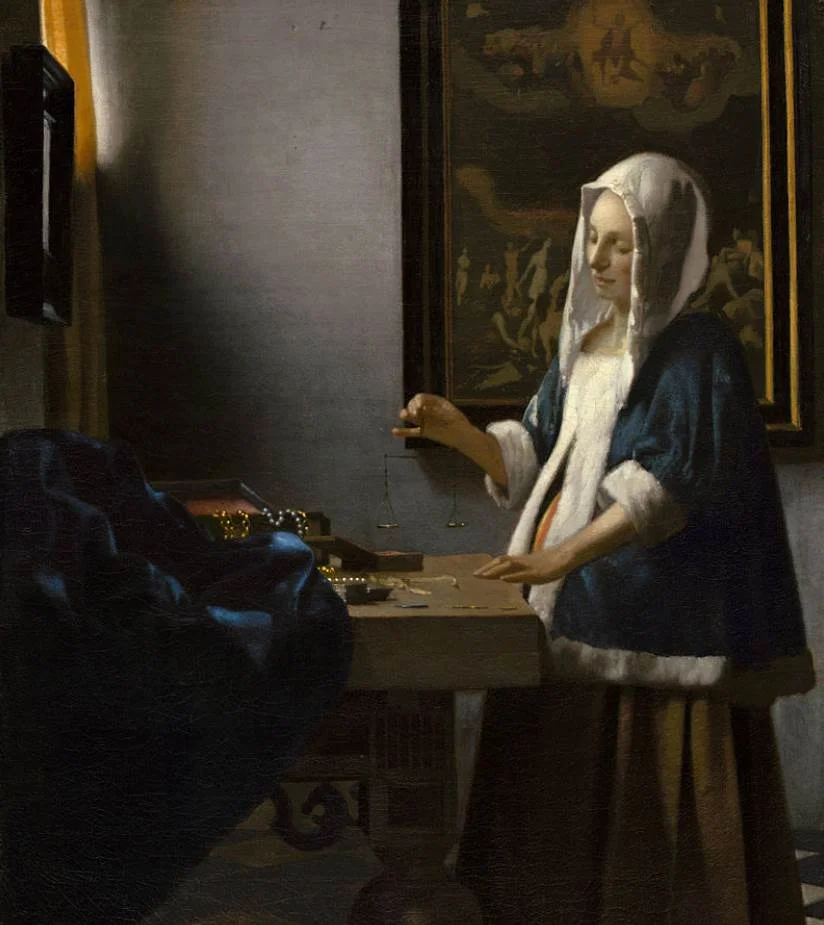 3. Annunciation – Jan van Eyck
Date created: 1434-1436
Dimensions: 93 x 37 centimeters (3.05 x 1.21 feet)
The Annunciation is one of the masterpieces of Jan van Eyck, one of the most renowned Renaissance artists in the northern part of Europe. It depicts the announcement of Archangel Gabriel to the Virgin Mary that she will give birth to the son of God, a popular subject of Christian art.
---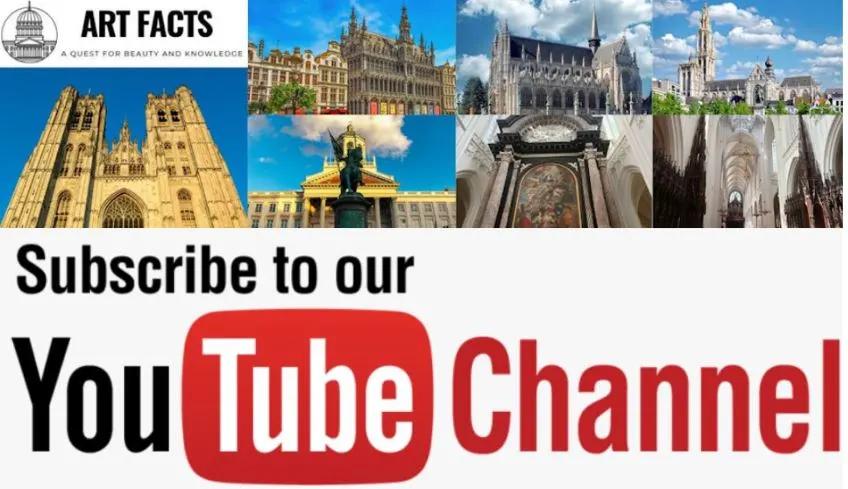 ---
Jan Van Eyck (1390-1441) probably painted a triptych and this painting is believed to be the left panel of it. The artist is renowned for the incredible level of detail and symbolism he included in his works and this remarkable work of art wasn't any different.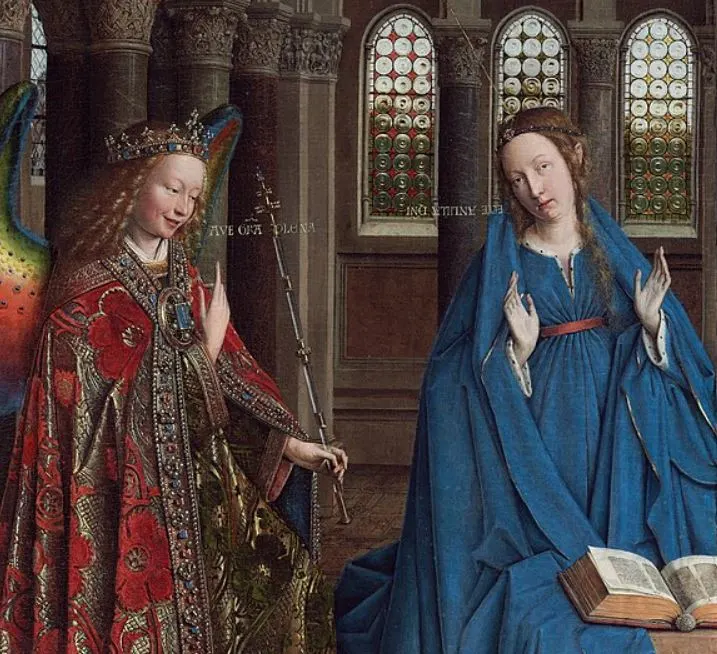 4. Venus with a Mirror – Titian
Date created: 1555
Dimensions: 124 × 104 centimeters (49 × 41 inches)
Venus with a Mirror is a work by renowned Renaissance artist Tiziano Vecellio (1490-1576), better known as "Titian." It's one of the most influential works in the oeuvre of Titian as it was copied by a large number of artists of future generations.
This work is believed to be the first in a series of paintings with a similar subject and the only one in this series completely by the hand of the artist himself. It's also a work that wasn't commissioned as it was kept in his house when he passed away in the year 1576.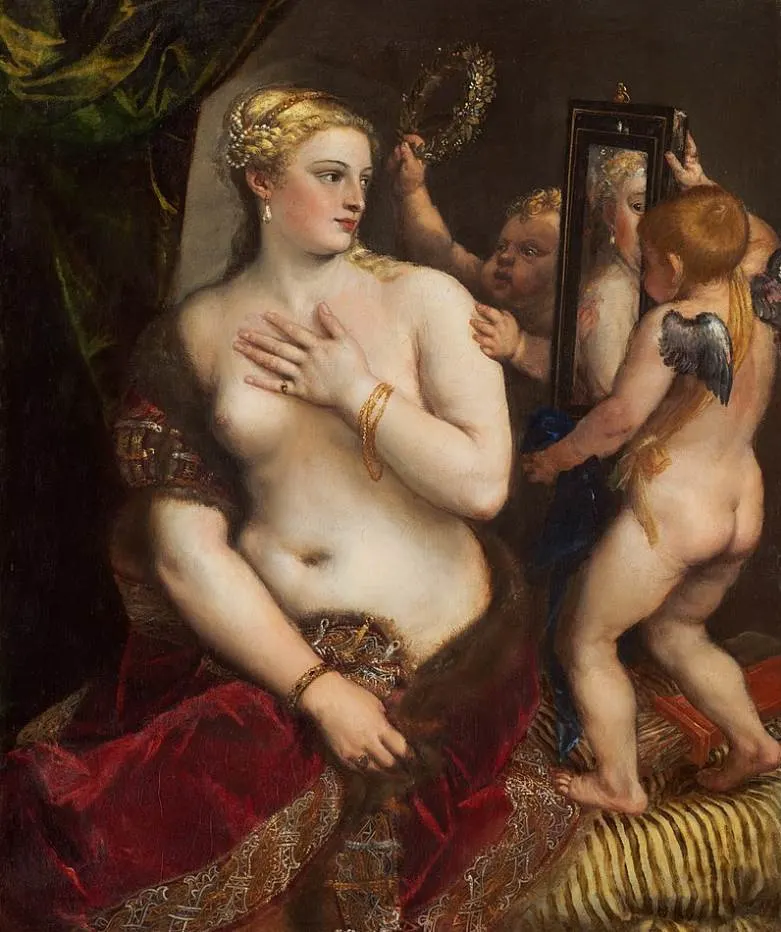 5. Alba Madonna – Raphael
Date created: 1511
Dimensions: 94.5 centimeters in diameter (37.25 inches)
The Alba Madonna is one of the multiple Madonnas painted by Raphael, one of the most prominent artists of the High Renaissance. It depicts the Virgin Mary, baby Jesus, and Saint John the Baptist as they are relaxing in a typically Italian landscape.
The name of the painting is a reference to the Dukes of Alba in Spain who acquired the painting somewhere in the 16th century. This oil on wood painting by Raphael (1483-1520) is unique as it's a tondo, which means it's round in shape.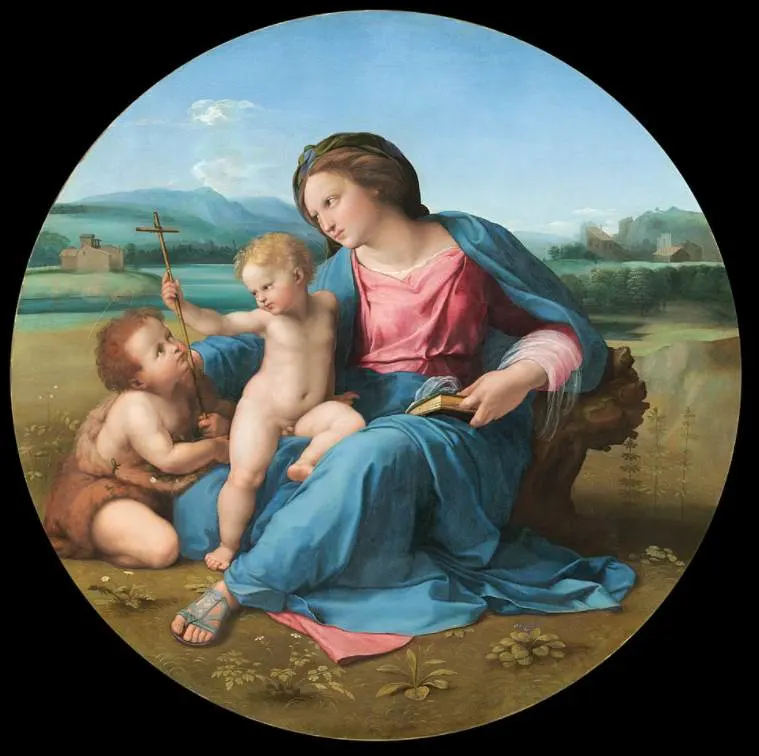 6. Self Portrait with Beret and Turned-Up Collar – Rembrandt
Date created: 1659
Dimensions: 84.4 × 66 centimeters (33.2 × 26 inches)
Self Portrait with Beret and Turned-Up Collar depicts Dutch Golden Age artist Rembrandt van Rijn (1606-1669), one of the most famous Dutch artists in history. It was painted in 1659, about a decade before the artist passed away.
Although the oeuvre of Rembrandt features an extensive number of paintings of all types of subject matter, the more than 40 self-portraits he created are a remarkable autobiography of the artist. In this painting, he looks quite somber, mainly because he was suffering from severe financial problems during this period in his life.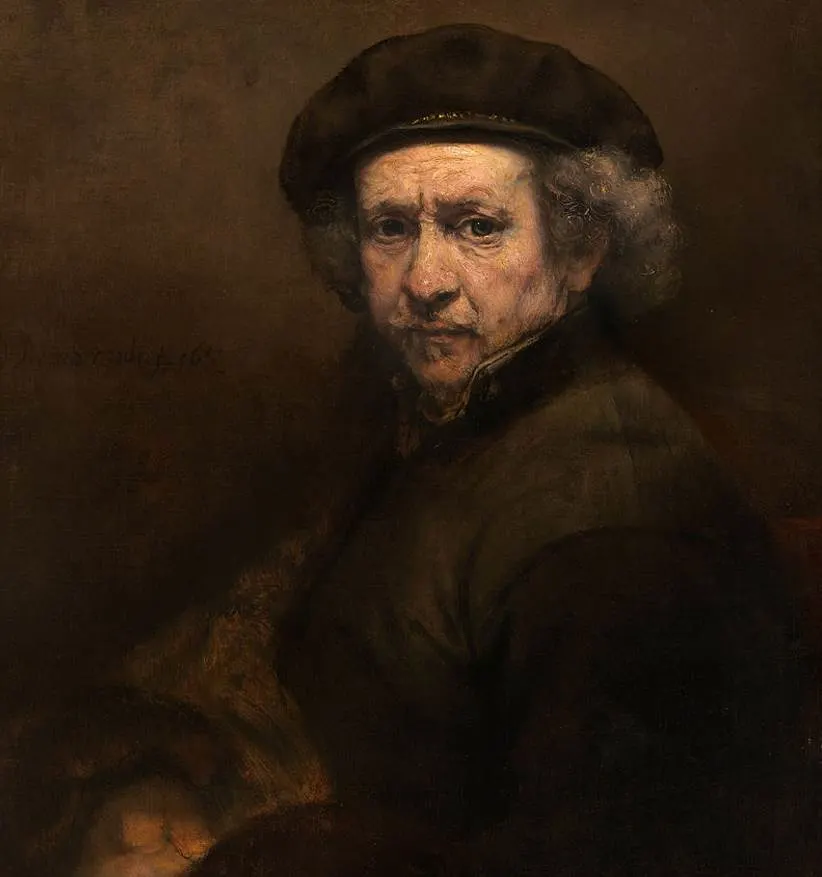 7. The Concert – Gerrit van Honthorst
Date created:
Dimensions:
The Concert is one of the ultimate masterpieces by Dutch Golden Age artist Gerrit van Honthorst (1592-1656). Here we can see the clear influence from the works of Caravaggio which he sa during his stay in Italy in the early 17th century.
In turn, The Dutch artist became the inspiration for so-called "Caravaggisti" in Europe, painters who integrated a high level of contrast between light and shadow into their works. The Concert can be considered to be the epitome of the European Caravaggisti in that sense.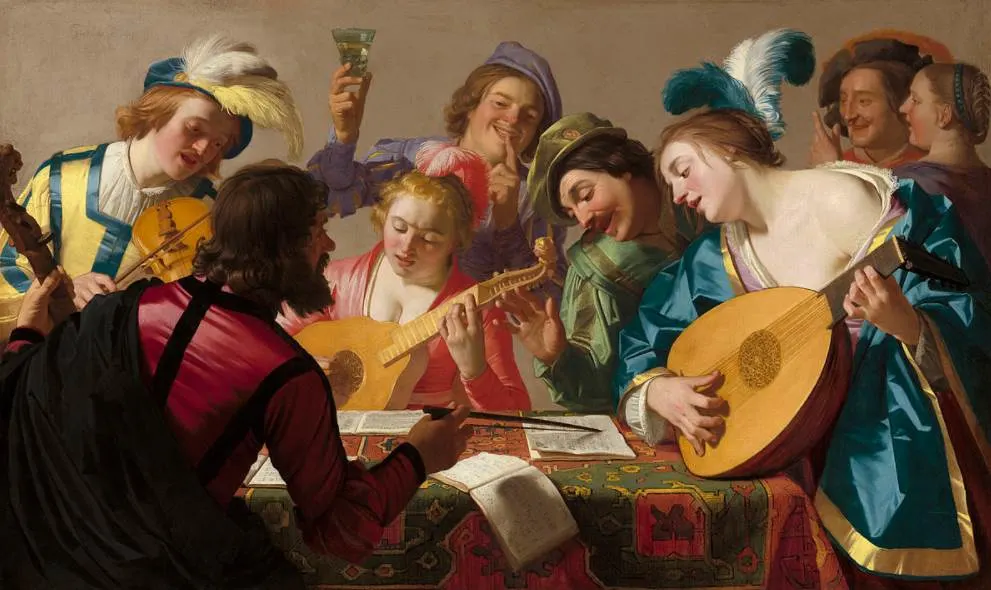 8. A Young Girl Reading – Jean-Honoré Fragonard
Date created: 1769
Dimensions: 81.1 × 64.8 centimeters (31.9 x 25.5 inches)
A Young Girl Reading is a painting by Jean-Honoré Fragonard, one of the most renowned Rococo artists of the 18th century. Fragonard (1732-1806) depicted a young girl reading a book which she is holding in her right hand.
At first sight, this might appear to be a portrait of an actual girl, but research has concluded that this is one of the many so-called "Figures de Fantasies," fictional characters that the artist painted from his imagination.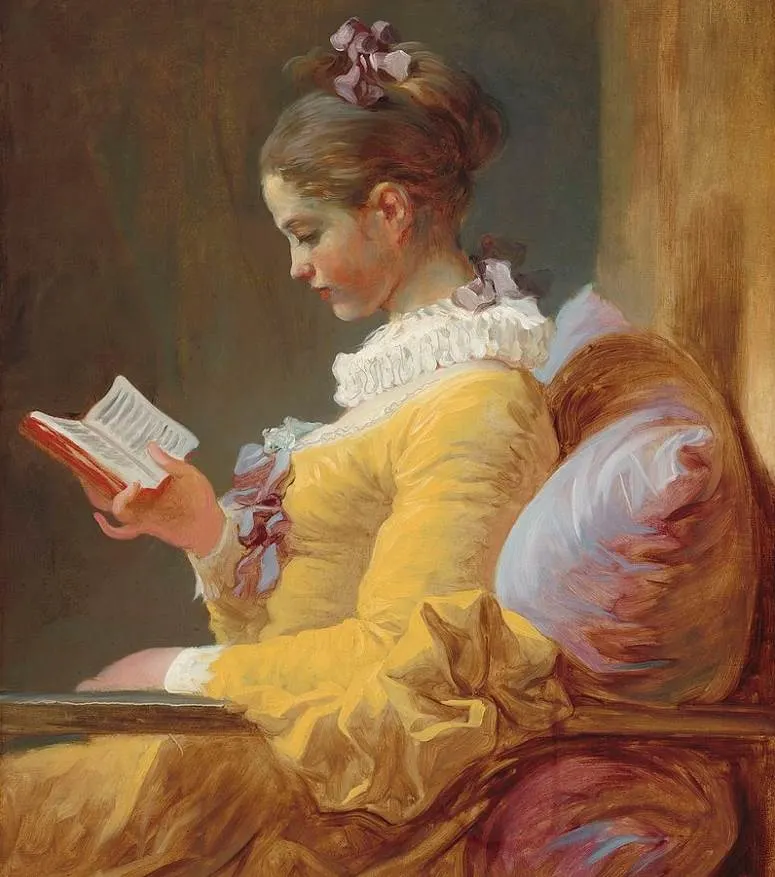 9. Emperor Napoleon in His Study at the Tuileries – Jacques-Louis David
Date created: 1812
Dimensions: 203.9 × 125.1 centimeters (80.3 × 49.3 inches)
Emperor Napoleon in His Study at the Tuileries is, as the name suggests, a portrait of French Emperor Napoleon I when he was at the height of his power in the early 1810s. There aren't any photographs of Napoleon but this painting by Jacques-Louis David is as close as it gets.
Jacques-Louis David (1748-1825) is considered to be one of the most prominent Neoclassical artists of his time and was a fervent admirer of Napoleon allowing him to eventually become his painter. This painting, however, was commissioned by Alexander Hamilton, 10th Duke of Hamilton, a Scottish art collector and an equally big fan of the French leader.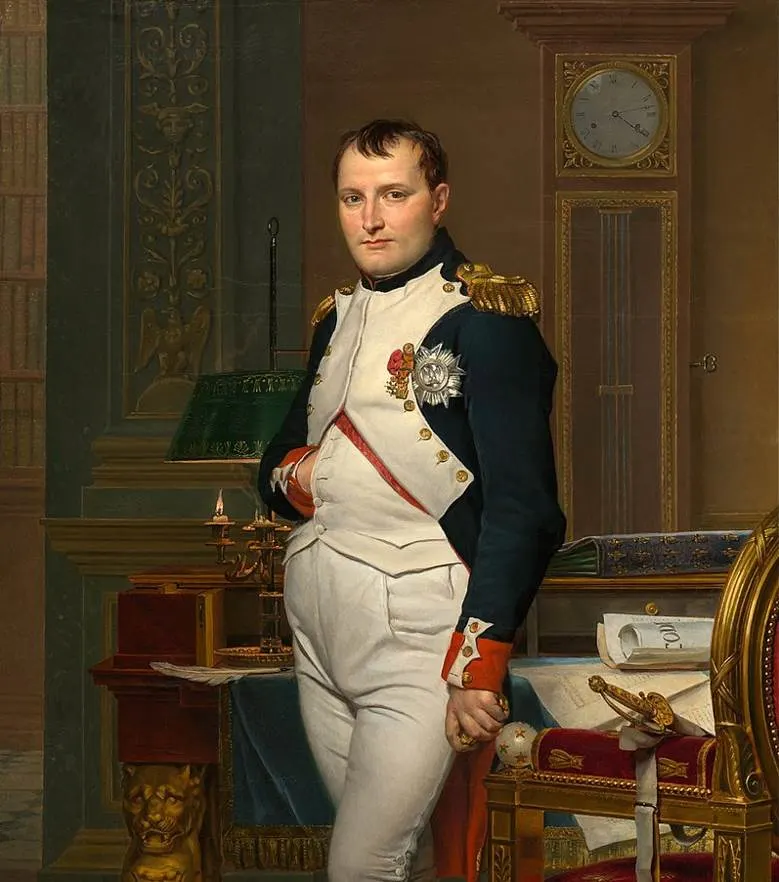 10. Woman with a Parasol – Claude Monet
Date created: 1875
Dimensions: 100 × 81 centimeters (39 × 32 inches)
Woman with a Parasol is also referred to as "The Stroll." The painting by Claude Monet is officially titled "Woman with a Parasol – Madame Monet and Her Son." This means that it depicts the wife of Impressionist painter Claude Monet (1840-1926), Camille Monet, along with their son Jean Monet.
The painting was completed while the couple was living in Argenteuil in the 1870s, a commune that is now part of the northwestern suburbs of Paris. It depicts the moment when Monet's wife and their son go for a walk on a windy summer's day, something emphasized by the veil of the woman being blown away.