The career of this French artist didn't really start until he was a 40-year-old man. This is extraordinary and why he is referred to as a "Naive artist."
Henri Rousseau (1844-1910) was much more than that, though. He became a significant influence for many renowned Avant-Garde artists at the turn of the 20th century.
His cartoonish depictions of wild animals in a jungle landscape are considered his greatest legacy.
In this article, you'll discover some of the most interesting facts about a work titled Tiger in a Tropical Storm, one of Rousseau's most famous paintings.
1. It was completed shortly before Rousseau fully dedicated himself to his art
Henri Rousseau is one of the few artists in history who didn't start his career at a young age but when he was already in his mid-thirties.
He completed his first major work titled "Landscape with a Windmill" when he was 35 years old and didn't dedicate himself to his art when he was in his early forties.
The Post-Impressionist artist developed his own naive style, mainly because he didn't receive formal training and was entirely self-taught while he worked as a customs tax collector.
Le Douanier, as he was referred to, completed Tiger in a Tropical Storm in 1891. This was just 2 years before he moved to a studio in Montmartre to fully dedicate himself to his art.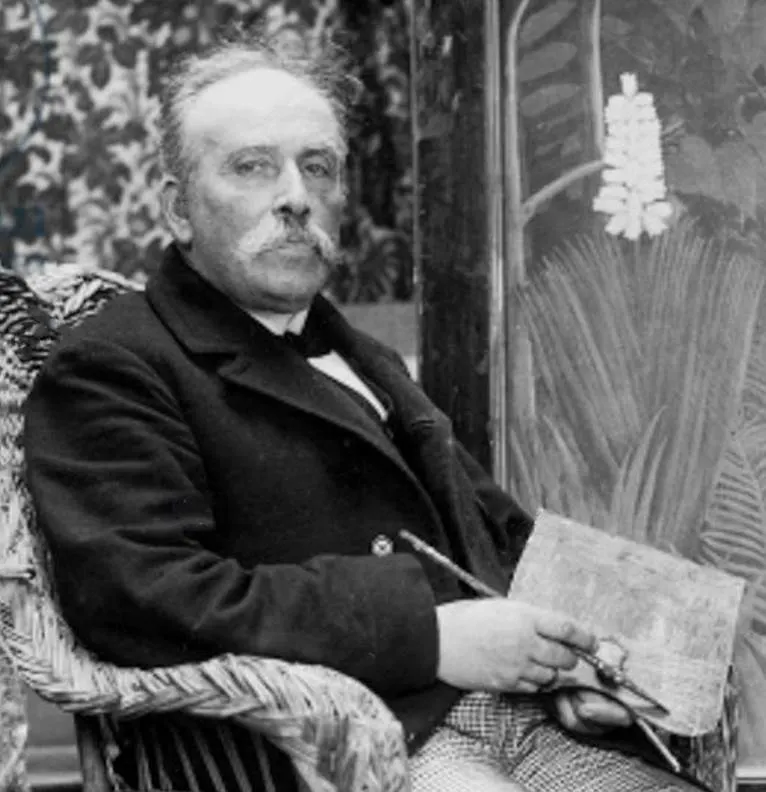 2. It depicts a hungry tiger that is about to attack its prey
Dense foliage, a tropical storm with lightning flashes and heavy rain, and a tiger in an attacking position are the elements that make up this remarkable composition.
Rousseau never left France during his lifetime so he couldn't possibly have had experience with this type of environment.
Even though it's an imaginary scene, he did find inspiration in the botanical gardens of Paris which he visited often during this period.
The vegetation that was growing at the Jardin des Plantes and prints that circulated about wild animals served as the inspiration for this fake jungle scene.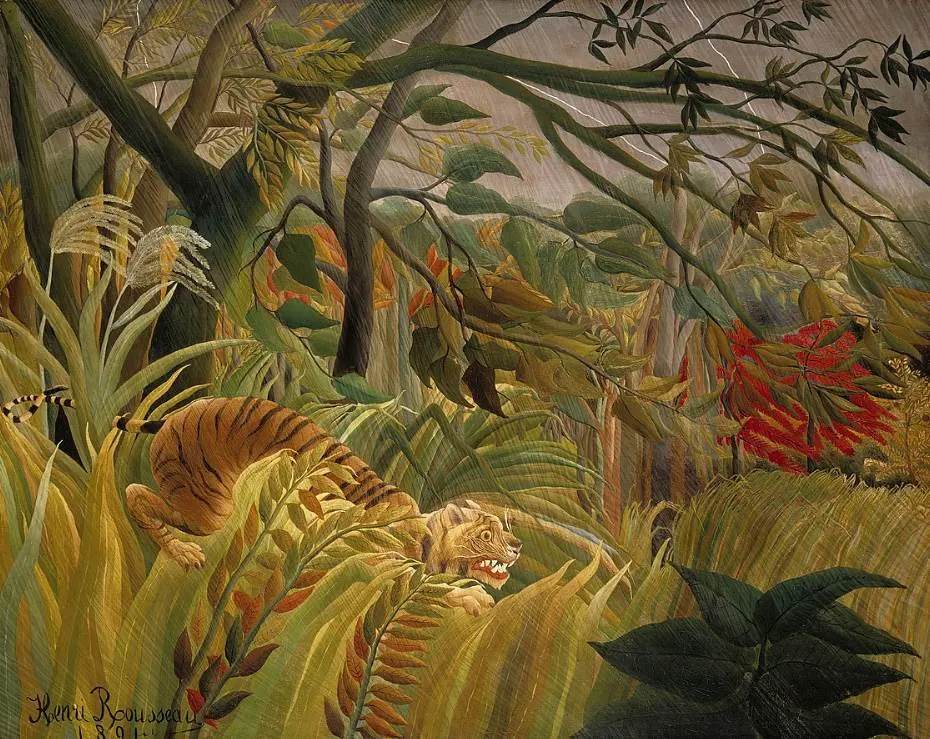 3. Rousseau left the outcome of the painting up to the viewer's imagination
Some art historians have suggested that Rousseau's tiger looks very similar to the ones painted and drawn by Eugène Delacroix (1798-1863), the leading French Romantic artist.
There's something to say about this theory because Delacroix's tiger in his painting "Tiger and Snake" (1855), part of the collection of the Hamburger Kunsthalle in Germany, looks indeed very similar.
Rousseau painted his tiger with his mouth open wide, ready to attack an unsuspecting prey nearby. This is why he originally titled it "Surprise!"
The first idea that comes to mind is that the tiger is about to attack an animal. Rousseau mentioned later, however, that he intended to attack a group of explorers.
4. Rousseau used a remarkable technique to paint the heavy rainfall
The simplistic depiction of the tiger and jungle scene looks not that simple upon closer inspection. The composition is quite complex as it features a large number of tropical plants.
One of the most remarkable features is the pouring rain in combination with the lightning strike. Rousseau used a remarkable technique to depict this.
The painter covered the entire composition with diagonal lines of silver paint to ensure it gives an impression of gushing rain. This worked out remarkably well.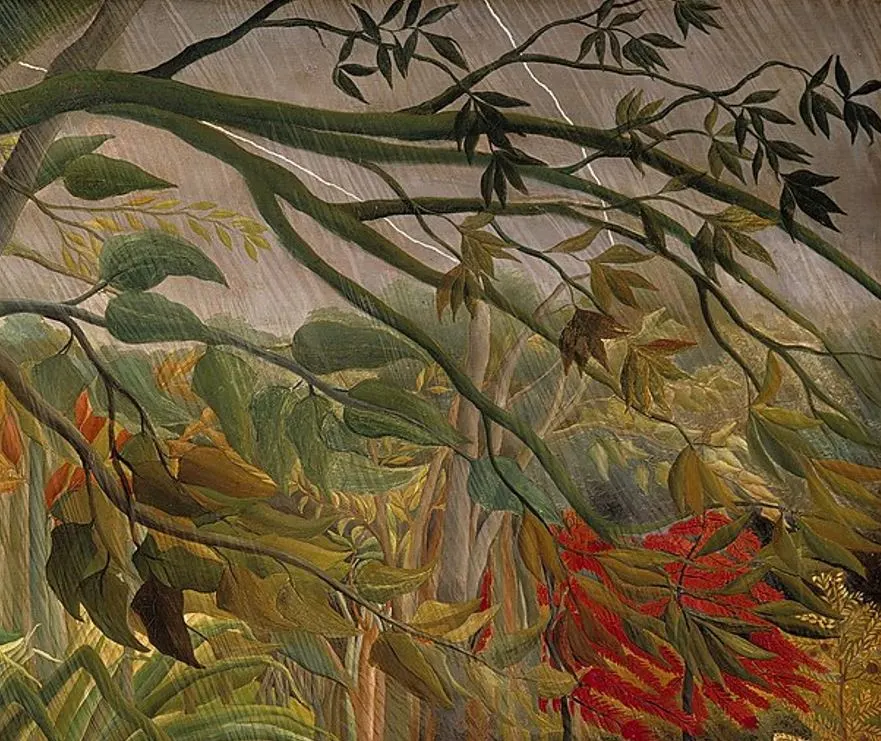 5. It was the first in a series of 25 jungle paintings
What's remarkable about Rousseau's legacy isn't merely the fact that he painted 25 jungle paintings but that he took an extended break after completing his first one.
Tiger in a Tropical Storm was his first of this series. Although he completed it in 1891, he didn't paint his second until 1898, a now-lost painting titled "Struggle for Life."
His third took another 5 years as he completed "Scouts Attacked by a Tiger" in 1904.
Of the 25 jungle paintings, 3 more featured a tiger, including:
Tiger Hunt (1895)
Buffalo Attacked by a Tiger (1908)
Fight Between a Tiger and a Buffalo (1908)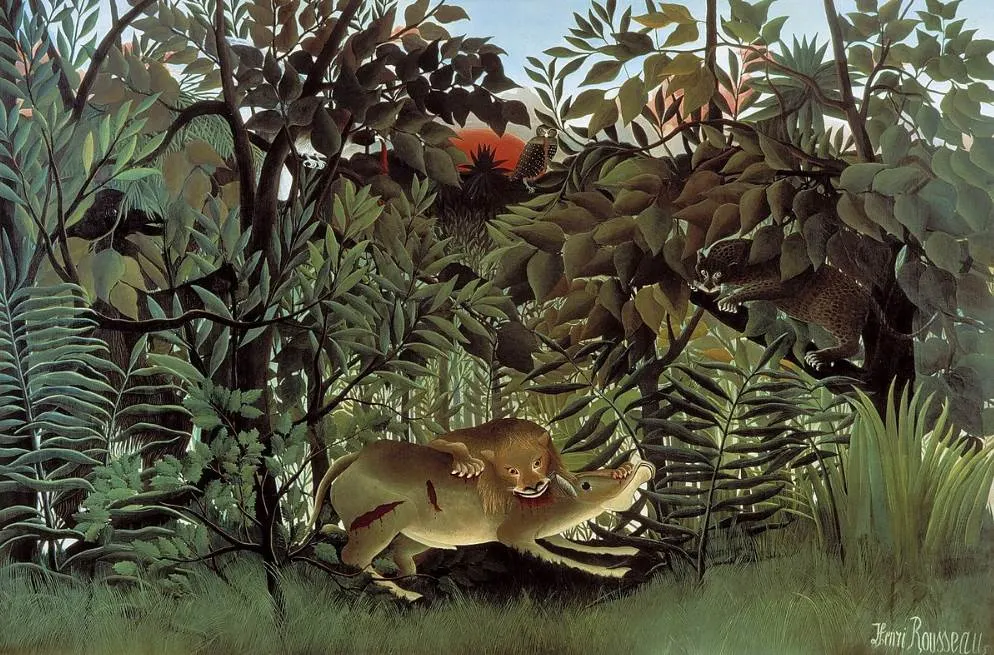 6. The painting was ridiculed initially but not because of the subject matter
There's a very simple explanation as to why he refrained from painting jungle scenes for several years. That's because it was ridiculed by art critics when it was first exhibited at the Salon des Indépendants.
Although he already had a growing following when he exhibited his second jungle painting, the criticism didn't stop as one art critic wrote:
Rousseau continued to express his visions on canvas in implausible jungles… grown from the depths of a lake of absinthe, he shows us the bloody battles of animals escaped from the wooden-horse-maker
The naive approach to his paintings was also admired by some young aspiring artists. A Swiss artist named Félix Vallotton (1865-1925) wrote the following:
His tiger surprising its prey is a "must-see." It's the alpha and omega of painting and so disconcerting that, before so much competency and childish naïveté, the most deeply rooted convictions are held up and questioned. For my part, I have sincere esteem for such efforts, and I would a hundred times rather them than the deplorable mistakes nearby.
Rousseau's ultimate recognition came in 1908 when Pablo Picasso (1881-1973) threw a lavish banquet in honor of his creativity.
He referred to it as "Le Banquet Rousseau" and although his style didn't match any of the contemporary art movements, he was considered to be one of the Avant-Garde artists who transformed the world of modern art indefinitely.
7. How big is Tiger in a Tropical Storm by Henri Rousseau?
Most of the French artist's jungle paintings were quite big, and that's no different with this remarkable work of art.
Tiger in a Tropical Junge or "Surprise!" by Henri Rousseau is an oil on canvas painting that has dimensions of 130 × 162 centimeters (51.12 × 63.75 inches).
8. Where is Rousseau's jungle painting located today?
The painting was exhibited for the first time in 1891 at an exhibition that had a slogan that said "No Jury Nor Reward."
The Salon des Indépendants was established so unknown artists could have a palce to show off their paintings and Rousseau took advantage of this.
Art dealer Ambroise Vollard finally bought this painting in 1908 for 190 francs along with two other Rousseau paintings.
It was purchased for a lot more money by the National Gallery in London in 1972 with the help of billionaire philanthropist Walter H. Annenberg.
It's the only painting by Rousseau in the National gallery's collection and is one of the museum's most remarkable attractions.