"Give me a museum and I'll fill it." These were the words of one of the most famous artists in history, and he kept his promise.
Pablo Picasso (1881-1973) was a multi-talented Spanish artist who was one of the most influential figures in the early stage of Modern Art.
He was the co-founder of the Cubist art movement and invented constructed sculpture during the first two decades of the 20th century.
He continued producing art for the rest of his long life and multiple museums were established in which Picasso's artworks form the main collection.
Apart from the Museo Picasso in his native Málaga and the Museu Picasso in Barcelona to name just a few), there's also a popular museum in Paris.
Located in the magnificent Hôtel Salé in the Maris district in Central Paris, it houses an impressive collection of well over 5,000 works of art.
In this article, you'll discover some of the most famous paintings at the Musée Picasso in Paris (and not all of them are by the hand of the master).
1. Massacre in Korea
Date created: 1951
Dimensions: 110 × 210 centimeters (43.3 × 82.7 inches)
Massacre in Korea is without a doubt the most famous painting in the collection of the Musée Picasso in Paris. It's the third anti-ar painting that Picasso completed following "Guernica" in 1937 and "The Charnel House" in 1945.
The painting depicts a group of naked women and children who are about to be massacred by a group of gunmen during the Korean War (1950-1953). It's considered to be the artist's reaction to America's intervention in the war and was inspired by Francisco Goya's masterpiece "The Third of May 1808" (1814).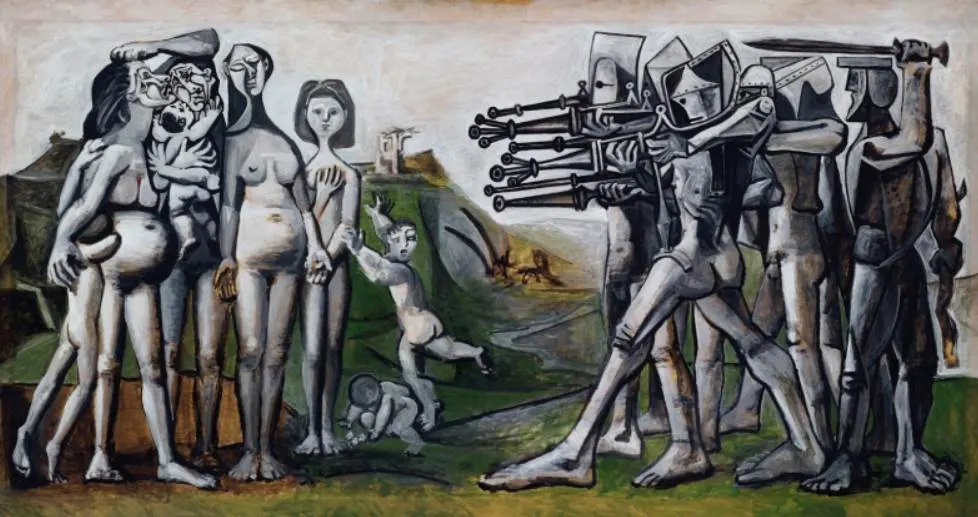 2. Self-Portrait
Date created: 1901
Dimensions: 81 x 60 centimeters (31.88 x 23.62 inches)
---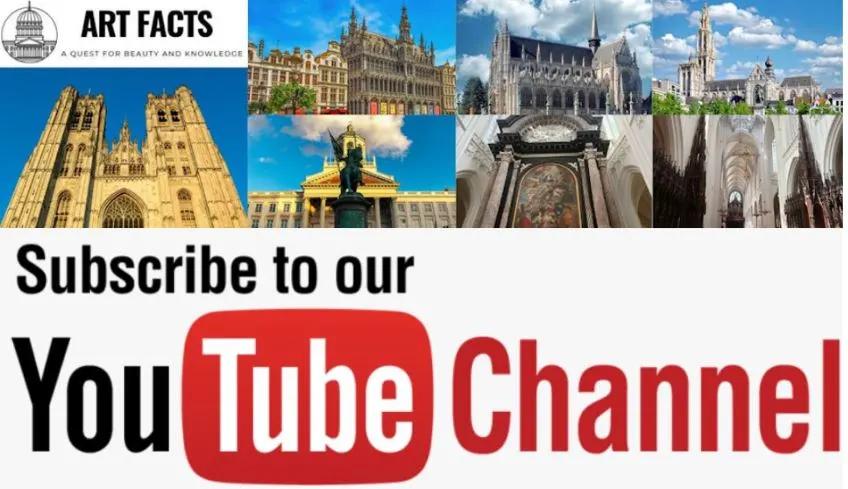 ---
Picasso's Self-Portrait of 1901 was completed during the artist's Blue Period (1901-1904). Before Pablo Picasso became one of the most famous artists on the planet, he experienced a difficult phase in his career when he was merely an aspiring painter.
He lived in poor conditions in Paris and Barcelona and had a hard time finding his true identity as an artist. This is reflected in the dark and gloomy blueish paintings he produced during this period of which this self-portrait is a great example.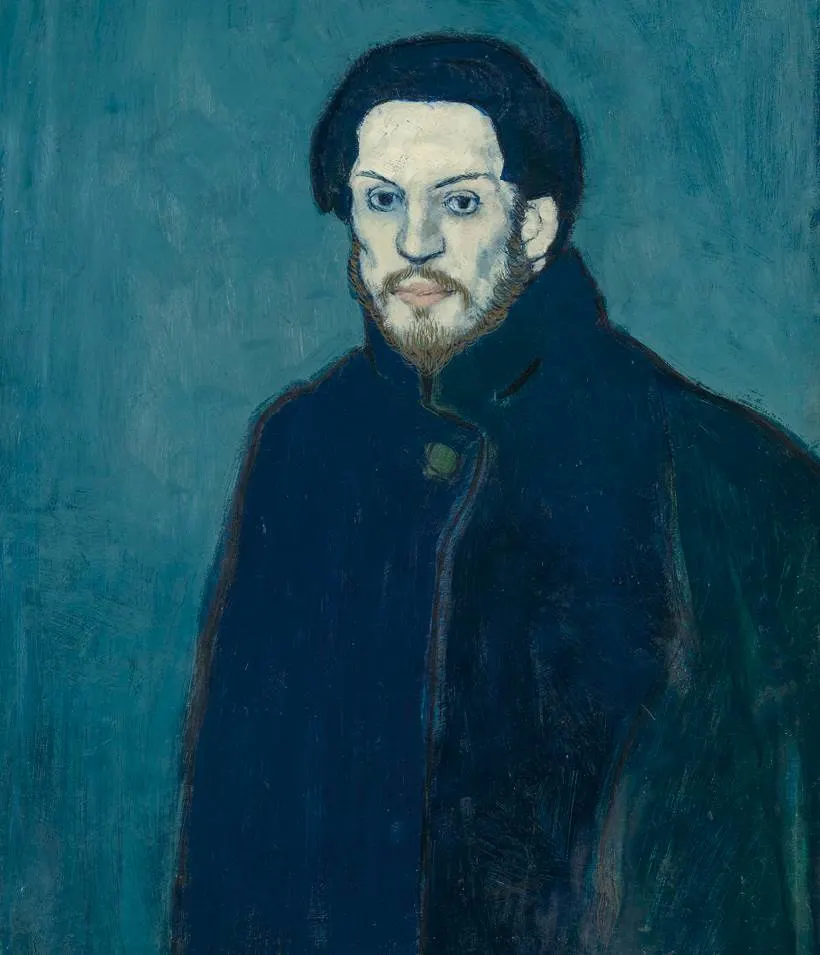 3. The Death of Casagemas
Date created: 1901
Dimensions: 27 x 35 centimeters (10.62 x 13.77 inches)
The Death of Casagemas is a painting that reveals the other main reason why Picasso's paintings took a dark turn in the first couple of years of the 20th century. It depicts the artist's friend, another young painter named Carles Casagemas (1880-1901) who also live in Paris at the time.
Casagemas shot himself on February 17, 1901, presumably because he was rejected by a popular model named Germaine Gargallo. The promiscuous girl rejected his advances and it ended in tragedy. Picasso was in Madrid when it happened but he returned to Paris when he heard the news and rented the same apartment where Carles had lived.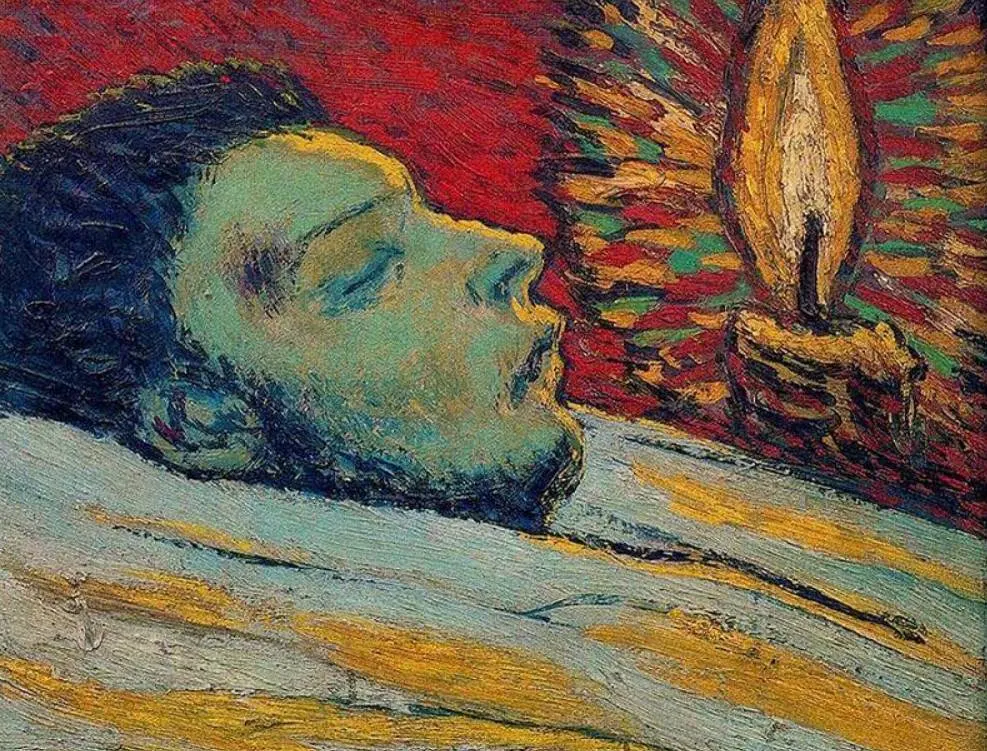 4. Portrait of Olga in an Armchair
Date created: 1918
Dimensions: 130 x 88.8 centimeters (51.18 x 34.96 inches)
The Portrait of Olga in an Armchair is a painting that highlights that Pablo Picasso was an excellent portraitist, even though he is mainly known for his Cubist and Surrealist paintings. It depicts the Russian ballerina Olga Koklova (1891-1955) in a casual pose.
Koklova became the artist's first wife shortly after he completed this painting. She was the mother of his son Paulo and she remained legally married to the artist until she died in 1955 although the relationship ended in 1935. This was because of a dispute related to their property.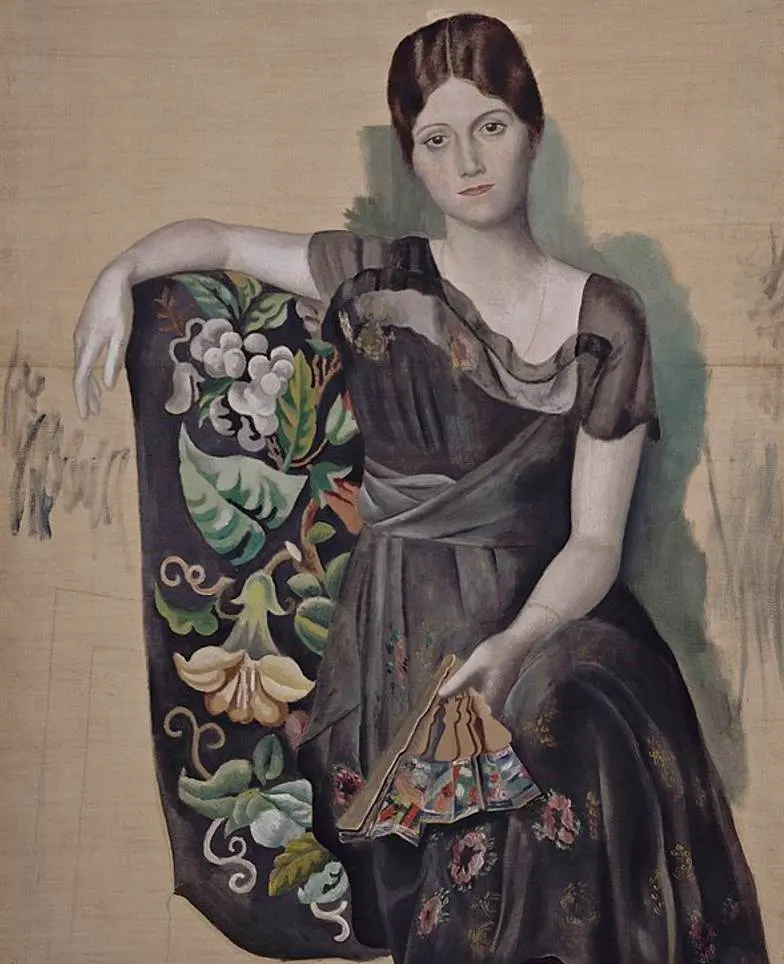 5. Portrait of Dora Maar
Date created: 1937
Dimensions: 92 × 65 centimeters (36 × 26 inches)
The Portrait of Dora Maar is a distinctive painting of Picasso's later years in which he integrated an abundance of bright colors. It depicts Henriette Theodora Markovitch (1907-1997) or "Dora Maar," the third serious lover and muse of the Spanish artist.
He separated from his Russian wife because of an affair with a young girl named Marie-Thérèse Walter. When he fell in love with the 29-year-old Maar in 1936, he refused to break up with his former lover and the relationship ended as well in 1943.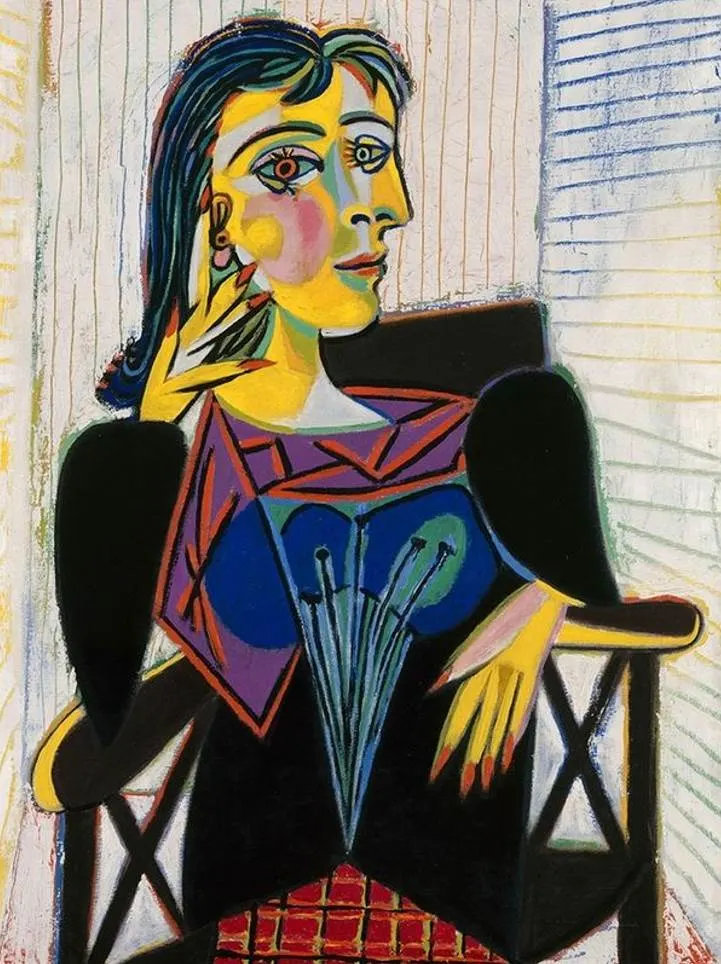 6. The Kiss
Date created: 1925
Dimensions: 130.5 x 97.7 centimeters (51.37 x 38.46 inches)
The Kiss or "Le Baiser" is a painting that was completed during the artist's Surrealist period in the 1920s. The year 1925 marked the year when the founding father of Surrealism, French writer André Breton (1896-1966), referred to Picasso as "One of Ours."
This peculiar painting depicts a mother kissing her child in an attempt Picasso to break away from the traditional depictions of motherhood. The longer you stare at this painting, the more you tend to believe that he achieved his goal.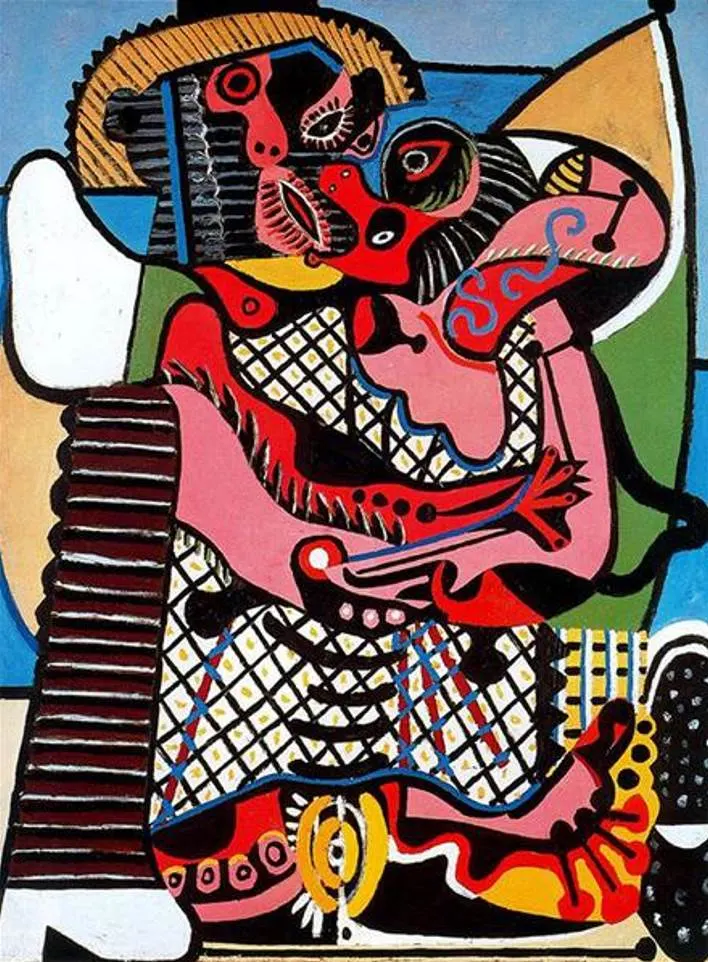 7. Guitar "Program statue d'Epouvante" (Georges Braque)
Date created: 1913
Dimensions: 73 x 100 centimeters (28.74 x 39.37 inches)
Guitar "Program statue d'Epouvante" is a painting in the collection of the Musée Picasso that was created by the French artist Georges Braque (1882-1963). Although he was less famous than his Spanish colleague, he arguably played an equally important role in the development of modern art in the 20th century.
Both artists worked closely together between 1908 and 1912, a period when they developed Cubism as a completely new and revolutionary art movement. Their style was very similar and this work was produced when Proto-Cubism had developed into Synthetic Cubism shortly before the outbreak of World War I.
8. Self-Portrait of the Artist with a Lamp (Henri Rousseau)
Date created: 1903
Dimensions: 23 x 19 centimeters (9 x 7.4 inches)
Self-Portrait of the Artist with a Lamp is a painting by Henri Rousseau (1844-1910), the Post-Impressionist artist who unwittingly became a popular figure among Avant-Garde artists such as Pablo Picasso. The Spanish artist became one of Rousseau's greatest admirers in the early 20th century, and this self-portrait surely explains why.
Rousseau only picked up painting later in life as he spent most of his career working as a customs officer. Le Douanier, as he was called, was largely self-taught and it reflects in the innocent style of his works. Picasso once threw a lavish party in his honor after he had discovered some of Rousseau's paintings.