A black woman is sleeping in a moonlit desert landscape while a ferocious lion sniffs at her shoulder. This is not a very common subject in the world of art.
This is indeed a peculiar painting in many ways. It could only have been painted by an artist who had never received a formal art education.
That's exactly what happened because it was produced by a man nicknamed "Le Douanier," a French artist who had great dreams of turning his hobby into his profession.
Let's take a closer look at some of the most interesting facts about The Sleeping Gypsy by Henri Rousseau, a fascinating Post-Impressionist work of art.
1. It was completed while Rousseau lived in his studio in Montmartre
Henri Rousseau was a French Post-Impressionist artist who was largely self-taught. He didn't focus on his art full-time until he was 49 years old.
Before he picked up his brushes to turn his hobby into his profession, he was a tax collector and customs officer. This earned him the nickname "Le Douanier."
He started exhibiting his paintings regularly in 1886 at the Salon des Indépendants. He gradually grew his following until he could permanently move to a studio in Montmartre in 1894.
Rousseau completed The Sleeping Gypsy in 1897, just a few years after he had settled in the famous art district of Paris.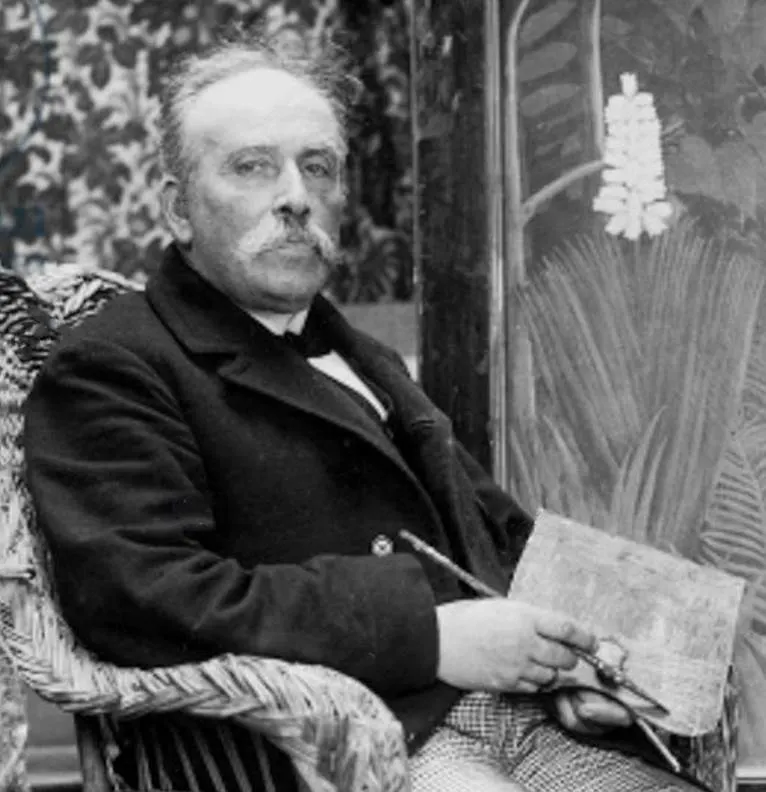 2. The artist provided a detailed description of his painting
The painting depicts an arid landscape and a creature that resembles a lion. He is approaching a black woman who is sleeping next to her mandolin and jar of water.
---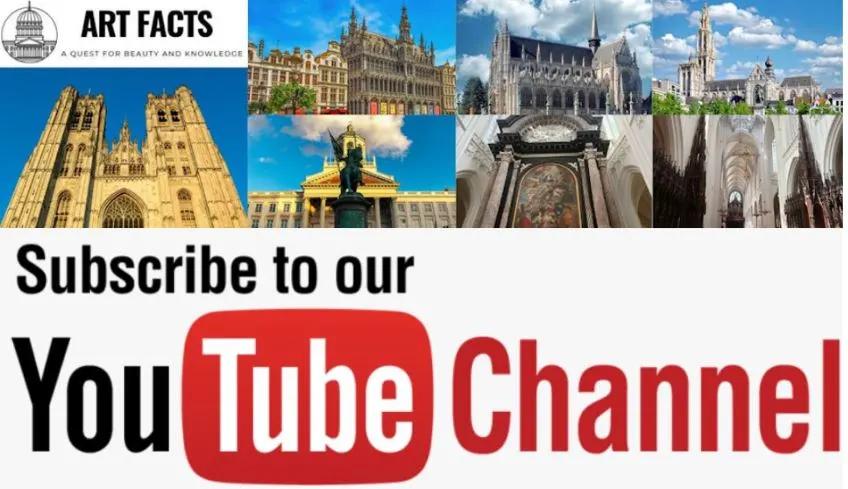 ---
The elements in its painting are somewhat clear but Rousseau often included a small note or even a poem to explain what he painted. He wrote this description of The Sleeping Gypsy:
A wandering Negress, a mandolin player, lies with her jar beside her (a vase with drinking water), overcome by fatigue in a deep sleep. A lion chances to pass by, picks up her scent yet does not devour her. There is a moonlight effect, very poetic.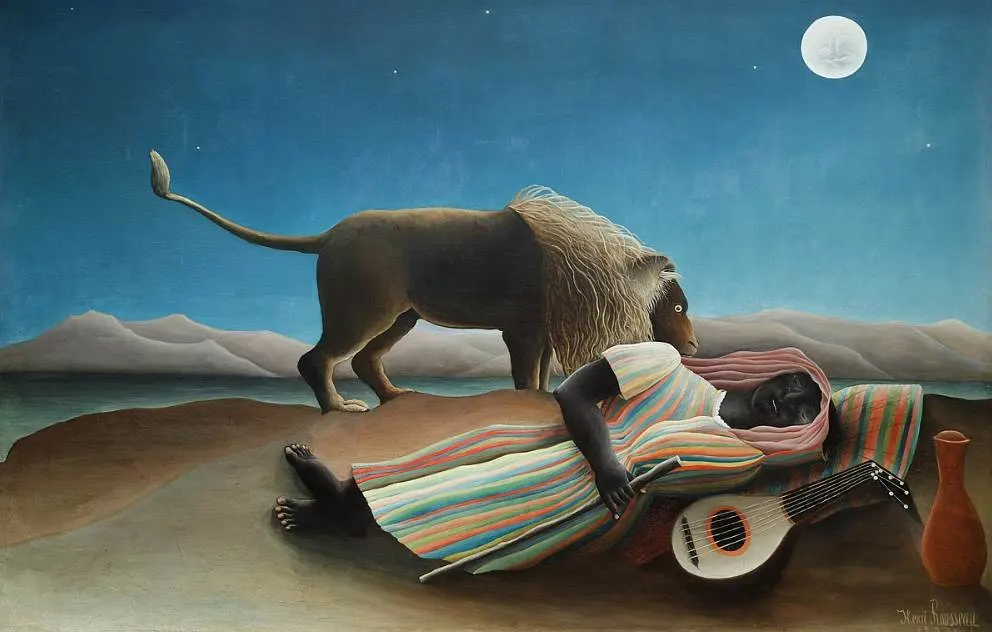 3. There's a reason why Rousseau depicted this gypsy as a black woman
The depicted woman represents a member of the Romani People, outcasts of society who were referred to in France as "Bohémiens."
Although these Indo-Aryan ethnic people were originally from Eastern Europe and Anatolia, they were often misidentified as being from either Bohemia or Egypt.
The fascination for these people on the fringes of society was high among artists and Rousseau probably thought they originated from Africa.
4. Rousseau found inspiration for his work during a famous event in 1889
The French artist often depicted exotic scenes with a wide variety of jungle fauna and flora. He often visited the Jardin des Plantes, the botanical garden in Paris, to find inspiration.
This painting was completed during a time when the World Fair of 1889, the event that gave us the Eiffel Tower, was still fresh in the memory of Parisians.
Some pavilions featured replicas of villages in colonized regions and provided a source of inspiration for artists who wanted to depict exotic animals.
It's fair to assume that Rousseau based the lion in this painting on prints in magazines that were inspired by this event.
5. The painting was ridiculed by art critics but admired by young aspiring artists
Henri Rousseau had a great dream of becoming the greatest academic painter in France. Because of the peculiar style he incorporated into his works, this was never going to happen.
Most of his works were ridiculed and heavily criticized by contemporary art critics. He did, however, find success with the emerging Avant-Garde artists.
He gradually built a following and eventually became a prominent member of this group of artists, although his style didn't fit into any particular category at the turn of the century.
6. The artist didn't manage to sell his work after it was exhibited
The Sleeping Gypsy was displayed at the 13th edition of the Société des Artistes Indépendants or "Salon of the Independent artists."
It didn't sell during the event and he tried to sell it to the mayor of his hometown of Laval in western France. He sent the man a letter in 1898 but received a negative response.
The painting did get acquired by a charcoal merchant in Paris, a man who was as unwittingly naive about the influential painting he possessed as the man who produced it.
7. How big is The Sleeping Gypsy by Henri Rousseau?
The oeuvre of Henri Rousseau is remarkable in many ways. It features paintings of all sizes that were adored by the merging modern artists.
The Sleeping Gypsy by Henri Rousseau is a relatively large oil on canvas painting that has dimensions of 129.5 × 200.7 centimeters (51 × 79 inches).
8. Where is the painting located today?
The painting stayed in the collection of the charcoal merchant until 1924 when it was rediscovered by the French art critic Louis Vauxcelles.
He was the man who coined the term Fauvism in 1905 and the term Cubism in 1908. These were completely different times than while Rousseau was still scraping to make a new for himself.
Vauxcelles sold the painting to local art dealer Daniel-Henry Kahnweiler and it was quickly sold once again to art historian Alfred H. Barr Jr. for the Museum of Modern Art in New York City.
Today, the painting is still part of the collection of the MoMA.