When this French artist started taking his art a bit too seriously, it resulted in a divorce from his Danish wife.
Paul Gauguin (1848-1903) traveled the world and visited various places in France in an attempt to make a name for himself.
This never really happened during his lifetime, although he is considered to be one of the most renowned Symbolist and Post-Impressionist artists today.
In this article, you'll discover some of the most interesting facts about The Yellow Christ by Paul Gauguin, a remarkable work in the artist's oeuvre.
1. It was completed during one of Gauguin's trips to a small village in Brittany
The mid-1880s was a hard period in Paul Gauguin's life. His marriage failed and he moved back to Paris from Copenhagen to fully focus on his art.
This, however, didn't go as easily as he initially thought it would and he lived in severe poverty for an extended period.
When he finally managed to sell a painting he visited Pint-Aven in Brittany, a small village that had become an art colony at the time.
He met equally adventurous artists during this time and soon embarked on a journey that brought him to the Panama Canal and Martinique.
He spent a few months with Vincent van Gogh (1853-1890) in Arles, a visit that ended in disaster for the Dutch artist as he cut off part of his left ear following a mental breakdown.
---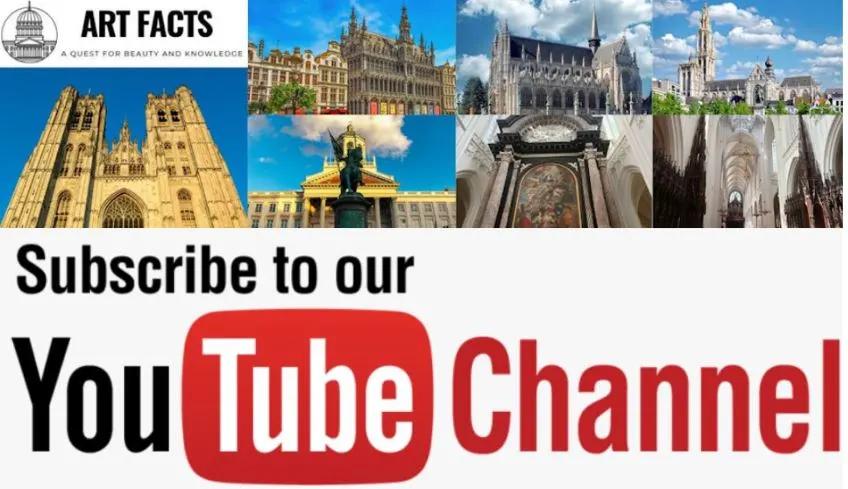 ---
Gauguin returned to Pont-Aven the following year and he completed The Yellow Christ in 1889.
2. It depicts Jesus' Crucifixion in a 19th-century Breton landscape
Paul Gauguin is considered to be a Post-Impressionist artist but many of his works have a Symbolic meaning.
This includes Then Yellow Christ which depicts the crucifixion of Jesus Christ set against a typical 19th-century Breton landscape.
Female peasants wearing traditional clothes can be seen praying the Angelus while kneeling before the cross. This is a prayer conducted after the day of hard labor is done.
It was well-known at the time because of the painting by Jean-François Millet (1814-1875) titled "The Angelus" (1857-1859), the most reproduced religious work of the 19th century.
3. The painting was inspired by a crucifix that hangs in a chapel in the Breton village
The French artist became very interested in the traditional way of life of people in Pont-Aven, the small rural town in the Finistère department of northwestern France.
He spent quite a bit of time here and became acquainted with a wooden crucifix that hangs in the Trémalo Chapel in the town.
This is a 17th-century sculpture completed by an unknown artist. It's quite big as well with dimensions of 189 x 133 centimeters (74.4 x 52.36).
This remarkable Gothic chapel is located in a peaceful and tranquil area and served as a great source of inspiration for the artists who flocked to the town in the late 19th century.
4. There's a special reason why Gauguin predominantly used the color yellow in this work
The artist stayed in Pont-Aven from early 1889 until the Spring of 1890. He only visited Paris to arrange the Volpini Exhibition, his exhibition that took place during the 1889 World Fair.
He returned to Pont-Aven shortly after and painted The Yellow Christ at the start of autumn, a time of the year that the color of the landscape changes significantly.
This is not the main reason why he integrated an abundance of yellow into this work, though. The main reason is that he felt compassion for the hard life of the farmers who lived here.
After all, he had to scramble himself to make ends meet just a few years earlier so he could understand their struggle.
The Autumn harvest was a very important event for Breton farmers because it pretty much decided whether or not they would have enough food during the harsh winter months.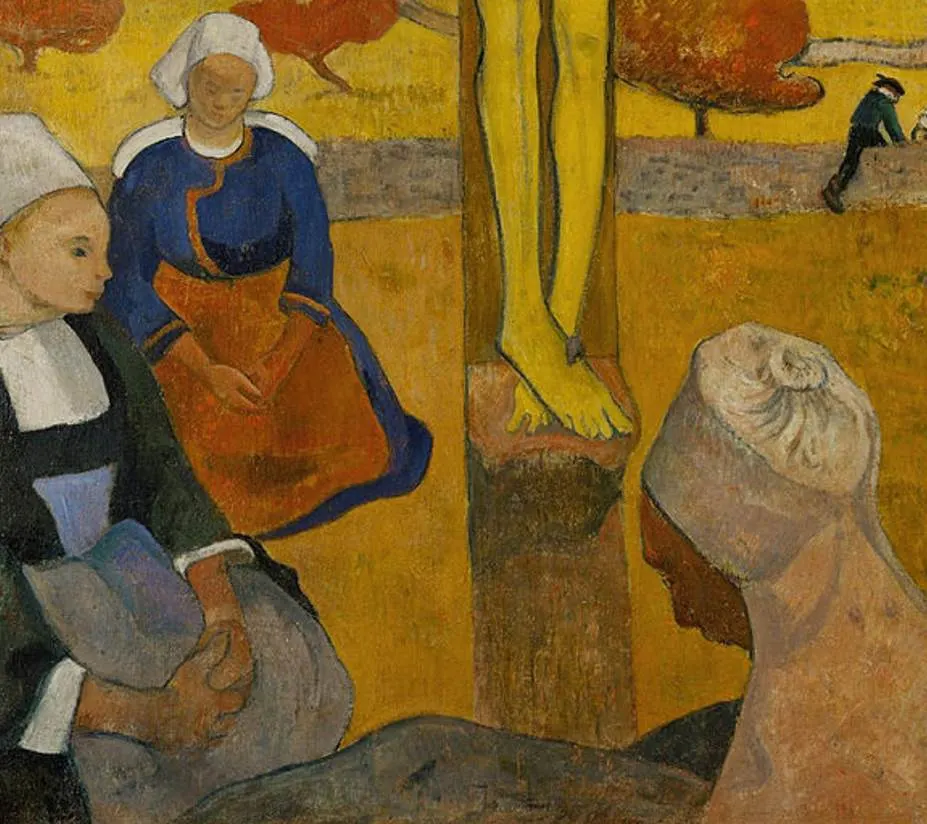 5. The artist made two preparatory drawings before he completed the painting
Gauguin spent quite some time preparing for this amazing work of art. He first created a simple pencil study, a drawing that is now part of the collection of the Thyssen-Bornemisza Museum in Madrid, Spain.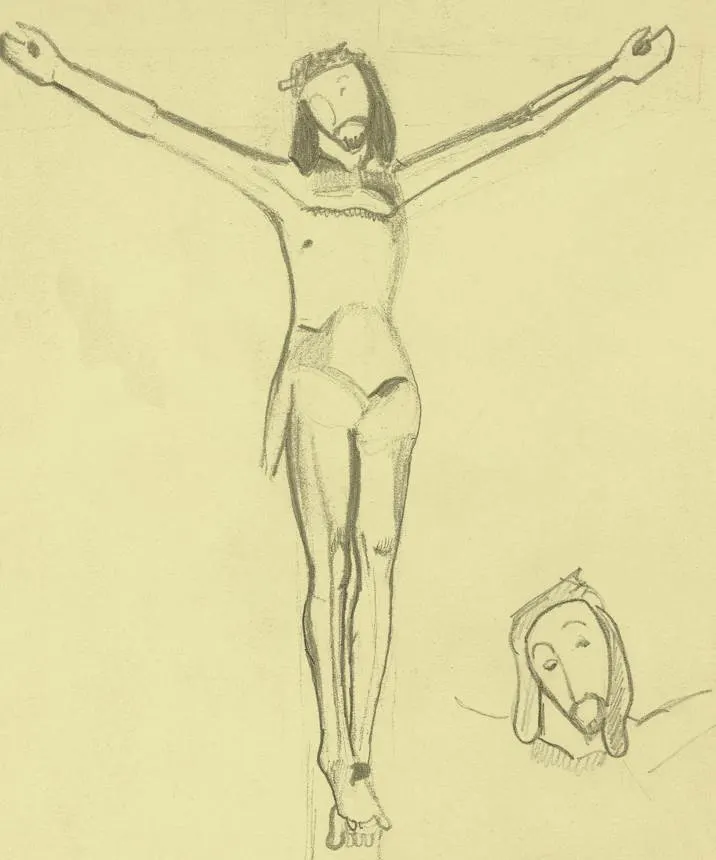 He didn't stop there because he also produced a watercolor that features the overall composition of the finished oil painting.
This work is part of the collection of the Art Institute of Chicago, the most popular museum in Windy City.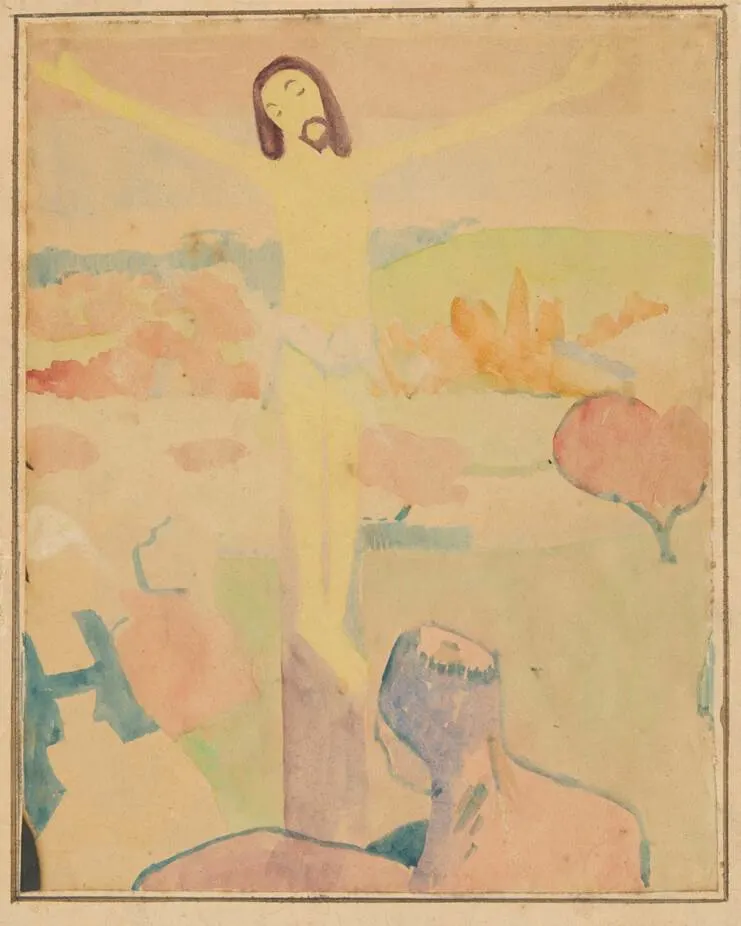 6. Gauguin completed a self-portrait 2 years later with the painting in the background
The painting of Christ's crucifixion in a Breton landscape certainly had significant importance for the artist. This is emphasized by a self-portrait that he completed a couple of years later.
This painting is titled Self-portrait with the Yellow Christ (1890-1891) and was completed shortly before he left Pont-Aven in the Spring of 1890.
Gauguin often identified himself with Christ. Because he also included a grotesque ceramic self-portrait on the right, it's remarkably considered to be a triple self-portrait.
7. How big is The Yellow Christ by Paul Gauguin?
The wooden crucifix that inspired the French artist for this work is about life-sized. This is not the case with this painting.
The Yellow Christ by Paul Gauguin is a medium-sized oil on canvas painting that has dimensions of 91.1 cm × 73.4 centimeters (35.9 × 28.9 inches).
8. Where is the painting located today?
Paul Gauguin made a statement to Western society by leaving the country for French Polynesia in 1890, the place where he passed away in 1903.
Here he produced some of his most renowned works, including his ultimate masterpiece titled "Where Do We Come From? What Are We? Where Are We Going?" (1897).
The Yellow Christ was owned by his colleague Emile Schuffenecker (1851-1934) followed by art dealers Gustave Fayet and Paul Rosenberg.
It was confiscated by the Nazis in 1940 following Rosenberg's exile to Portugal during World War II and returned to him after the war.
It was briefly owned by Hermann Goering (1893-1946), the delusional art-collecting Nazi and one of the most powerful men in the regime.
The painting was purchased from Paul Rosenberg in 1946 by the Buffalo AKG Art Museum and is still one of the greatest attractions at the museum today.