Painting in Argentina has a history that goes back to Pre-Columbian times. Some cave paintings that have been found in the country were produced around 7300 B.C.
One of the most prominent examples is Cueva de las Manos or "Cave of the Hands," a UNESCO World Heritage site that is world-famous for an extensive collection of paintings that depict hands.
When the Spanish arrived, the paintings turned into Christian devotional artworks that decorated churches. These were produced to turn the native people into Christians.
The first true Argentine painters emerged in the 19th century. Halfway through the century, the first art institutions were established and the Museo Nacional de Bellas Artes opened its doors in 1896.
The 20th century saw a wave of Avant-Garde artists emerging in Argentine. This went hand in hand with the political emancipation of the country during the first two decades of the 1900s.
In this article, you'll discover some of the most famous Argentine painters in history.
1. Carlos Morel
Carlos Morel (1813-1894) was a 19th-century Argentine artist and one of the first true Argentine painters. That's because he was born in Buenos Aires as the son of a rich Spanish merchant. Apart from a brief visit to Brazil during the 1840s, he spent most of his career in his home country.
He was a versatile artist who specialized in both portraits and large historical paintings. He painted some of the most prominent members of Argentine society and also produced works depicting epic battles. He also depicted his native Buenos Aires in remarkable genre paintings.
2. Antonio Berni
Antonio Berni (1905-181) was a modern artist who was part of the "Nuevo Realismo" or "New Realism" art movement. This was the Argentine version of the much larger Social Realism art movement of the 20th century which flourished between both World Wars.
His main focus was depicting the poverty on the streets of Buenos Aires. He had spent some time in both Spain and Apris while studying and had settled in Argentina's capital city in the early 1930s. He later spent time in other parts of South America where he witnessed even more poverty. His most notable works have been exhibited all around the world.
3. Benito Quinquela Martín
Benito Quinquela Martín (1890-1977) was an Argentine painter who was orphaned as a child. His artistic talent was obvious from an early age and his stepparents managed to provide art education for him in his native La Boca neighborhood in Buenos Aires.
He traveled around the world during the 1920s and visited major cities such as Paris and New York City. He also visited Italy in the late 1920s before permanently returning to his native city. Here he became one of the most famous port painters in Argentine history as he depicted the hectic scenes of the busy port in La Boca.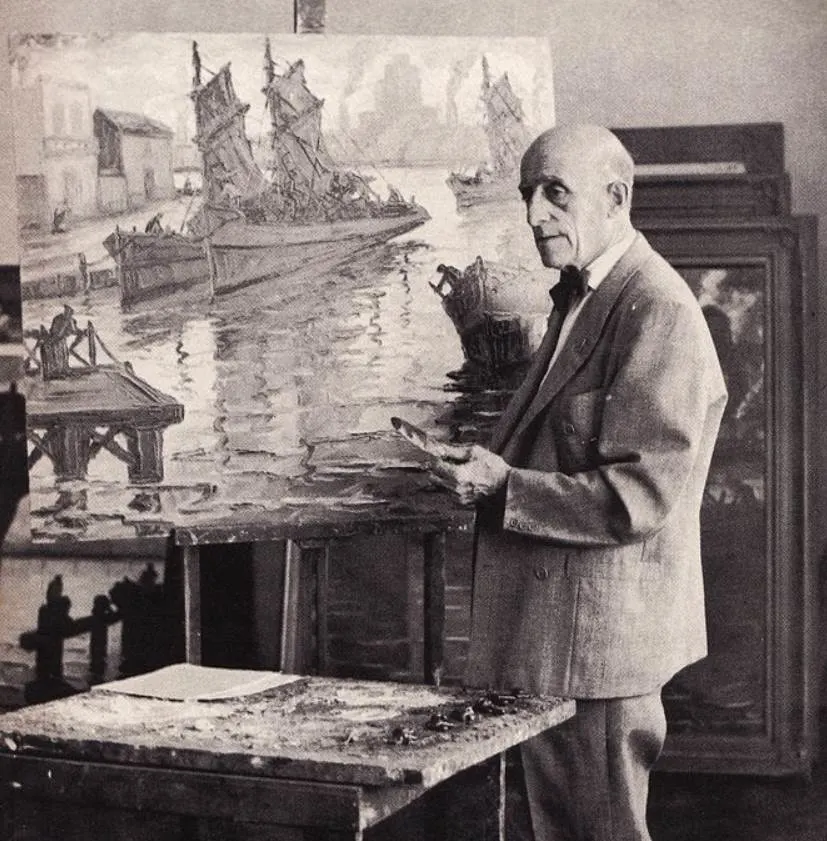 4. Antonio Segui
Antonio Seguí (1934-2022) was a multi-talented Argentine artist. He was a renowned painter but also a cartoonist, sculptor, engraver, and book illustrator. His works were first exhibited in Argentina in 1957 and he traveled to other South American countries and Mexico shortly after.
He moved to Paris in 1963 and lived and worked here for the rest of his life. Many of his most famous paintings and drawings feature little men wearing hats. he also had a keen interest in urban life and managed to depict the fast-paced life in the modern city quite remarkably.
5. Luis Felipe Noé
Luis Felipe Noé (born in 1933) is another cosmopolitan Argentine artist who lived and worked in many places all around the world. He is known as "Yuyo" in Argentina and is arguably one of the best-known contemporary artists due to his involvement in the Neofiguration art movement.
Apart from being a successful painter, he is also known as an art theoretician who wrote the work "Antiestética" in 1965. This was a period in his life when he took a 10-year break from painting. During his stay in New York City in the 1960s, he started experimenting with paintings that went beyond the canvas.
6. Raquel Forner
Raquel Forner (1902-1988) was an Argentine artist who had a Spanish father and an Argentine-Spanish mother. This meant that she traveled back and forth between both countries quite a bit during her childhood years and even lived in Spain for some time.
This is how she developed a keen interest in the Spanish Civil War (1936-1939) and she reflected the Expressionist artist reflected this in her Expressionist artworks. She had a brief Surrealist period during the 1940s and grew out of her melancholic phase in the early part of her career. She later produced scenes from outer space that can be classified as cosmic mythology.
7. Emilio Pettoruti
Emilio Pettoruti (1892-1971) was one of the leading artists of the first wave of Avant-garde artists who emerged in Argentina during the 1920s. This was a period of great special advancements and this was reflected in the advancements in the world of art as well.
Pettoruti was included by both Futurism and Cubist artists but always claimed that he didn't adopt these art styles. Instead, he developed his own painting technique that incorporated a modern form of geometric precision. Because of this, he can be classified as one of the most influential Argentine painters of the 20th century.
8. Fabian Perez
Fabian Perez (born in 1967) is without a doubt one of the most famous contemporary Argentine artists in the world. He is known for painting beautiful works of art depicting Tango and Flamingo dancers, as well as producing portraits of famous people and celebrities.
His most popular paintings are part of a series titled "Collection of Living Legends." He has been commissioned to paint dozens of world-famous people, including the Argentine president between 2015 and 2019 Mauricio Macri, tennis star Rafael Nadal, and actors Arnold Schwarzenegger and Al Pacino.