When this French artist saw an exhibit of the paintings of one of the greatest artists of his time, he decided to ditch his architectural studies to pursue a career as a painter.
Paul Signac (1863-1935) was 18 years old and was so impressed by Claude Monet's paintings at an exhibit that he completely changed directions.
Although he started his painting career following the ideals of the Impressionists, he became one of the greatest supporters of Georges Seurat (1859-1891), a man who invented the Pointillist technique.
He continued Seurat's legacy after he passed away in his early thirties and continued to produce paintings that consisted of small dots.
He became one of the co-founders of the Société des Artistes Indépendants in 1884, an association that organized the annual Salon des Indépendants. He became its president in 1908 and held this position until he died.
The Salon has been shelved but the group still exists today and has its headquarters in the basement of the Grand Palais in Paris.
Sailing was one of Signac's greatest passions and this means that the Mediterranean coast and landscape were some of his favorite subjects.
In this article, you'll discover some of the most famous paintings by Paul Signac.
1. Opus 217, Portrait of M. Félix Fénéon
Date Created: 1890
Dimensions: 73.5 x 92.5 centimeters (28.9 x 36.4 inches)
Location: MoMA, New York City, United States
Opus 217, Portrait of M. Félix Fénéon is the short title of a painting by Paul Signac that is officially known as "Opus 217. Against the Enamel of a Background Rhythmic with Beats and Angles, Tones, and Tints, Portrait of M. Félix Fénéon in 1890." That's quite a title to define this remarkably colorful painting, don't you think?
---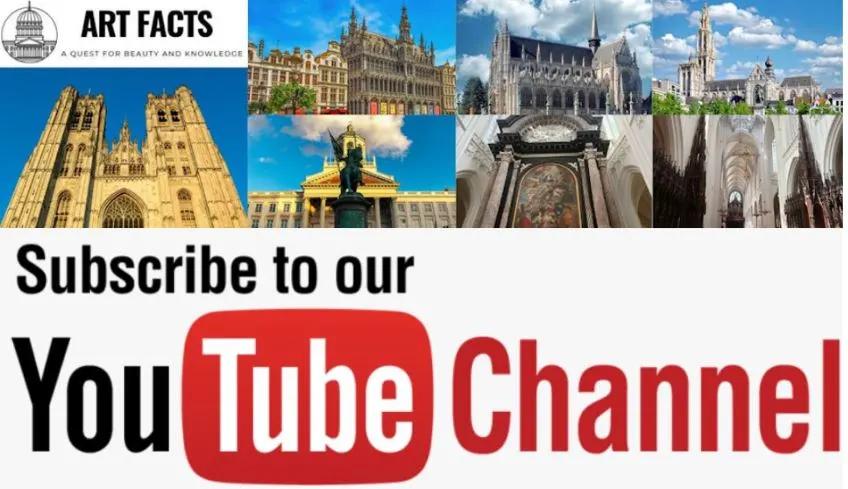 ---
Félix Fénéon (1861-1944) was a French art critic who coined the term Neo-Impressionism, the name used to describe the Divisionist technique that Seurat devised and Signac adopted. It's one of the most awe-inspiring paintings by the artist and has been part of the collection of the Museum of Modern Art in New York since 1991.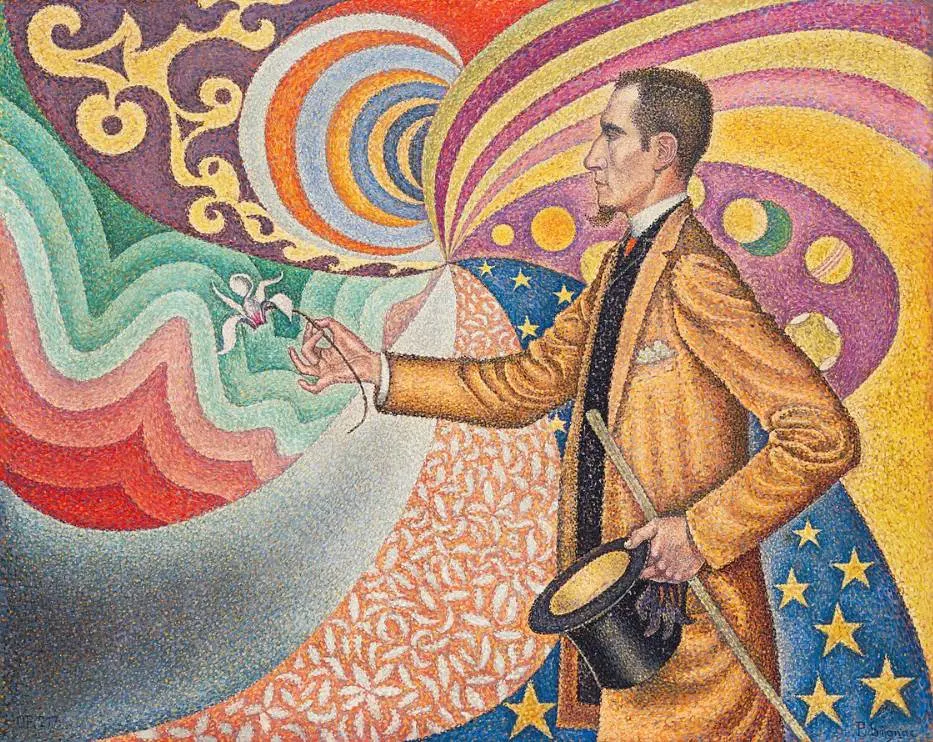 2. The Dining Room, Opus 152
Date Created: 1886-1887
Dimensions: 89,5 x 116,5 centimeters (35.23 x 45.86 inches)
Location: Kröller-Müller Museum, Otterlo, Netherlands
The Dining Room, Opus 152 is a painting that was completed during the early years of Signac's career. It was a period when Seurat just completed his two monumental masterpieces titled "Bathers at Asnières" (1884) and "A Sunday Afternoon on the Island of La Grande Jatte" (1884-1886).
This painting was one of Signac's first attempts to apply the color technique invented by his close friend and it shows in his experimental use of color. He didn't quite get the hang of it yet, something you can see in the empty expressions on the depicted people's faces.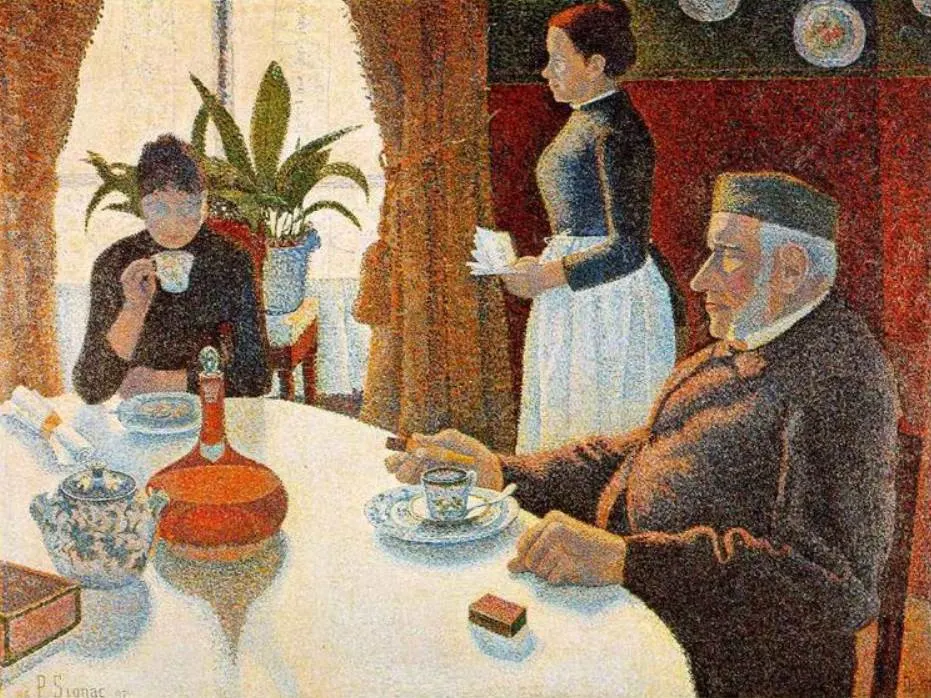 3. Capo di Noli
Date Created: 1898
Dimensions: 93.5 × 75 centimeters (36.8 × 30 inches)
Location: Wallraf–Richartz Museum, Cologne, Germany
Capo di Noli is the title of one of many of Signac's paintings that depict a scene of the Mediterranean. The Capo di Noli is a huge came on the Italian Rivièra, not too far to the southwest of the large Italian port city of Genoa.
Apart from yachting, Paul Signac also enjoyed a good walk and he presumably hiked to this cape a couple of years earlier. He did so from Saint-Tropez, a coastal town in France that was popular among artists at the time. That was quite a healthy walk and he made sure to produce a masterpiece of a painting two years later.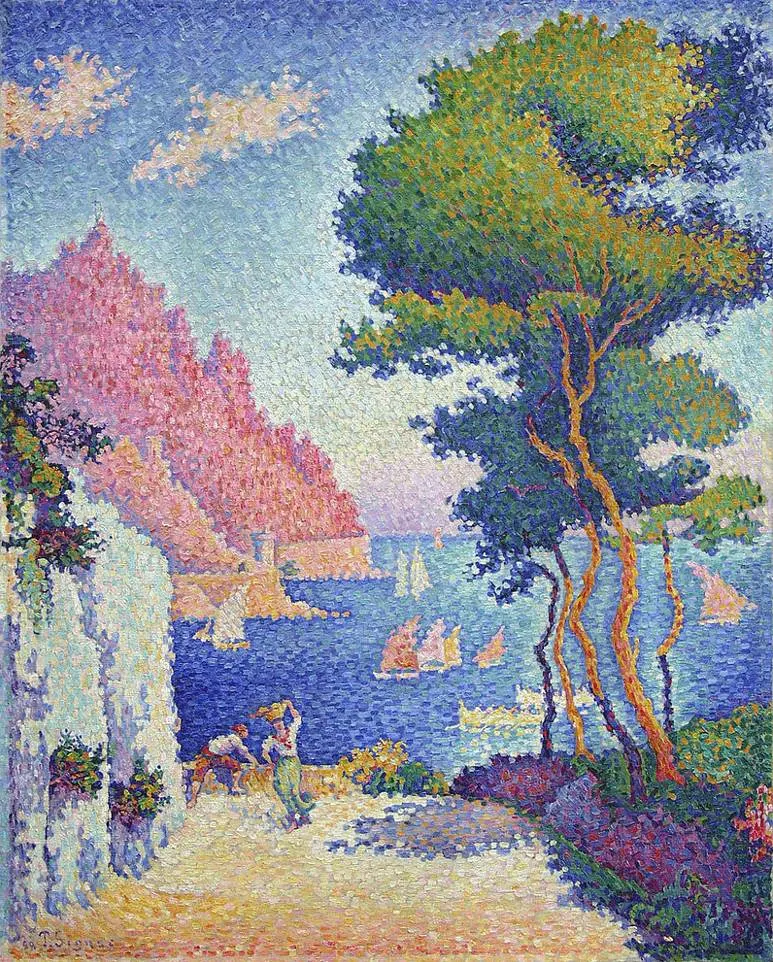 4. In the Time of Harmony: the Golden Age is not in the Past, it is in the Future
Date Created: 1893-1895
Dimensions: 310 x 410 centimeters (122 x 161 inches)
Location: Montreuil City hall, Montreuil, France
In the Time of Harmony: the Golden Age is not in the Past, it is in the Future is the title of one of the most ambiguous paintings in the oeuvre of Paul Signac. He spent two years completing this monumental work of art in the 1890s and wanted to depict a perfect utopian society of the future.
A man picks a fig from a tree, a young mother gives a fig to her infant, and a couple of men play a game of boules, a form of outdoor bowling in France. The artist described the couple in the middle as having "Free Love" and the artist in the distance is an anarchist who fights with his brushes, just like Signac did himself.
5. Snow, Boulevard de Clichy, Paris
Snow, Boulevard de Clichy, Paris was a painting that Signac completed the year that he met Vincent van Gogh (1853-1890). The Dutch artist was living together with his brother Theo at the time who was an art dealer in Paris and the man who sponsored Vincent's career.
Both men worked together on a regular basis during this period and often painted landscapes and cityscapes in and around Paris. This painting depicts the Boulevard the Clichy near Montmartre on a snowy day. This is the avenue where the famous Moulin Rouge cabaret opened its doors a couple of years later.
6. Cassis, Cap Lombard, Opus 196
Date Created: 1889
Dimensions: 83.5 x 99.8 centimeters (32.87 x 39.29 inches)
Location: Kunstmuseum Den Haag, Den Haag, Netherlands
Cassis, Cap Lombard, Opus 196 is the title of a painting that depicts the small village of Cassis on the French Rivèra. It's located just east of the major city of Marseille. Paul Signac traveled frequently and found this place to be so amazing that he completed 5 paintings depicting this remarkable feat of nature.
He also visited Vincent van Gogh in Arles in march 1889 and both men kept in touch. Signac was so enthusiastic about this location that he wrote the following to his colleague and friend:
White, blue, orange, harmonically dispersed in pretty undulations. All around mountains with rhythmic curves.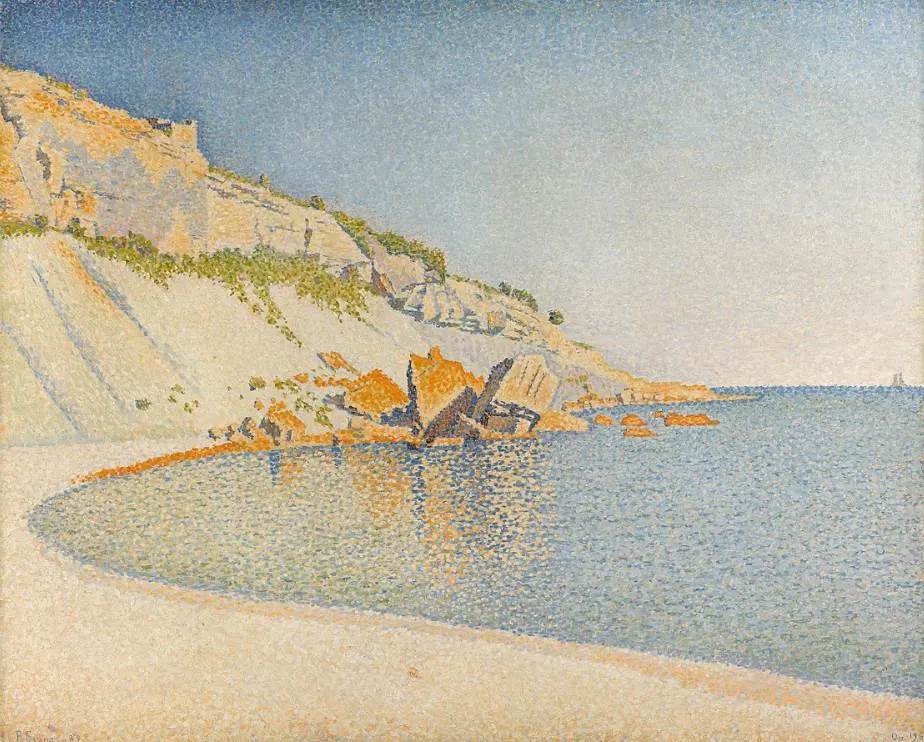 7. Place des Lices
Date Created: 1893
Dimensions: 65.4 x 81.9 centimeters (25.7 x 32.2 inches)
Location: Carnegie Museum of Art, Pittsburgh, United States
The Place des Lices is one of the most popular squares in Saint-Tropez, one of the most popular towns on the French Rivièra. It's located in the vicinity of the Vieux Port or "Old Port" of the city and this location was a popular place for artists to hang out.
The square's most remarkable attractions are the rows of plane trees that are well over 100 years old. Apart from the colorful Place des LIces, Signac also produced another popular painting here titled "Fontaine des Lices" which depicts the square's fountain.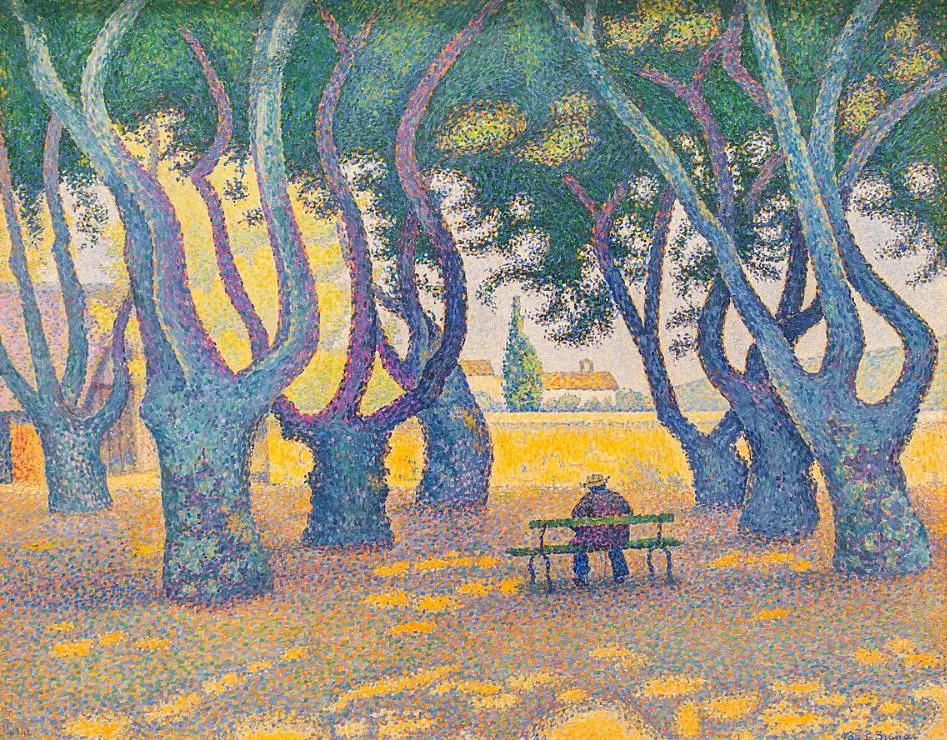 8. Entrance to the Grand Canal (Venice)
Date Created: 1905
Dimensions: 73.5 x 92.1 centimeters (28.9 x 36.2 inches)
Location: Toledo Museum of Art, Toledo, United States
Entrance to the Grand Canal (Venice) is a painting that depicts the entrance to the main thoroughfare of the Italian city of Venice. It also depicts two famous buildings in Venice, a customs building known as the Dogana da Mar, and the iconic church Santa Maria della Salute.
Signac didn't limit his sailing adventures to locations in and around France. When he left his home port at Saint Ropez he often sailed to Italy and even as far as Istanbul in Turkey. Completed in 1905, This stunning painting is a great attraction at the Toledo Museum of Art in Toledo, Ohio, today.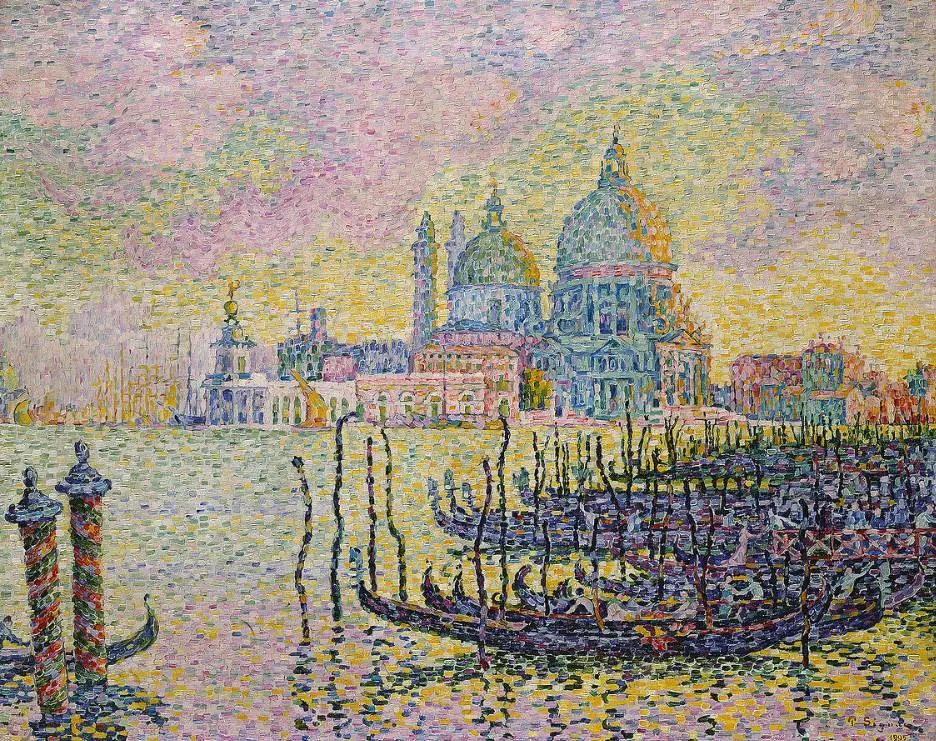 9. Les Andelys, Côte d'Aval
Date Created: 1886
Dimensions: 60 × 92 centimeters (23.62 × 36.25 inches)
Location: Art Institute of Chicago, Chicago, United States
Les Andelys, Côte d'Aval is the title do another painting that was completed during the early years of Signac's career. It depicts the harbor of Les Andelys, a small village on the Seine River not too far from Giverny, the place where Claude Monet (1840-1926) spent the final decades of his life.
The Impressionist artist started renting a house in Giverny in 1883 and he purchased this house in 1890. Signac was still experimenting with the pointillist technique he learned from Seurat and used the landscape near the house of his friend Monet to perfect it.
10. Lighthouse at Groix
Date Created: 1925
Dimensions: 74 x 92.5 centimeters (29.1 x 36.4 inches)
Location: Metropolitan Museum of Art, New York City, United States
The Lighthouse at Groix is another painting that depicts a harbor, this one being the harbor of Port-Tudy on the Île-de-Groix, not too far southwest of Lorient. This is a small island off the coast of Brittany which Paul Signac had visited.
Like in many of his other works, the color theory he learned from Georges Seurat plays a major role in this remarkable work of art. His brushstrokes and dots, however, became much wider in his later years. It depicts one of the two lighthouses that protected ships entering the harbor.