The portrait of a man standing in front of a swirling color wheel that consists of small dots. This is a short description of this masterpiece of Pointillism.
The full title of this work is quite self-explanatory: "Opus 217. Against the Enamel of a Background Rhythmic with Beats and Angles, Tones, and Tints, Portrait of M. Félix Fénéon in 1890."
In this article, you'll discover some of the most interesting facts about Paul Signac's painting so you can learn more about this work, the French artist, and the technique he used.
1. The title reveals what year the painting was completed
Opus 217 is one of the most notable works by Paul Signac, a Post-Impressionist artist who produced artworks in the distinctive Pointillist style.
Initially trained as an architect, Signac decided to become a painter when he visited an exhibition displaying paintings by Claude Monet.
He was an avid sailor and many of his works depict coastal scenes of the Mediterranean. He was also the co-founder of the Société des Artistes Indépendants and became the organization's president in 1908.
He held this position until he passed away in 1935 and left behind a legacy of hundreds of stunning artworks.
2. It features the portrait of a French art critic and anarchist
Opus 217 is the short title of a painting known as "Opus 217. Against the Enamel of a Background Rhythmic with Beats and Angles, Tones, and Tints, Portrait of M. Félix Fénéon in 1890."
As the title suggests, it features a portrait of Félix Fénéon (1861-1944), a French art critic, art gallery director, and writer. He was also the man who coined the term "Neo-Impressionism."
---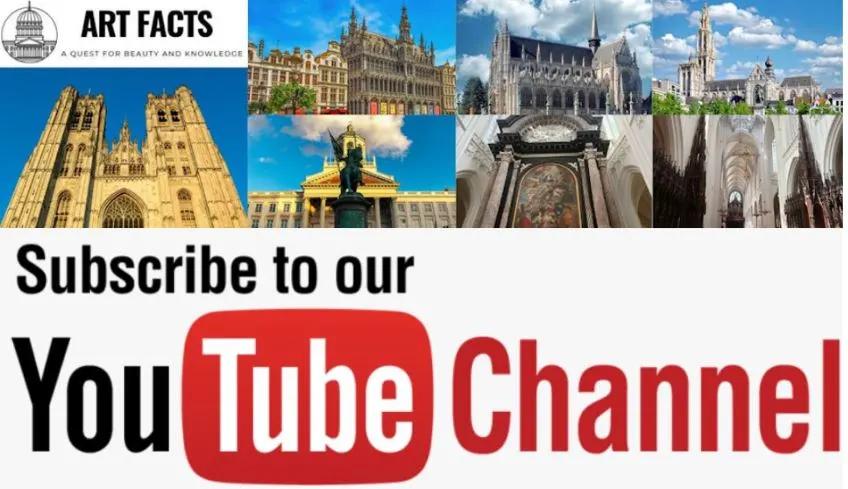 ---
Fénéon was also an anarchist and was arrested along with 29 other anarchists on suspicion of being involved in a bombing.
The witty art critic manage to weasel himself out of a serious sentence and continued to be a dubious figure throughout his life.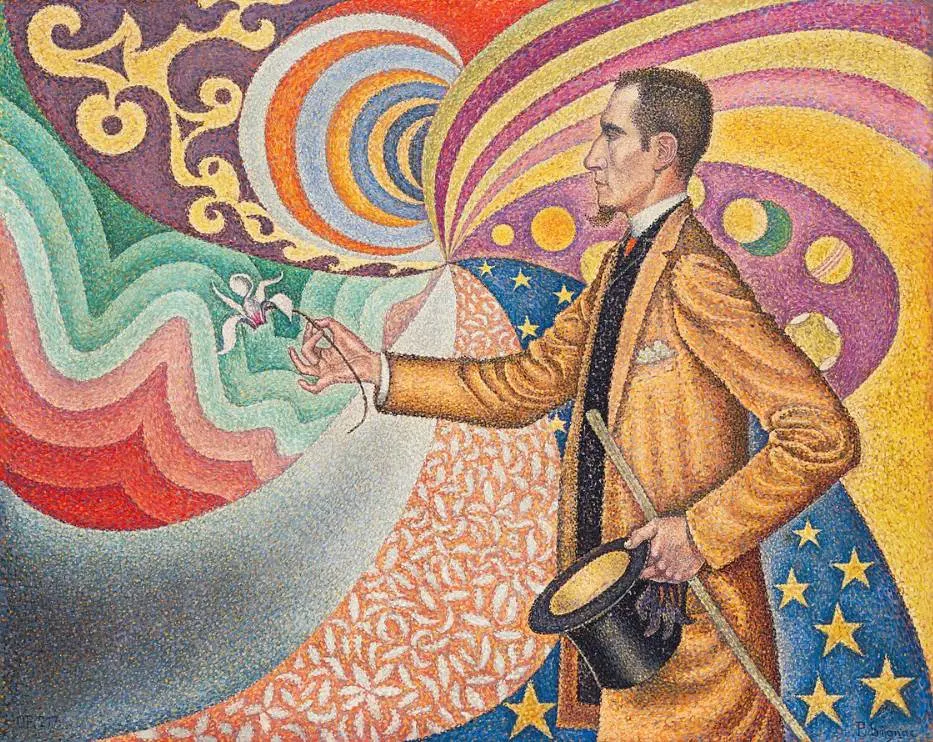 3. The painting was completed in the style developed by Signac's friend
This painting is a prime example of Pointillism, a technique also known as Divisionism. That's because the entire painting consists of small dots that together form larger patterns.
This technique was conceived by Georges Seurat (1859-1891) in the early 1880s. Two monumental works titled "Bathers at Asnières" (1884) and "A Sunday on la Grande Jatte" (1884-1886) are the best examples.
Paul Signac was so impressed with Seurat's paintings and his mathematical approach to producing them that he continued his legacy after his friend's early death in 1891.
4. It's possible that the background was inspired by a type of Japanese art
The painting was first exhibited at the Salon des Indépendents in 1891 but it wasn't received well by art critics.
That was mainly because the portrait of Fénéon is overshadowed by the colorful background which produces an almost hallucinating experience.
The man is depicted holding a flower that was common in Japanese art, especially Japanese woodblock prints that were introduced in France in the 1860s.
Signac wasn't the only contemporary artist who was fascinated by this form of art. Vincent van Gogh (1853-1890) also frequently added them to the background of his amazing paintings.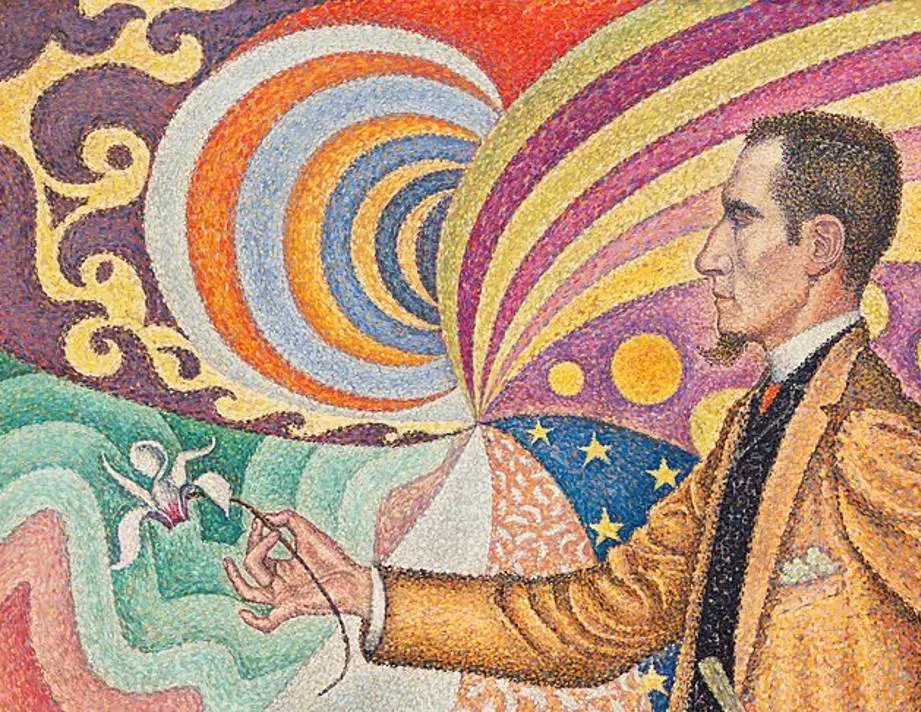 5. It was also inspired by the theories of a French mathematician
Both Georges Seurat and Paul Signac were fascinated by the writings of Charles Henry, a French mathematician who write about color theory.
Especially his book titled "Introduction à une Esthétique Scientifique" explains the mathematical approach to applying colors in artworks was something that inspired both Neo-Impressionist artists.
The men met during the Impressionist exhibition of 1886 and certainly discussed this theory. They came to the conclusion that each dot of color could be treated as possessing an abstract value.
Combined, the larger fields of dots produce patterns that become visible from a distance.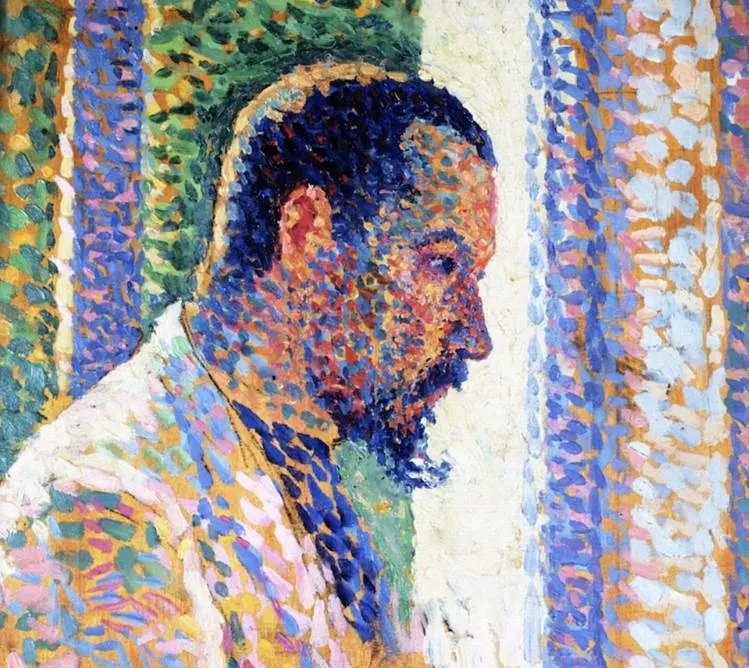 6. The painting was owned by the man who is depicted until he died in 1944
The painting wasn't a success and Signac gave it as a gift to his friend Félix Fénéon, the man he depicted.
This was certainly appreciated by the art critic because he held onto it until he died, well over 5 decades later in 1944 at the age of 82.
Fénéon's entire art collection was sold at the Hôtel Drouot, an auction house in Pars, in 1947. His wife, Fanny Goubaux, used the money to establish the Fénéon Prize.
This is an annual award given to a French-language writer and a visual artist who are younger than 35 years.
7. How big is Opus 217 by Paul Signac?
The painting was signed with "OP. 217" and Signac's signature and the date "P. Signac 90" in the lower corners.
It's far from being the largest work by the artist as Opus 217 by Paul Signac is an oil on canvas painting that has dimensions of 73.5 × 92.5 centimeters (28.9 × 36.4 inches).
8. Where is the painting located today?
After the sale in Paris in 1947, the painting was owned by Peggy Rockefeller and David Rockefeller who donated it to the Museum of Modern Art in New York City in 1991.
Today, you can still admire Opus 217 in this amazing museum in Midtown Manhattan.