German art collector Helene Kröller-Müller (1869-1939) was one of the first to recognize the incredible talent of famous Dutch artist Vincent van Gogh.
When she started acquiring paintings by van Gogh, it initiated the collection of one of the greatest museums in the Netherlands.
The Kröller-Müller Museum was established within the borders of the Hoge Veluwe National Park. The park is located just east of the village of Otterlo in the Dutch province of Gelderland.
This national museum opened its doors in 1938, just 3 years after Kröller-Müller had donated her entire collection of paintings to the Dutch state.
A large sculpture garden was added to the museum in 1961. It covers an area of about 30 hectares (75 acres), making it one of the largest of its kind in Europe.
Today, the museum welcomes hundreds of thousands of visitors who want to admire the incredible collection of artworks.
In this article, we have compiled a list of some of the most famous paintings at the Kröller-Müller Museum.
1. Café Terrace at Night – Vincent van Gogh
Date created: 1888
Dimensions: 80.7 × 65.3 centimeters (31.8 × 25.7 inches)
Café Terrace at Night is a fascinating painting by Post-Impressionist artist Vincent van Gogh. It was completed when the artist lived in Arles, a small city in southern France. It depicts the view from the northeastern corner of the Place du Forum, a central square in the city.
It's one of three paintings that feature the distinctive starry night. The other paintings in this series are Starry Night over the Rhône, which was painted around the same time, and "The Starry Night," arguably his best-known work that was painted a year later.
2. Le Chahut – Georges Seurat
Date created: 1889-1890
Dimensions: 170 × 141 centimeters (66.92 × 55.12 inches)
---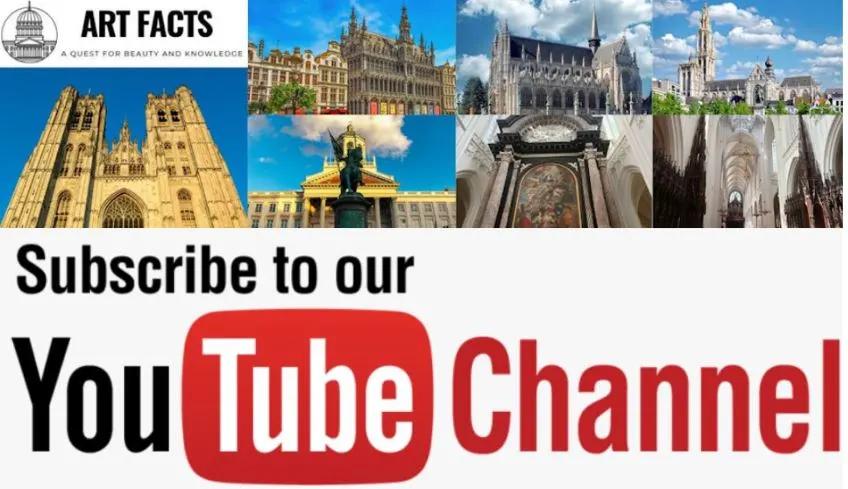 ---
Le Chahut or "The Can-Can" is one of the distinctive paintings by Georges Seurat (1859-1891), a man who developed the Pointillist technique in the 1880s. Most of his paintings consist of small dots that make up larger fields and images when viewed from a distance.
Georges Seurat painted 3 monumental paintings that depict forms of entertainment, in this case, the performance of the Can-Can dance at the Moulin Rouge in the Montmartre district of Paris. Like most of his works, it was highly influential for artists of future generations, especially Fauvists and Cubists.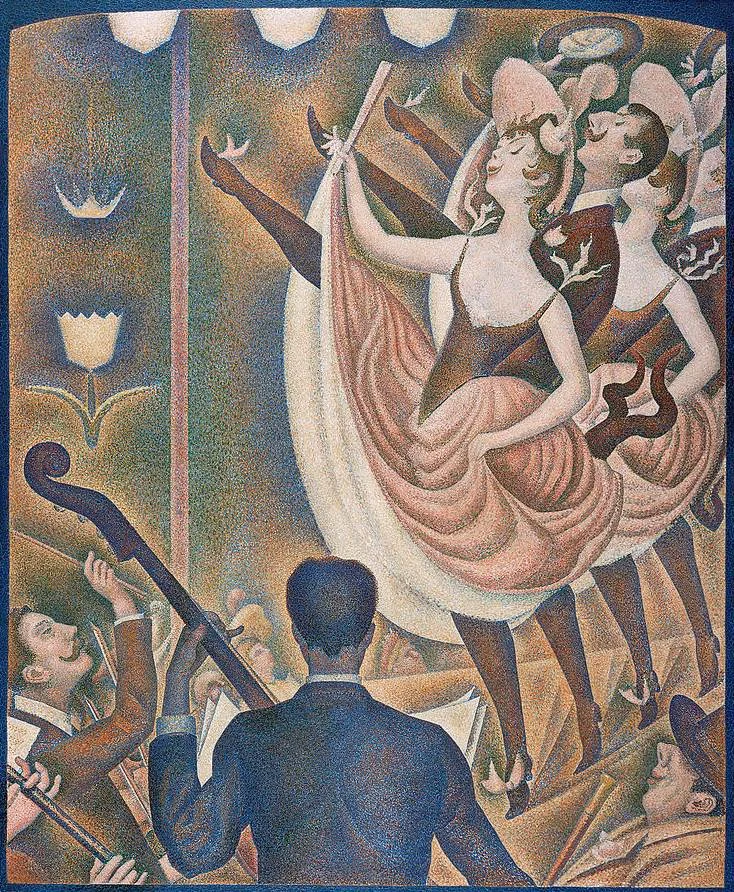 3. The Dining Room, Opus 152 – Paul Signac
Date created: 1886-1887
Dimensions: 89,5 x 116,5 centimeters (35.23 x 45.86 inches)
The Dining Room, Opus 152 is a painting by Paul Signac (1863-1935), another French artist who was initially influenced by the Impressionists. This all changed when he met Georges Seurat, the man who developed the revolutionary new painting technique called Pointillism which concerns color theory.
Signac quickly started experimenting with this technique himself, especially after he had seen "Bathers at Asnières" (1884) and "A Sunday Afternoon at La Grande Jatte" (1884-1886) by Seurat. This painting is one of the first works by Signac in which he integrated Pointillism to complete a relatively large canvas.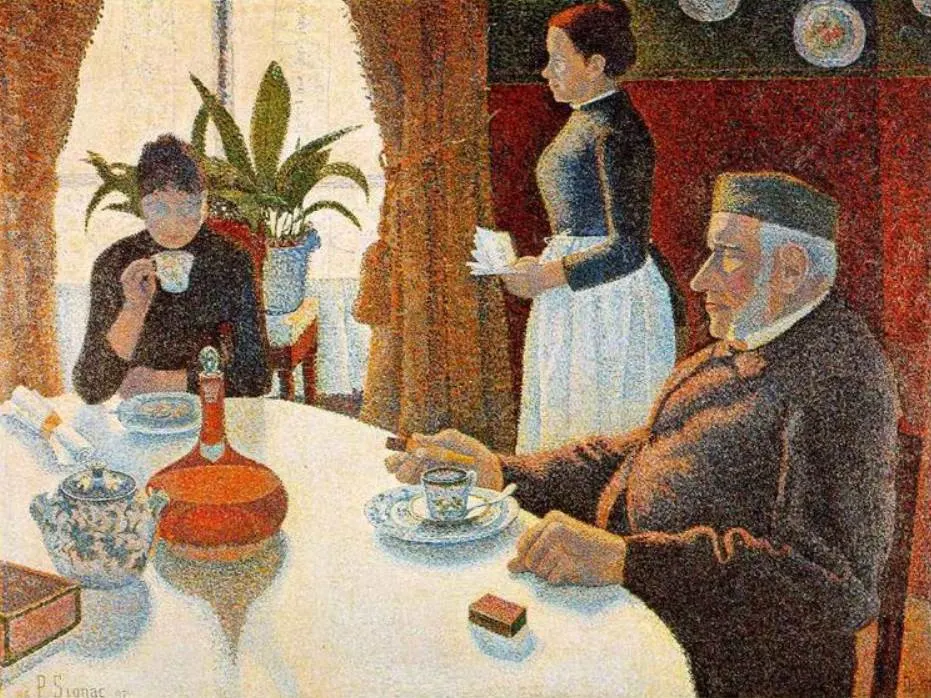 4. The Potato Eaters – Vincent van Gogh
Date created: 1885
Dimensions: 82 × 114 centimeters (32.3 × 44.9 inches)
The Potato Eaters is another intriguing painting by Vincent van Gogh. The painting at the Kröller-Müller Museum isn't the final version but the second study of the work. The final version is part of the collection of the Van Gogh Museum in Amsterdam and looks fairly similar, although a bit more refined.
There are several other versions of this humble Dutch family having dinner and even a lithograph. The main reason is that Vincent van Gigh considered this to be one of his most successful works. He mentioned this himself when he commented on the painting in a letter to his sister Willemina:
What I think about my own work is that the painting of the peasants eating potatoes that I did in Nuenen is after all the best thing I did.
5. Coucher de soleil no. 1 – Jean Metzinger
Date created: 1906
Dimensions: 72.5 × 100 centimeters (22.5 × 39.25 inches)
Coucher de Soleil no. 1 is an amazing painting by Jean Metzinger (1883-1956), an influential artist and art theorist who helped to develop the Fauvist and Cubist styles. This painting clearly shows the influence of Georges Seurat on the next generation of artists as Metzinger integrated the Divisionist style of painting.
The bright and vivid color scheme is typical of the Fauvism paintings that were produced during the first decade of the 20th century. The entire focus of the composition of this remarkably colorful painting is centered around the sun which appears to be vibrating in the sky.
6. The Cyclops – Odilon Redon
Date created: Around 1914
Dimensions: 65.8 x 52.7 centimeters (25.9 x 20.7 inches)
The Cyclops is an intriguing painting by Odilon Redon (1840-1916), a French Symbolist painter who mainly worked using charcoal. He also produced many lithographs during his career. This painting is believed to have been completed in 1914, about 2 years before the artist passed away.
It depicts Polyphemus, the one-eyed son of Poseidon and Thoosa according to Greek mythology, who falls in love with a naiad called Galatea. The woman can be seen sleeping on the flowery hill in the bottom right corner but it appears as if Polyphemos is too shy to approach her.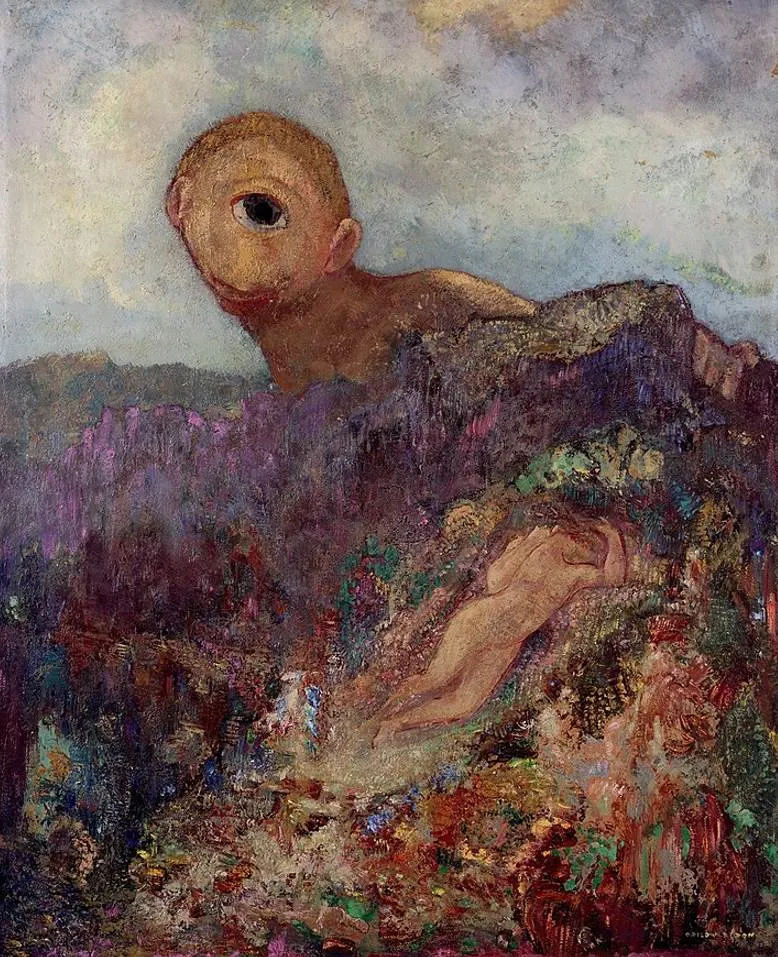 7. Monet's Studio Boat – Claude Monet
Date created: 1874
Dimensions: 50 x 64 centimeters (19.6 x 25.1 inches)
Monet's Studio Boat or simply "The Studio Boat" is a painting by Claude Monet (1840-1926). The French artist is considered to be the founding father of Impressionism and this means that Claude Monet produced most of his paintings "En Plein Air" or outdoors.
The painting depicts the boat that he bought shortly after he moved to Argenteuil in the early 1870s. He constructed a wooden cabin on top of it so he could set up his easel and paint places that he wouldn't be able to reach otherwise. It's one of several versions he painted of this boat. Another version is part of the collection of the Barnes Foundation in Philadelphia.
8. Road Leading to the Lake – Paul Cézanne
Date created: 1880
Dimensions: 92 x 75 centimeters (36.22 x 29.52 inches)
Road Leading to the Lake or "La route vers l'étang" is a painting by Paul Cézanne (1839-1906), the influential French artist who inspired a large number of modern artists. This painting, which appears to be a simple landscape of a road leading to a body of water, is a clear example of why.
The way in which Cézanne revolutionized painting is that he was the first artist to experiment with multiple vantage points. He managed to create depth in this work by producing horizontal and vertical brushstrokes that form larger color fields. This is especially visible when looking closely at the horizontal lines of the road that are interrupted by vertical strokes of the bushes.
9. Violin – Pablo Picasso
Date created: 1911-1912
Dimensions: 100 x 73 centimeters (39.37 x 28.74 inches)
Violin is a painting by Pablo Picasso (1881-1973), a Spanish artist who became one of the most successful artists in history in the 20th century. This painting was completed during the artist's Cubist period, a style he developed along with his colleague Georges Braque in the first decade of the 1900s.
This work is a perfect example of what is referred to as analytical Cubism. The main subject matter is broken into fragments and reassembled so multiple viewing points are created. This style was developed when modern artists took Paul Cézanne's technique to another level. In this work, the violin is only partially recognizable.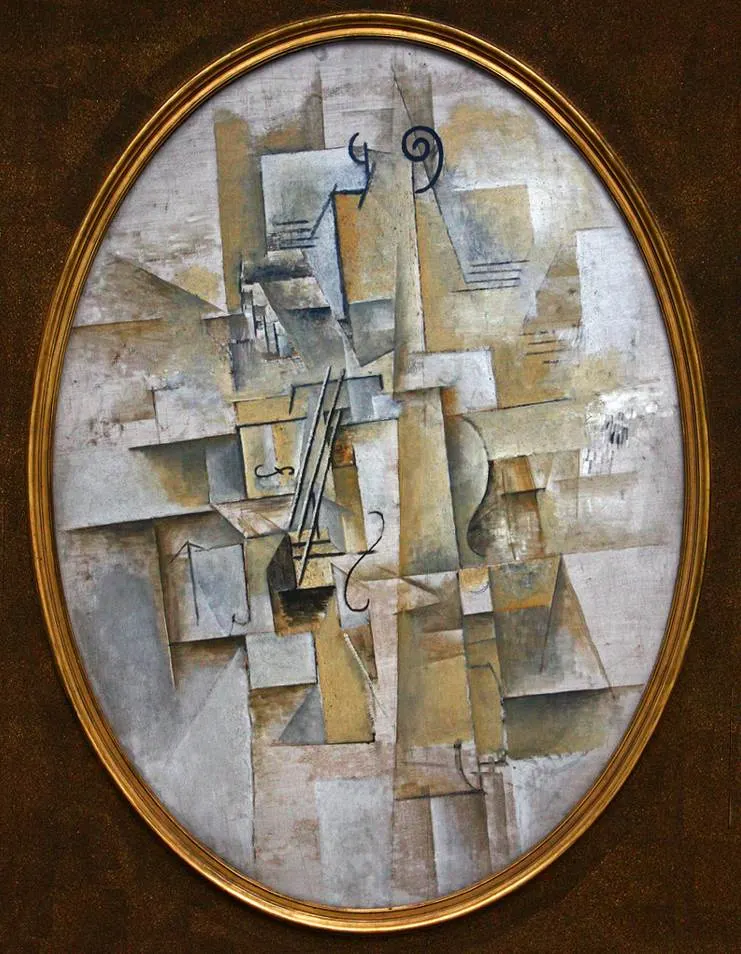 10. Sorrowing Old Man (At Eternity's Gate) – Vincent van Gogh
Date created: 1890
Dimensions: 80 × 64 centimeters (31.5 × 21.2 inches)
Sorrowing Old Man is also known as "At Eternity's Gate" and is a painting that was completed during the final months of Vincent van Gogh's life. It was completed during his final weeks at the Saint-Rémy de Provence asylum in southern France in May of the year 1890.
This was also a period when he was recovering from a severe relapse of his mental health problems between February and April of 1890. He committed suicide just a few months later. This painting was based on a lithograph that he produced earlier.