An upper-class residential area in northern Los Angeles is home to an educational and research facility that features a large collection of items.
The Huntington Library, Art Museum, and Botanical Gardens, commonly referred to as "The Huntington," allows you to enjoy all sorts of plants and fascinating paintings.
The complex in San Marino, California, was established by American railroad magnate Henry E. Huntington (1850–1927) and his wife Arabella Huntington (1851–1924) in 1919.
The art gallery is located in the former residence of the Huntingtons and has a remarkable collection of European and American paintings.
The entire complex is adjoined by the botanical garden that covers an area of approximately 49 hectares (120 acres). Very few museums in the world feature this combination which is pretty awesome.
In this article, you'll discover some of the most famous paintings at The Huntington.
1. Virgin and Child – Rogier van der Weyden
Date created: 1460
Dimensions: 49.5 x 31.7 centimeters (12.5 x 31.7 centimeters)
Virgin and Child is a painting by Early Netherlandish painter Rogier van der Weyden (1399-1364) that was originally part of the "Diptych of Philip de Croÿ with The Virgin and Child." This means that it's the left panel of a diptych, a work that consists of two panels that can be closed together.
The other panel is titled "Portrait of Philippe I de Croÿ" and is part of the collection of the Royal Museum of Fine Arts in Antwerp, Belgium. The half-length Madonna with her child Jesus Christ is one of several similar paintings by the artist which were inspired by the Italo-Byzantine Cambrai Madonna.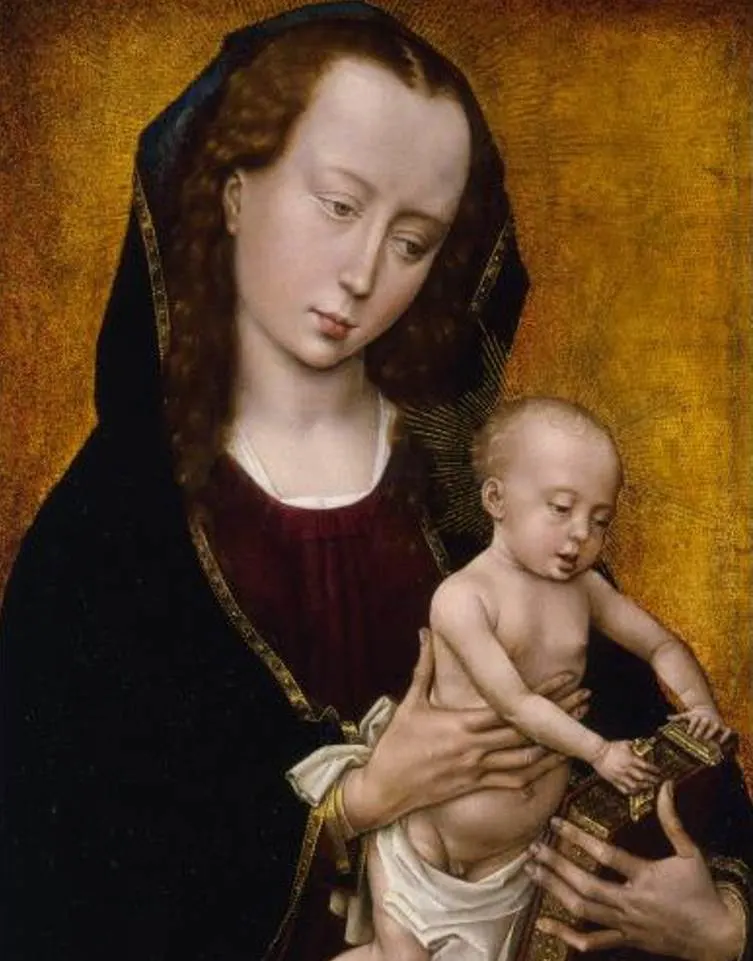 2. The Blue Boy – Thomas Gainsborough
Date created: 1770
Dimensions: 178 x 122 centimeters (70 x 48 inches)
The Blue Boy is a painting by Gainsborough and arguably the most famous attraction at The Huntington. The painting by the English artist has been exhibited in countless locations in the past centuries and has been featured in multiple modern-day media as well.
---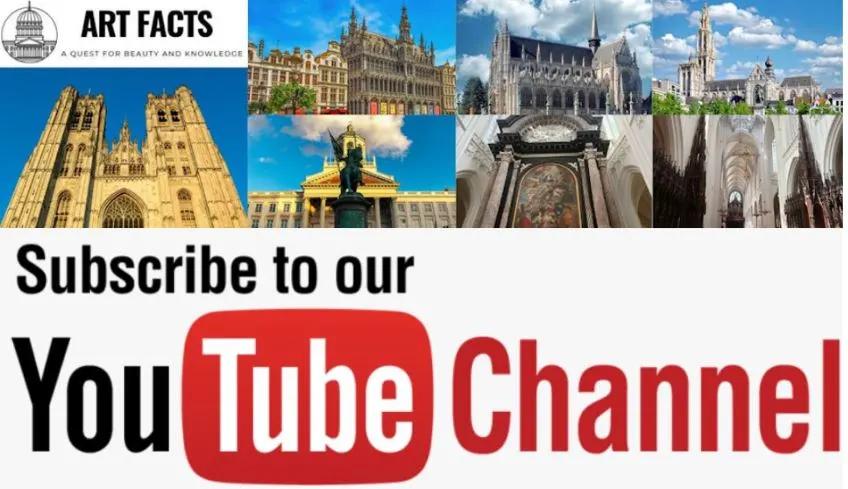 ---
Thomas Gainsborough (1727-1788) was one of the most notable portrait painters of the 18th century. That's remarkable because he actually didn't like it and much rather preferred to paint landscapes. This work is believed to depict Gainsborough Dupont (1754–1797), the artist's nephew, who is wearing a traditional 17th-century costume.
3. Sarah Siddons as the Tragic Muse – Joshua Reynolds
Date created: 1783-1784
Dimensions: 239.4 × 147.64 centimeters (94.25 × 58.12 inches)
Sarah Siddons as the Tragic Muse is a painting by Sir Joshua Reynolds (1723-1792), Gainsborough's rival and founder of the Royal Academy in London. He mainly focused on portraits in the so-called "Grand Style" that was popular during the Rococo era.
This work features Sarah Siddons (1755-1831), a Welsh actress who was famous for featuring in tragedies in the 18th century. She is depicted as Melpomene, the muse of tragedy in Greek mythology. She wears a marvelous 18th-century dress that is richly adorned with pearls.
4. Pinkie – Thomas Lawrence
Date created: 1794
Dimensions: 146 × 100 centimeters (57 × 39 inches)
Pinkie is the common name of a painting that is known as Sarah Goodin Barrett Moulton: "Pinkie." As the title suggests, it depicts Sarah Moulton (1783-1795), the daughter of a rich merchant. The painting has a tragic backstory because the girl died about a year later at the age of 12.
Sarah is depicted when she was about 11 years old and is one of Sir Thomas Lawrence's (1769-1830 most notable works. Lawrence was the Fourth President of the Royal Academy and one of the most notable English portrait painters of his generation. This work hangs opposite Gainsborough's Blue Boy at The Huntington Art Gallery.
5. Salisbury Cathedral from the Bishop's Grounds – John Constable
Date created: 1823-1826
Dimensions: 62.9 x 75.9 centimeters (24.75 x 29.12 inches)
Salisbury Cathedral from the Bishop's Grounds is a painting by John Constable (1776-1837), one of the most renowned English landscape painters in history. The Romantic artist produced several versions depicting Salisbury Cathedral in this composition and the main version is located at the Victoria & Albert Museum in London.
The painting at The Huntingtin is much smaller than the main version and even than an earlier version at the São Paulo Museum of Art. It does, however, feature s brighter composition and that's because it's believed to have been a wedding present for Elizabeth, the daughter of John Fisher who was a friend of Constable and the Bishop of Salisbury at the time.
6. The Grand Canal: Scene – a Street in Venice – J.M.W. Turner
Date created: 1837
Dimensions: 148 x 111 centimeters (58.2 x 43.7 inches)
The Grand Canal: Scene – a Street in Venice is the title of a painting by J.M.W. Turner, another famous English landscape painter of the Romantic era. It depicts a view of the grand canal toward the Palazzo Grimani, the most notable building on the right, and the Rialto Bridge in the distance.
Joseph Mallord William Turner (1775 -1851) started traveling around Europe in the early 19th century and visited Venice on multiple occasions. He completed many works depicting the lagoon city in Northern Italy and managed to capture the atmosphere in a way only he could.
7. Breakfast in Bed – Mary Cassatt
Date created: 1897
Dimensions: 58.4 x 73.7 centimeters (23 x 29 inches)
Breakfast in Bed is a painting by Mary Cassatt (1844-1926), an American artist who spent large parts of her career living and working in Europe. She was one of the leading Impressionist artists and one of several female painters who became famous during this period.
She first traveled to France and became inspired by the Impressionist artists who were emerging around this time. She became friends with them and dedicated her life to producing Impressionist paintings. Scenes of mothers and daughters are a recurring subject in her oeuvre.
8. Meeting of Lear and Cordelia – Benjamin West
Date created: 1784
Dimensions: 110.5 x 148 centimeters (43.5 x 58.25 inches)
The Meeting of Lear and Cordelia is a painting by American painter Benjamin West (1738-1820), a Neoclassical artist who is world-famous because of his monumental history paintings. This particular work is derived from a Shakespeare play, another popular subject in the late 18th century.
West painted 4 different versions of Act 4, Scene 7 of this play and this is the earlier. We can see King Lear who is reunited with his daughter Cornelia. He had gone mad earlier because he divided his kingdom between his other daughters Goneril and Regan, downing his loyal daughter Cornelia in the process.
9. The Long Leg – Edward Hopper
Date created: 1935
Dimensions: 50.8 x 76.8 centimeters (20 x 30.25 inches)
The Long Leg is a painting by Edward Hopper (1882-1967), an American Realism artist who initially struggled to find his artistic purpose. He went on to produce some of the most famous and best-recognized paintings in American history.
This work depicts a rather simple scene of a small sailboat that is sailing against the wind in a series of legs. His paintings often depict isolation and this is the same in this work. He replicated the loneliness of his city scenes in this work depicting the ocean.
10. Small Crushed Campbell's Soup Can (Beef Noodle) – Andy Warhol
Date created: 1962
Dimensions: 50.8 x 40.6 centimeters (20 x 16 inches)
Small Crushed Campbell's Soup Can (Beef Noodle) is a painting by Andy Warhol, one of the most famous Pop Art artists in history. It's a work that is related to his iconic "Campbell's Soup Cans," a painting that features 32 soup cans featuring all types of flavors.
This monumental work of art is on display at the Museum of Modern Art in New York City and it formed the base of many derivative works. This painting at The Huntington is one of them. Another similar work titled "Small Torn Campbell's Soup Can (Pepper Pot)" was sold for $11.8 million back in 2006.