Although this French artist was born into a rich aristocratic family, his life wasn't easy by any means because he suffered some serious blows as an adolescent.
Henri de Toulouse-Lautrec (1864-1901) broke both his legs while he was 13 and 14 years old and the wounds didn't heal properly.
This was probably caused by a rare condition called Pycnodysostosis. Because of this, he developed an adult torso but kept his undersized legs and a height that didn't exceed 152 centimeters (5 feet).
He refrained from socializing as a teenager and solely dedicated himself to his art. Because of his family's connections, he managed to study with the renowned French painter Léon Bonnat (1833-1922) in the early 1880s.
Even though studying with Bonnat surely sharpened his skills, it also introduced him to Montmartre and the Parisian nightlife. He became an alcoholic in his twenties and often visited brothels.
Toulouse-Lautrec completed 737 paintings, 275 watercolors, 363 prints, and 5,084 drawings in a career that only lasted 2 decades. Many of his works feature his nightly escapades in Paris.
In this article, you'll discover some of the most famous paintings by Henri de Toulouse-Lautrec, an Art Nouveau artist who completed many paintings classified as Post-Impressionist artworks.
1. At the Moulin Rouge: The Dance
Date created: 1890
Dimensions: 115.6 × 149.9 centimeters (45.51 × 59.02 inches)
Location: Philadelphia Museum of Art, Philadelphia, United States
At the Moulin Rouge: The Dance was the second painting by Henri de Toulouse-Lautrec in a series of paintings that depict the popular cabaret in Paris. The Moulin Rouge had only just opened its doors in 1889 and the French artist became one of its best customers.
The painting depicts a famous can-can dancer who is teaching a new dancer the tricks of this popular dance routine. Like in many other similar paintings, Toulouse-Lautrec added many people he personally knew in the background, including his father and the venue's owner.
2. At the Moulin Rouge
Date created: 1892-1895
Dimensions: 123 × 140 centimeters (48 × 55 inches)
Location: Art Institute of Chicago, Chicago, United States
---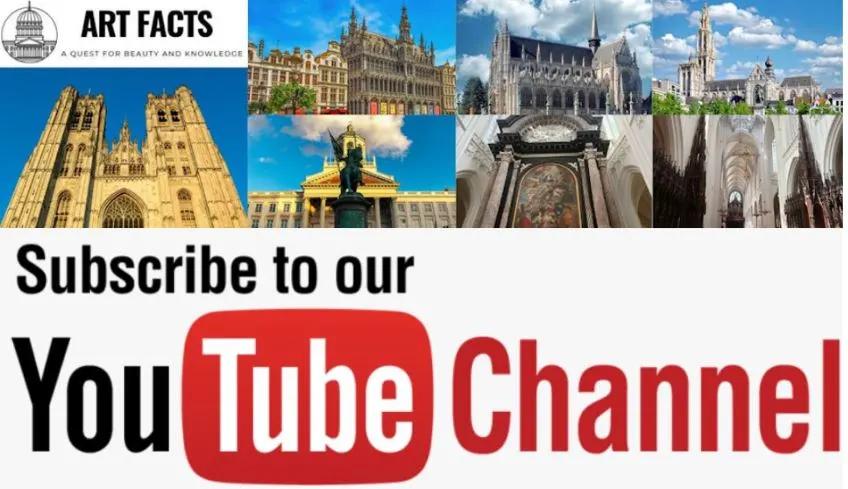 ---
At the Moulin Rouge is the title of another very large and popular painting that depicts the interior of the newly opened Moulin Rouge. By then, the establishment had been open for a couple of years and was already one of the most popular nightclubs in Paris.
Apart from many people he knew, the artist included also a self-portrait in this work, standing in front of the very tall man in the background. Other people in the work include several known dancers at the Moulin Rouge and acquaintances of the artist.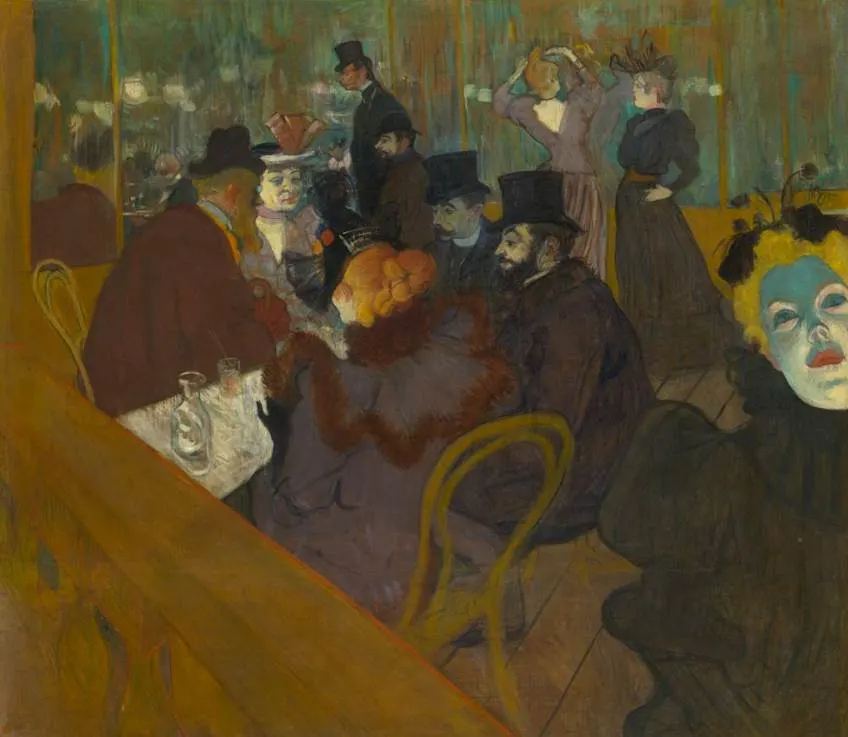 3. The Marble Polisher
Date created: 1882-1887
Dimensions: 65.5 × 81.3 centimeters (32 x 25.7 inches)
Location: Princeton University Art Museum, Princeton, United States
The Marble Polisher is an early work by Henri de Toulouse-Lautrec, completed somewhen between 1882 and 1887. This was probably during a period when he was still studying under popular French painter Fernand Cormon, a man who also had Vincent van Gogh (1853-1890) as a pupil at one point.
Apart from the remarkable technique used by Toulouse-Lautrec, the work also emphasizes the notion that he was studying human anatomy at the time. He did, however, integrate loose brushstrokes and sometimes broken ones that were characteristic of the Impressionist artists.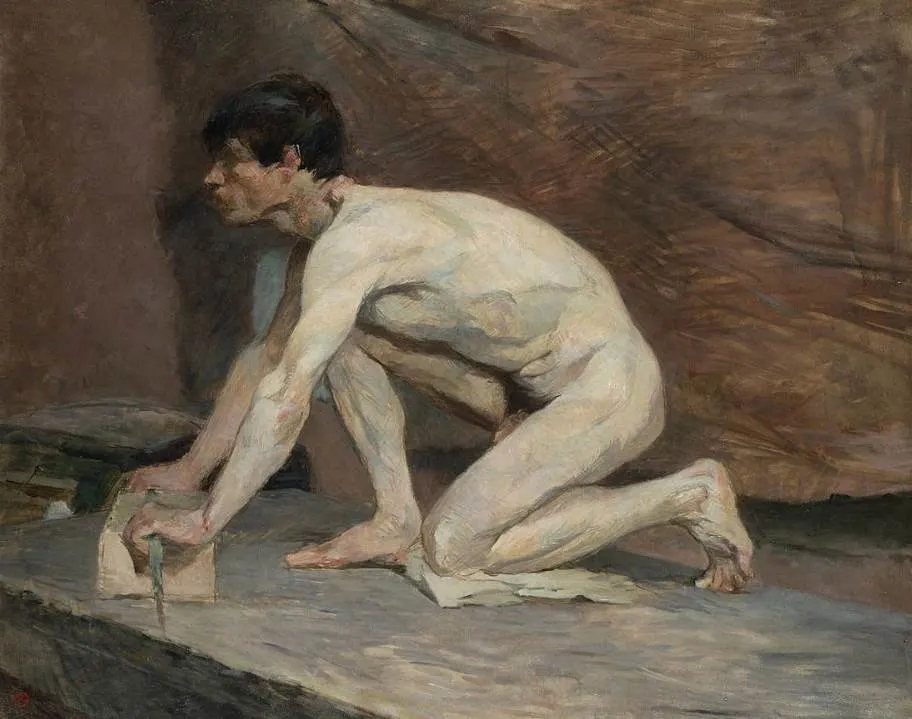 4. La Toilette
Date created: 1889
Dimensions: 67 x 54 centimeters (26.3 x 21.2 inches)
Location: Musée d'Orsay, Paris, France
La Toilette is a pointing that depicts a red-haired woman, probably a prostitute, sitting inside a bathtub. It's unclear whether or not she just started or had just finished her bath as she is stripped to the waist while facing away from the viewer.
Brothels and prostitutes were often visited by the artist and he often included them in his paintings. It was long assumed that he completed this painting in 1896 but a thorough analysis conducted in recent times has dated the painting to 1889.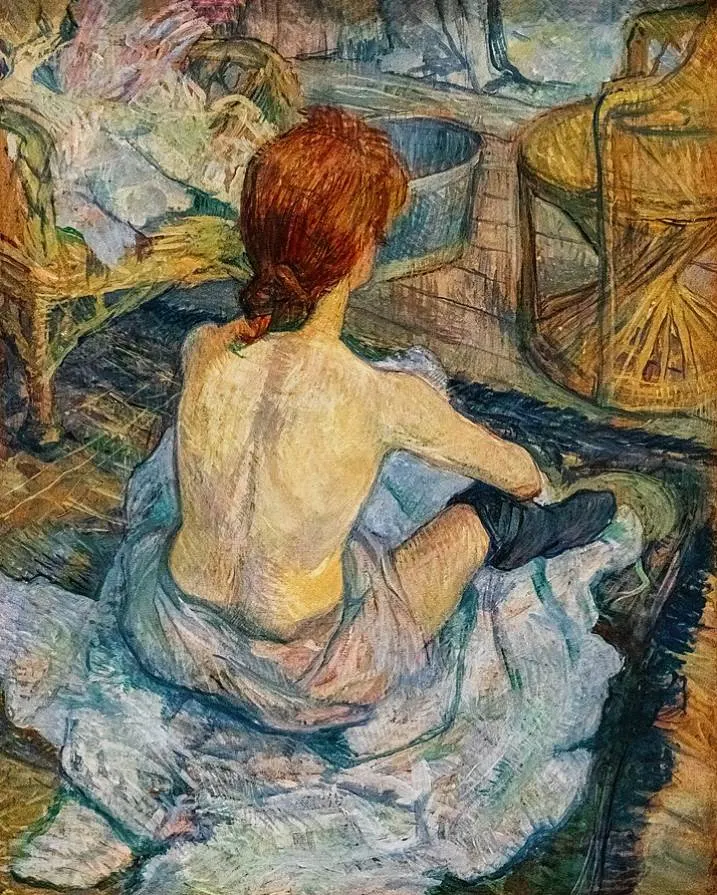 5. Portrait de Suzanne Valadon
Date created: 1885
Dimensions: 55 x 46 centimeters (21.6 x 18.1 inches)
Location: Museo Nacional de Bellas Artes, Buenos Aires, Argentina
The Portrait de Suzanne Valadon is a painting that depicts the famous female French painter. Suzanne Valadon (1865-1938) became the first female painter to be accepted at the Société Nationale des Beaux-Arts, a group that first exhibited in the 1860s.
Suzanne was a friend of Toulouse-Lautrec as they both hung out together in the Montmartre district of Paris. She was also a model who was featured in many famous paintings, including the "Dance at Bougival" (1883), a painting by Pierre-Auguste Renoir.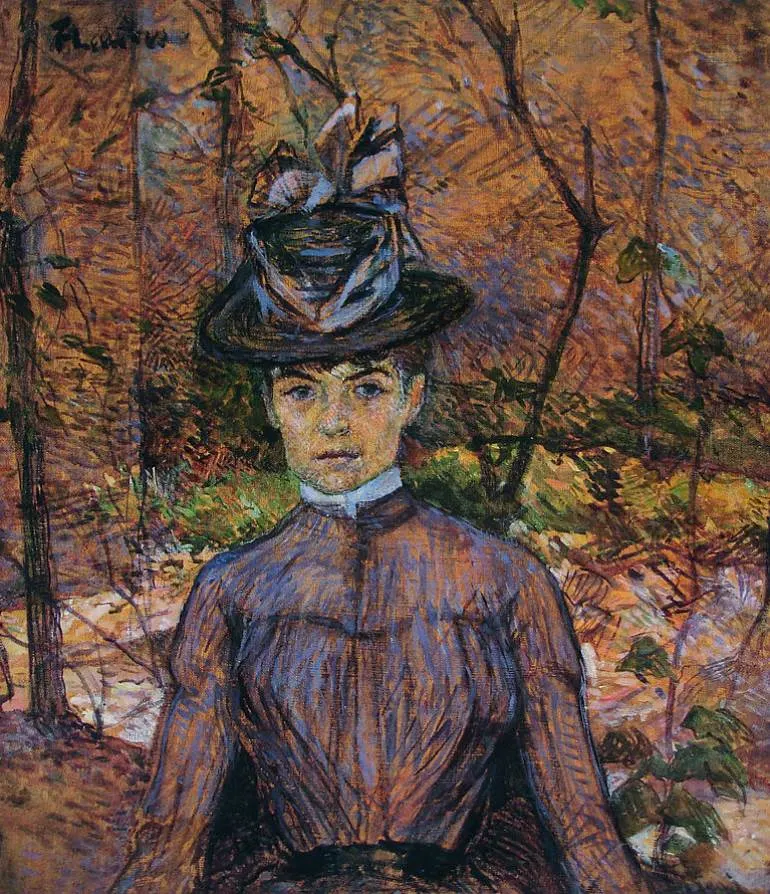 6. In Bed
Date created: 1893
Dimensions: 54 x 70.5 centimeters (21.2 x 27.7 inches)
Location: Musée d'Orsay, Paris, France
In Bed is the title of a series of paintings that depict women in bed. These were probably lesbians because in some of the other works they can be seen kissing each other.
Some of the other works have been sold for substantial amounts of money totaling well over $10 million and $12 million each. All of them are believed to depict prostitutes who worked at a brothel on the Rue d'Amboise in Paris.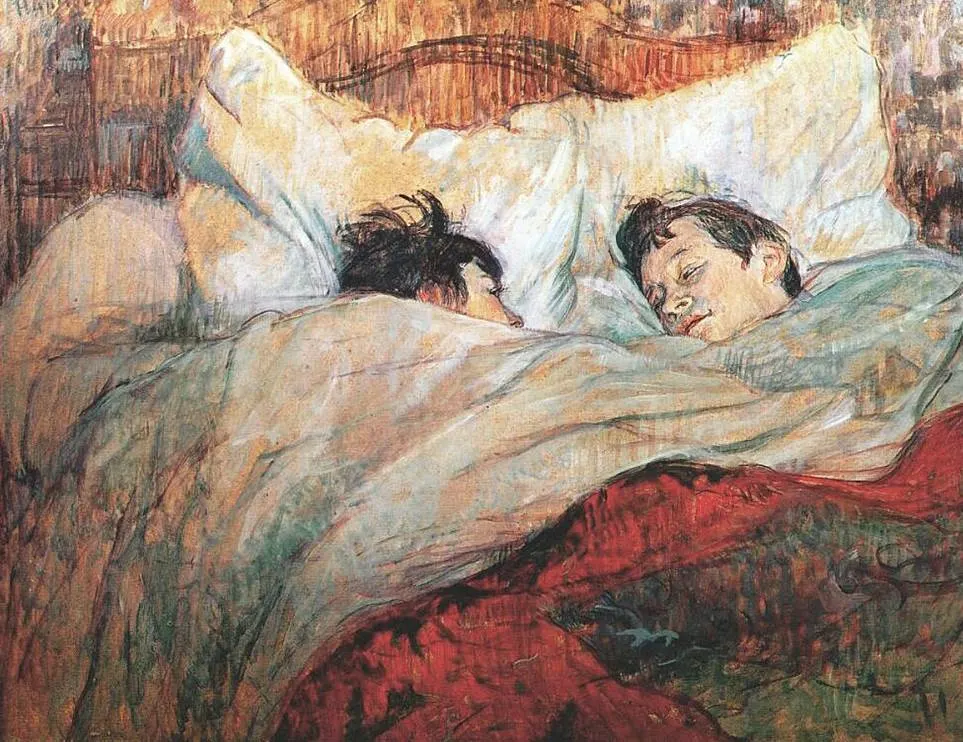 7. The Laundress
Date created: 1886
Dimensions: 93 x 75 centimeters (37 × 30 inches)
Location: Private collection
The Laundress or "La Blanchisseuse" is a painting that depicts a so-called "washerwoman." This was a popular subject in France because these women also served as prostitutes.
This particular painting depicts a sex worker named Carmen Gaudin who posed for this painting in 1886. It's another painting that sold for a huge amount because an anonymous buyer purchased it for $22.4 million back in 2005.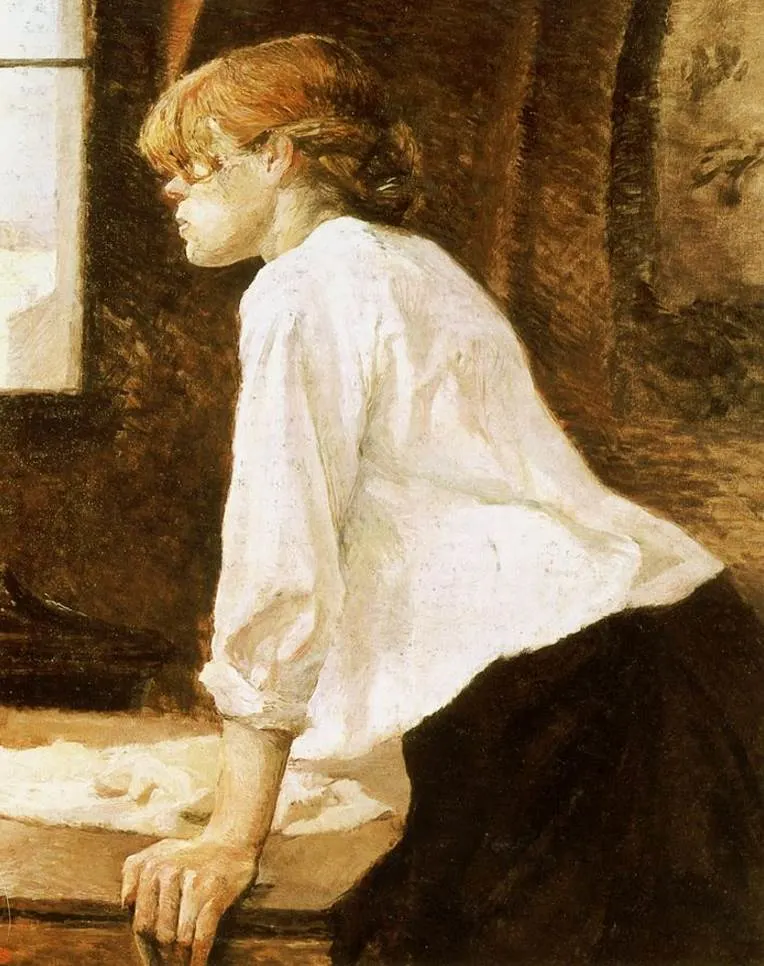 8. La Goulue Arriving at the Moulin Rouge
Date created: 1891-1892
Dimensions: 79.4 x 59.0 cm (31.25 x 23.25 inches)
Location: MoMA, New York City, United States
La Goulue Arriving at the Moulin Rouge is a painting of which the title describes exactly what it depicts. La Goulue was the nickname of a woman named Louise Weber, a popular dancer at the Moulin Rouge.
She is flanked by her sister to the right and her lover to her right as they make their entrance into the popular Parisian cabaret. What's remarkable about this work is that the artist used a small space to depict all figures. He considered this to be his best work of all in the Moulin Rouge series.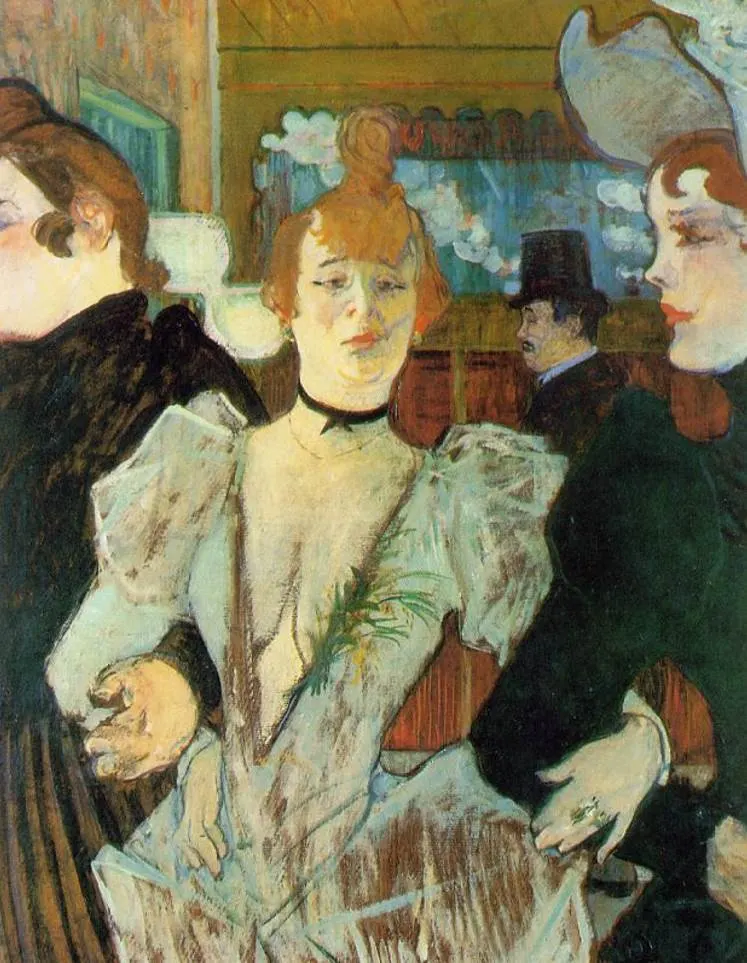 9. The Salon de la Rue des Moulins
Date created: 1894
Dimensions: 111.5 x 132.5 centimeters (43.8 x 52.1 inches)
Location: Musée Toulouse-Lautrec, Albi, France
The Salon de la Rue des Moulins is a painting that depicts the interior of the brothel on the Rue d'Amboise in Paris. The girls are waiting for the customers to arrive, including a woman named Mireille seen in the foreground.
She was one of the favorites of the artist when he visited a brothel. Remarkably, the title of this painting indicates that she worked here, but this was not the case. This means that he painted this fascinating work of art from his imagination.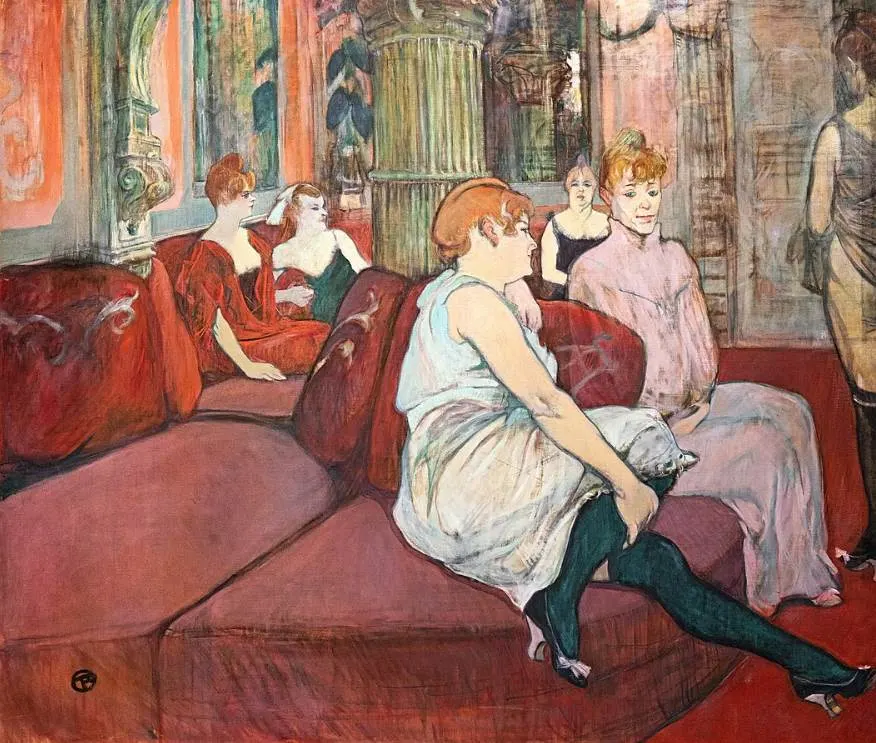 10. An Examination at the Faculty of Medicine
Date created: 1901
Dimensions: 65 x 81 centimeters (25.5 x 31.8 inches)
Location: Musée Toulouse-Lautrec, Albi, France
An Examination at the Faculty of Medicine is a painting by Toulouse-Lautrec that was completed between the beginning of May and the end of July of the year 1891, just a few months before he passed away from complications of his alcoholism and syphilis.
This was the final painting that he completed in his life, completed at the age of 36. It depicts the artist's cousin, Gabriel Tapié de Céleyra, who is taking an oral exam for his degree in medicine. In reality, he already earned his degree back in 1899.