Francisco José de Goya y Lucientes (1746-1828), a man commonly referred to as Francisco Goya, was the most renowned artist of the Romantic era in Spain.
He became the court painter of the Spanish Royal family in 1786 and he produced numerous paintings for the Spanish Crown during the first phase of his career.
His life took a drastic turn when a mysterious illness left him deaf in the 1790s. Many of his Romantic paintings became increasingly dark around this time.
The Spanish artist had a front-row seat during the Peninsular War (1807-1814) and this bloody event during the Napoleonic Wars in Europe didn't help his mental stability either.
The direction switch that defines Goya's career has led art historians to define him as the final of the Old Masters and the first of the Modern Artists.
In this article, you'll discover some of the most famous paintings by Francisco Goya so you can learn all about this influential artist.
1. The Third of May 1808
Date created: 1814
Dimensions: 268 × 347 centimeters (106 × 137 inches)
Location: Prado Museum, Madrid, Spain
The Third of May 1808 is also known as "El tres de mayo de 1808 en Madrid" and is a painting that Goya completed shortly after the conclusion of the Peninsular War. Goya attempted to commemorate the Spanish resistance against the invading forces of Napoleon Bonaparte.
The graphic content of the painting was a first as it depicts the atrocities of the war instead of a glorified version of the events. It's therefore considered to be the first anti-war painting in history. It was highly influential for other artists, including Eugène Delacroix, Édouard Manet, and Pablo Picasso to name just a few.
2. Saturn Devouring His Son
Date created: 1819-1823
Dimensions: 143.5 × 81.4 centimeters (56.5 × 32 inches)
Location: Prado Museum, Spain, Madrid
Saturn Devouring His Son is one of the 14 so-called "Black Paintings" by Francisco Goya. He painted these on the walls of a house in the suburbs of Madrid called the "Quinta del Sordo or "Deaf Man's Villa." These gloomy paintings were later removed and transferred to canvases so they could be displayed at the Prado Museum.
---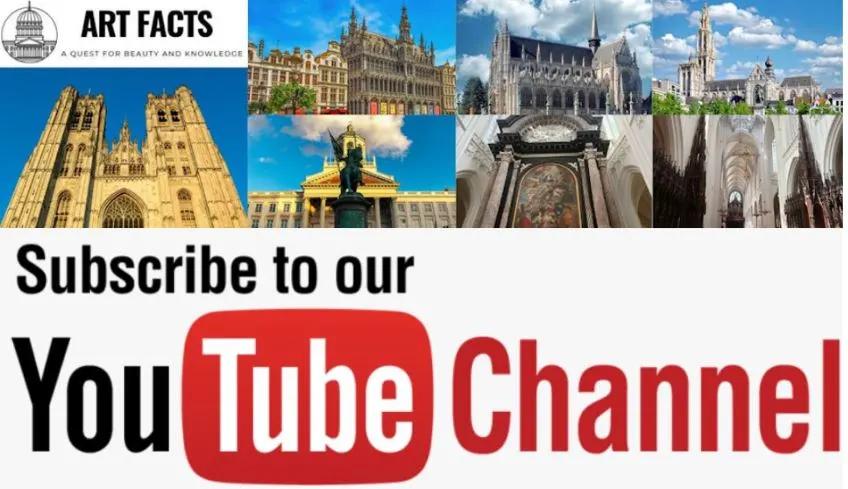 ---
This painting depicts a horrible scene of Saturn eating one of his own sons. According to a Roman myth, he was told that one of his own children would overthrow him. He devoured each one shortly after they were born to avoid this. His wife Ops one day replaced the newborn Jupiter with a stone that Saturn devoured as well. Jupiter did exactly what was foretold once he grew up.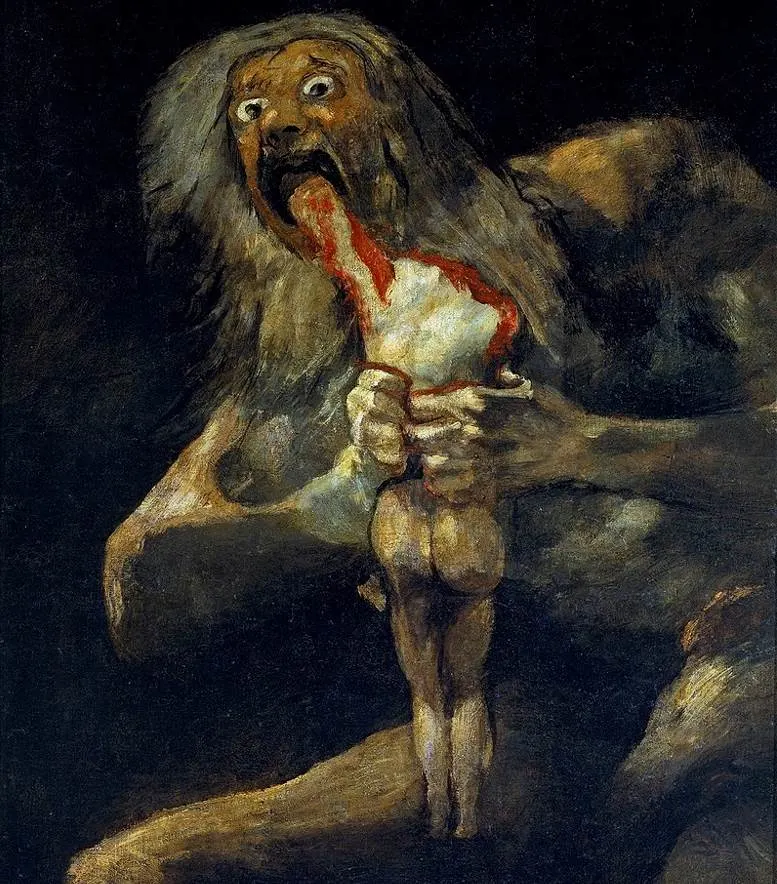 3. Charles IV of Spain and His Family
Date created: 1800-1801
Dimensions: 280 × 336 centimeters (110 × 132 inches)
Location: Prado Museum, Madrid, Spain
Charles IV of Spain and His Family is an immense life-sized portrait painting that depicts the royal family of Spain. The most prominent figures in the middle are King Charles IV (1748-1819) and his wife Maria Luisa of Parma (1751-1819). They are adjoined by their children and other close relatives.
All of the depicted people are dressed in the most luxurious contemporary clothes imaginable. Yet, the artist painted them in a rather cold manner. Goya was definitely inspired by Las Meninas (1656), the ultimate masterpiece of Diego Velázquez because he included himself painting the work in the top left corner.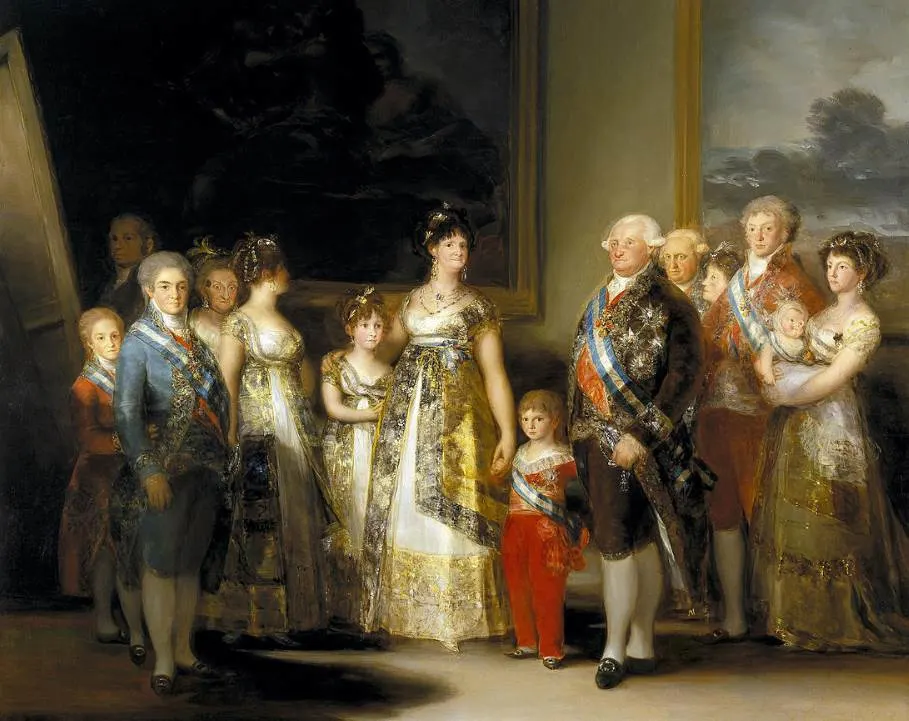 4. La Maja Desnuda
Date created: 1797-1800
Dimensions: 98 x 191 centimeters (3.5 x 75.1 inches)
Location: Prado Museum, Madrid, Spain
La Maja Desnuda is yet another innovative painting by Francisco Goya because it's considered to be the first explicit painting of a nude female in Western art. The pose of a nude woman lying in a reclining position, however, has been pretty common since the Renaissance, especially in paintings depicting Venus.
Painting the pubic hair of the woman was something that seriously bothered the establishment at the time. It did, however, turn him into one of the most popular painters in Spain at the turn of the 19th century. The term "Maja" refers to a member of the lower class in Spain at the time and the painting is accompanied by a clothed version of the woman titled "La Maja Vestida."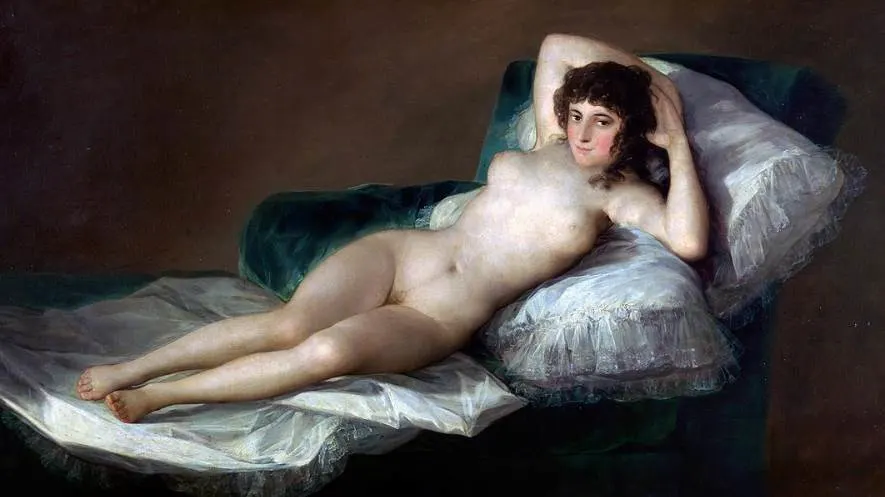 5. The Colossus
Date created: After 1808
Dimensions: 116 × 105 centimeters (46 × 41 inches)
Location: Prado Museum, Madrid, Spain
The Colossus is an intriguing painting by Francisco Goya that depicts a giant who is walking toward the left. He appears to be in a bad mood with fists raised ready to attack anybody who crosses his path. We can only see half of him because the lower part of his body is obstructed by mountains.
The lower half of the painting is dominated by people and cattle running for their lives in all directions. They appear to be minuscule compared to the enormous size of the giant. The painting resembles the Black Paintings by Goya and although the exact theme remains unclear, it's believed to be another anti-war painting.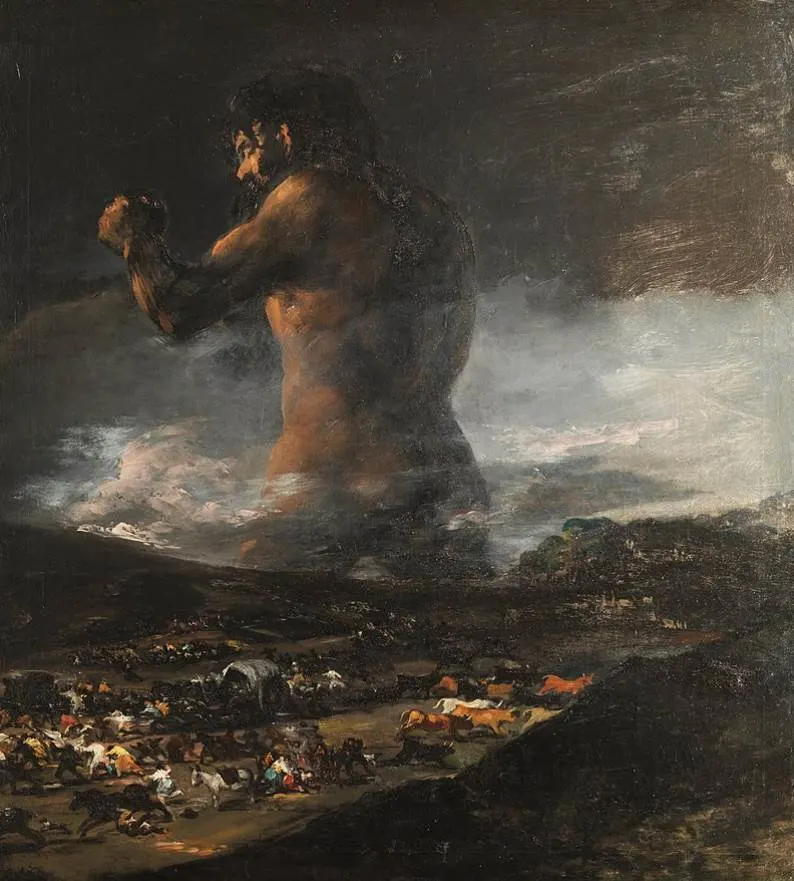 6. Yard with Lunatics
Date created: 1794
Dimensions: 32.7 × 43.8 centimeters (12.9 × 17.2 inches)
Location: Meadows Museum, Dallas, United States
Yard with Lunatics is a fairly small painting produced using oil on a tin plate. This painting was completed around the time that Francisco Goya became gravely ill resulting in his deafness. the work was inspired by his own dark emotions at the time and the madhouse he had visited during his youth in Zaragoza.
By the time he completed this work, he was already an established artist who earned plenty of commissions from rich patrons. He didn't have to paint additional works to survive, yet he created about a dozen of very gloomy paintings during this period in his career. It's a testimony to his mental state around this time.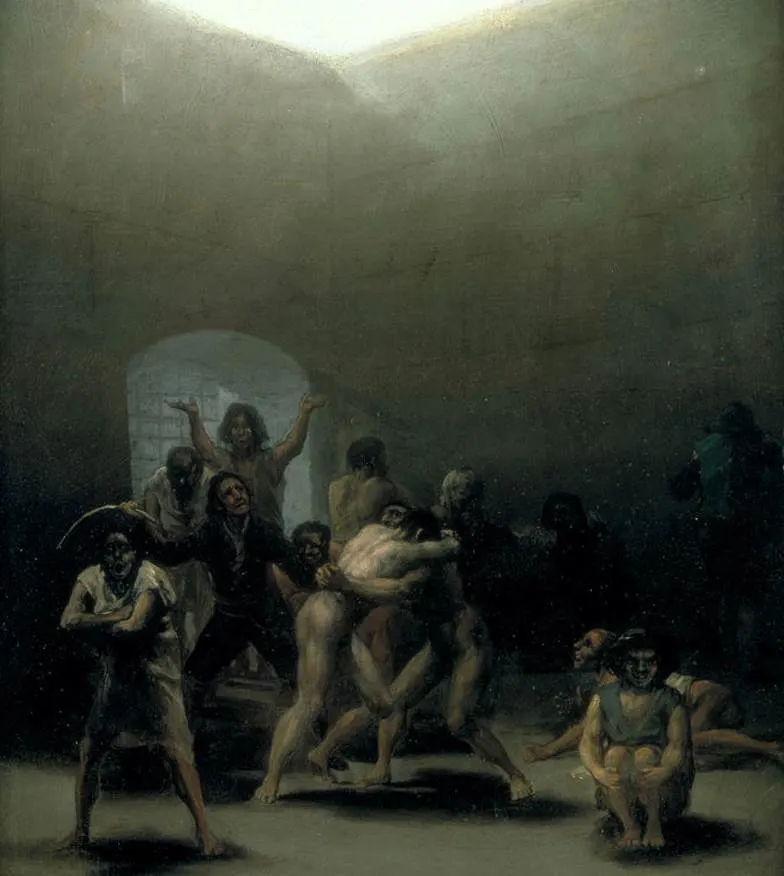 7. The Parasol
Date created: 1777
Dimensions: 104 × 152 centimeters (40.75 × 59.25 inches)
Location: Prado Museum, Madrid, Spain
The Parasol or "El Quitasol" is one of a series of oil on linen paintings by Francisco Goya that were intended to be transformed into tapestries. These would subsequently be hung on the walls of the Royal Palace of El Pardo in Madrid, one of the official residences of the Spanish Royal family.
These joyful paintings depicting scenes from everyday life were intended to brighten up the dining room of the future King Charles IV and Maria Luisa of Parma. This painting was completed when the artist was still in his early thirties and far away from the dark emotions that troubled him during the final decade of his life.
8. The Black Duchess
Date created: 1797
Dimensions: 194 × 130 centimeters (76.5 × 51.25 inches)
Location: Hispanic Society Museum, New York City, United States
The Black Duchess is also known as "Mourning Portrait of the Duchess of Alba" or simply "Portrait of the Duchess of Alba." It depicts María Cayetana de Silva, 13th Duchess of Alba (1762-1802), a Spanish aristocrat when she was about 35 years of age.
She wears a black dress which is a traditional mourning outfit. Her husband passed away a year before this painting was completed. Goya completed another painting titled "The White Duchess" in 1795 which depicts the same woman in a similar pose wearing a beautiful white dress.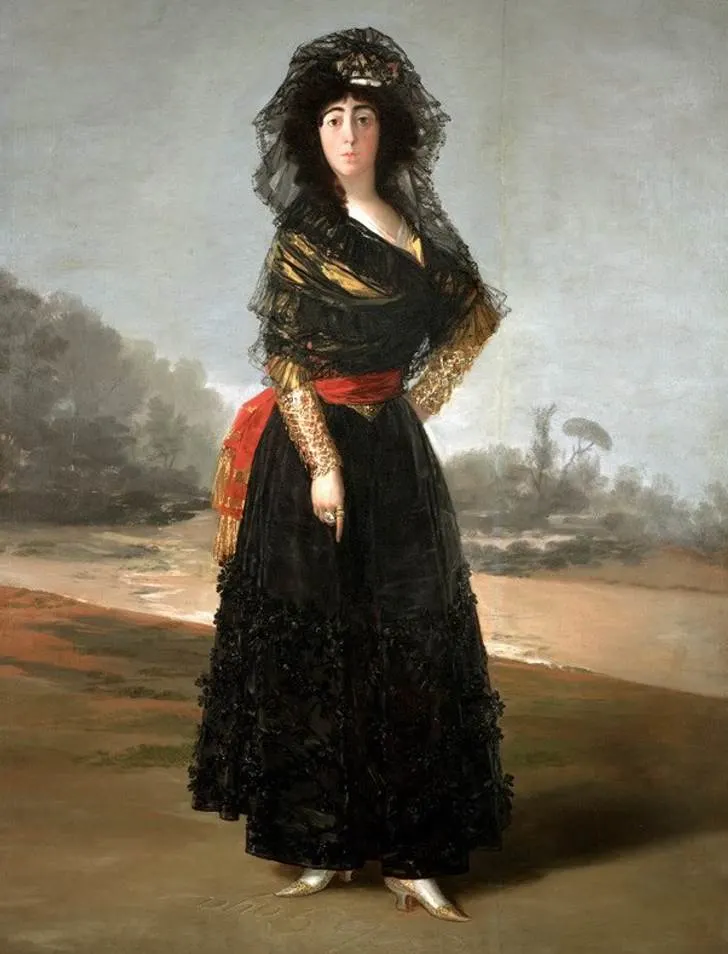 9. The Second of May 1808
Date created: 1814
Dimensions: 266 × 345 centimeters (105 × 136 inches)
Location: Prado Museum, Madrid, Spain
The Second of May 1808 is the painting that accompanies the more famous Third of May 1808 painting. The painting is also known as "The Charge of the Mamelukes" and depicts an event that is referred to as the "Dos de Mayo Uprising" in the Calle de Alcalá in the heart of Madrid.
This rebellion was initiated by civilians who were adjoined by some military. They were tired of the Imperial occupation of the French troops in 1808 who in turn responded with authority and brutalism, something that can be seen in the accompanying painting.
10. Self-portrait with Dr. Arrieta
Date created: 1820
Dimensions: 114.62 × 76.52 centimeters (45.13 × 30.13 inches)
Location: Minneapolis Institute of Art, Minnesota, United States
Self-portrait with Dr. Arrieta is a painting completed during the final decade of the artist's life. Goya became seriously ill in 1819 and was most probably expected to die around this time. His personal doctor, Dr. Arrieta, managed to heal him and he lived another 8 years.
This peculiar self-portrait was completed around the time that he worked on his Black Paintings, a notion that puts it into its proper context. He ended up giving the painting to his doctor as a gift of gratitude for saving his life at this time.