When it comes to the development of modern art, very few people could hold a candle to the contribution of this French artist.
Georges Braque (1882-1963) first adopted Fauvism, an art movement in the first decade of the 20th century that revolved around bright and unnatural colors.
He later produced some of the most famous Cubist paintings in history and became an important member of this important art movement as well.
He suffered a severe head injury during World War I and required a long period of recovery. He continued to paint in a more relaxed Cubist style between both World Wars.
He was a close friend of Pablo Picasso (1881-1973) and although he never achieved the same level of fame as his Spanish colleague, he was definitely just as important in art history.
Without further ado, let's check out some of the most famous paintings by Georges Braque.
1. Landscape near Antwerp
Date created: 1906
Dimensions: 60 x 81 centimeters (23.62 x 31.87 inches)
Location: Solomon R. Guggenheim Museum, New York City, United States
Landscape near Antwerp is a painting by Georges Braque that was completed shortly after he had exhibited his work publicly for the first time. He destroyed the 7 paintings that he exhibited at the Salon des Indépendants in Paris in March 1906 because he deemed them to be inferior.
He traveled to Antwerp, a major Belgian port city, after this event and started integrating the bright color scheme used by Fauvist artists around this time. He was clearly more satisfied with this work because this work initiated his Fauvist period during the first decade of the 20th century.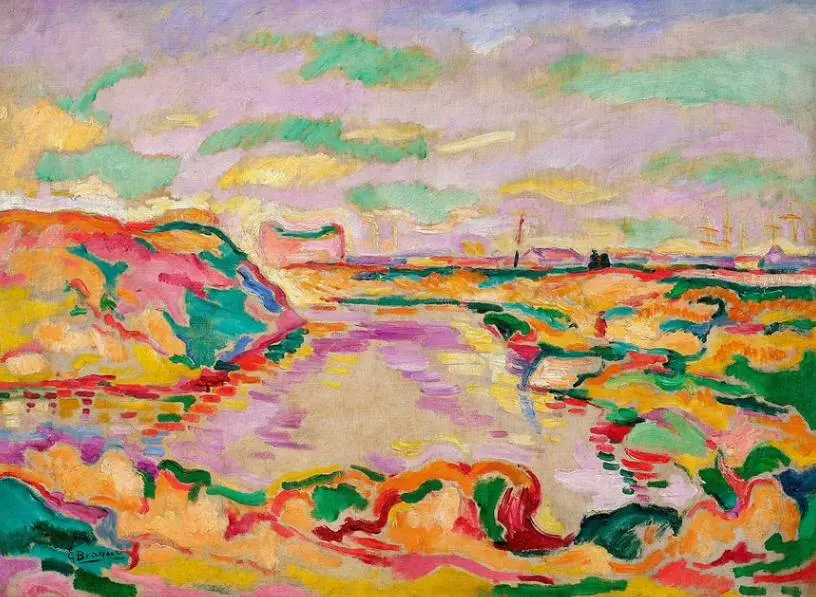 2. Port of La Ciotat
Date created: 1907
Dimensions: 64.8 x 81 centimeters (25.5 x 31.87 inches)
Location: National Gallery of Art, Washington D.C., United States
Port of La Ciotat is a painting that Brue completed shortly after he traveled from Antwerp to L'Estaque in southern France. He arrived here in the Fall of 1906 and completed this painting depicting the port of a town called La Ciotat in the Spring of 1907.
His brushstrokes became a bit more refined but the unnatural color scheme he used to depict the elements in his works remained the same thought this period in his career. It's this experimental nature that made him one of the most important artists of this period in art history.
3. Houses at l'Estaque
Date created: 1908
Dimensions: 40.5 × 32.5 centimeters (15.9 × 12.7 inches)
Location: Lille Métropole Museum of Modern, Contemporary, and Outsider Art, Lille, France
Houses at l'Estaque is the title of a painting that is considered to be one of the most important paintings in the oeuvre of George Braque. It's a Proto-Cubism artwork and the first Cubist landscape that he ever completed.
It laid the foundation of the Cubist style of painting in which elements are fragmented and reassembled to form remarkable compositions. Art historians generally agree that this technique was influenced by the paintings of Paul Cézanne.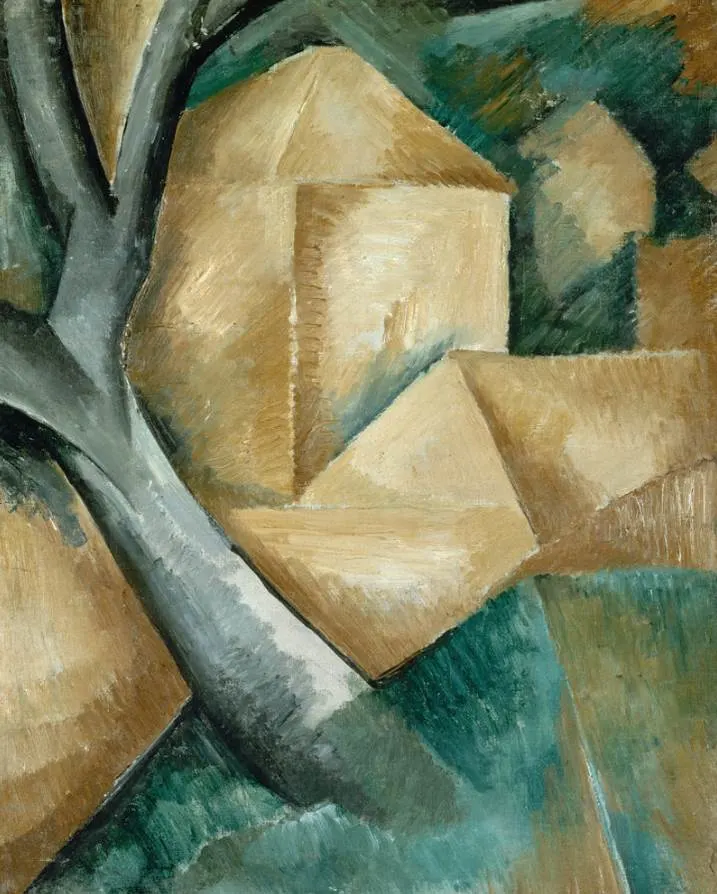 4. Violin and Candlestick
Date created: 1910
Dimensions: 60.96 x 50.17 centimeters (24 x 19.75 inches)
Location: SFMOMA, San Francisco, United States
Violin and Candlestick is a painting that highlights the development of Cubism. Braque and his colleagues managed to depict three-dimensional objects on a flat canvas without the use of perspective that had been used since the Renaissance.
They achieved this by restructuring elements that they fragmented, sometimes to the point that they became unrecognizable. In this work, you can still distinguish the violin but the candlestick is a bit more difficult. This painting is a prime example of Analytical Cubism.
5. Man with a Guitar
Date created: 1912
Dimensions: 116.2 x 80.9 centimeters (45.75 x 31.87 inches)
Location: MoMA, New York City, United States
Man with a Guitar is a painting by Braque that can be described as the epitome of Analytical Cubism. This was a period in which the style of Picasso's paintings and those of the French artist could hardly be distinguished from each other.
Because of the way he broke down the elements into geometrical forms, he managed to create the same sense of three-dimensional space as could be achieved using linear perspective. This is what made Cubism such a revolutionary art movement in the early 20th century.
6. Little Harbor in Normandy
Date created: 1909
Dimensions: 81.1 × 80.5 centimeters (32 × 31.75 inches)
Location: Art Institute of Chicago, Chicago, United States
Little Harbor in Normandy is another great example of the early Cubist style that Georges Braque adopted around 1908. This was a period in which he developed the Cubist style together with Pablo Picasso, a collaboration that lasted until Braque was drafted for World War I.
This remarkable view of a port in the Normandy region in the northwestern part of France is another pivotal work of art. It was displayed at the Salon des Indépendants in Paris in March 1909 which probably makes it the first Cubist work that was publicly exhibited.
7. Fruit Dish and Glass
Date created: 1912
Dimensions: 62.9 × 45.7 centimeters (24.75 × 18 inches)
Location: Metropolitan Museum of Art, New York City, United States
Fruit Dish and Glass is another remarkable work of art by Braque because he described it as his first papier collé. This is a type of collage that only used paper as a medium, a notion that differentiates it from a regular collage which also features other materials.
As in his other Cubist artworks, Braque disassembled the glass bowl that holds the grapes and pears. He also integrated a remarkable Trompe L'oeuil technique to create special effects. Fruit Dish and Glass is another important work of art in the development of Cubism.
8. The Round Table
Date created: 1929
Dimensions: 45.73 x 113.66 centimeters (57.37 x 44.75 inches)
Location: Phillips Collection, Washington D.C., United States
The Round Table is a painting that exemplifies the style of Georges Braque between the two World Wars. It's a lot more relaxed than the complex compositions of his Cubist works created shortly before World War I and he also experimented a lot more with colors.
This work depicts a round French pedestal table that is known as a "guéridon" which is completely full of objects. Although it was considered to be one of the most abstract paintings in the Phillips Collection when it was acquired by the museum, it shows that Braque lessened the abstraction in his works.
9. Balustre et Crane
Date created: 1938
Dimensions: 45 x 55 centimeters (17.75 x 21.62 inches)
Location: Private Collection
Balustre et Crane is another still-life painting by George Braque that embodies the sub-genre of this style called "Vanitas." This word is derived from the Latin word for Vanity and serves as a reminder of our own mortality.
The main element in this genre is the skull which Georges Braque included in this work. This type of painting had been produced for numerous centuries but it was quite unique in Cubist works of art. It's one of several similar that Braque completed during the 1930s.
10. The Birds
Date created: 1953
Dimensions: 347 x 501 centimeters (136.61 x 197.24 inches)
Location: Louvre Museum, Paris, France
The Birds or "Les Oiseaux is a monumental work of art by Georges Braque. This is surprising because it features a rather simple subject which is a couple of birds flying in a dark blue sky that features 3 stars and the moon. To explain this work here is one of Braque's most famous quotes:
In art, there is only one thing that counts: The bit that cannot be explained.