Some artists developed new techniques, other artists wrote about them, and a few extremely talented individuals in art history did both.
Jean Metzinger (1883-1956) was a French artist who definitely fell into the latter category. Not only did he complete several Cubist masterpieces but he also wrote a theoretical work on the movement, the manifesto titled "Du Cubisme" (he wrote this together with Albert Gleizes).
He was highly interested in new emerging trends and he painted works in a wide variety of styles during the first decades of the 20th century.
Born and raised into an honorable military family in the French city of Nantes, he studied at the École des Beaux-Arts in his hometown.
He quickly became interested in the emerging trends of modern art and painted in the Neo-Impressionist Pointillist technique, the Fauvism style, and the Cubist style in the span of merely a decade.
Because of his involvement in these three art movements and his contributions as an art theoretician, he is considered to be a pivotal figure in the development of modern art.
In this article, you'll discover some of the most famous paintings by Jean Metzinger.
1. Two Nudes in an Exotic Landscape
Two Nudes in an Exotic Landscape or "Baigneuses: Deux Nus dans un Paysage Exotique" is a remarkable work of art by Jean Metzinger. This painting combines the colorful palette of Fauvism paintings and the Neo-Impressionist technique devised by George Seurat known as Pointillism.
The French painter was clearly experimenting with different techniques at the time and produced a remarkable blend of Fauvism colors with his own version of Divisionism. This period in art history can be defined as the height of the Fauvism art movement which only lasted a couple of years.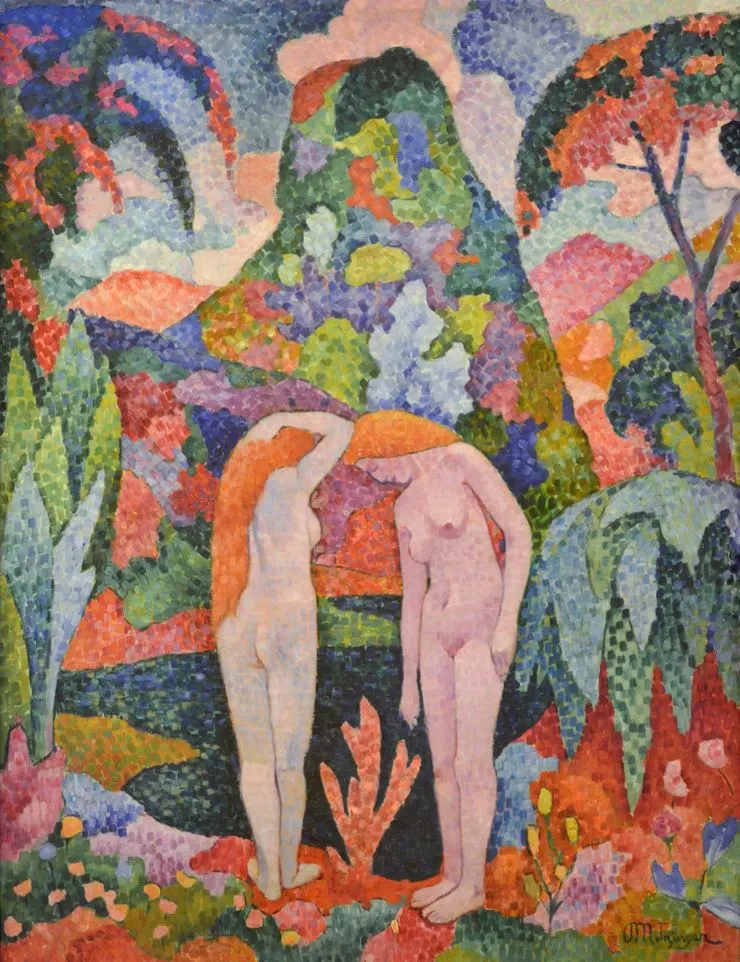 2. Femme au Chapeau
Date created: 1906
Dimensions: 44.8 × 36.8 centimeters (17.6 × 14.5 inches)
Location: Korban Art Foundation
Femme au Chapeau is also known as "Lucie au Chapeau" and is a painting that pretty much incorporates the same style of unnatural colors in combination with Divisionist elements. These thick patches of paint are sometimes classified as Proto-Cubist elements, the predecessor of the art movement that Metzinger helped to develop.
This was the type of style that the artist incorporated in most of his works that were completed between 1905 and 1907. The painting depicts Lucie Soubiron, the future wife of Jean Metzinger whom he married in 1909. She stares at the viewer with an assertive gaze.
3. Coucher de soleil no. 1
Date created: 1906
Dimensions: 72.5 × 100 centimeters (22.5 × 39.25 inches)
Location: Kröller-Müller Museum, Otterlo, Netherlands
Coucher de Soleil no. 1 or "Sunset No. 1" is a landscape painting that was completed in the typical Divisionist style developed by Jean Metzinger. He took the color technique in this work a step further and incorporated contrasting colors to depict even small elements using mosaic-like patches of paint.
It's hard to notice initially but you can see two nude females lying down in the Mediterranean landscape. This work was clearly inspired by a painting by Henri Mattise titled "Luxe, Calme et Volupté" which was completed a couple of years earlier in 1904.
4. La Danse (Bacchante)
Date created: 1906
Dimensions: 73 × 54 centimeters (28.75 × 21.25 inches)
Location: Kröller-Müller Museum, Otterlo, Netherlands
La Danse is the title of a painting also known as "Bacchante." It was a very important work in the development, of Metzinger's style because it laid the foundation for Proto-Cubism (1906-1910), the first phase of the Cubist art movement.
The mosaic-like patterns in this work resemble the exotic mosaics produced in ancient times. Especially the Byzantine mosaics that were completed to decorate many churches in the Byzantine Empire served as a source of inspiration for this mesmerizing work of art.
5. Paysage Coloré aux Oiseaux Aquatiques
Date created: 1907
Dimensions: 75.5 × 101 centimeters (29.7 × 39.8 inches)
Location: Musée d'Art Moderne de la Ville de Paris, Paris, France
Paysage Coloré aux Oiseaux Aquatiques or "Colored Landscape with Aquatic Birds" was one of the first major paintings by Jean Metzinger in which he abandoned the Divisionist technique of the first years of his career. It incorporates a strictly Fauve color palette and was completed at the end of this movement.
The composition and manner in which he painted the exotic animals resemble the technique devised by Paul Cézanne. He aimed to strip elements into their basic geometric forms. The colorful landscape was inspired by the paintings of Paul Gauguin and Henri Rousseau.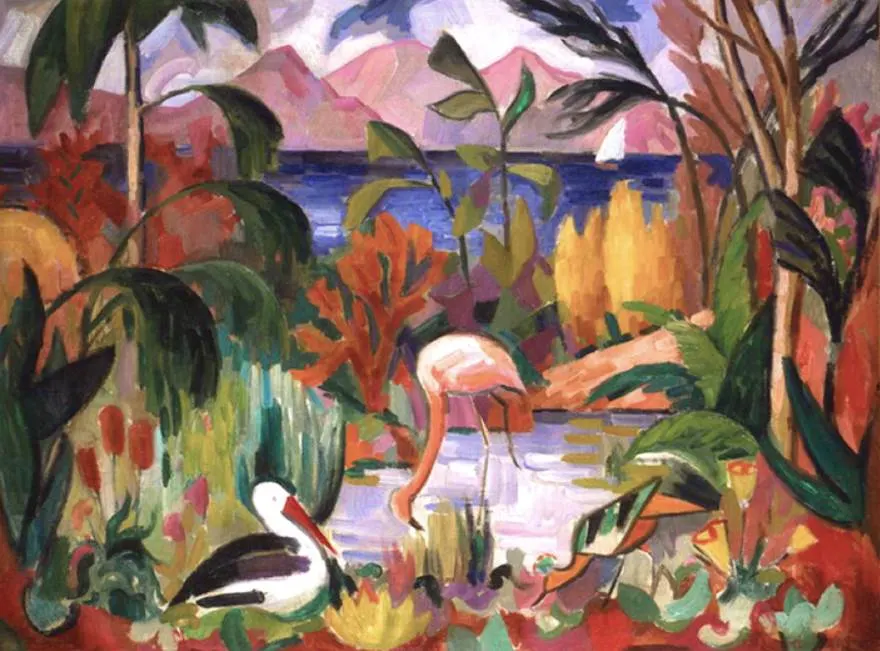 6. Le Goûter (Tea Time)
Date created: 1911
Dimensions: 75.9 × 70.2 centimeters (29.8 × 27.6 inches)
Location: Philadelphia Museum of Art, Philadelphia, United States
Le Goûter is the title of a painting by Metzinger also known as "Tea Time" or "Woman with a teaspoon." It was one of the most significant paintings in the early development of Cubism and served as a source of inspiration for the artist's work titled "Du Cubisme," the manifesto he wrote together with Albert Gleizes in 1912.
This was a period in art history in which Cubism wasn't well understood yet and it triggered art critics to mockingly refer to it as "La Joconde du Cubisme" or the "Mona Lisa of Cubism." Remarkably, Although Georges Braque and Pablo Picasso are seen as the main figures of Cubism, they didn't produce a similar work of art yet at the time.
7. Dancer in a Café
Date created: 1912
Dimensions: 146.1 × 114.3 centimeters (57.5 × 45 inches)
Location: Buffalo AKG Art Museum, Buffalo, United States
Danseuse au Café "Dancer in a Café" is a work completed a year after Metzinger had developed his Cubist style and was first exhibited at the Salon d'Automne of 1912 in Paris. It caused a scandal at this event because members of the Municipal Council of Paris were appalled by the Cubist paintings displayed there.
They wanted to know why their office was still supporting this weird type of art. This outrage was the reason why Metzinger and Gleizes started writing their response titled "Du Cubisme" which eventually became the art movement's manifesto. In that sense, this is a very important work in the oeuvre of Jean Metzinger.
8. La Femme au Cheval
Date created: 1911-1912
Dimensions: 162 × 130.5 centimeters (63.8 × 51.2 inches)
Location: National Gallery of Denmark, Copenhagen, Denmark
La Femme au Cheval is another early Cubist painting by Metzinger that helped to develop the style. The whole concept revolved around breaking up elements of a painting and rearranging them in different places to produce abstract forms.
In the beginning, it was still possible to recognize various elements. This is the case with the woman and the horse's head in this work. As the movement progressed, this became impossible and Cubist paintings became virtually entirely abstract works of art.
9. Le Fumeur (Man with Pipe)
Date created: 1912-1913
Dimensions: 129.7 × 96.68 centimeters (51.06 × 38.06 inches)
Location: Carnegie Museum of Art, Pittsburgh, United States
Le Fumeur or "Man with Pipe" is a painting by Metzinger that was completed between 1912 and 1913. It was exhibited for the first time at the Salon des Indépendants in 1914 in Paris, merely months before the outbreak of World War I on July 28 of that year.
Although it's virtually impossible to recognize the man, it's assumed it depicts either Guillaume Apollinaire or Max Jacob. Both were art critics and good friends of the artist. The painting became part of the collection of the Carnegie Museum of Art in Pittsburgh in 1953.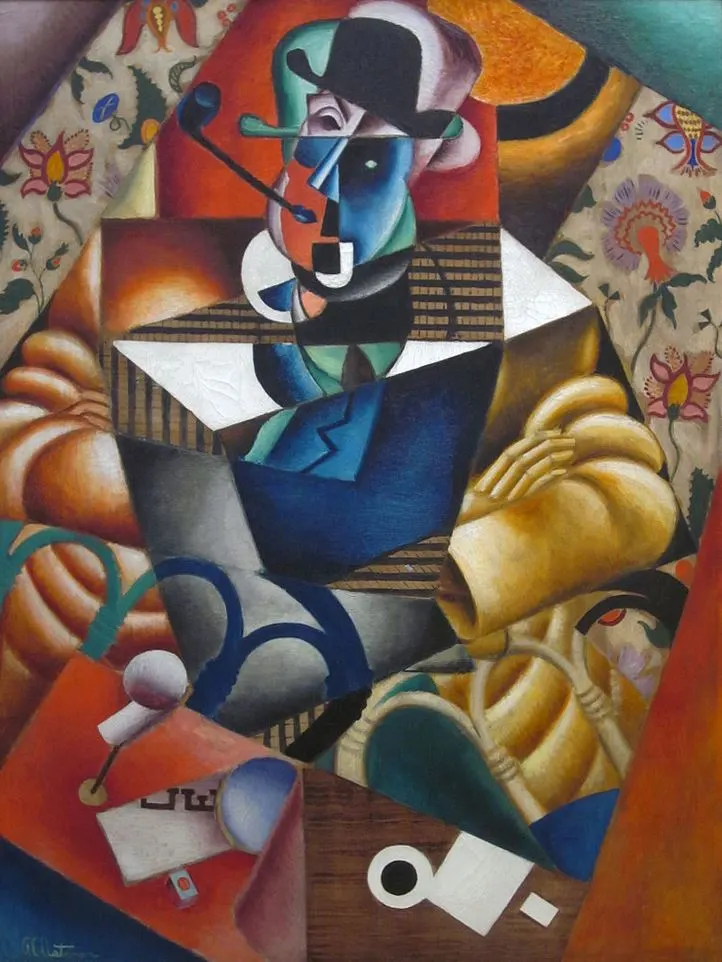 10. Soldier at a Game of Chess
Date created: 1914-1915
Dimensions: 81.3 × 61 centimeters (32 × 24 inches)
Location: Smart Museum of Art, Chicago, United States
Soldier at a Game of Chess was a painting that Metzinger completed shortly after the Outbreak of World War I and possibly while he was working as an orderly in Sainte-Menehould in the northeast of France. With a job like this, he saw the carnage of the war firsthand.
He chose not to focus on these horrors in his art and this is reflected in this work which depicts a soldier who sits down for a game of chess. This painting is considered to be a prime example of the different forms of Cubism he developed between 1914 and 1916 which is referred to as "Chrystal Cubism," a style that focuses on flat shapes and overlapping geometric forms.