If you want to enjoy a great day admiring fine art in North West England, you won't find a better place to go than this amazing museum in Liverpool.
The Walker Art Gallery started rather humble in 1819 when the Liverpool Royal Institution purchased 37 paintings from banker and art collector William Roscoe (1753-1831).
It wasn't until the year 1843 that the first gallery to display the collection was constructed, right next to the main building of the Institution.
Following the success of an art exhibition titled the "Liverpool Autumn Exhibition" in 1871, the idea to build a permanent museum started to take roots.
The museum opened its doors in 1877 and was named after the main sponsor of the building, a rich local brewer named Sir Andrew Barclay Walker (1824–1893).
The museum's collection gradually grew and it earned the status of a National Museum and Gallery on Merseyside. It's one of the most popular museums outside of London and welcomes nearly half a million visitors every year.
Below, you'll discover some of the most famous paintings at the Walker Art Gallery in Liverpool.
1. Dante's Dream – Dante Gabriel Rossetti
Date created: 1871
Dimensions: 216 × 312.4 centimeters (85 × 123 inches)
Dante's Dream is a painting by the English artist Dante Gabriel Rossetti (1828-1882), a man who co-founded the pre-Raphaelite Brotherhood. This was a group of diverse artists including painters, poets, and art critics, who aimed to bring back the art produced in the 15th century or "Quattrocento" in Italy.
The painting is one of the many works by Rossetti that were inspired by a poem by Italian poet Dante Alighieri. The particular poem is titled "La Vita Nuova.." It tells the story of a dream that Dante has in which he is led to the deathbed of Beatrice Portinari, a woman he greatly loved but who refused his advances.
2. The Death of Nelson – Benjamin West
Date created: 1806
Dimensions: 182.5 × 247.5 centimeters (71.9 × 97.4 inches)
---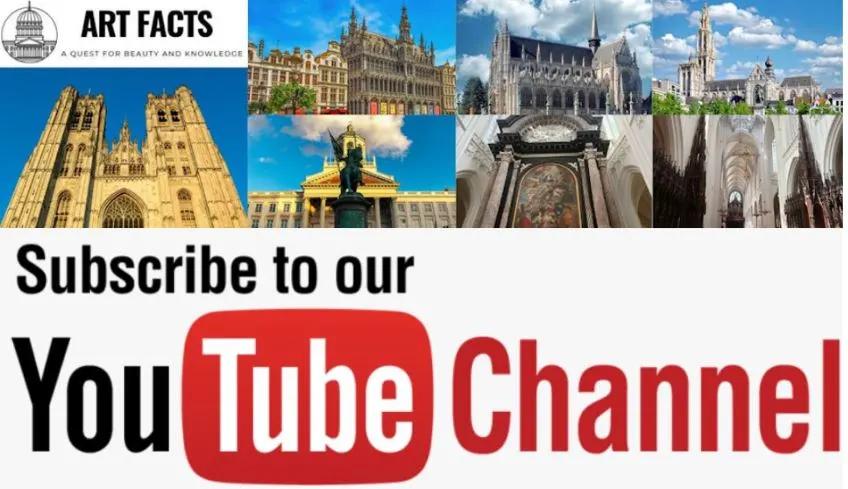 ---
The Death of Nelson is the title of a painting by Benjamin West (1738-1820), a British-born American artist who is renowned for his magnificent history paintings. This painting depicts the death of Admiral Horatio Nelson during the Battle of Trafalgar during the Napoleonic Wars in 1805.
West had met Nelson a couple of years earlier and he reportedly expressed his admiration for the artist's work, especially a painting titled "The Death of General Wolfe" which he completed in 1770. Nelson somehow predicted his own death when he asked West to be the subject of the next similar painting. He completed this work, of which the Walker Art Gallery holds the completed study, less than 6 months before Nelson passed away.
3. Echo and Narcissus – John William Waterhouse
Date created: 1903
Dimensions: 109.2 × 189.2 centimeters (43 × 74 inches)
Echo and Narcissus is a painting by Neoclassical artist John William Waterhouse, a man who produced Neoclassical paintings at a time when the style was already out of fashion. This didn't allow him to achieve the fame he deserved during his lifetime, but his works are held in very high regard today.
This painting depicts a myth described in Ovid's Metamorphoses in which Narcissus refuses the love of the beautiful nymph Echo and instead falls in love with his reflection. This is also why we refer to a person who admires himself a bit too much as a narcissist.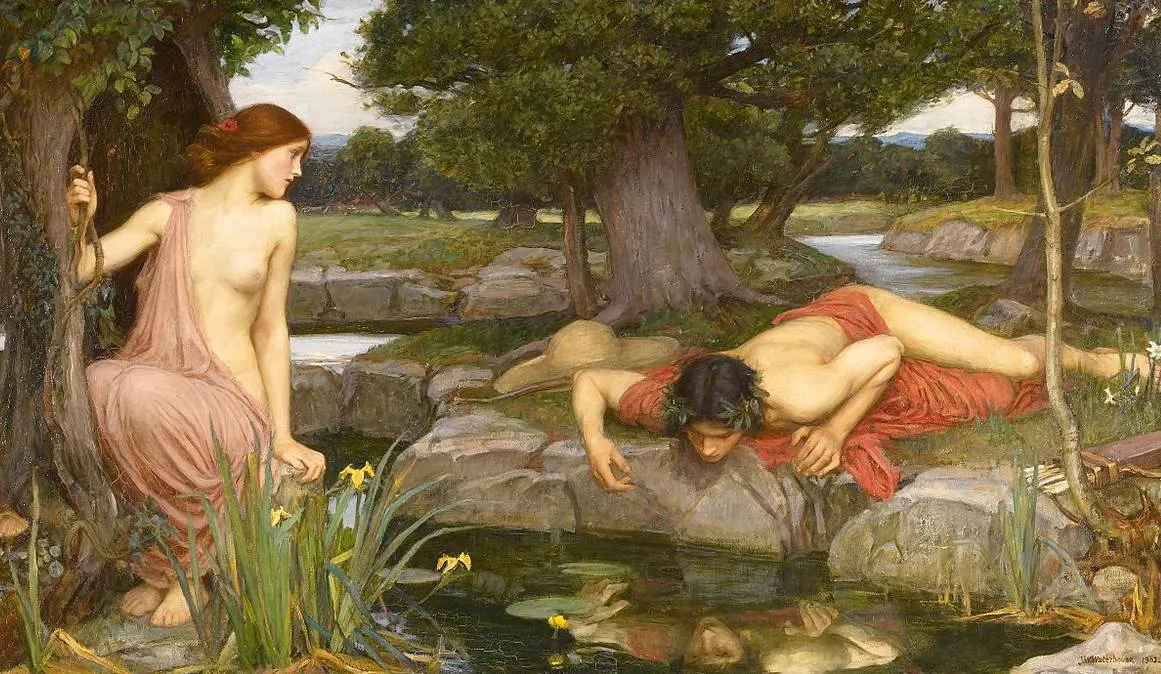 4. Meleager and Atalanta – Peter Paul Rubens
Date created: 1635-1637
Dimensions: 55.6 x 38.3 centimeters (21.8 x 15 inches)
Meleager and Atalanta is a painting by Peter Paul Rubens (1577-1640), the Flemish artist who defined Baroque painting in the first half of the 17th century. Voluptuous women and nudity in a classical setting were some of the trademarks of this renowned Baroque artist.
This painting was painted during the final years of the artist's life, a time when Peter Paul Rubens lived in his castle called "Het Steen" together with his second wife. It's clear that she was the model of the woman in this painting which also depicts a story from Ovid's Metamorphoses.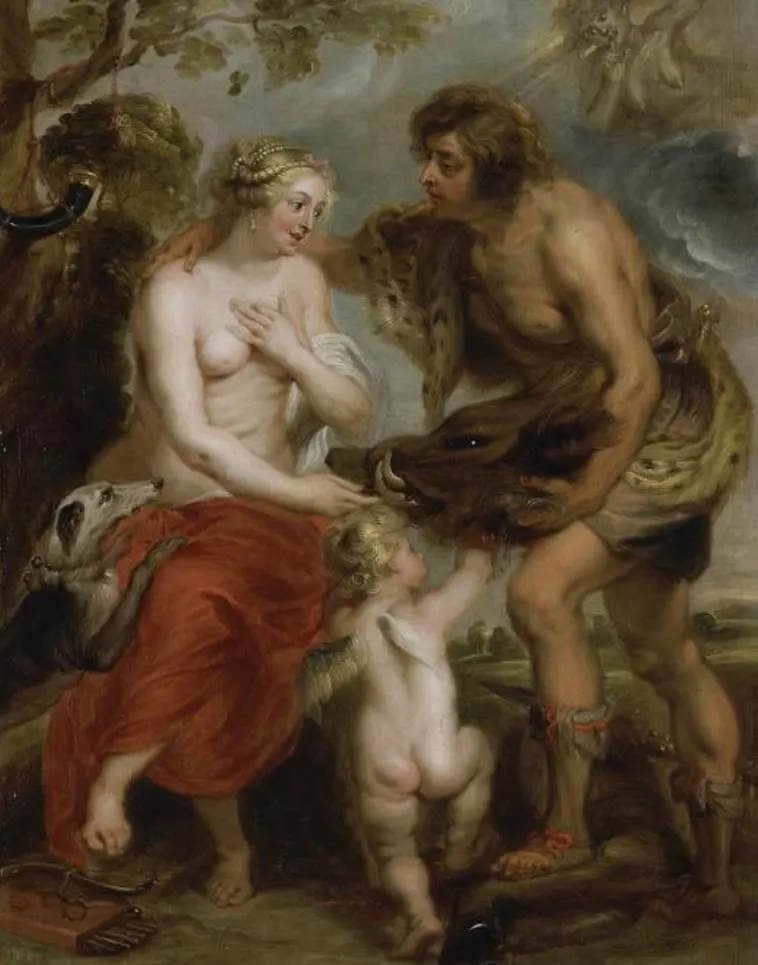 5. Isabella, Viscountess Molyneux – Thomas Gainsborough
Date created: 1769
Dimensions: 236 x 155 centimeters (92.91 x 61.02 inches)
Isabella, Viscountess Molyneux is a painting by Thomas Gainsborough (1727-1788), an artist of the Rococo era who produced several portraits of the English elite during the 18th century. The depicted woman was named Isabella Stanhope and she sat for the renowned English artist in 1769 while he was living in Bath.
The painting is defined by the magnificent dress that the woman wears. Thomas Gainsborough was only recently accepted at the Royal Academy in London and it's believed that he aimed to impress people in London. We can only assume that this worked out just fine when the painting was exhibited the following year.
6. And When Did You Last See Your Father? – William Frederick Yeames
Date created: 1878
Dimensions: 131 x 251.5 centimeters (51.57 x 99.01 inches)
And When Did You Last See Your Father? is a painting by British artist William Frederick Yeames and is sometimes described as the most popular painting at the Walker Art Gallery. It depicts a fictional story that takes place during the English Civil War (1642-1651).
The young boy wears a blue dress inspired by Thomas Gainsborough's "Blue Boy." He's from a Royalist family and is being interrogated by Parliamentarians who occupy his house. The anxiety on the face of the boy's mother on the left adds an extra dimension to this dramatic and tragic work of art.
7. Isabella – John Everett Millais
Date created: 1848-1849
Dimensions: 103 × 142.8 centimeters (41 × 56.2 inches)
Isabella is the title of a painting John Everett Millais (1829-1896), another prominent member of the pre-Raphaelite brotherhood. This painting is an important work of art in the group's history because it was the first painting in the pre-Raphaelite style to be displayed at the Royal Academy in 1849.
The painting depicts the tragic story of Isabella as described in Giovanni Boccaccio's Decameron novel "Lisabetta e il Testo di Basilico" (1349 – 1353). Isabella had fallen in love with a poor boy named Lorenzo. The painting depicts the moment that her family finds out about the affair and they start plotting to kill him so she can marry a member of a wealthy family instead.
8. Bonaparte Crossing the Alps – Paul Delaroche
Date created: 1850
Dimensions: 289 × 222 centimeters (114 × 87 inches)
Bonaparte Crossing the Alps is the title of a painting by French artist Paul Delaroche (1797-1856), a man who became famous for depicting dramatic events from both French and English history. This painting depicts a rather realistic depiction of French general Napoleon Bonaparte who crossed the Alps in 1800 to surprise the Austrian forces.
Napoleon can be seen sitting on a mule, a far cry from the famous painting by Jacques-Louis David. David depicted Napoleon sitting calmly on a horse and made it appear as if crossing the Alps was a breeze. Delaroche's version shows a tired and desperate version of the future French Emperor.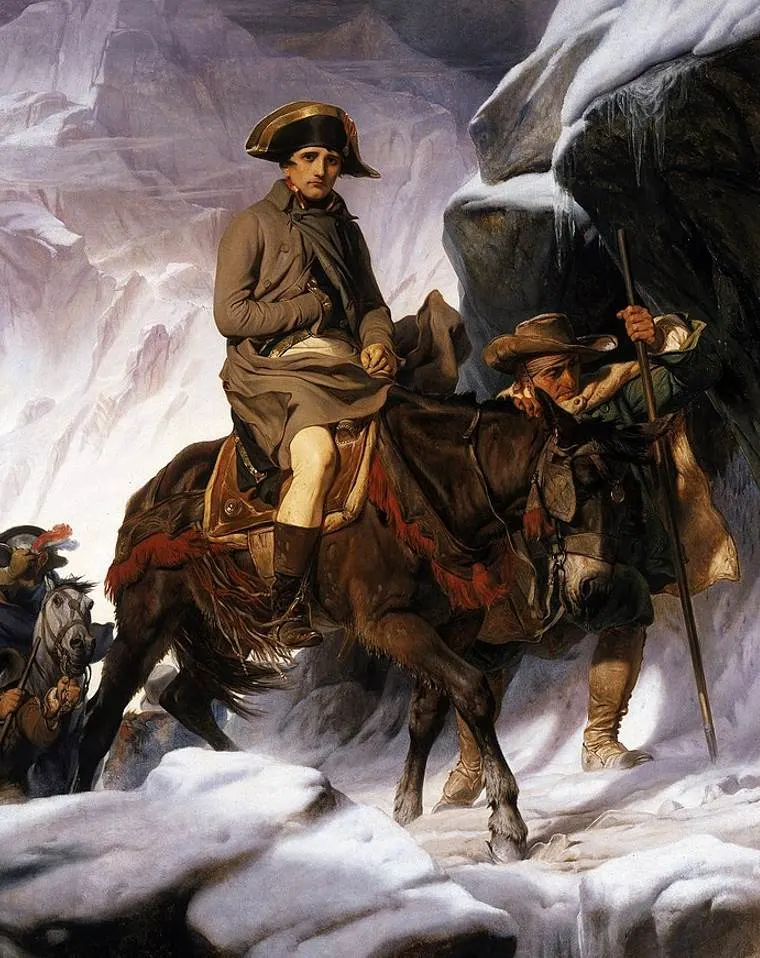 9. A Street in Brittany – Stanhope Forbes
Date created: 1881
Dimensions: 104.2 × 75.8 centimeters (41 × 29.8 inches)
A Street in Brittany is a painting b Dublin-born British artist Stanhope Forbes (1857-1947), a man who integrated a great sense of Realism into his paintings. He the leading figure of the Newlyn School, a group of artists who worked in Cornwall and who can be compared to the 19th-century Barbizon School in France.
This is a remarkable work of art in Forbes' oeuvre because it was the first time that he painted outdoors. It depicts a street in the small village of Cancale in the Brittany Region of France. It depicts several Breton women who are knitting and making fishing nets. The girl in the foreground was a paid local model named Desiree.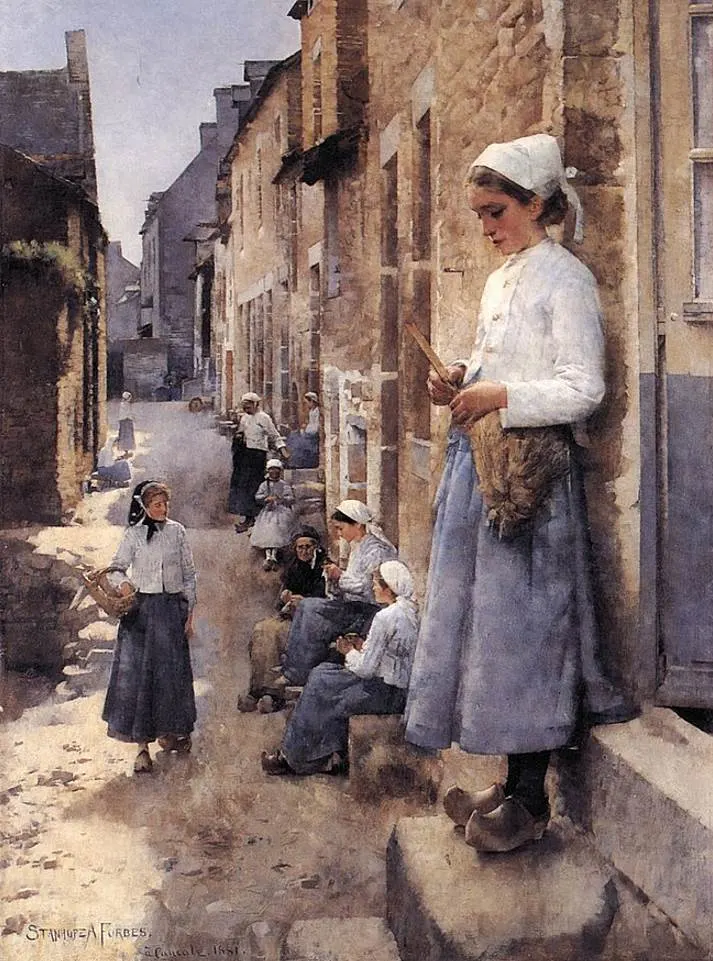 10. Dante and Beatrice – Henry George Alexander Holiday
Date created: 1883
Dimensions: 142.2 × 203.2 centimeters (56 × 80 inches)
Dante and Beatrice is a painting that is considered to be the most famous work by Henry Holiday (1839-1927), another prominent member of the pre-Raphaelite brotherhood. holiday was the final member of the group to pass away in 1927 and is therefore called "the last Pre-Raphaelite."
This painting was most probably inspired by the works of Dante Gabriel Rossetti, a man who himself drew inspiration from the poems of his namesake Dante Alighieri. It depicts the story of Dante who hides his love for Beatrice by flirting with other women. When Beatrice learns about this, she refuses to speak to him.