Before he reached the age of 20, this aspiring French artist moved from his home in the Meuse valley of northeastern France to Paris.
Jules Bastien-Lepage (1848-1884) inherited his artistic talent from his father who was an artist himself. He was a Realism artist who developed a style now referred to as Naturalism.
The subject matter of some of his most famous paintings was the same as the paintings of Gustave Courbet (1819-1877) and Jean-François Millet (1814-1875), but the execution was significantly different.
In this article, you'll discover some of the most interesting facts about October by Jules Bastien-Lepage, a painting also known as "Picking Potatoes" or "The Potato Gatherers."
1. It was completed shortly after Bastien-Lepage earned his artistic breakthrough
Jules Bastien-Lepage was born in a small village called Damvillers in 1848. This is situated in the Meuse Department in the northeastern part of France, not too far south of the Belgian border.
He inherited artistic talent from his father, a man who owned a vineyard and who was a humble artist himself.
The talent of the young Jules quickly exceeded that of his father and he moved to Paris in 1867 after being accepted at the prestigious École des Beaux-Arts.
He spent 3 years at this art school before being drafted for the Franco-Prussian War in 1870 in which he fought and got wounded.
Because of his wounds, he moved back to his home village and painted a work depicting his grandfather, his first success at the Paris Salon of 1874.
---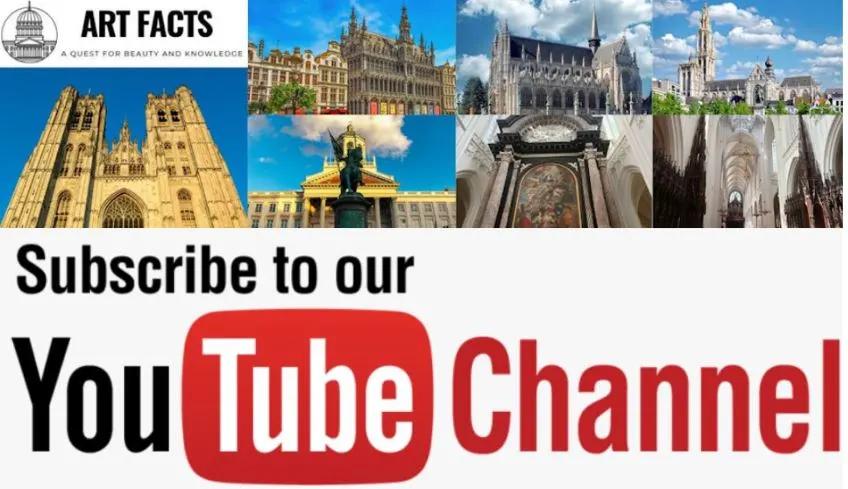 ---
He completed the painting titled October several years later in 1878 when he was already a successful artist in the art community.
2. It depicts women gathering potatoes in a rather desolate landscape
Coming from a rural area in France and from a farming background, he knew exactly what life as a peasant was like.
His style was quite different from the Realism paintings produced by Courbet and Millet because he didn't aim to make a political statement.
This means he is considered to be one of the pioneers of the Naturalism movement. Naturalist artists aimed to depict life as it appears as accurately as possible.
This painting depicts two female farmers who are gathering potatoes in a huge field and the realism literally drips off this amazing canvas.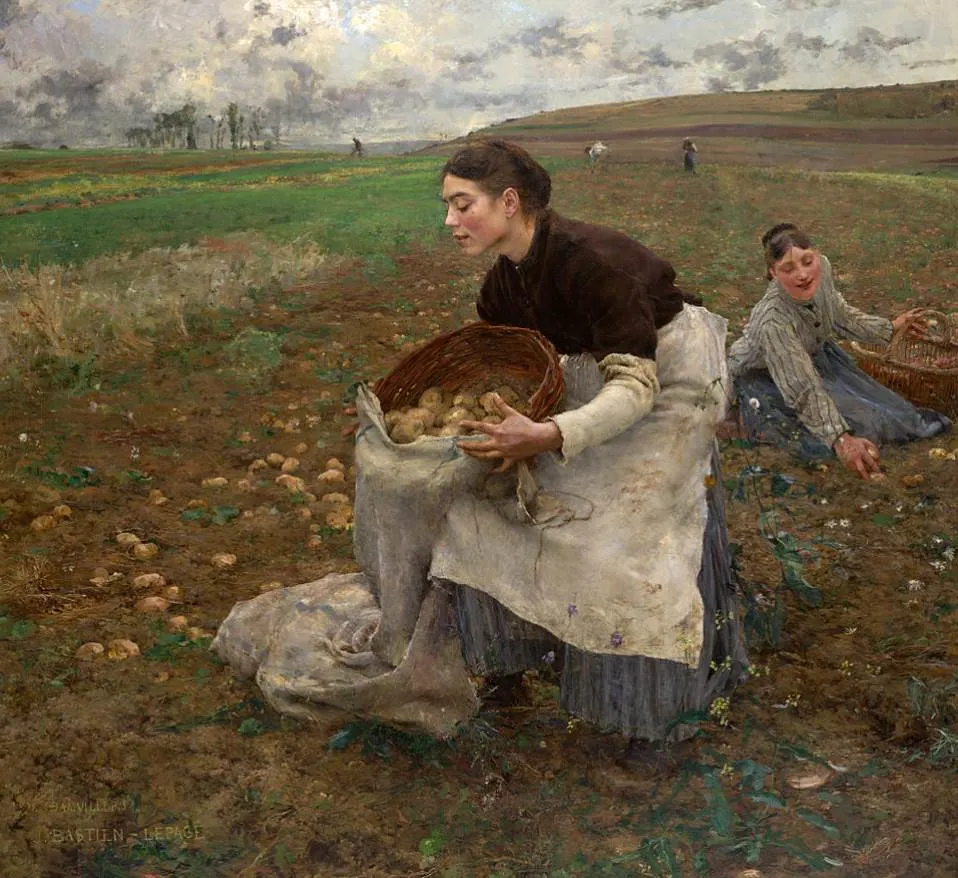 3. The scene was inspired by the glowing fields near the artist's native village
Damvillers is a very small village located in the Meuse Valley in the northeast of France. Its population is just over 600 inhabitants today and this wasn't much more in the 19th century.
Large glowing fields of crops dominate the rural landscape in this part of France, a place where Bastine-Lepage grew up in.
Because of his initial success at the Paris Salon, he often visited his native village to paint the people who were living there.
4. There's an accompanying painting that was completed earlier
October was the first of two large canvases that Bastien-Lepage completed during his return to his home village of Damvillers.
He already completed another painting titled "Haymaking" or "Resting in the Field" a year earlier in 1877.
This remarkable work of art established the young artist as the successor of Courbet and Millet as the leading agricultural painter of his generation.
This painting was acquired by the Musée du Luxembourg shortly after the artist's death in 1885 and subsequently hung at the Louvre Museum and its current location, the Musée d'Orsay in Paris.
5. Bastien-Lepage started painting peasants for a particular reason
The success of his early paintings was just one of the reasons why he started producing large paintings depicting peasants.
While visiting the annual Paris Salon, he became increasingly frustrated by the artists from the big city who aimed to depict farmers doing their jobs.
He believed that only people from a peasant background could depict the farmers and their hardship accurately, not people who had lived in the city their entire life.
That's one of the reasons why contemporary art critics dubbed him the "Grandson of Courbet and Millet."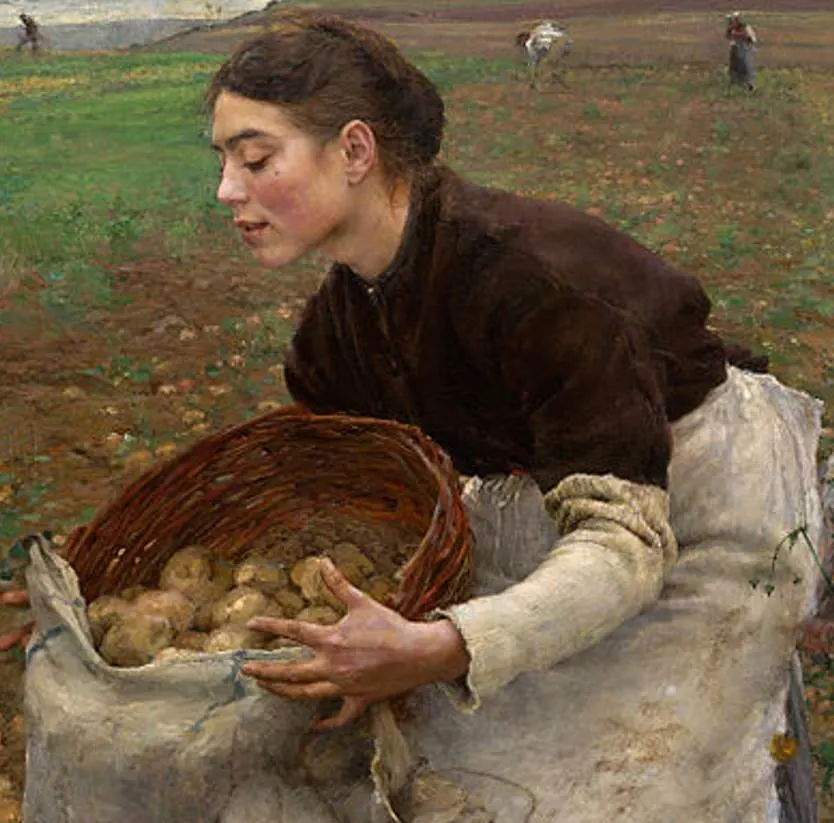 6. The painting was exhibited at the Paris Salon of 1878 and was well received
Both "Haymaking" and "October" were very well received by art critics and visitors to the Paris Salon of 1878.
A Russian artist named Vasily Surikov was able to see the painting in Paris in 1883 and he referred to it as one of the highlights of his trip.
The words he wrote about it emphasize this feeling perfectly:
Take Bastien-Lepage's picture Woman Picking Potatoes. The face is both painted and written as living. Everything is written in the air. Reflexes, color, giving, everything is so whole, unbroken, that it is a miracle.
7. How big is October by Jules Bastien-Lepage?
The sheer size of the two accompanying paintings stresses the notion that he was very ambitious with this project.
October by Jules Bastine-Lepage is an oil on canvas painting that has dimensions of 180.7 x 196 centimeters (71.14 x 77.16 inches).
8. Where is the painting located today?
Many of the artist's paintings were sold after his early death in 1884. Over 200 of the artist's works were auctioned at the École des Beaux-Arts in Paris.
Because he considered it to be one of Jules' best works, his brother Émile Bastien-Lepage (1854-1938) purchased the work in 1885.
He didn't keep it, though, because it was sold to an Australian art collector named George McCulloch. It was acquired from his widow by the Australian Felton Bequest Foundation.
It was donated to the National Gallery of Victoria in Melbourne a year later in 1928 where you can still admire this amazing painting today.