Many of the most important and iconic paintings in art history weren't received all that well when they were first exhibited.
This applies to this masterpiece Henri Matisse (1869-1954), one of the most influential French artists of the modern era.
Let's take a closer look at some of the most interesting facts about Le Bonheur de Vivre by Matisse, an important painting in his oeuvre.
1. It was painted during the artist's Fauvism period
Henri Matisse was an art student in the 1890s who had studied at the Ecole Nationale des Beaux-Arts. His perspective on painting radically changed when he met Australian artist John Russell in 1896.
Russell introduced him to the works of Vincent van Gogh and those of other Impressionist artists. Just a couple of years later he also studied the works of J.M.W. Turner during a trip to London.
These experiences laid the foundation for his use of colors and it was the start of the Fauves, a group of artists who lavishly integrated vivid colors into their works.
The art movement only lasted between 1900 and 1910 but had a profound effect don't the world of art in the early 20th century. Le Bonheur de Vivre was painted between October 1905 and March 1906 at the height of this movement.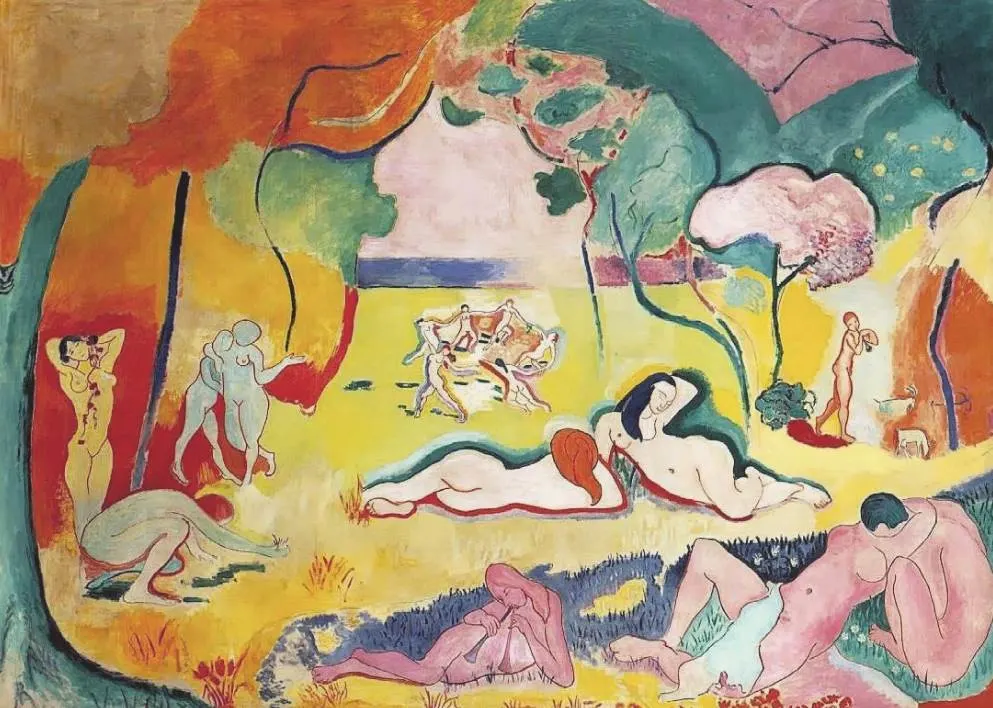 2. It depicts a wide range of people who are having a good time
Le Bonheur de Vivre translates to "The Happiness of Living" and that's a great explanation as to what Mattisse painted in this work.
We can see nude men and women who are seemingly having a good time, lying around and dancing. The painting is drenched in vivid colors and there doesn't seem to be a coherent composition.
---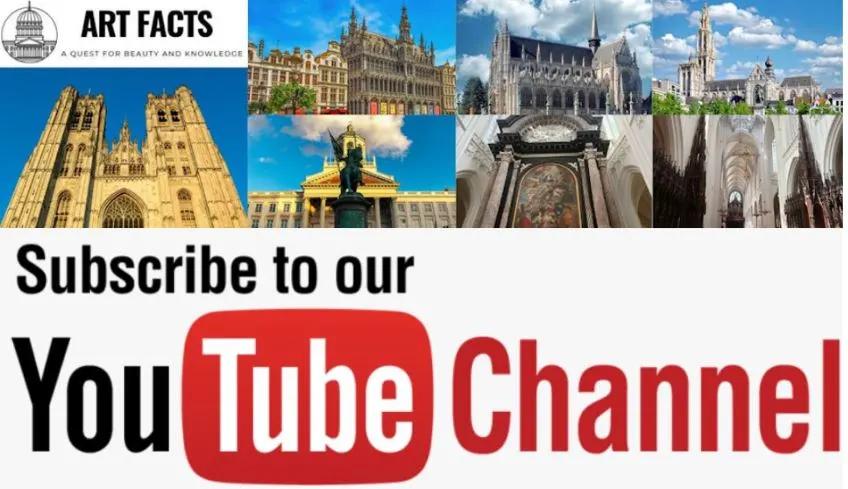 ---
This random integration of figures and the use of irrational colors is what made this painting one of the most influential paintings of the early 20th century.
3. The work was probably inspired by a 16th century Flemish painting
What inspired Matisse to produce such a remarkable work of art?
Art historians believe that the work was based on a painting produced by Mannerist artist Franck Pauwels (1540-1596) named "Reciproco Amore" or "Mutual Love" (1585-1589).
This Mannerist painting bears indeed a striking resemblance to the work by Matisse. The Flemish artist in turn inspired an Italian engraver to produce "Reciproco Amore or Love in the Golden Age," a work that might have been seen by Henri Matisse.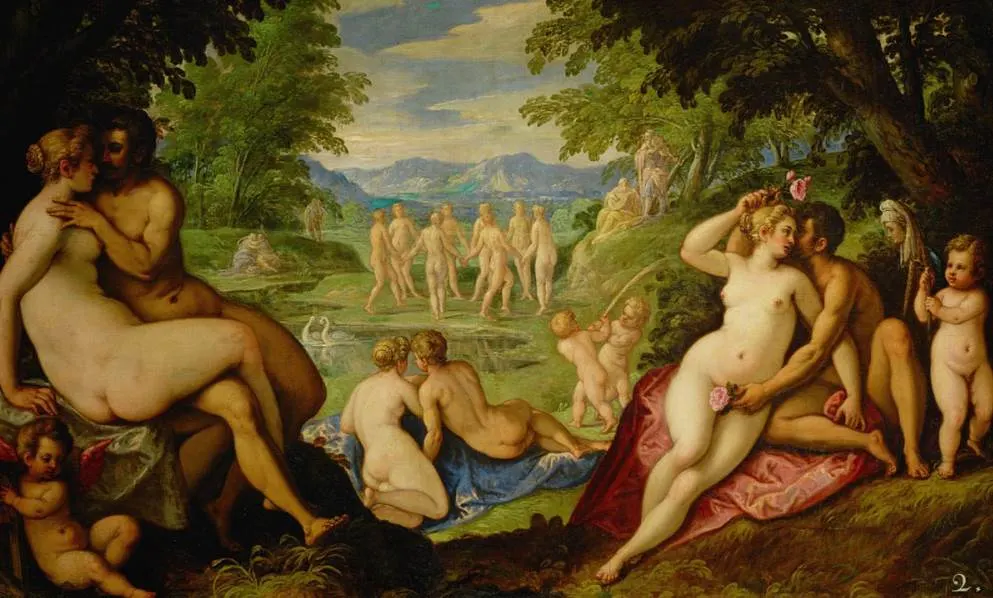 4. The artist reused the central part in one his most famous works
The central part of the 16th-century painting and the work that was presumably inspired by it, Le Bonheur de Vivre by Henri Matisse, features a group of people dancing in a circle.
This section was reused by Matisse just a couple of years later in one of his most famous works called "The Dance." This enormous painting has dimensions of 259.7 × 390.1 centimeters (102.2 × 153.6 inches).
He produced two versions of this work in 1909 and 1910. The blue version is the original and is part of the collection of the MoMA in New York City. The red version was painted a year later and is in the collection of the Hermitage Museum in Saint Petersburg.
5. It was heavily criticized when it was first exhibited in 1906
The painting was first exhibited the year it was completed at the Salon des Indépendants in 1906. This exhibition was first organized in 1884 by a group of Post-Impressionist artists, including Georges Seurat and Paul Signac.
The general motto of the event was "sans jury ni récompense" or "without jury nor reward." This means it can be described as a reaction against the traditional government-sponsored Paris Salon.
Le Bonheur de Vivre was one of the many revolutionary paintings that was displayed at the salon until these events were canceled at the outbreak of World War I (the Société des Artistes Indépendants is still active today).
It was heavily criticized for several reasons, including by some of Matisse's colleagues and friends. Paul Signac was a fan of the artist and even acquired some of his paintings, but he wrote:
Matisse, whose attempts I have liked up to now, seems to me to have gone to the dogs. Upon a canvas of two-and-a-half meters, he has surrounded some strange characters with a line as thick as your thumb. Then he has covered the whole thing with flat, well-defined tints, which, however pure, seem disgusting.
6. It inspired one the most famous works by Pablo Picasso
Just a month after Matisse completed Le Bonheur de Vivre in March 1906, he met Pablo Picasso (1881-1973). The two became lifelong friends and rivals.
Despite being the world-famous superstar he eventually became, the famous Spanish artist was nothing more than a highly ambitious aspiring artist when he first arrived in Paris in the early 20th century.
Matisse inspired Picasso in many ways and this particular painting inspired him to paint "Les Demoiselles d'Avignon" in 1907.
Both works are considered to be some of the most influential works of modern art and Picasso's work is one of the most valuable paintings in museums today (it's in the MoMA).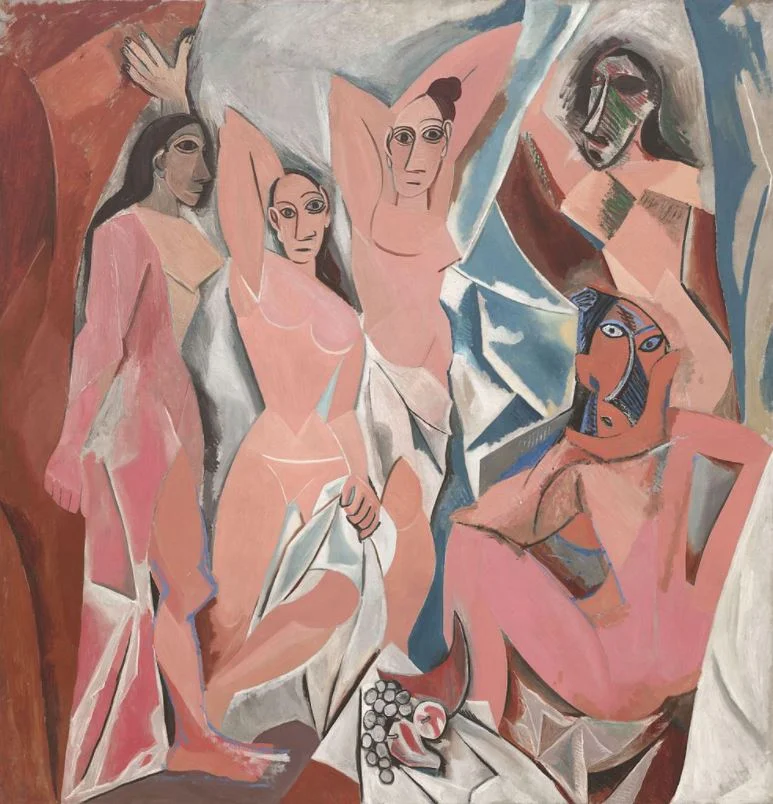 7. How big is Le Bonheur de Vivre by Henri Matisse?
It took 5 months for Matisse to complete the work, and that's not just because he made a lot of preparatory sketches. He also made a cartoon of the overall composition of the painting, which is remarkable considering that there seems to be little structure.
It's a relatively large artwork as this oil on canvas painting has dimensions of 176.5 × 240.7 centimeters (69.5 × 94.75 inches).
8. Where is the painting located today?
The world of art had completely changed by the start of the 1920s and the painting was already considered to be a masterpiece of modern art by then. The Cubist artists led by Picasso himself paved the way for this.
Despite its poor reception at the exhibition in 1906, it was still purchased by an American art collector named Leo Stein. It changed hands a couple of times in the following years until it was purchased by Albert C. Barnes in 1923.
This was the year that it entered the collection of the Barnes Foundation, a museum that was established in 1922 by the American businessman.
Today, the work can still be admired at the Barnes Foundation, a museum that is currently located in Philadelphia, Pennsylvania, after moving here from Merion Station just west of the city in 2012.