The color green can be used to depict landscapes with lush meadows or forests but also has a number of different meanings in the world of art.
It represents growth and harmony, but also youth and freshness. As you'll soon discover, it can also be used as a symbol of fertility.
When it comes to landscape paintings, green is often heavily used to highlight calm and tranquility. That's because green provides a sense of serenity, unlike any other color.
In this article, you'll discover some famous green paintings in which this particular color is the dominant factor.
Related: Check out some of these famous red paintings and blue paintings.
1. Arnolfini Portrait – Jan van Eyck
Date created: 1434
Dimensions: 82 x 60 centimeters (32.4 × 23.6 inches)
Location: National Gallery, London, United Kingdom
The Arnolfini Portrait is one of the most mysterious paintings in the oeuvre of Jan van Eyck (1390-1441), one of the leading Early Netherlandish artists of the 15th century. The painting features an incredible number of symbols that have been endlessly discussed by art historians.
The woman in the painting wears a striking green dress and upon first glance, it appears as if she's pregnant. This means that the green color would be a symbol of fertility. Unfortunately, the common theory is that this is a posthumous painting which means that she might have died during childbirth.
2. Portrait of Pope Julius II
Date created: 1511-1512
Dimensions: 108 × 80.7 centimeters (43 × 31.8 inches)
Location: National Gallery, London, United Kingdom
The Portrait of Pope Julius II is a fascinating painting by Raphael, the Renaissance master who was one of the first superstars in art history during the early 16th century. As the name of this work suggests, it depicts Pope Julius II, a man who employed several world-famous artists during this exciting period.
The painting is significant for its extreme sense of realism, something that scared people who personally knew the pope when they first laid eyes upon his portrait. It also features a remarkable green background which dominates the overall composition. Remarkably, this was originally blue and gold and was overpainted later on.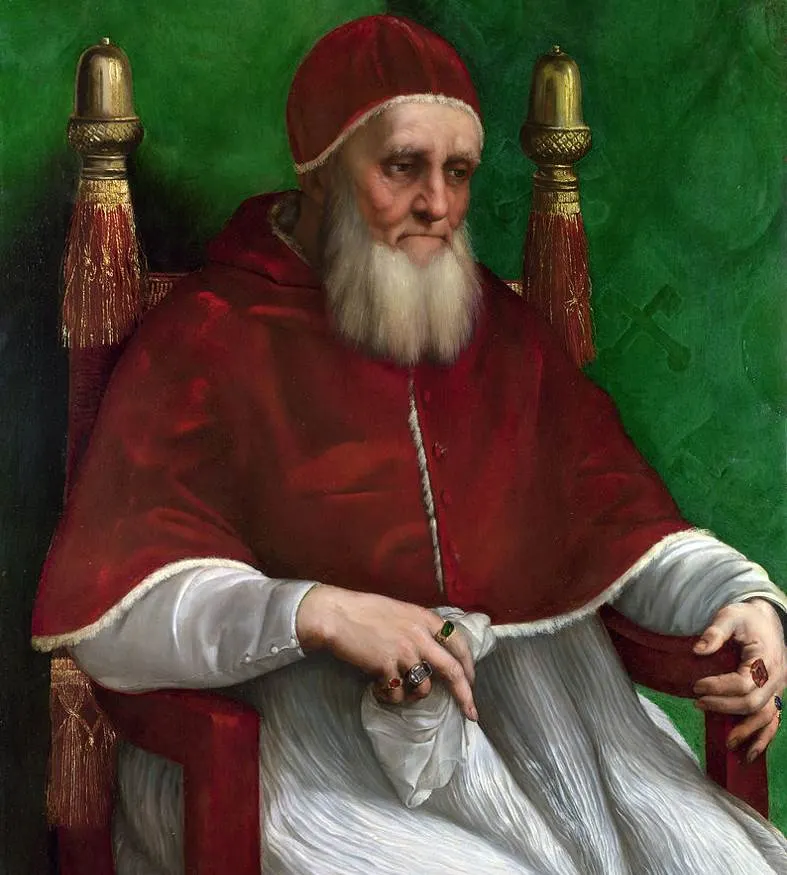 3. View of Toledo – El Greco
Date created: 1596-1600
Dimensions: 121.3 × 108.6 centimeters (47.8 × 42.8 inches)
Location: MET Museum, New York City, United States
View of Toledo is one of the few landscape paintings by El Greco (1541-1614), the Greek-born painter who spent the final decades of his life living and working in Toledo, Spain. It's one of his best-known works and one of the highlights at the Metropolitan Museum of Art in New York City.
The Mannerist artist painted the landscape in the foreground of the work using various shades of green. This is in sheer contrast to the gloomy clouds that hang above this historically important city in Spain. It was a revolutionary work of art when it was completed in the late 16th century.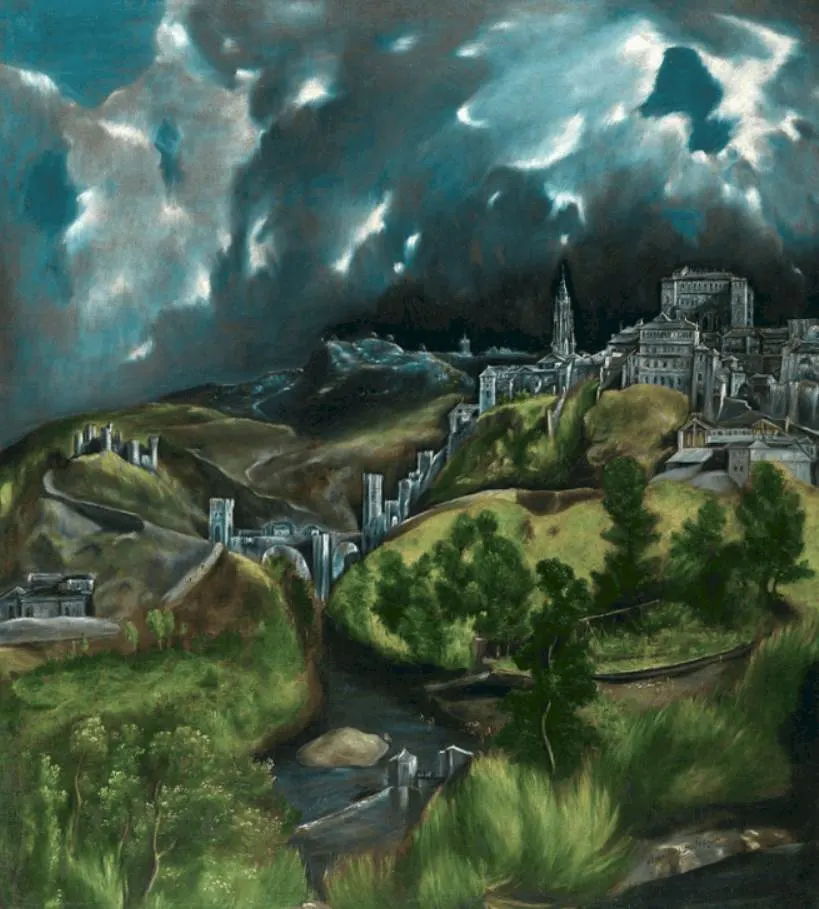 4. The Hay Wain – John Constable
Date created: 1821
Dimensions: 130.2 × 185.4 centimeters (51.25 × 73 inches)
Location: National Gallery, London, United Kingdom
The Hay Wain is the title of one of the famous paintings of John Constable (1776-1837), the English artist who redefined landscape painting in the first decades of the 19th century. He preferred to paint this home country on the border of Suffolk and Essex in East England, a region now referred to as "Constable Country."
This work is one of his so-called "Six-Footers," paintings that were significantly larger than the ones he produced at the start of his career. This is not the only reason why it's so significant, though. It was seen by French artist Théodore Géricault in London and he was astounded by Constable's use of realistic green colors. It eventually inspired many artists of the Barbizon School in France.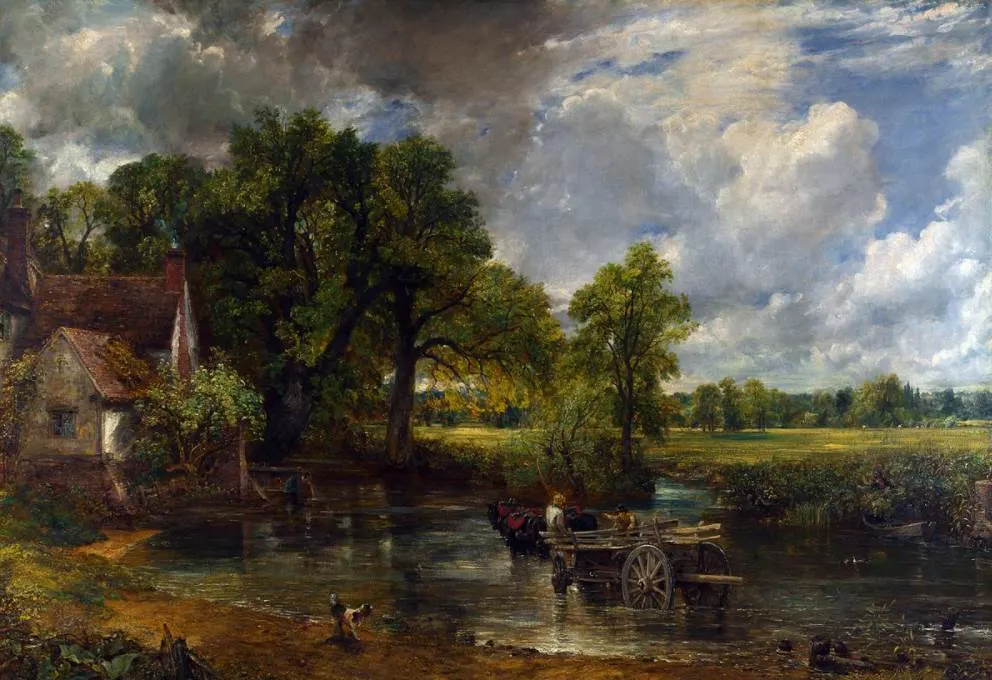 5. Luncheon on the Grass – Édouard Manet
Date created: 1863
Dimensions: 208 × 264.5 centimeters (81.9 × 104.1 inches)
Location: Musée d'Orsay, Paris, France
Luncheon on the Grass is the best-known painting in the oeuvre of Édouard Manet (1832-1883). He was a French artist who formed the bridges between Realism artists and Impressionist artists during the 1860s. This painting perfectly reflects this notion as it realistically depicts people in an outdoor setting.
Manet used a large number of shades of green to create a peculiar atmosphere inside a dense forest. It's probably no surprise to you that this remarkably green painting caused quite a stir in the art community when it was first displayed, mainly because of the nude women and finely-dressed gentlemen.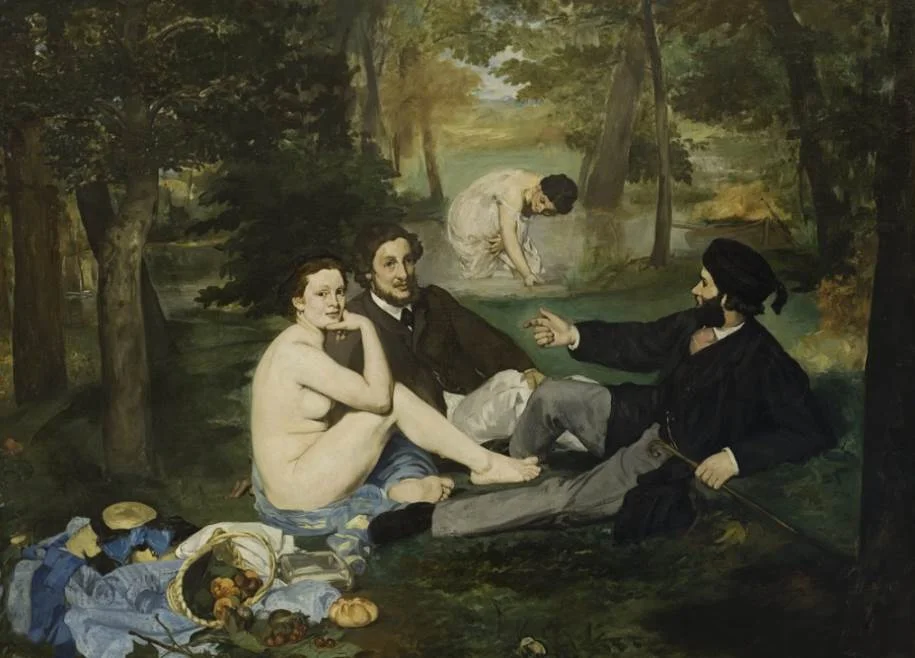 6. Jalais Hill, Pontoise – Camille Pissarro
Date created: 1867
Dimensions: 87 x 114.9 centimeters (34.3 × 45.2 inches)
Location: MET Museum, New York City, United States
Jalais Hill, Pontoise is the title of an amazing landscape painting by Camille Pissarro (1830-1903). It depicts the beautiful view of the small town of Pontoise which is situated in a hilly landscape, full of greenery, just northwest of Paris.
Pissarro completed this painting in the 1860s, a time when the Impressionists were only just starting to paint outdoors. He became one of the leading figures of the movement and was the only painter who exhibited works at all Impressionist Exhibitions during the 1870s and 1880s. This work solidified his reputation as a renowned landscape painter.
7. Mont Sainte-Victoire and the Viaduct of the Arc River Valley – Paul Cézanne
Date created: 1882-1885
Dimensions: 65.5 × 81.7 centimeters (25.8 × 32.2 inches)
Location: MET Museum, New York City, United States
Mont Sainte-Victoire and the Viaduct of the Arc River Valley is a painting by Paul Cézanne (1839-1906), the French Post-Impressionist artist who was highly influential in the development of modern art. It depicts the view of the valley of the Arc River near his hometown of Aix-en-Provence in Southern France.
It's one of the multiple views of this magnificent landscape that Cézanne completed and definitely the greenest of them all. We can see the Mont Sainte-Victoire mountain sticking out in the distance and the railway bridge that crosses the Arc River on the way to Marseille is a prominent element as well.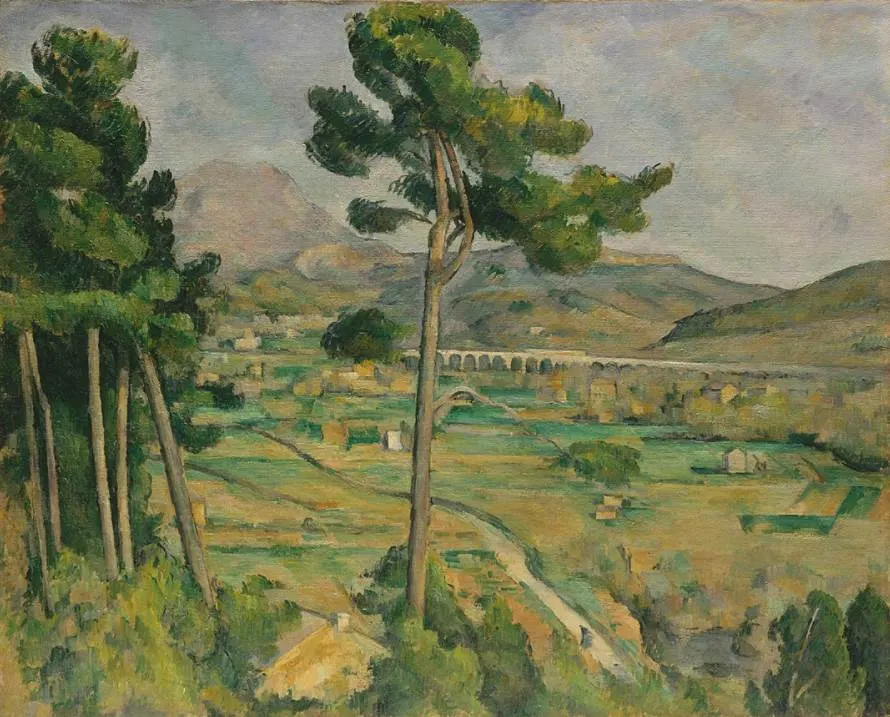 8. Green Wheat Field with Cypress – Vincent van Gogh
Date created: 1889
Dimensions: 73 × 92.5 centimeters (29 × 36.4 inches)
Location: National Gallery Prague, Prague, Czech Republic
Green Wheat Field with Cypress is one of the numerous mesmerizing green paintings by Vincent van Gogh (1853-1890), the troubled Dutch artist who developed a unique style during the final years of his life. This work is a perfect example of the bold brushstrokes he used which almost transform the canvas into a bas-relief.
The painting depicts the scenery outside the asylum of St. Paul near the town of Saint-Rémy in the Provence region in Southern France. He voluntarily admitted himself to this mental hospital following his mental breakdown in Arles. Unfortunately, it didn't help and he took his own life a year later in July 1890.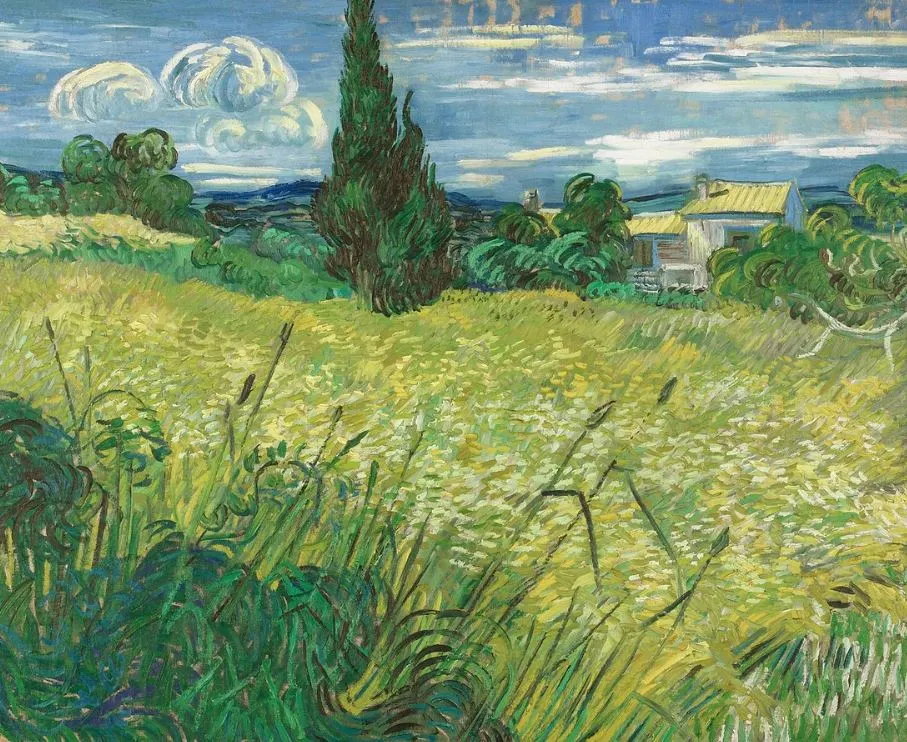 9. The Green Line – Henri Matisse
The Green Line is a painting by Henri Matisse (1869-1954) that is also sometimes referred to as the "Portrait of Madame Matisse." This means that this peculiar and remarkable portrait depicts the artist's wife, Amélie Noellie Matisse-Parayre.
The artist painted a green line in the middle of his wife's face, something that has often been interpreted as an indication of marital problems. Both his friends and family members were quite shocked by this work of art when they first laid eyes upon this painting.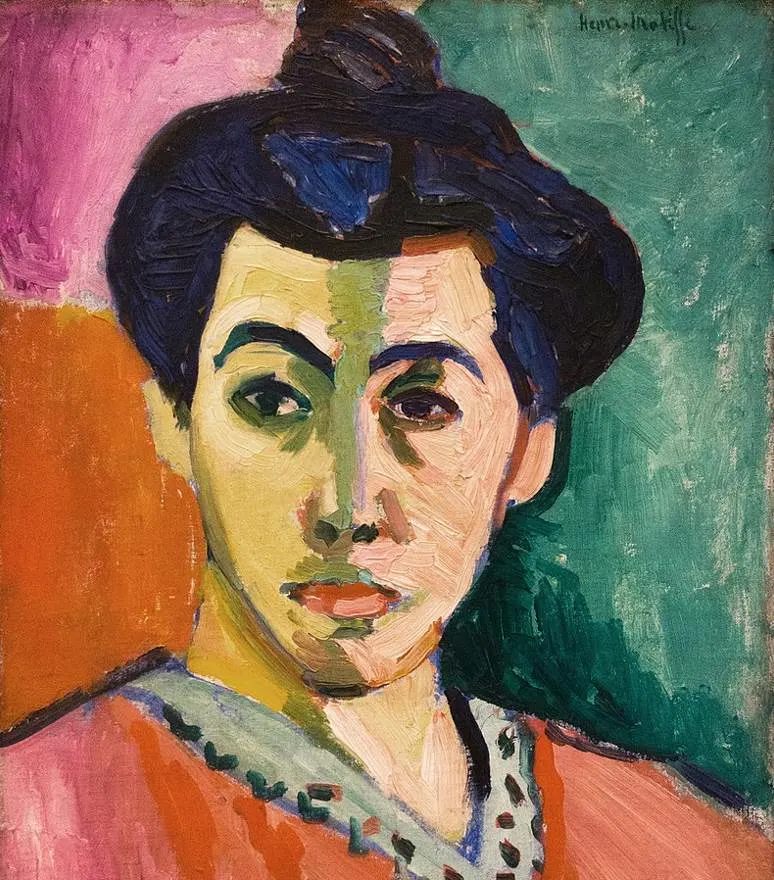 10. The Dream – Henri Rousseau
Date created: 1910
Dimensions: 204.5 × 298.5 centimeters (80.5 × 117.5 inches)
Location: MoMA, New York City, United States
The Dream is the title of the final painting by Henri Rousseau (1844-1910), the late-bloomer who only started painting full-time when he was already in his late forties. It's one of the 26 jungle paintings that he completed during his career and one of the most stunning ones as well.
The lush green jungle scene features a naked woman who is lying on a couch. This is believed to be a former mistress of the artist whom he identified as "Yadwigha." The self-taught artist was often ridiculed but this work ultimately changed his reputation.