Art has the ability to transcend the cultural landscape into a visual representation, and that's one of the reasons why I find paintings so fascinating.
American artists have produced artworks for centuries that embody this definition, so I have compiled a list of some of the most famous American paintings in history.
Remarkably, not every painting on this list was painted by an American, even though they can easily be described as icons of American culture.
Let's take a closer look at some of these fascinating works of art!
1. Nighthawks – Edward Hopper
Date created: 1942
Dimensions: 84.1 × 152.4 centimeters (33.1 x 60 inches)
Locations: Art Institute of Chicago, Chicago United States
Talking about cultural icons, a painting by Edward Hopper (1882-1967) titled "Nighthawks" is arguably one of the best-recognized artworks in American history. It depicts a gloomy street in an urban environment and a brightly-lit diner in the middle of the night.
Hopper got the inspiration for this painting from a real place, but he made certain changes to the work so it's not 100% realistic. For one, he made the glass window of the diner much larger than it actually. Located in Greenwich Village, Manhatten, this place has since been demolished.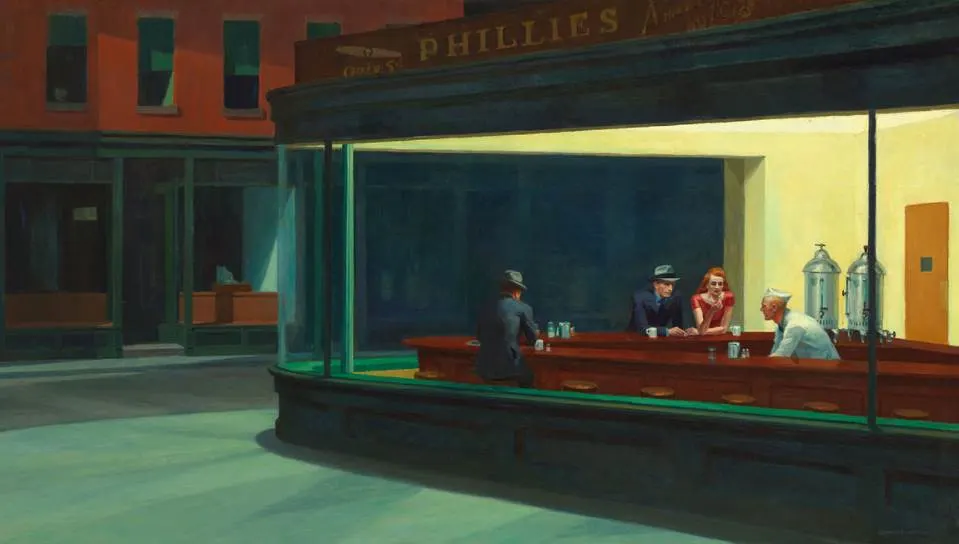 2. Washington Crossing the Delaware – Emanuel Leutze
Date created: 1851
Dimensions: 378.5 × 647.7 centimeters (149 × 255 inches)
Locations: MET Museum, New York City, United States
Washington Crossing the Delaware is one of the paintings that I referred to that wasn't painted by an American artist. This masterpiece of American history was painted by German artist Emanuel Leutze (1816-1868) and depicts an important moment during the American Revolutionary War.
It shows an idealized version of George Washington crossing the Delaware River on the night of December 25–26, 1776. This surprise attack proved to be an important moment for the Battle of Trenton in which the Continental Army defeated the Hessian Forces who served the British army.
3. American Gothic – Grant Wood
Date created: 1930
Dimensions: 78 × 65.3 centimeters (30.75 × 25.75 inches)
Locations: Art Institute of Chicago, Chicago United States
American Gothic is the title of the ultimate masterpiece of Grant Wood (1891-1942), an American painter best known for his depiction of the rural American Midwest. This iconic painting depicts a man and woman standing in front of the so-called American Gothic House in Eldon, Iowa.
---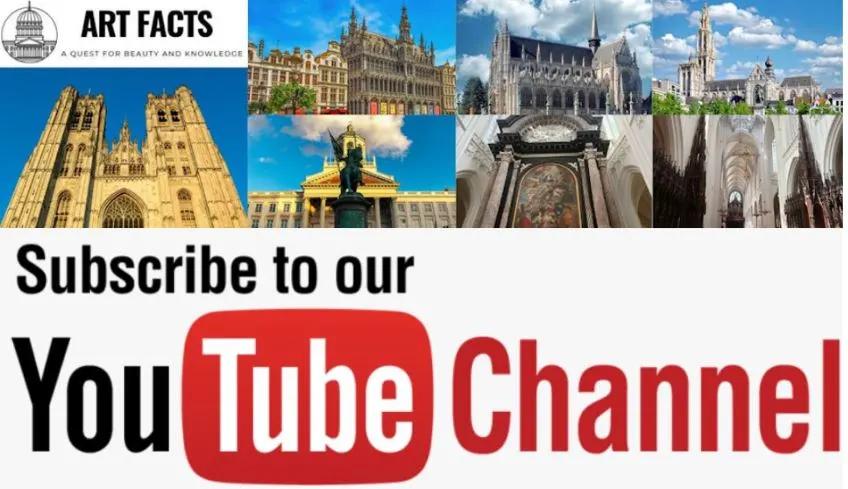 ---
Wood used people he knew as models because the woman was his sister Nan Wood Graham who is accompanied by the painter's dentist, Dr. Byron McKeeby. The title of the painting is a reference to the Carpenter Gothic architectural style in which the house was constructed.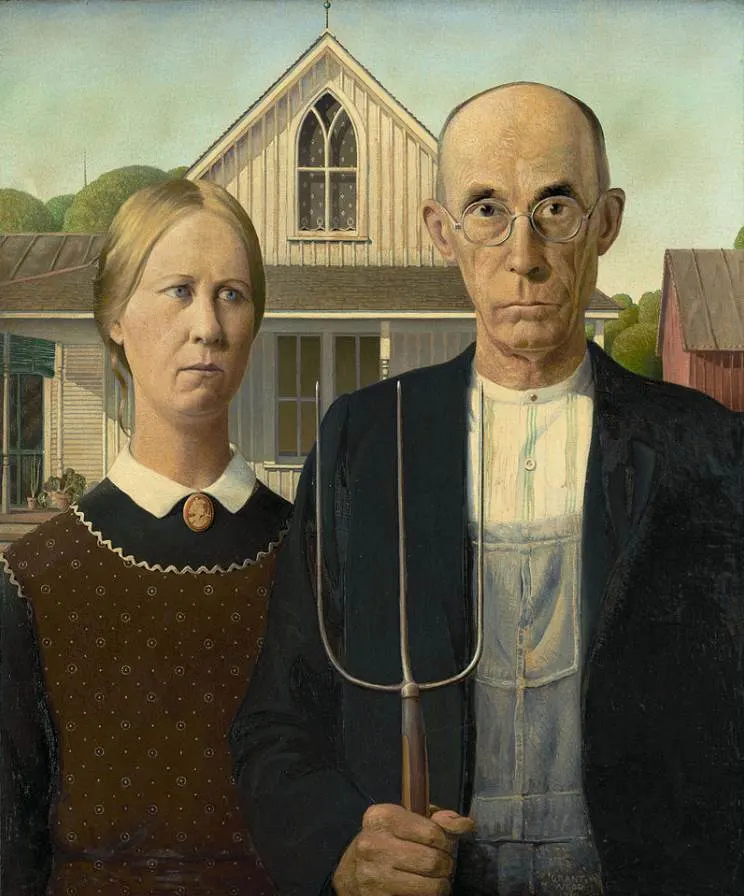 4. Christina's World – Andrew Wyeth
Date created: 1948
Dimensions: 81.9 × 121.3 centimeters (32.25 × 47.75 inches)
Locations: MoMA, New York City, United States
Christina's World is the title of another famous American painting that just about everybody in the United States knows. It was painted using tempera by an American artist named Andrew Wyeth (1917-2009) and depicts a reclining woman in a field with several buildings in the distance.
The backstory of this work is what makes the painting quite tragic. It depicts a woman named Anna Christina Olson (1893-1967) who suffered from a physical condition that made it impossible for her to walk. Instead of using a wheelchair, she simply crawled everywhere she went, just like you can see in this picture.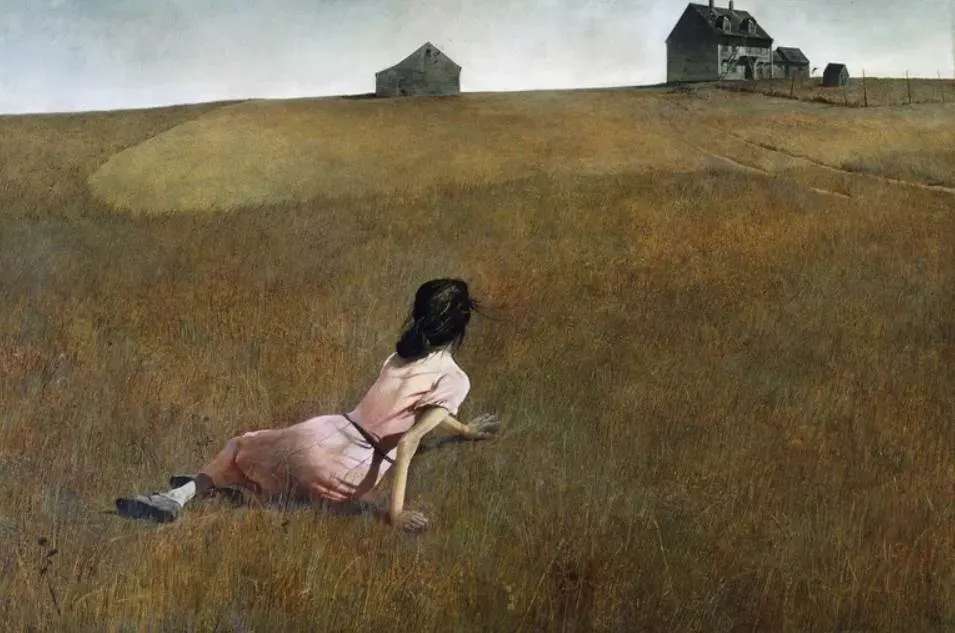 5. Breezing Up (A Fair Wind) – Winslow Homer
Date created: 1873-1876
Dimensions: 61.5 × 97 centimeters (24.2 × 38 inches)
Locations: National Gallery of Art, Washington, D.C., United States
Breezing Up (A Fair Wind) is one of the many beautiful seascapes painted by Winslow Homer (1836-1910), one of the most renowned painters in American history. It depicts a catboat with several people in it off the coast of Gloucester, Massachusetts, a fishing village that the painter had visited.
This work was completed in the decade following the American Civil War (1861-1865) and can be described as a visualization of the optimism that swept through the country following the conclusion of this devastating event. Homer later changed his tune and painted seascapes that were a lot gloomier than this one.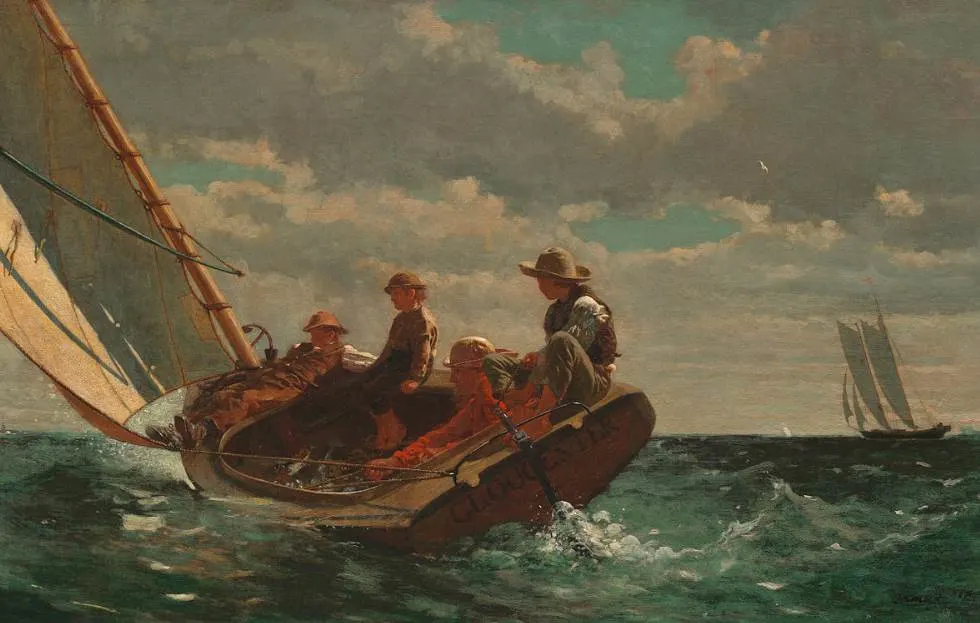 6. Whistler's Mother – James Abbott McNeill Whistler
Date created: 1871
Dimensions: 144.3 x 162.4 centimeters (56.8 x 63.9 inches)
Locations: Musée d'Orsay, Paris, France
Whistler's Mother is the title of a painting by James Abbott McNeill Whistler (1834-1903) that depicts the artist's mother, Anna McNeill Whistler (1804-1881). Even though Whistler was an American painter, he lived and worked in the United Kingdom for the majority of his career.
The original title of this painting is "Arrangement in Grey and Black No. 1," even mostly referred to by its common title. The painting was completed while the woman was living together with her son in London and is without a doubt the most famous American painting that was completed outside of the United States.
7. The Oxbow – Thomas Cole
Date created: 1836
Dimensions: 130.8 × 193 centimeters (51.5 × 76 inches)
Locations: MET Museum, New York City, United States
The Oxbow is a painting by Thomas Cole (1801-1848) that is also titled "View from Mount Holyoke, Northampton, Massachusetts, after a Thunderstorm." It's the most famous work by the American landscape painter who is considered to be the founding father of the Hudson School of painting.
The painting depicts a sweeping view of the Connecticut River Valley and is cut in half. The left side shows a gloomy jungle while the right side shows a bright and cultivated landscape. As the title of the painting suggests, it shows the view of the bending Connecticut River from Mount Holyoke.
8. Looking Down Yosemite Valley, California – Albert Bierstadt
Date created: 1865
Dimensions: 163.83 × 245.11 centimeters (64.5 × 96.5 inches)
Locations: Birmingham Museum of Art, Birmingham, Alabama
Looking Down Yosemite Valley, California is the title of another famous American painting by a man who wasn't born in the United States. Albert Bierstadt (1830-1902) was born in Germany but established himself as the most renowned painter of landscapes depicting the American West.
This particular work was the first in a series of landscape paintings that depict the magnificent Yosemite Valley. It features two of America's most iconic rock formations known as "El Capitan" (to the right) and "The Sentinel" (to the left). The Merced River can be seen flowing through the valley.
9. The Gross Clinic – Thomas Eakins
Date created: 1875
Dimensions: 240 cm × 200 centimeters (96.07 x 78.05 inches)
Locations: Philadelphia Museum of Art, Philadelphia, United States
The Gross Clinic is the title of a painting by Thomas Eakins (1844-1916) that depicts a class being conducted by Dr. Samuel D. Gross (1805-1884) at Jefferson Medical College n Philadelphia. It's the most important American scientific realism painting ever completed.
The scene shows an actual operation in a surgical theater at a time when surgery was still in its infancy. Eakins was once a student at this college and experienced such a procedure first-hand during the 1860s. He followed this work up with his equally famous work titled "The Agnew Clinic" (1889).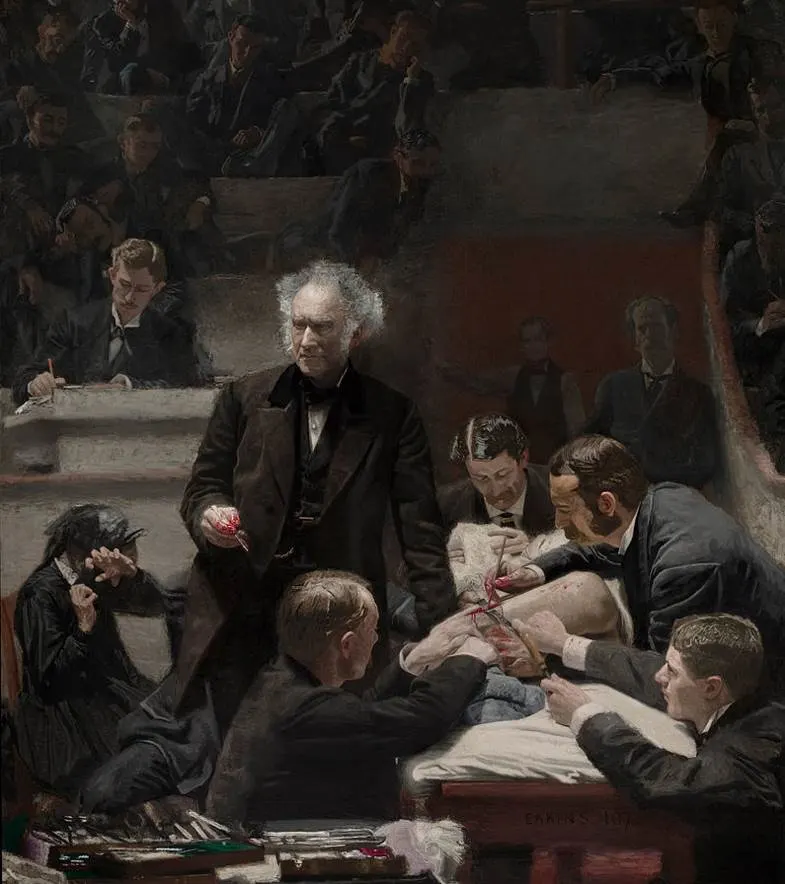 10. Flag – Jasper Johns
Date created: 1954
Dimensions: 107.3 x 153.8 centimeters (42.25 x 60.62 inches)
Locations: MoMA, New York City, United States
Flag is the title of a painting by Jasper Johns (born in 1930) that is without a doubt the most famous depiction of the American flag in art history. It was completed using hot wax and was the first in a series of paintings by the American artist in which The Star-Spangled Banner is the most important element.
Johns completed the painting when he was about 24 years old and approximately 2 years after he was discharged from the U.S. army. Many of his paintings have sold for millions of dollars, including another work in this series titled "48-star Flag" from 1958 which sold for a whopping $110 million in 2010.