Birmingham is a city in the North Central part of Alabama, a state in the Southeastern region of the United States.
Although it's only the third-largest city in the state with a population just shy of 200,000 inhabitants, it's home to one of the largest museums in this part of the country.
The Birmingham Museum of Art was established in 1951 and is owned by the City of Birmingham. The original building was expanded once in 1993.
This was needed because as of today, the museum features a collection of over 24,000 objects. These are displayed in an exhibition space that exceeds 180,000 square feet (17,000 square meters).
In this article, we'll take a closer look at some of the most famous paintings at the Birmingham Museum of Art.
1. Winter Landscape – Jacob van Ruisdael
Date created: 1660s
Dimensions: 36.5 × 32.3 centimeters (14.3 × 12.7 inches)
Winter Landscape is one of several paintings by Jacob van Ruisdael (1628-1682) that bear this name. He produced about 30 paintings depicting a winter scene in his career. The Dutch artist was very prolific as he produced nearly 700 works of art during the 17th century.
Van Ruisdael is considered to be one of the greatest landscape artists of the Dutch Golden Age, a period in which the Dutch Republic was one of the leading nations in the world in various fields. This work magnificently depicts a cool winter day and makes you almost feel how cold it is while staring at it.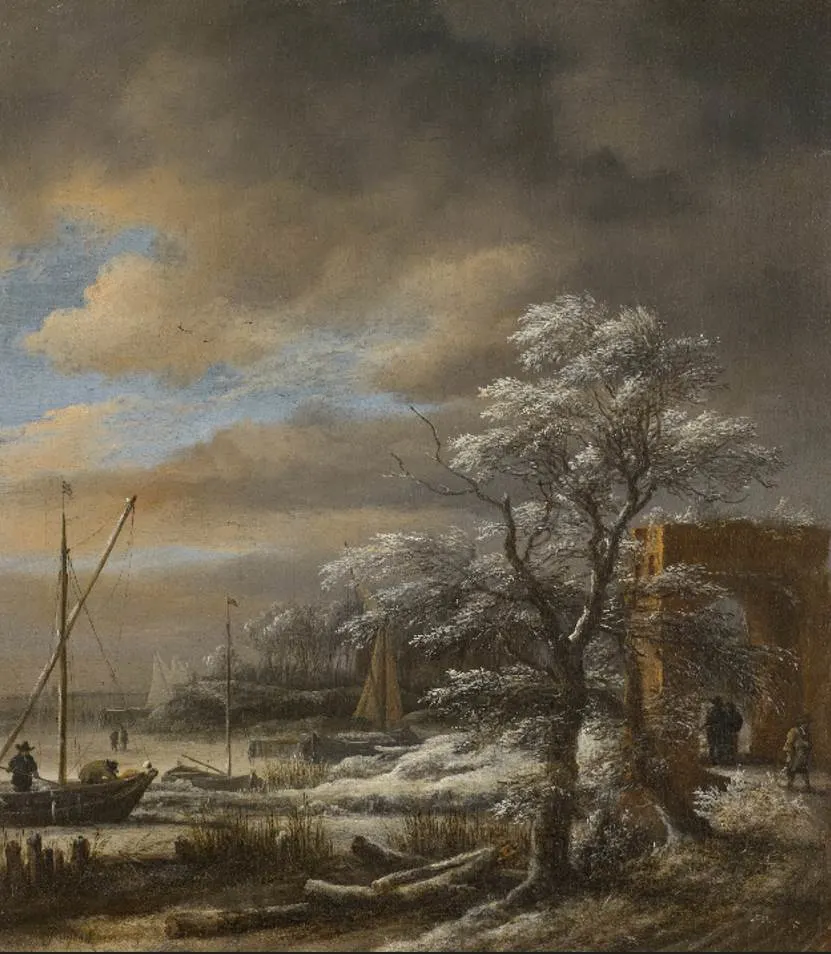 2. Looking Down Yosemite Valley, California – Albert Bierstadt
Date created: 1865
Dimensions: 163.83 × 245.11 centimeters (64.50 × 96.50 inches)
Looking Down Yosemite Valley, California is the title of a huge landscape painting by Albert Bierstadt (1830-1902), a German-born American artist who specialized in capturing the American landscape. This work depicts the beautiful scenery of what is today Yosemite National Park in California.
Bierstadt produced this painting from a sketch he made while visiting this area. He created this preparatory drawing from a point just above the Merced River, an area that allows you to look between Sentinel Rock on the left and the equally iconic El Capitan on the right.
3. Lady Helen Vincent, Viscountess d'Abernon – John Singer Sargent
Date created: 1904
Dimensions: 157.4 x 101.6 centimeters (62 x 40 inches)
---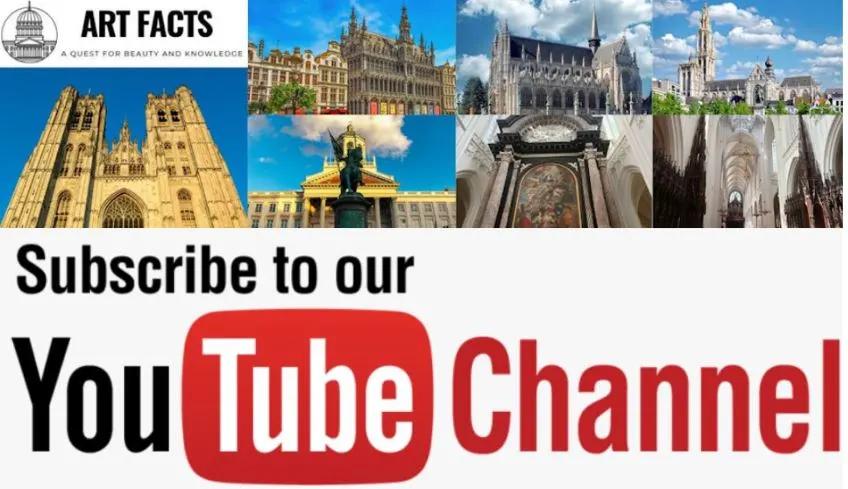 ---
Lady Helen Vincent, Viscountess d'Abernon is a stunning portrait by John Singer Sargent (1856-1925), an American artist who was born in Florence, Italy. He mainly produced portraits of upper-class individuals. He traveled frequently in Europe and produced over 900 oil paintings along the way.
This portrait depicts Lady Helen Vincent (1866-1954), a British noblewoman and socialite who was described as "the most celebrated hostess of her age." It was completed during a trip to Venice and highlights the incredible talent that Sargent was blessed with.
4. Perseus Armed by Mercury and Minerva – Paris Bordone
Date created: 1545-1555
Dimensions: 103.5 x 153.4 centimeters (40.7 x 60.3 inches)
Perseus Armed by Mercury and Minerva is a painting by the Italian painter Paris Bordone (1500-1571), a Mannerist artist from Venice. He was trained by Titian but developed a different, more colorful style than his Renaissance master.
This mythological painting has a rather self-explanatory title as it depicts Perseus who is being armed by the god Mercury and the goddess Minerva. This is being done in order to prepare Perseus to battle the Gorgon, Medusa, which he will slay.
5. View of the Grand Canal – Canaletto
Date created: Late 1720s
Dimensions: 60.3 x 100.3 centimeters (23.75 x 39.5 inches)
View of the Grand Canal is a painting by Giovanni Antonio Canal (1697-1768), better known by his nickname "Canaletto," a Venetian painter and one of the most sought-after artists of the 18th century. That's mainly because he built up a reputation as the most notable cityscape artist of his time.
As you surely expected, many of the paintings in his oeuvre depict his native city Venice. His hometown had become one of the most popular tourist destinations for the pleasure-seeking elite of the Rococo era and Canaletto's works served as souvenirs and collector items. This view of the city's main thoroughfare is a great example of this.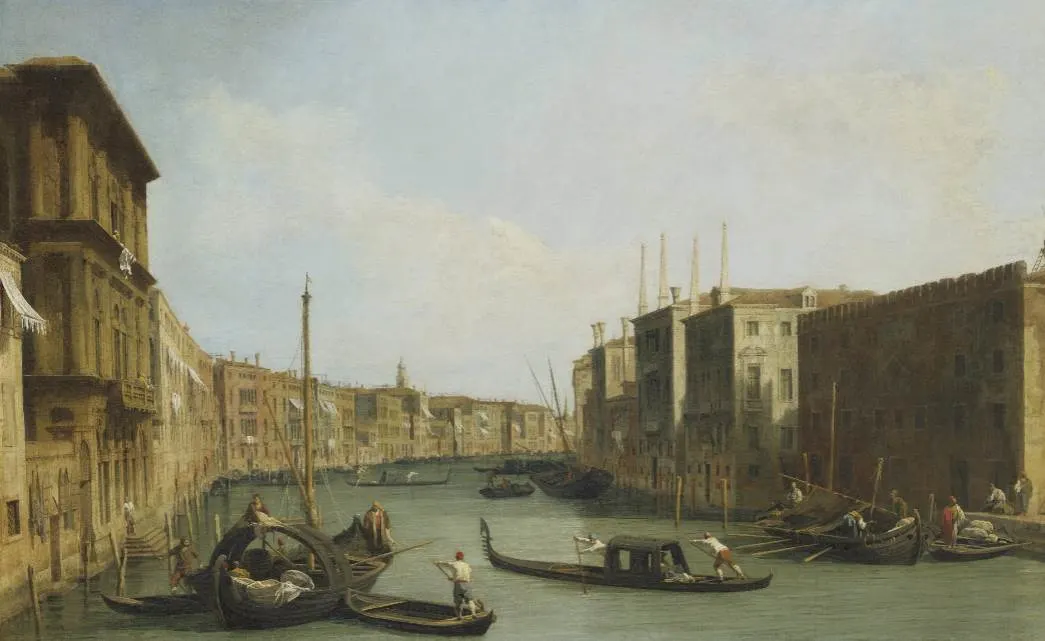 6. Dawn – William-Adolphe Bouguereau
Date created: 1881
Dimensions: 214.9 × 107 centimeters (84.6 × 42 inches)
Dawn or "L'Aurore" is one of the most famous paintings by Bouguereau (1825-1905). He was a French artist who was determined to preserve the academic ideals that had been prevalent throughout the 19th century. He did so by painting classical works while integrating a sense of modern realism.
William-Adolphe Bouguereau painted this work as one of a series of paintings that served as allegories of the times of the say. This was the first and he completed the series by painting Dusk in 1882, Night in 1883, and Day in 1884 to complete this series. As in most of his works, the focus was on elegant and idealized female beauty.
7. Building the Schooner, Provincetown – Childe Hassam
Date created: 1900
Dimensions: 55.9 x 71.1 centimeters (22 x 28 inches)
Building the Schooner, Provincetown is a painting by one of the most famous American Impressionist artists in history, Childe Hassam (1859-1935). He focused on both urban and coastal scenes and completed this work after visiting Provincetown, Massachusetts in 1900.
This historic town is located on the utmost tip of Cape Cod just southeast of Boston. What's remarkable about this colorful painting is that it was one of the artist's and his wife's favorite works. He hung it on the wall inside his house and never sold it. The Birmingham Museum of Art acquired this painting in 1956.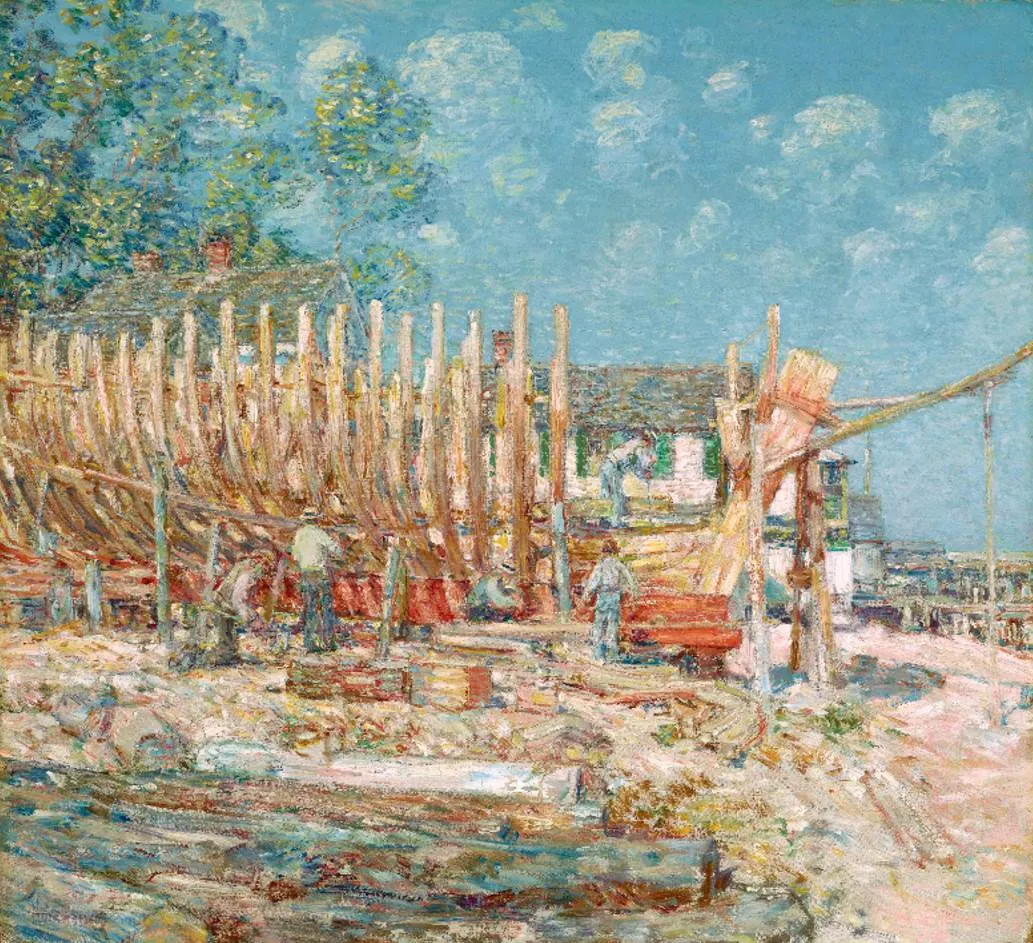 8. The Arab Lamenting the Death of his Steed – Jean-Baptiste Mauzaisse
Date created: 1812
Dimensions: 81.3 x 99.1 centimeters (32 x 39 inches)
The Arab Lamenting the Death of his Steed is the title of a painting by Jean-Baptiste Mauzaisse (1784-1848), a French artist who is best known for portraits and battle scenes. This painting is one of many that was inspired by a poem that was published in 1808 titled "Memorial to the Steed: The Arab's Song."
It was completed during the reign of Napoleon Bonaparte and is considered to be one of the earlier works that focused on exotic scenes. These only really became popular during the Romantic era which emerged in France a few years later. This particular work was exhibited at the Paris Salon of 1812 and won a first-class gold medal at this event.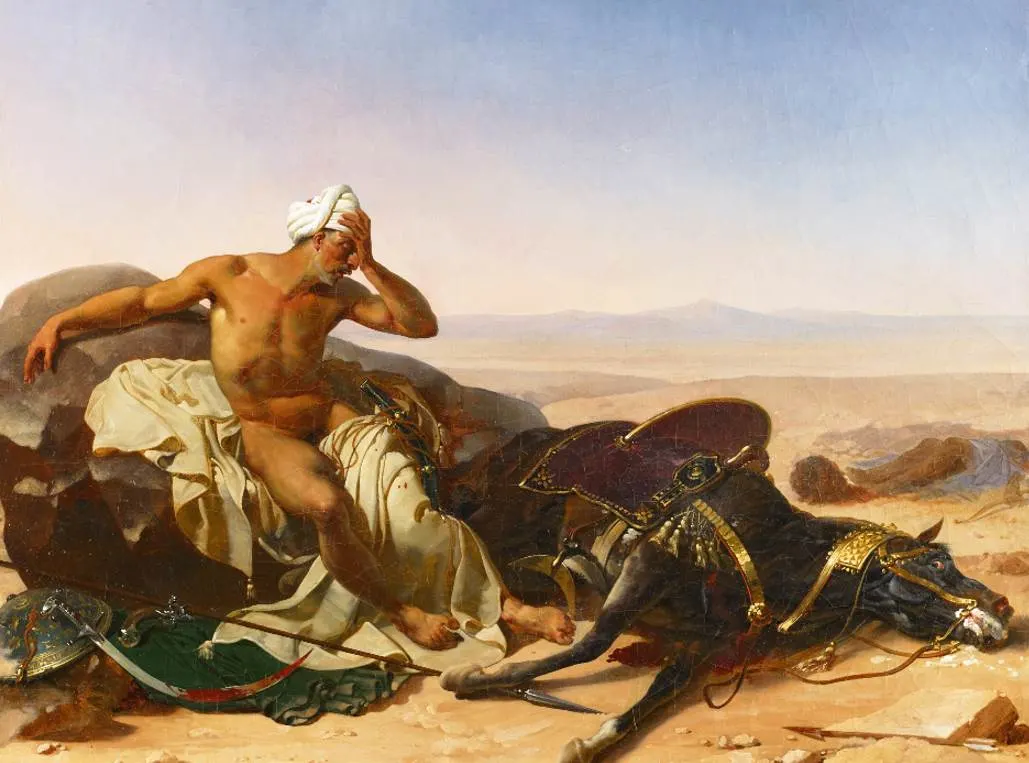 9. The Village of Éragny – Camille Pissarro
Date created: 1885
Dimensions: 59.7 x 73 centimeters (23.5 x 28.75 inches)
The Village of Éragny is a trademark painting by Camille Pissarro (1830-1903), one of the most prolific Impressionist artists of the 19th century. He moved from Paris to the small village of Éragny, a place where he produced many Impressionist paintings that depict the French countryside.
Pissarro embodied Impressionism and was the only artist who exhibited his works at all 8 Impressionist exhibitions. This work depicts this rural village of fewer than 300 inhabitants in a quiet rural landscape. It has a sense of serenity about it that Pissarro loved thoroughly.
10. Nymphs and Fauns – Jean-Baptiste-Camille Corot
Date created: Before 1870
Dimensions: 54 × 80 centimeters (21.25 × 31.5 inches)
Nymphs and Fauns is a painting by French artist Jean-Baptiste-Camille Corot (1796-1875), a man who produced a vast oeuvre of portraits and landscape paintings. His work marks the transition between Neoclassical art and Impressionism, a remarkable transition in the 19th century.
He started painting outdoors or "En Plein Air" at a time when Realism artists became the dominant force in the world of art. This allowed him to study the effect of natural light on what he painted, something that really shines through in this mesmerizing work of art.