It's hard to believe that one of the most famous American artists in history spent nearly 20 years of his life working as a professional illustrator.
Winslow Homer (1836-1910) started learning oil painting when he moved from Boston to New York City and already mastered this new medium in about a year.
He traveled frequently and often painted rural scenes and seascapes. The quality of his marine paintings was unseen before which solidified his reputation.
In this article, you'll discover some of the most interesting facts about Breezing Up (A Fair Wind), one of Homer's ultimate masterpieces.
1. It was completed shortly after Homer had spent a year in France
Breezing Up is the current title of a painting that Winslow Homer initially titled "A Fair Wind." It's considered to be one of the most popular seascapes by the artist.
Homer was born in Boston but grew up in what was then a rural place near the city called Cambridge, Massachusetts.
He moved back to Bostin when he got a job as an illustrator in his late teens. He became a regular employee of popular magazines such as Harper's Weekly and Ballou's Pictorial.
Shortly after he moved to New York and opened up his studio in the Tenth Street Studio Building, the American Civil War (1861-1865) broke out.
He was sent out to draw soldiers and commanders at the front and this marked his transition from an illustrator to a painter.
---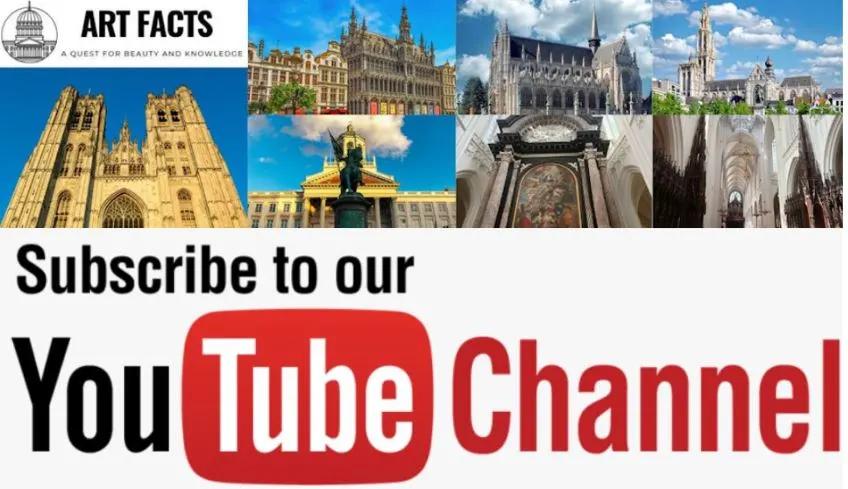 ---
He traveled to Paris in 1867 where one of his major works at the time, "Prisoners from the front" (1866), was exhibited at the World Fair that year.
He stayed in France for a year and started painting rural landscapes and seascapes shortly after he returned home. He completed Breezing Up (A Fair Wind) between 1873 and 1876.
2. It depicts a group of people in a catboat near the town of Gloucester
During his stay in France, Homer got to know the paintings of both established artists such as Jean-François Millet and Gustave Courbet and emerging artists such as Édouard Manet and Claude Monet.
Homer was definitely influenced by the painting he saw in France and was especially impressed with Millet's Barbizon School.
Paintings depicting rural landscapes exemplified the sense of nostalgia he felt for a simpler life back home following the American Civil War.
Monet's painting titled "The Green Wave" (1866) bears a resemblance to the rocky waves in this magnificent work of art.
Homer's work depicts an adult man and three boys inside a catboat off the coast of Gloucester, Massachusetts, a place he had visited during the Summer of 1873.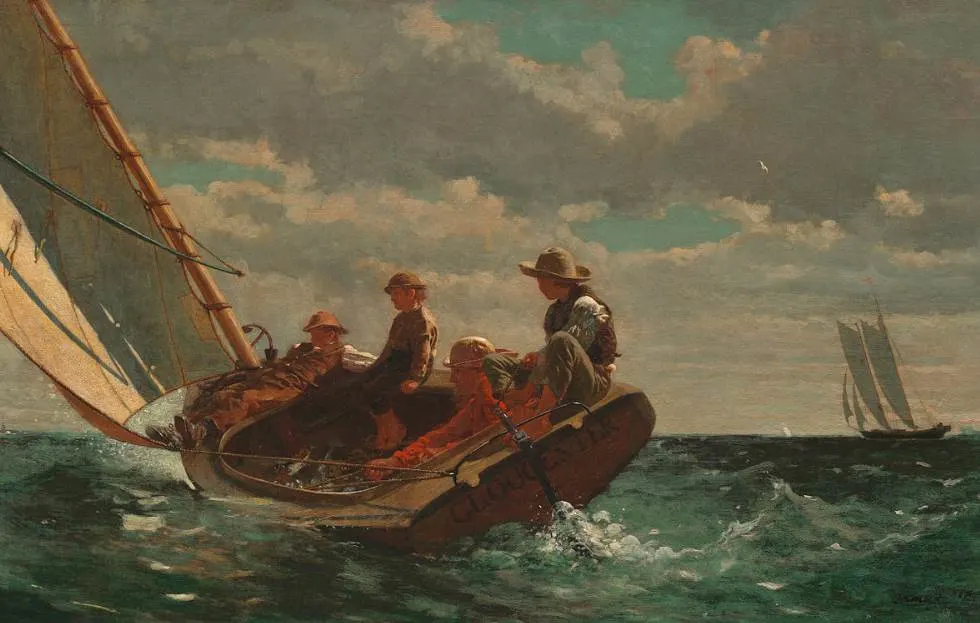 3. The artist completed many sketches before he started working on this amazing painting
The 1870s was a period in Homer's career when he traveled extensively to the American countryside.
he was getting nostalgic in light of the fast-paced urbanization that went on following the Civil War and attempted to depict life as it was during his childhood years.
Snap the Whip (1872), Boys in a Dory (1873), and The Cotton Pickers (1876) were all paintings produced during this decade.
He finally quit his job as an illustrator in 1875 and vowed to make a living from his oil paintings and watercolors.
He traveled extensively and made plenty of sketches and watercolors before heading back to his studio to complete his work.
4. Homer made many changes during the 3 years it took to complete this work
The need to make a living from his art affected the aspiring artist. This is reflected by the fact that he made numerous changes while working on Breezing Up (A Fair Wind).
He completed an initial sketch of the completed work titled "Sailing the Catboat" in 1873 and this shows some of the things he altered over the next 3 years.
He removed a fourth boy that was sitting near the mast of the catboat.
He replaced this boy with an anchor.
He added a second sailboat in the distance.
The adult man initially held both the boat's sheet and tiller.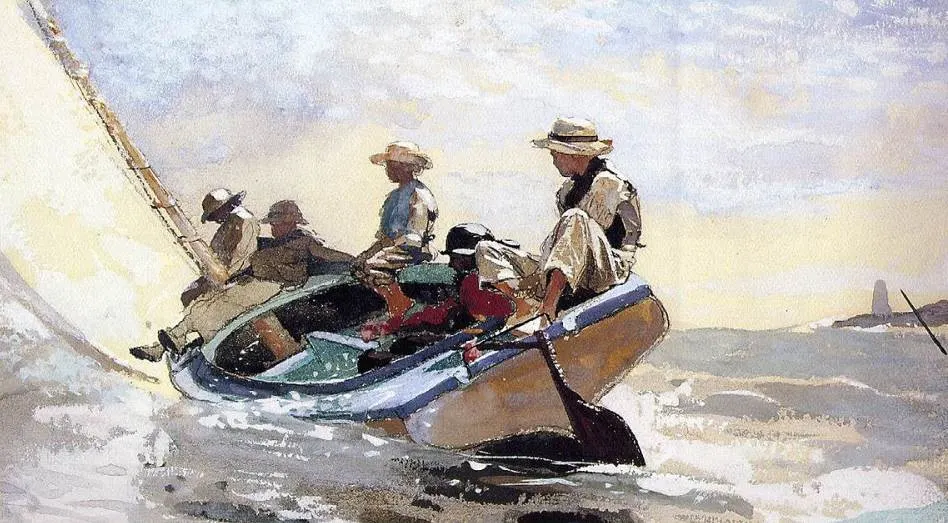 5. The painting is believed to convey a sense of symbolic optimism
The small boat has a hard time battling the waves off the coast of Gloucester, but this doesn't seem to bother the crew too much.
They appear to be relaxed as the boat is bound to reach its destination. The anchor that replaced the fourth boy is believed to be a sign of hope.
The nearest boy is holding the tiller, a lever that is used to steer the boat, as he looks toward the horizon. This is considered to be a sign of optimism for the future of the United States following a dark period.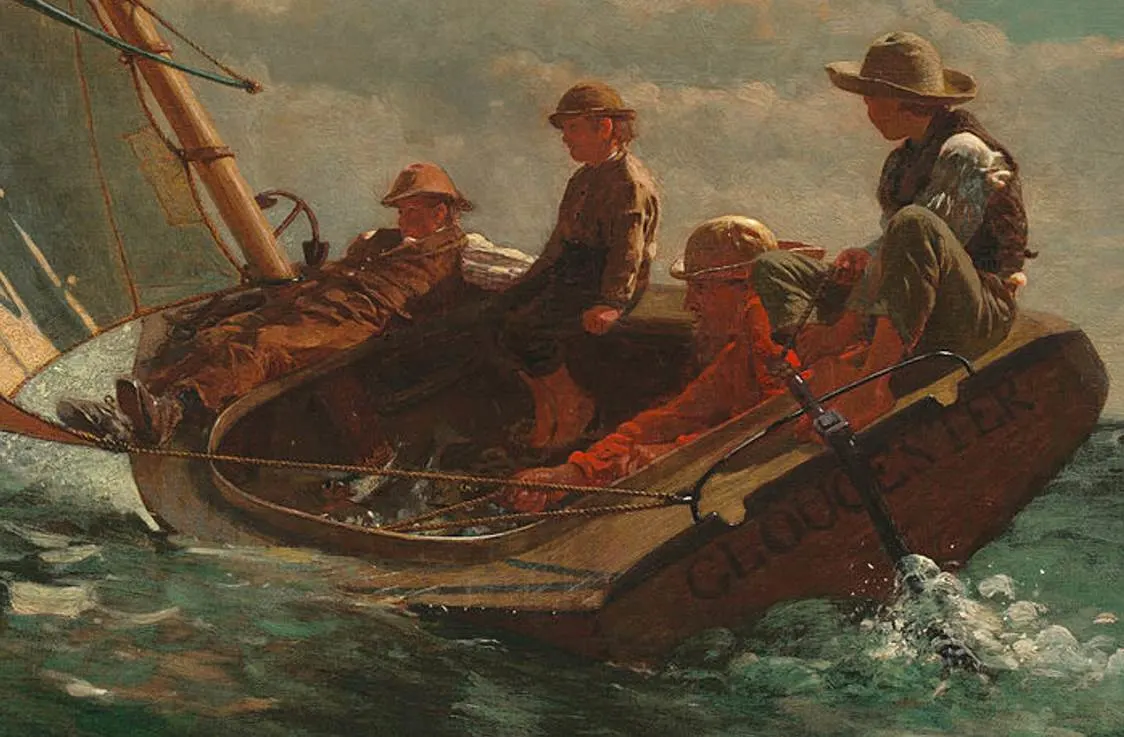 6. The feeling of hope was replaced by pessimism over 2 decades later
Although Breezing Up (A Fair Wind) is considered to be one of the most iconic seascapes in American history, it's far from the only famous one that Homer completed.
He completed another famous painting in 1899 titled "The Gulf Stream," a work that was inspired by Homer's visits to Florida, Cuba, and the Caribbean.
This painting depicts a man in a small boat who finds himself in a very dangerous situation. The mastless boat is floating along while being surrounded by sharks and a hurricane is looming on the horizon.
This painting, which Homer followed up with "After the Hurricane" (1899) and which depicts the man washed up on the beach, is far more gloomy and pessimistic.
If Homer felt nostalgic shortly after the American Civil War, he certainly did in the late 19th century. New York already had a population of over 3.4 million and was quickly growing.
This painting reflects Homer's feelings about the development of the United States in the final decades of the 1800s.
7. How big is Breezing Up (A Fair Wind) by Winslow Homer?
Just because the artist spent 3 ers to complete this iconic work of art doesn't mean that it's huge.
Breezing Up (A Fair Wind) by Winslow Homer is a medium-sized oil on canvas painting that has dimensions of 61.5 × 97 centimeters (24.2 × 38 inches).
8. Where is the painting located today?
The painting was first exhibited at the National Academy of Design followed by the Centennial Exposition in Philadelphia in 1876.
It was purchased from the artist or during an auction (this remains unclear) 1 or 2 years later by an art collector named Charles Stewart Smith (1832-1909).
His son Howard Caswell Smith inherited the painting and sold it to the National Gallery of Art in Washington D.C. in 1943.
As one of the most celebrated paintings in American history, it's one of the greatest attractions in the collection of the NGA!