The life of one of the most renowned American artists in history could have taken a different turn in the 1860s if he had completed his medical education.
Instead, Thomas Eakins (1844-1916) chose to travel to Paris to pursue an art education which he completed between 1866 and 1870.
Unfazed by the ideals of the Impressionist artist who started to emerge around this time, he chose to solely produce Realism paintings.
His interest in photography was the key factor in this decision. He was also a renowned photographer himself and became a pioneer of motion photography.
Born and raised in Phildelphia, he painted a large number of portraits of his friend and family members, as well as important historical figures.
In this article, you'll discover some of the most famous paintings by Thomas Eakins, an important artist in the history of American art.
1. The Gross Clinic
Date created: 1875
Dimensions: 240 × 200 centimeters (76.07 x 78.05 inches)
Location: Philadelphia Museum of Art, Philadelphia, United States
The Gross Clinic is also sometimes referred to as The Clinic of Dr. Gross. This monumental work of art in the oeuvre of Thomas Eakins is one of the most important paintings in American medical history. It depicts Dr. Samuel D. Gross (1805-1884), a pioneer in the field of surgery, who is conducting a class.
This painting was based on a surgery conducted in a so-called surgical theater at Jefferson Medical College in Phildelphia. Eakins was briefly a student here himself in the 1860s and witnessed such a novel procedure firsthand. Gross was a professor at the college when Eakins studied there.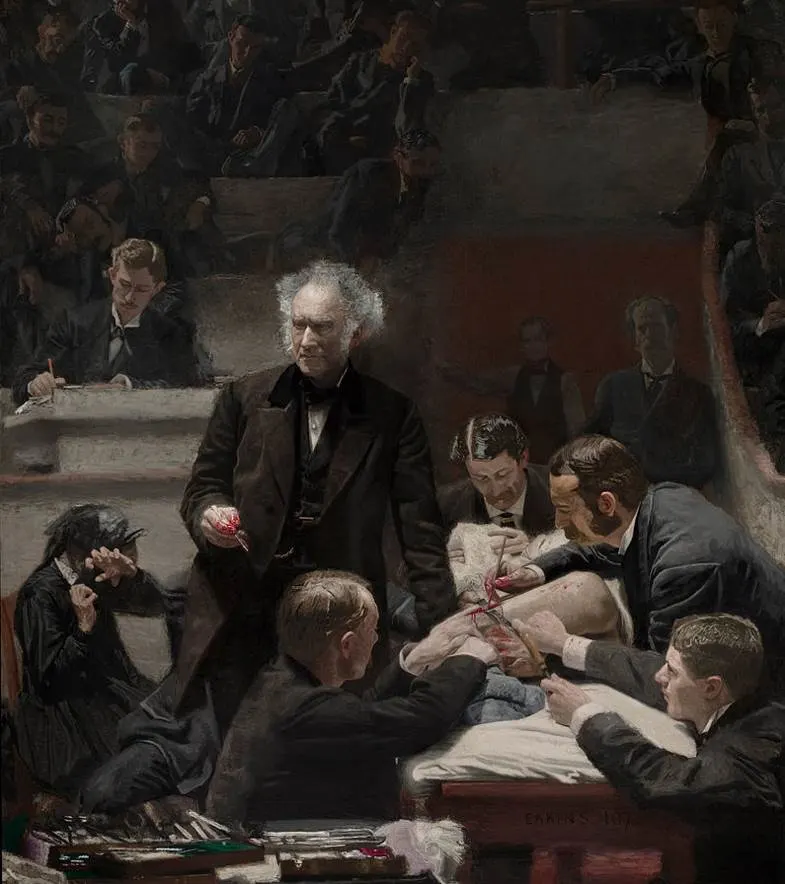 2. The Agnew Clinic
Date created: 1889
Dimensions: 214 × 300 centimeters (84.37 × 118.12 inches)
Location: John Morgan Building, University of Pennsylvania
The Agnew Clinic is a follow-up painting to the Gross Clinic and was painted to commemorate American surgeon David Hayes Agnew (1818-1892). Agnew was a professor at the University of Pennsylvania in Phildelphia and it was commissioned in honor of his retirement.
---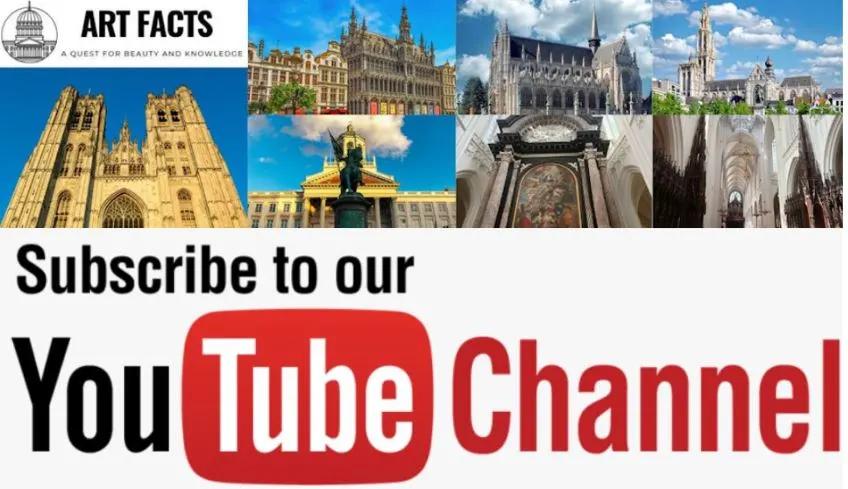 ---
The painting depicts a similar scene during an operation in a surgical theater but we can see the advancements in terms of hygiene. The people performing the surgery and the professor himself wear white coats and there's a nurse present as well. Both works are considered to be the epitome of scientific realism art.
3. The Swimming Hole
Date created: 1884-1885
Dimensions: 70 × 92 centimeters (27.37 × 36.37 inches)
Location: Amon Carter Museum of American Art, Fort Worth, United States
The Swimming Hole is a painting that depicts 6 nude males who are swimming in a lake. The nude male body was an important subject in Thomas Eakins paintings which raised the question of the artist's sexuality. There is little question about the fact that he was attracted to men, despite being married to a woman.
Eakins himself referred to the matter that he found the female naked body to be the second-most beautiful thing on earth next to the nude male body. Regardless of his personal life, The Swimming Hole is considered to be the best depiction of the nude figure in his oeuvre and a masterpiece of American art.
4. Max Schmitt in a Single Scull
Date created: 1871
Dimensions: 82.6 × 117.5 centimeters (32.5 × 46.25 inches)
Location: MET Museum, New York City, United States
Max Schmitt in a Single Scull is also known as "The Champion Single Sculls" and is a painting that depicts a scene on the Schuylkill River in Philadelphia. It was completed to commemorate the victory of Max Schmitt, a close friend of Eakins, in a single sculls competition a year earlier in 1870.
Max Schmitt (1843–1900) and Thomas Eakins attended school together at Philadelphia Central High School. Schmitt was a member of the Pennsylvania Barge Club and he was one of the most successful rowers of his generation.
5. The Concert Singer
Date created: 1890-1892
Dimensions: 191.4 × 138.1 centimeters (75.12 × 54.25 inches)
Location: Philadelphia Museum of Art, Philadelphia, United States
The Concert Singer is a painting that depicts the singer Weda Cook (1867–1937). It's one of the many paintings by Thomas Eakins that depict Philadelphia natives who were prominent members of their respected field. This included singers and surgeons alike.
What's remarkable about this portrait is that it was the first full-length portrait of a woman that Eakins completed. It was one of over 20 artworks (including sculptures) that depict the subject of music. This work highlights Eakins' aim to depict the scene as realistically as possible.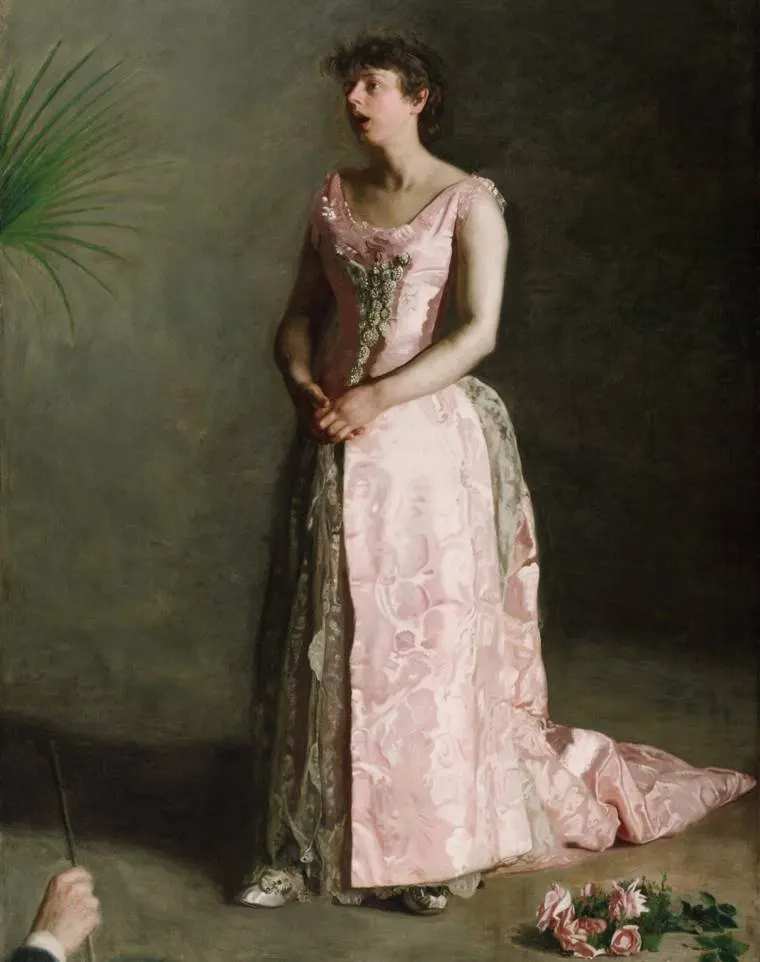 6. Wrestlers
Wrestlers is the title of 3 different artworks of the same subject produced by Thomas Eakins. The finished oil painting and an oil sketch are is part of the collection of the LA County Museum of Art while an unfinished version is part of the collection of the Philadelphia Museum of Art.
He started painting scullers on the Schuylkill River in Philadelphia and later moved on to boxers and wrestlers. He invited two wrestlers over to his studio in 1899 to pose for this painting. He did, however, paint the setting of the now defunct Quaker City Barge Club which was located at Philadelphia's Boathouse Row.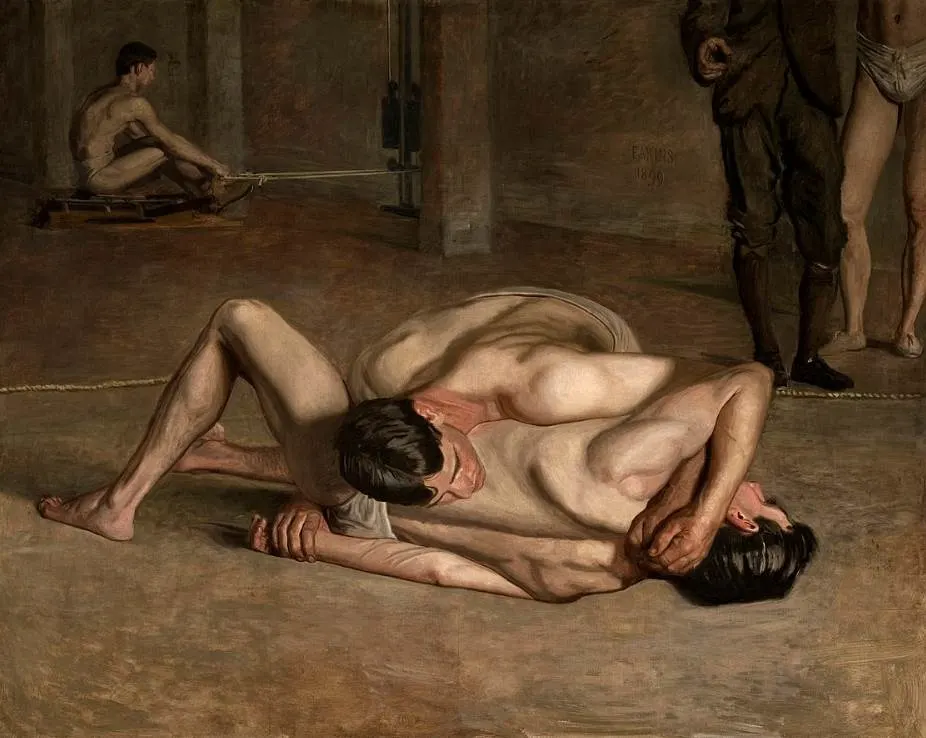 7. Miss Amelia Van Buren
Date created: 1891
Dimensions: 110 × 81 centimeters (45 × 32 inches)
Location: Phillips Collection, Washington D.C., United States
Miss Amelia Van Buren is a portrait of a woman named Amelia Van Buren (1856 – 1942), one of the artists who studied with Eakins and who was described as one of the most talented pupils. This incredible portrait can easily be described as the most beautiful portrait that he ever completed.
Amelia studied with Eakins at the Pennsylvania Academy of the Fine Arts in 1884 and 1885. She was originally from Detroit and although little is known about her life, she was definitely one of the favorite students of Eakins and often visited him at his home.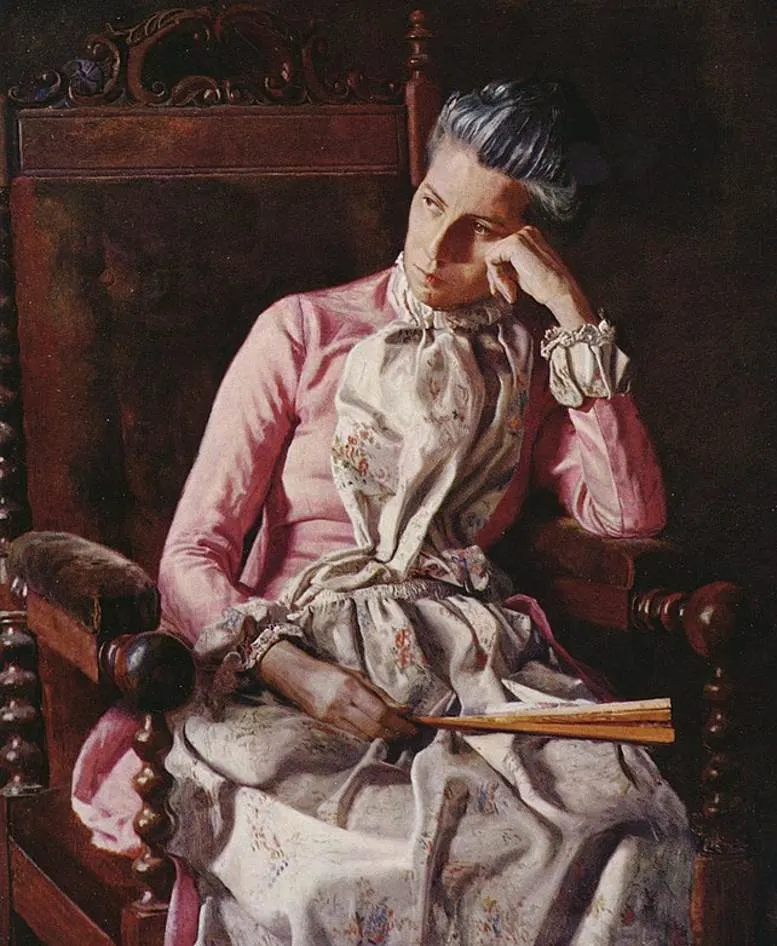 8. Salutat
Date created: 1898
Dimensions: 126.4 × 101.0 centimeters (49.75 × 39.75 inches)
Location: Addison Gallery of American Art, Andover, Massachusetts, United States
Salutat is one of several paintings by Thomas Eakins that depict the subject of boxing. This particular work shows the winning boxer who is waving to the crowd after the match. Like most of Eakins' works, this scene was inspired by a real boxing match that took place in 1898.
Just like the wrestlers, he had boxers pose for him to complete these paintings. The boxer depicted in this painting was a featherweight fighter called Billy "Turkey Point" Smith, a man who fought over 100 matches in a decade-long career. He was also the model of another painting titled "Between Rounds" which was completed a year later in 1899.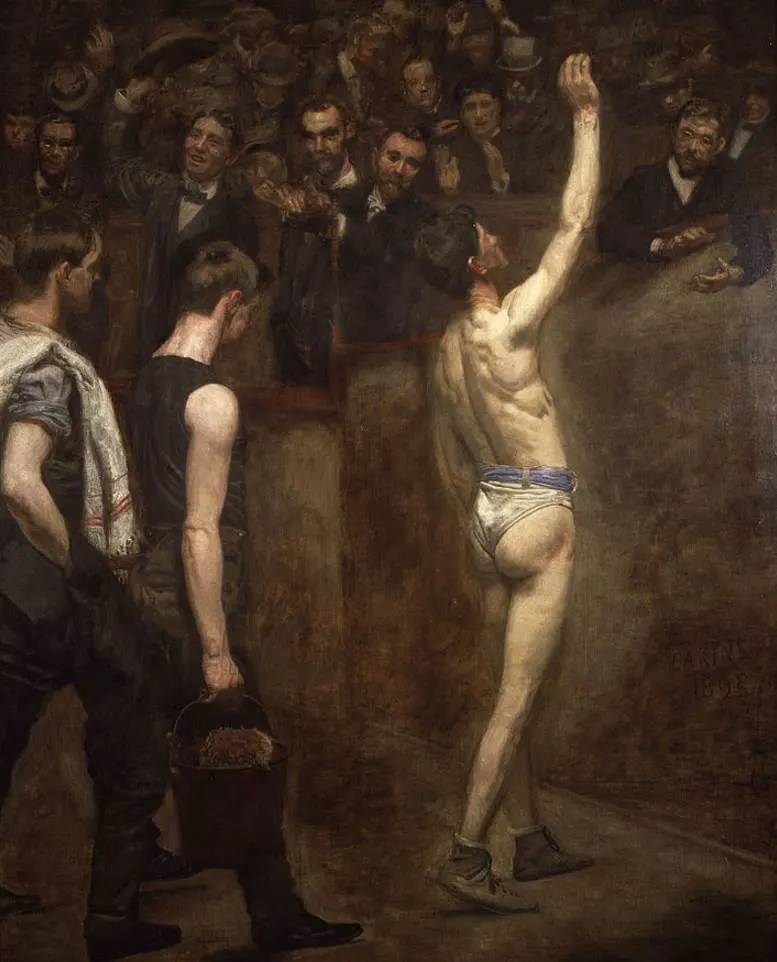 9. The Biglin Brothers Racing
Date created: 1872
Dimensions: 61.2 x 91.6 centimeters (24 x 36 inches)
Location: National Gallery of Art, Washington D.C., United States
The Biglin Brothers Racing is another painting from the first phase of Eakins' career which depicts rowers. Eakins enjoyed the sport himself as well which is why he painted several works on this subject. Rowing was a very popular sport in the United States in the 1860s and 1870s.
The dense composition of this remarkable work of art is what makes this a unique painting in Eakins' oeuvre. It depicts a race at the Schuylkill River in Philadelphia in the early 1870s, an event that was attended by thousands of spectators. John and Barney Biglin eventually ended up winning this race.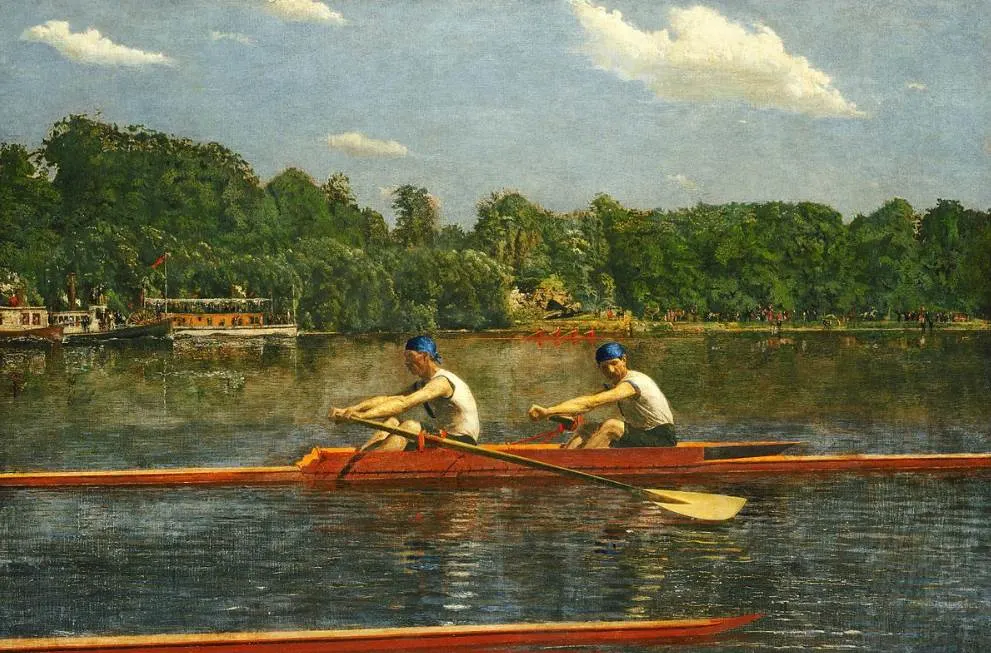 10. The Writing Master
Date created: 1882
Dimensions: 76.2 x 87 centimeters (30 x 34.2 inches)
Location: MET Museum, New York City, United States
The Writing Master is a work that depicts the artist's father, Benjamin Eakins (1818-1899), a professional calligrapher. He was a teacher of penmanship at Friends' Central School in Philadelphia and he likely was the first who taught his young son how to draw.
In that sense, this painting can be described as an ode to his father who not only encouraged his son to develop his artistic talent but also by providing financial security due to smart investments. This realistic painting depicts the aging man who is copying a document using the traditional copperplate script.