When this French artist was experimenting to find his artistic identity, he changed the course of art history indefinitely.
Henri Matisse (1869-1954) was one of the leading figures of the Fauves, a group of Avant-Garde artists who were active for a few years in the first decade of the 20th century.
The impact their revolutionary style had on the world of art was immense, and Matisse's paintings during this period were at the center of it.
In this article, you'll discover some of the most interesting facts about Woman with a Hat by Henri Matisse, an influential Fauvism painting for several reasons.
1. It was painted at the start of the movement in the early 20th century
Henri Matisse grew up in the Picardie region of northern France and studied law in Paris. He worked for several years as a court administrator during his twenties.
He didn't really pick up his brushes until 1889, a year that marked his thirties birthday. He decided to become an artist, something that didn't go over too well with his father.
He initially studied at the Académie Julian under William-Adolphe Bouguereau (1825-1905) in 1891, a staunch traditionalist who he rebelled against.
He continued his studies at the École Nationale des Beaux-Arts in Paris and although he learned the main techniques, he never found his true artistic purpose during the 1890s.
He was introduced to Post-Impressionist paintings and the oeuvre of Vincent van Gogh in 1896 and was fascinated by his use of color.
---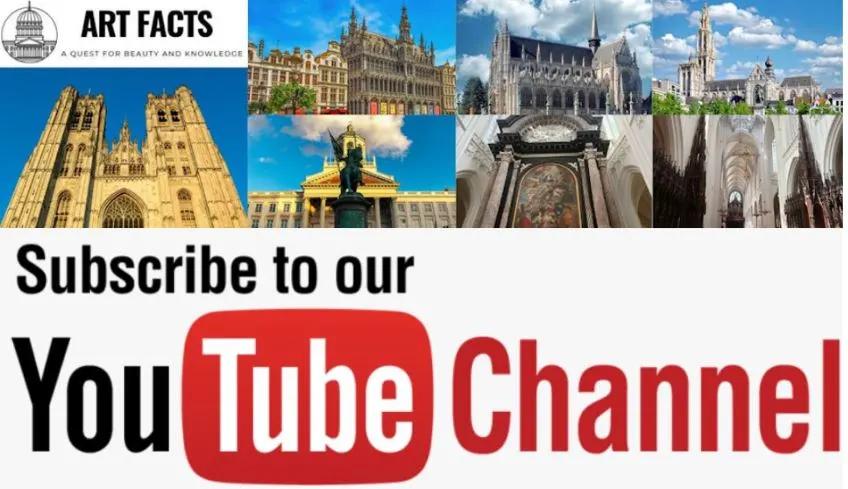 ---
Matisse completed Woman with a Hat in 1905, a period in which he was clearly developing his distinctive colorful style.
2. It depicts the wife of Henri Matisse, Amélie Noellie Parayre
The original title of the painting was "La femme au chapeau" and this translates to "The Woman with the Hat."
It's a colorful hat worn by the artist's wife Amélie Noellie Parayre (1872-1958), a woman whom he had married 7 years earlier in 1898.
She often features as a model in his paintings, including the other famous work he completed that year titled "The Green Line", or "Portrait of Madame Matisse."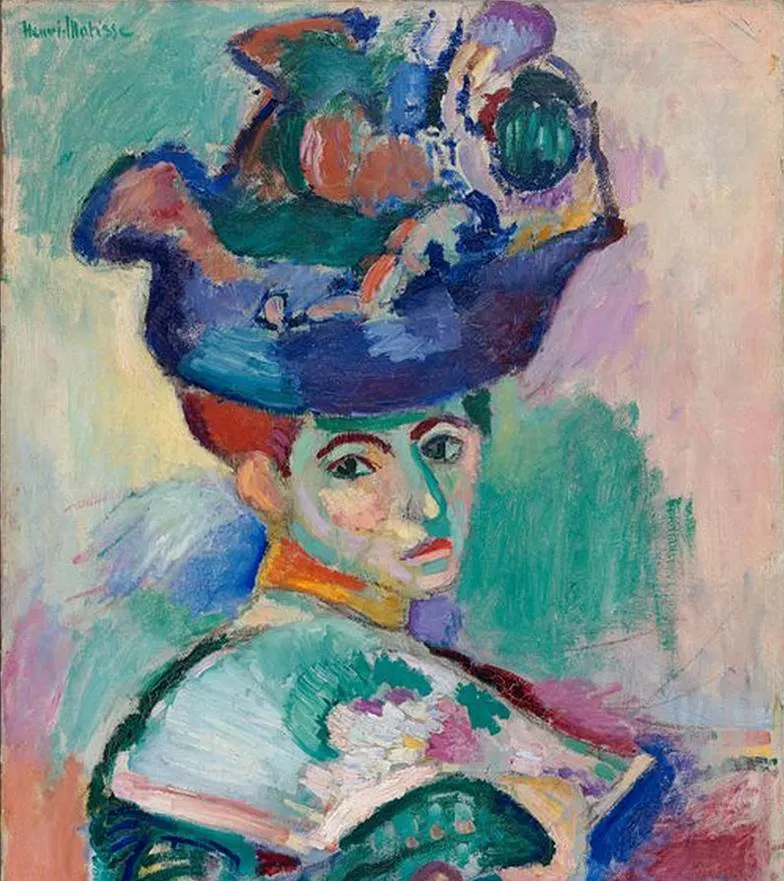 3. It marked a transition in the artist's style during these pivotal years
The early years of the 20th century were a difficult period for Matisse because he was experimenting heavily with different types of painting techniques.
He was fascinated by the Pointillist technique devised by Georges Seurat (1858-1859) in the early 1880s and produced several works in this style.
Luxe, Calme, et Volupté (1904) is one of his most famous Divisionist works and was completed a year earlier in 1904. It clearly shows Matisse's interest in color theory.
Unlike Paul Signac (1863-1935) who continued to produce Pointillist paintings, it didn't stick and he developed a freer style of painting of which Woman with a Hat was one of the earliest examples.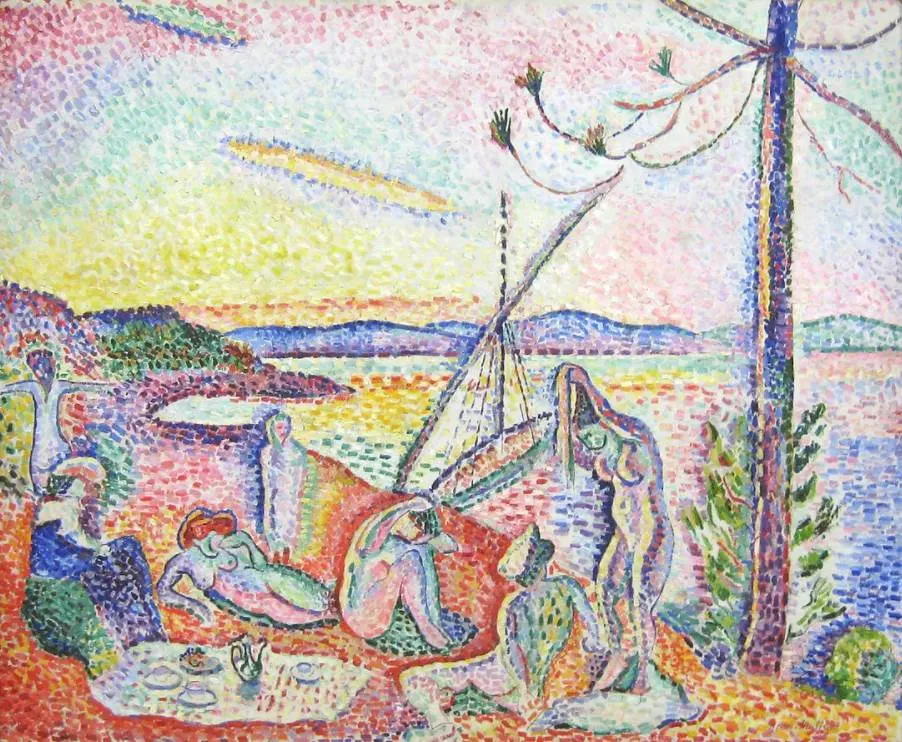 4. The painting was heavily criticized when it was first displayed in 1905
The painting was exhibited for the first time at the Salon d'Automne of 1903, an annual exhibition that still exists today and was first held in 1903.
It was displayed together with several other works of what became the Fauves and like many other Fauvism paintings, was heavily criticized.
The loose brushstrokes in combination with the unnatural colors weren't things that many art critics could swallow at the time. One even wrote:
A pot of paint has been flung in the face of the public.
5. Donatello and this work were the reasons why the group got its name
The Salon d'Automne was a massive event right from the start which means that the Fauves were far from the only artists who had works exhibited there.
A sculpture by Donatello was exhibited in the same room which led art critic Louis Vauxcelles to make the famous comment "Donatello with the Fauves."
This translates to "Donatello with the Wild Beasts" and it became the reason why the group was referred to as such subsequently. This followed a publication of this comment in a magazine called Gil Blas on October 17, 1905.
Probably the true reason why Vauxcelles referred to them as Les Fauves is that the paintings hung near a jungle painting by Henri Rousseau (1844-1910) titled "The Hungry Lion Throws Itself on the Antelope."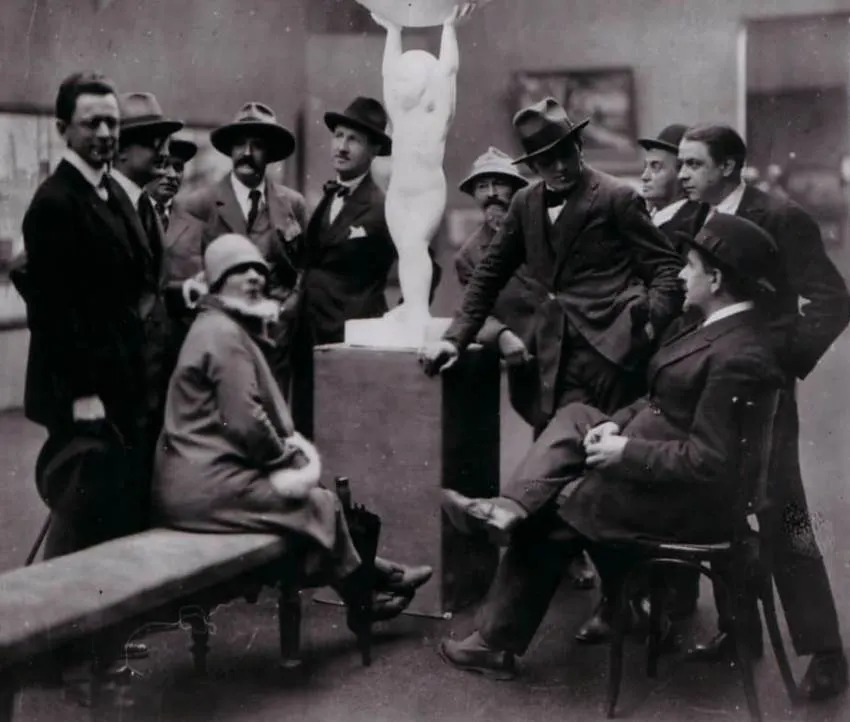 6. The painting was bought for a handsome amount by American art collectors
The heavy criticism didn't do much good for Matisse who was feeling quite depressed after the event. After all, he ditched a promising career in law to become an artist not too long before.
This all changed when American art collectors Gertrude and Leo Stein came across Matisse's work and paid 500 francs for it.
Whether or not it was actually Gertrude or Sarah Stein, the wife of Leo's older brother Michael, remains up for debate.
What's certain is that It did, however, move to California as it decorated Sarah and Michale's home in Palo Alto for an extended period of time.
7. How big is Woman with a Hat by Henri Matisse?
Although Matisse produced several monumental works of art during his long career, this one is a rather intimate portrait of his wife Amélie.
Woman with a Hat by Henri Matisse is a medium-sized oil on canvas painting that has dimensions of 80.65 × 59.69 centimeters (31.75 × 23.5 inches).
8. Where is the painting located today?
By the 1950s, the painting that was once bought for just 500 francs had become a very valuable work of art.
After all, by then Matisse was already considered to be one of the most influential artists of the 20th century.
It was purchased by the American billionaire Walter A. Haas (1889-1979) during the 1950s and eventually bequeathed to the San Francisco Museum of Modern Art by his Wife Elise S. Haas in 1991.
Today, the painting is still one of the major attractions at the SFMOMA just northeast of Yerba Buena Gardens in downtown San Francisco.