This museum in Buffalo developed a remarkable style of collecting paintings that allow you to admire key works of several important art movements.
Founded as the Albright–Knox Art Gallery, this museum is owned by the Buffalo Fine Arts Academy, This public arts institution was founded in 1862 which makes it the oldest of its kind in the United States.
It became the Buffalo AKG Art Museum after redevelopment and is scheduled to open in the first half of 2023. The final expansion phase was initiated in 2014 and cost $125 million
The museum has a history that goes back to a donation in 1900 by rich philanthropist John J. Albright (1848-1931). A Beaux-Arts building was constructed in the early 20th century and it opened as the Albright Art Gallery in 1905.
The academy received another donation in 1962 from another philanthropist from Buffalo named Seymour H. Knox, Jr. (1898-1990) and was subsequently expanded and renamed Albright–Knox Art Gallery.
The collection features over 6,470 artworks and in this article, you'll discover some of the most famous paintings at the Buffalo AKG Art Museum.
1. The Yellow Christ – Paul Gauguin
Date created: 1889
Dimensions: 91.1 cm × 73.4 centimeters (35.9 × 28.9 inches)
The Yellow Christ is a painting by Paul Gauguin (1848-1903), the French artist who became disgruntled with Western society so he moved to French Polynesia during the final period of his life. He completed this painting while staying on an extended trip to Pont-Aven, a small village in the Brittany region of France.
The Post-Impressionist artist became inspired when he saw a wooden crucifix sculpture hanging in a chapel in the village. He included the dominating yellow colors in this work as a sign of respect for the peasants who lived a harsh life in this rural part of northwestern France.
2. Cupid as Link Boy – Joshua Reynolds
Date created: 1774
Dimensions: 76.2 x 63.5 centimeters (30 x 25 inches)
Cupid as Link Boy is a painting by Joshua Reynolds (1723-1792), the renowned English artist who was one of the driving factors in the establishment of the Royal Academy. This work is an allegorical representation of a so-called "Link Boy" on the streets of London.
---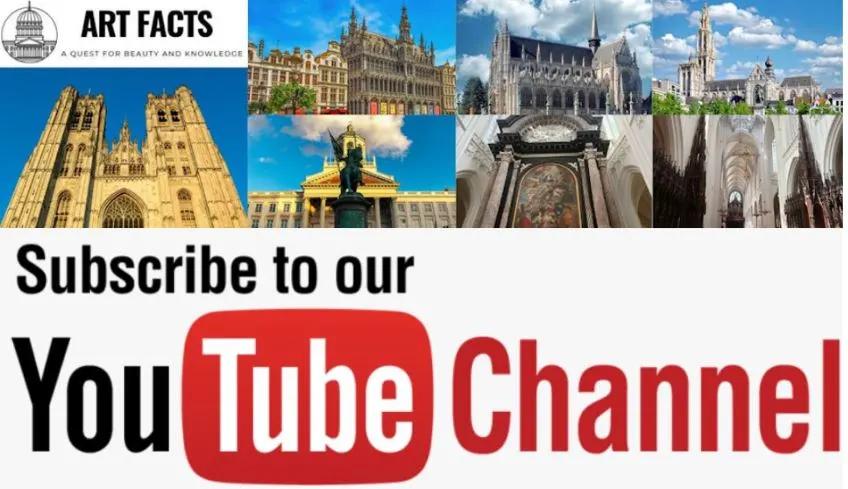 ---
What initially appears to be an admirable painting of a little boy depicts a child laborer. Link boys were paid a very small fee to light the street of London using a torch. These were the days before street lights illuminated the city and it was not uncommon for these boys to fall victim to abuse during the wee hours of the day.
3. The Lady's Last Stake – William Hogarth
Date created: 1759
Dimensions: 91.4 × 105.4 centimeters (36 × 41.5 inches)
The Lady's Last Stake is a painting by 18th-century English artist William Hogarth (1697-1774), a man known for both his portraits and cartoonish engravings. This work depicts the moment when a lady has to choose between financial improvements of moral decay.
The man and woman had been gambling and the man had been winning. He makes a final offer to either play one more game of cards or to become his lover. Some symbols in the painting presume that she remains faithful. A small dog hiding under the table is a symbol of faithfulness and a painting of the Penitent Magdalene hangs above the fireplace.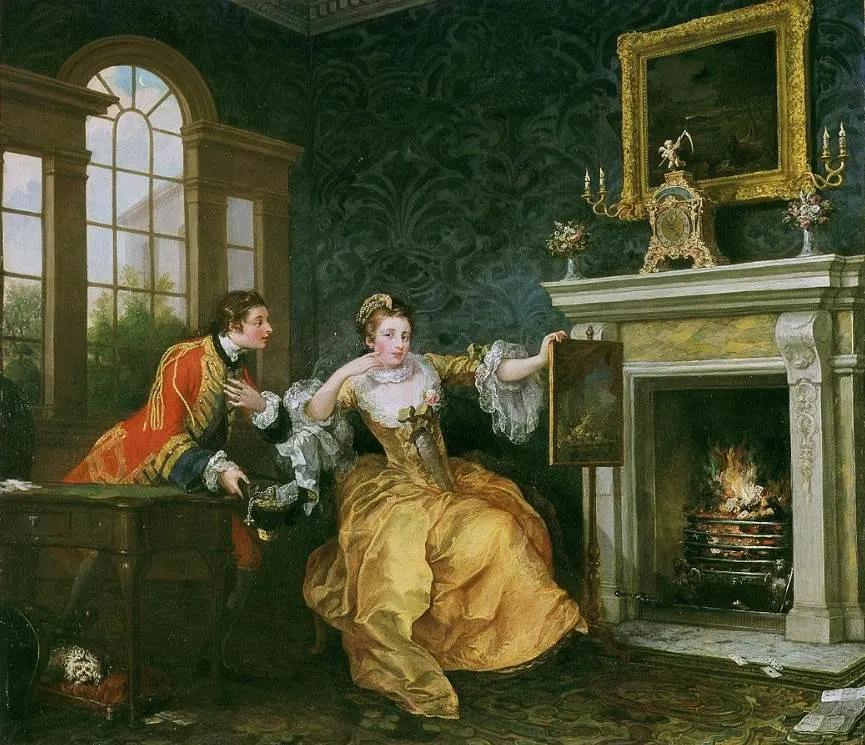 4. Portrait of Jacques-François Desmaisons – Jacques-Louis David
Date created: 1782
Dimensions: 92 x 72 centimeters (36.2 x 28.3 inches)
The Portrait of Jacques-François Desmaisons is a painting by Jacques-Louis David (1748-1825), the French Neoclassical artist who was one of the leading painters of his generation. This painting depicts Jacques-François Desmaisons (1720–1789 an architect and one of David's uncles.
The artist lost his father at the age of nine and was raised by both Desmaisons and his other uncle François Buron (1731–1818). Both were architects and although they pushed the young David to follow in their footsteps, his talent for drawing led him to a successful career as a painter.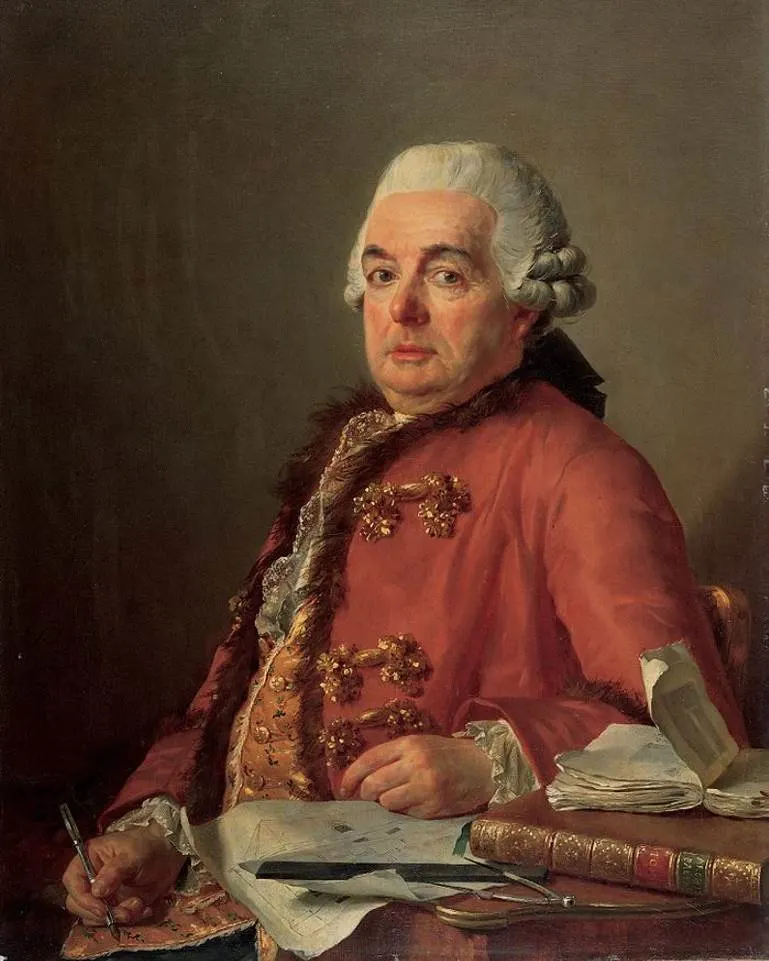 5. Croquet Players – Winslow Homer
Date created: 1865
Dimensions: 40.6 x 66 centimeters (16 x 26 inches)
Croquet Players is the title of one of five different paintings by Winslow Homer (1836-1910) that depict the subject of croquet. This was the first of the five works that he completed between 1865 and 1870, the first five years after the conclusion of the American Civil War.
The American artist often traveled to the American countryside to paint the landscape and people living there. This was a period of fast urbanization and his paintings bring back a sense of nostalgia for the previous era. Homer also used this setting to depict the latest fashion of the 1860s as the game is being played by finely dressed men and women.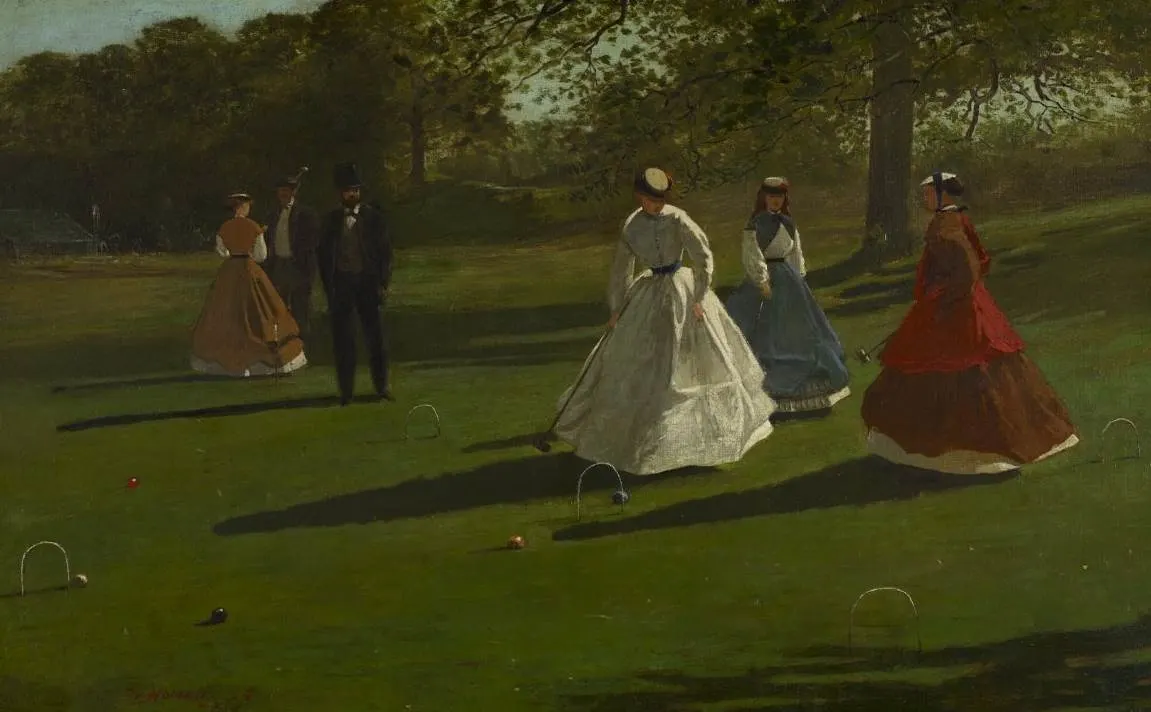 6. The Old Mill – Vincent van Gogh
Date created: 1888
Dimensions: 64.8 x 54 centimeters (25.5 x 21.2 inches)
The Old Mill is a painting by Vincent van Gogh (1853-1890) that is also known as "La Maison de La Crau." It was completed in September 1888, a period when he lived in the town of Arles in southern France. The enjoyable climate and vibrant colors of this provincial town surely inspired the Dutch Master.
It was one of his most prolific periods in which he produced over 200 paintings, including this work depicting an old mill. It's a clear example of the distinctive style he used when producing his Post-Impressionist paintings. The brushstrokes are visible and the unrealistic angles turn it into a vibrating work of art.
7. Music – Thomas Eakins
Date created: 1904
Dimensions: 100.9 x 26.3 centimeters (39.7 x 10.3 inches)
Music is the title of a painting by Thomas Eakins (1844-1916), an American Realism painter who is considered to be one of the most influential artists of his generation. Some even claim he is one of the most important artists in American history.
That's mainly because he painted many important works depicting scientific advancements, especially in the field of surgery. The Gross Clinic (1875) depicting Dr. Samuel D. Gross during surgery is a great example of this. This painting depicts a violinist and was completed during the final phase of his career, a time when he had dedicated himself to photography.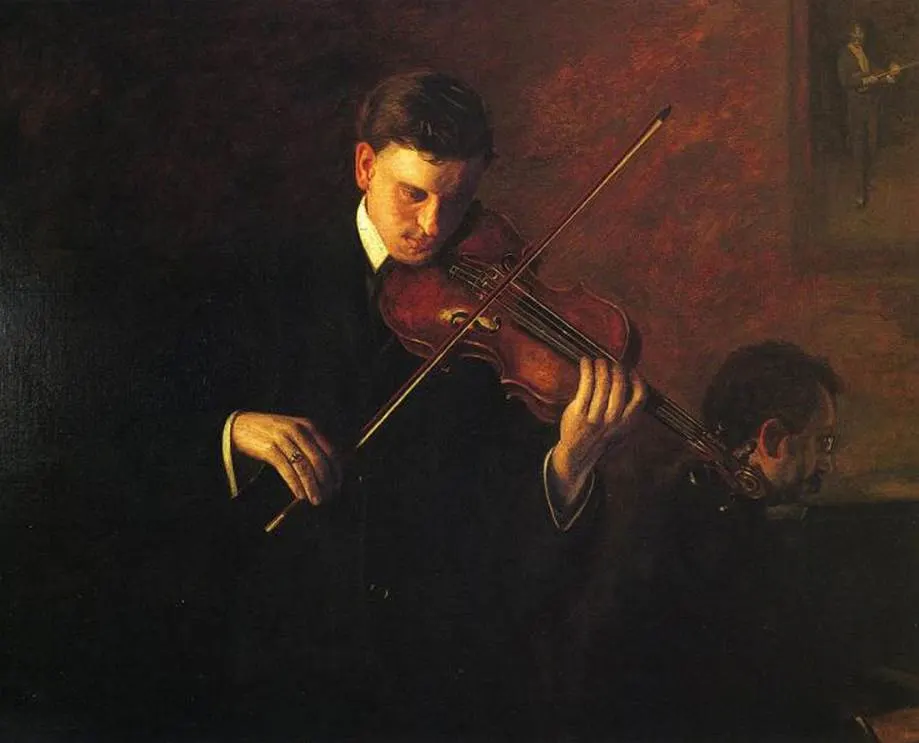 8. Spirit of the Dead Watching – Paul Gauguin
Date created: 1892
Dimensions: 116.05 × 134.62 centimeters (45.6 × 53 inches)
Spirit of the Dead Watching is another remarkable painting by Paul Gauguin, the French artist who moved to Tahiti and spent quite a bit of time in French Polynesia. It depicts a naked Tahitian girl who is lying on her stomach with the ghost of an old woman behind her.
The original title of the painting was "Manao tupapau" which Gauguin translated to "Think of the Ghost, or, The Spirits of the Dead are Watching." This means that the meaning of the painting could either be that the young girl is dreaming of the ghost or the ghost of the young girl.
9. Dancer in a Café – Jean Metzinger
Date created: 1912
Dimensions: 146.1 x 114.3 centimeters (57.5 × 45 inches)
Dancer in a Café or "Danseuse au café" is a painting by Jean Metzinger (1883-1956), a French artist and art theoretician. He was one of the leading Cubist artists of the early 20th century, an art movement that permanently changed the course of modern art.
Metzinger's Cubist painting was displayed at the Salon d'Automne of 1912 in Paris and it caused quite a bit of a stir. The criticism went so far as that a debate was started at the Municipal Council of Paris. The discussion revolved around whether or not the city should continue to "provide funds for this barbaric art."
10. Man in a Hammock – Albert Gleizes
Date created: 1913
Dimensions: 130 × 155.5 centimeters (51.2 × 61.2 inches)
Man in a Hammock is a painting by Albert Gleizes (1881-1953), another important French artist who helped to develop the Cubist style of painting. Gleizes produced this work to explain the principle of mobile perspective that was mentioned in "Du Cubisme."
This Cubist manifesto was written by both Jean Metzinger and Albert Gleizes. It's assumed that the man lying in the hammock is his colleague Metzinger. Both Dancer in a Café and Man in a Hammock are important paintings in the history of modern art that can be admired at the Buffalo AKG Art Museum.