There are plenty of examples of artists who never managed to be appreciated during their lifetime. This French artist is another great example of this.
Paul Gauguin (1848-1903) never truly focused on his art until after he got married in 1773. Unfortunately, his new passion resulted in divorce over a decade later.
Disgruntled by Western society, he traveled around the world and eventually settled in French Polynesia. Here he produced some of his most famous paintings.
Gauguin was initially influenced by the Impressionist artists of the 1870s but later developed his unique style that is now referred to as "Cloisonnism."
The name of this style of Post-Impressionism was derived from the word "Cloisonné," a technique to decorate metalwork. It revolved around producing flat forms that are separated from each other by darker edges.
Today, the French painter is considered to be one of the most notable Post-Impressionist artists of the late 19th century.
Let's take a closer look at some of the most famous paintings by Paul Gauguin so you can discover his fascinating technique
1. Where Do We Come From? What Are We? Where Are We Going?
Date created: 1898
Dimensions: 139 × 375 centimeters (55 × 148 inches)
Location: Museum of Fine Arts, Boston, United States
Where Do We Come From? What Are We? Where Are We Going? is the title of a monumental painting by Paul Gauguin. It's his most ambiguous work that depicts the circle of life from the perspective of Tahitian women. He included this title in the top left corner of the work.
The artist produced this painting while he was living in French Polynesia and when he was going through several personal struggles. The central part depicts a woman picking an apple similar to Eve. The group of women on the right represents motherhood and the old woman on the left represents old age.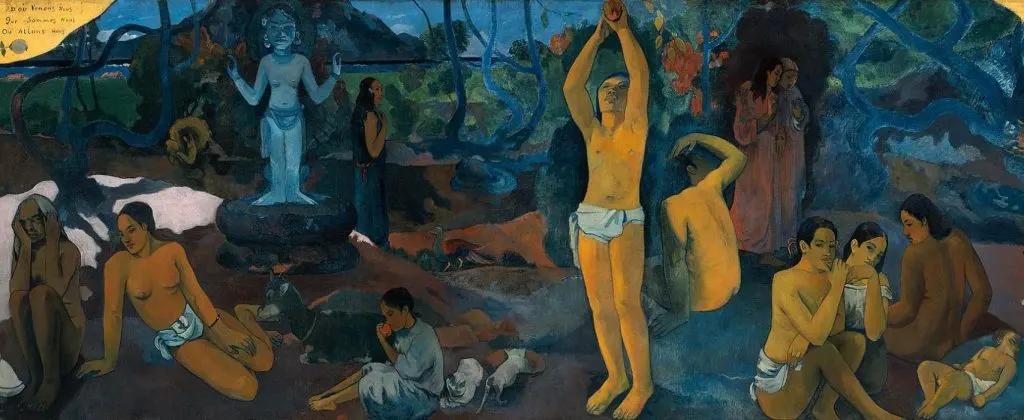 2. The Yellow Christ
---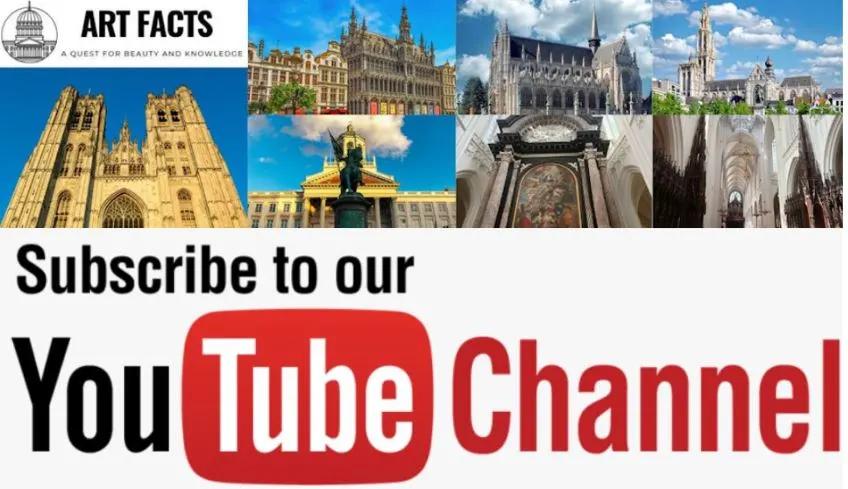 ---
The Yellow Christ is a painting that Gauguin completed during an extended stay in Pont-Aven, a small town in the Brittany region of France. This town had become an artistic colony and here he met a large number of young aspiring artists during his visits between 1886 and 1889.
Gauguin became inspired by a wooden 17th-century crucifix that he had seen in a chapel in the town. The yellow landscape in this work is a token of appreciation for the local peasants who lived a difficult life. We can see some women praying the Angelus during the harvesting season, an important time of the year for local farmers.
3. Day of the God
Date created: 1894
Dimensions: 68 × 91 centimeters (27 × 36 inches)
Location: Art Institute of Chicago, Chicago, United States
Day of the God is a painting that the French artist completed while he was sailing back home to his native France after his first stay in Tahiti. That's why this dreamy landscape was painted from his imagination rather than an accurate depiction of the island.
The central part of the painting is dominated by a carved statue of the goddess Hina. Multiple natives can be seen bringing offers to the statue while others dance a traditional dance called the "upaupa." The three women in the foreground possibly depict the cycle of birth, life, and death.
4. Nevermore
Date created: 1897
Dimensions: 96 x 130 centimeters (38 × 51 inches)
Location: Courtauld Gallery, London, United Kingdom
Nevermore is a painting that was completed around the same time that he painted his monumental circle of life. It depicts one of the struggles that he was facing. We can see the naked Tahitian wife of Gauguin, a girl named Pahura, who is grieving the loss of her first child with the artist.
The word Nevermore was added to the top left corner of this work and is a reference to the famous poem by Edgar Allen Poe titled "The Raven." In this poem, a raven visits a mourning student and he answered "Nevermore" to every question that he asks. Gauguin referred to the bird as "a bird of the devil who watches."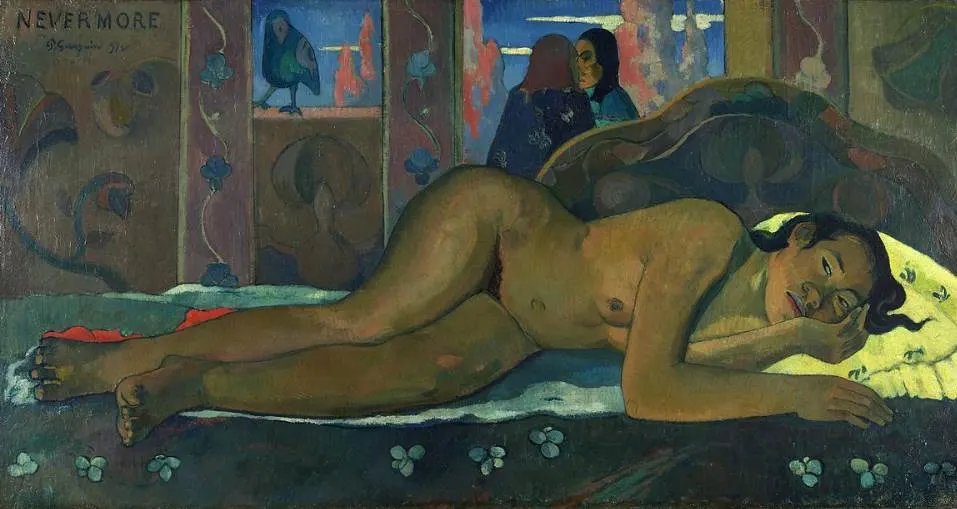 5. Tahitian Women on the Beach
Date created: 1891
Dimensions: 69 × 91 centimeters (27.2 × 35.8 inches)
Location: Musée d'Orsay, Paris, France
Tahitian Women on the Beach is one of many paintings by Paul Gauguin that focus on women in French Polynesia. Here we can see two women who are wearing traditional Tahitian clothes while they are sitting on the beach.
Gauguin produced another version that has the same composition but which is slightly brighter than this one. The other version was completed in 1892 and is part of the collection of the Galerie Neue Meister in Dresden, Germany.
6. Vision After the Sermon
Date created: 1888
Dimensions: 72.2 × 91 centimeters (28.4 × 35.8 inches)
Location: Scottish National Gallery, Edinburgh, Scotland
Vision After the Sermon is one of the most puzzling paintings by Paul Gauguin. It depicts a Biblical scene in which Jacob wrestles an angel, a story described in Genesis. The left side of the painting depicts a group of women who leave the church after a sermon.
What's remarkable about this painting is that the Biblical story is reflected as a vision to the women. It was painted while the artist was staying in Pont-Aven, a period when he grew significantly annoyed by Western society and shortly before the left for French Polynesia.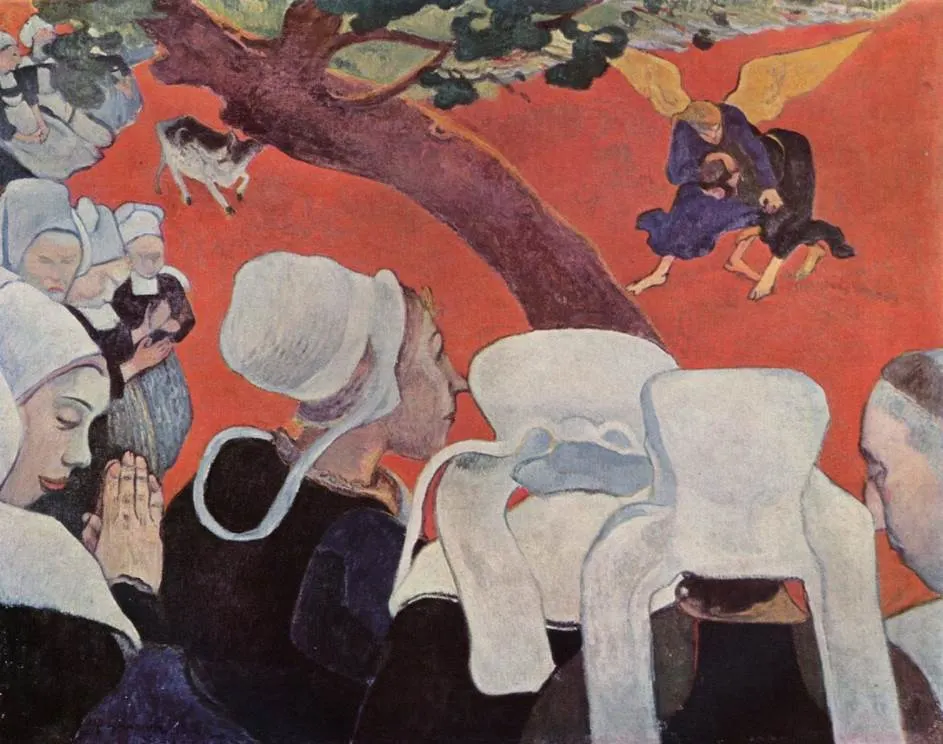 7. The Painter of Sunflowers
Date created: 1888
Dimensions: 73 × 91 centimeters (28.7 × 35.8 inches)
Location: Van Gogh Museum, Amsterdam, Netherlands
The Painter of Sunflowers is a work that depicts Vincent van Gogh (1853-1890), the famous Dutch artist with whom Paul Gauguin spent two months in late 1888 in Arles. We can see Vincent producing one of his masterpieces titled "Sunflowers," one of many paintings he completed on this subject.
The meeting started well because Vincent had decorated the Yellow House where both men's stayed with lovely paintings, including his Sunflower series. It ended in tragedy as both men quarreled frequently and Vincent cut off part of his left ear following a mental breakdown.
8. Hail Mary
Date created: 1891
Dimensions: 114 × 88 centimeters (45 × 35 inches)
Location: MET Museum, New York City, United States
Hail Mary or Ia Orana Maria is a painting that Gauguin completed in 1891. It was one of the first paintings he produced after he arrived in Tahiti. It depicts a group of women who are worshipping the Madonna and her child Jesus Christ, both depicted as native Tahitians.
The composition of this painting is extremely colorful. The artist made a sketch later while he was back in Paris in 1892 which highlights the main figures in this work. The two women who salute the Virgin Mary were based on savings from the Javanese temple at Borobudur in Indonesia.
9. Two Tahitian Women
Date created: 1899
Dimensions: 94 × 72 centimeters (37 × 28.5 inches)
Location: MET Museum, New York City, United States
Two Tahitian Women is a painting that depicts two topless Tahitian women. The woman on the right can be seen carrying a mango blossom which refers to the traditional representation of women's breasts as flowers.
These women were the model of two other paintings by the artist as well titled "Faa Iheihe" (Tahitian Pastoral) (1898) and "Rupe, Rupe" (1899). Gauguin often included a sexual undermine in his works and the inviting eyes of these women are a great example of this.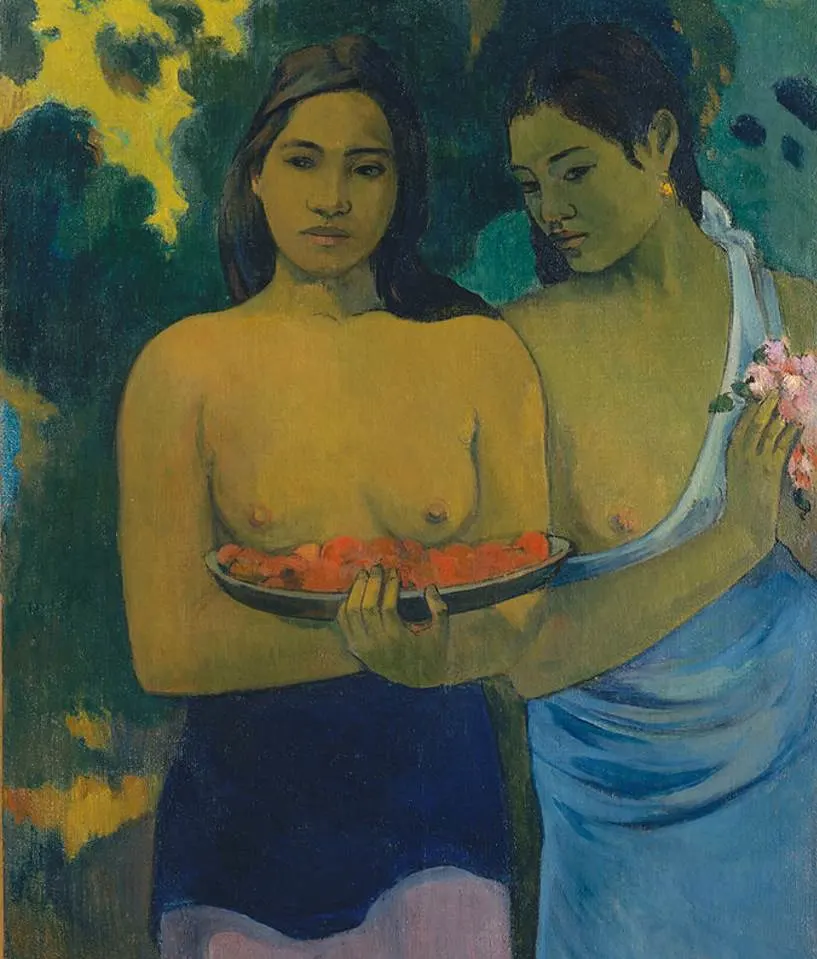 10. Self-Portrait with Halo and Snake
Date created: 1889
Dimensions: 79 × 51 centimeters (31.2 × 20.2 inches)
Location: National Gallery of Art, Washington, D.C., United States
Self-Portrait with Halo and Snake is an oil-on-wood painting that Gauguin completed shortly after he had moved from Pont-Aven to the small fishing village of Le Pouldu in the Brittany region of northwest France. He lived here between late 1888 and the Summer of 1889.
This painting emphasizes why Gauguin is sometimes referred to as a Symbolist artist. It's full of religious symbols such as a halo above his head, apples hanging right next to him, and a snake. It's one of over 40 self-portraits that the artist completed during his career.