If the family of this French artist had been a bit better off, he might have become a popular singer instead of a painter.
Pierre-Auguste Renoir (1841-1919) never gave up his other passion and he became one of the most celebrated Impressionist artists of the late 19th and early 20th centuries.
Many of his Impressionist paintings are defining works of art of this revolutionary art movement, including this one.
Let's take a closer look at some of the most interesting facts about Pink and Blue, one of Renoir's ultimate masterpieces.
1. It was completed shortly after Renoir got his artistic breakthrough
Pierre-Auguste Renoir was working in a porcelain factory as a teenager because his family had a hard time making ends meet.
This stood in the way of a promising singing career, and when the factory decided to automate the processes in 1858, he returned to his art.
He met Claude Monet (1840-1926), Édouard Manet (1832-1883), and Camille Pissarro (1830-1903) in the 1860s, and these men's paintings had a profound impact on Renoir's style.
Unfortunately, the Impressionists were initially ridiculed but this gradually changed in the 1870s. The group started exhibiting their works and the younger generation appreciated this new style.
By the late 1870s, Renoir was also such a versatile and respected artist that he earned commissions for portraits from rich patrons.
---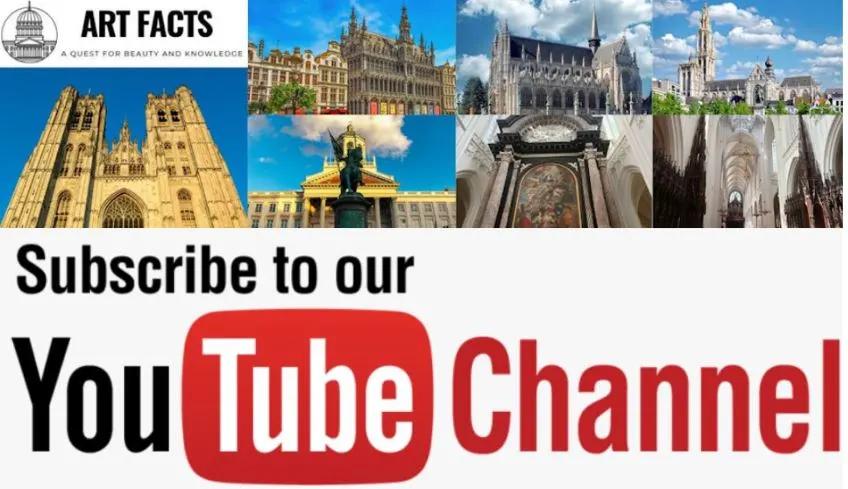 ---
He completed Pink and Blue in 1881, shortly after he got his artistic breakthrough after years of struggling.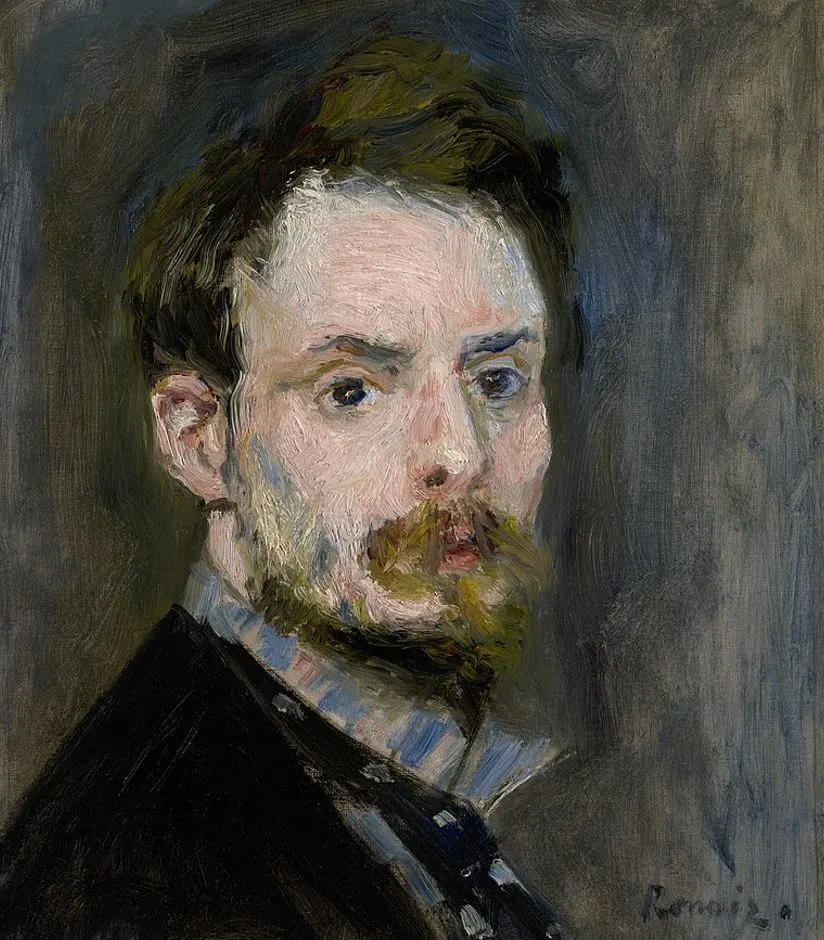 2. It depicts two sisters who were the daughters of a rich Jewish banker
The two girls in the painting are Alice (left) and Elisabeth, the daughters of Count Louis Raphaël Cahen d'Anvers (1837-1922) and his wife Louise de Morpurgo (1845-1926).
Alice Cahen d'Anvers (1876–1965), the girl in Pink, was 5 years old at the time, and Elisabeth Cahen d'Anvers (1874-1944), the girl in blue was 6 years old.
The lovely dresses that these adorable girls wear allowed the painterly style of Pierre-Auguste Renoir to shine.
3. The man who commissioned the work was one of Renoir's richest patrons
Count Louis Raphaël Cahen d'Anvers was a Jewish banker who was the son of two wealthy Jewish banking families.
His wife, Louise de Morpurgo was of Sephardi Jewish descent and her family came from Trieste in Italy. Louise was from a very wealthy family as well.
The fact that Renoir managed to earn commissions from these types of people emphasizes that he was already a very well-respected painter at the time.
Granted, the Jewish Count and his wife were definitely the wealthiest individuals for whom he ever painted portraits.
4. The artist had already painted the couple's oldest daughter a year earlier
Pink ad Blue wasn't the only commission that Renoir earned from the family in the early 1880s. he already completed a painting titled "Little Irène" in 1880.
This work depicts the Irène Cahen d'Anvers (1872 -1963), the oldest daughter of the family who was approximately 8 years old at the time.
Renoir was paid the hefty sum of 1,500 francs for this work but had to scramble to get it.
For an unknown reason, Louis didn't like this painting and he hung it in the servants' quarters and didn't pay Renoir until he completed the other portraits.
The portrait of Irène Cahen d'Anvers is on display at the Foundation E.G. Bührle in Zürich, Switzerland.
5. There's a good reason why the two youngest sisters were painted together
The adorable little sisters are wearing their finest dresses but somehow appear to be uncomfortable. That's because they had a hard tie sitting still during these painting sessions.
It reminds me of Infanta Margarita Teresa of Spain (1651–1673) who had to be distracted by servants to pose for Velázquez's masterpiece titled "Las Meninas" in the 1650s.
That's simply the nature of children this age and the youngest girl Alice later described this event as follows:
The boredom of the sitting sessions was recompensed by the pleasure of wearing the elegant lace dress.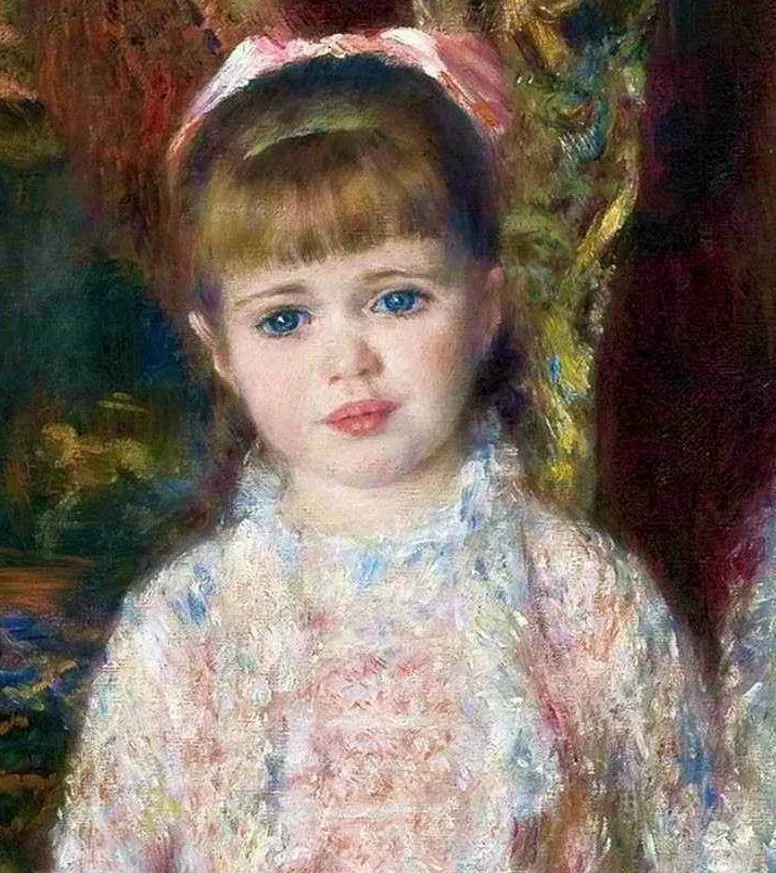 6. The destiny of the oldest sister was extremely tragic
Alice had a great life and was happily married in 1895 to British Army officer Charles Vere Ferrers Townshend (1861-1924).
She died peacefully in 1965 at the age of 89. Unfortunately, the same can't be said about her slightly older sister Elisabeth who had a troubled life.
She first married Count Jean de Forceville but this marriage ended in divorce. She also divorced her second husband named Alfred Émile Denfert Rochereau.
Unhappy marriages are nothing compared to how she met her end. She died in March 1944 at the age of 69 on the way to the Auschwitz concentration Camp.
Alice managed to escape this tragic fate by hiding in a villa in Southern France…
7. How big is Pink and Blue by Pierre-Auguste Renoir?
The portrait of their elder sister Irène is a fairly small work of art with dimensions of 65 × 54 centimeters (26 21 inches). Whether this was the reason her father didn't like it remains unknown.
Pink and Blue by Pierre-Auguste Renoir is an oil on canvas painting that has dimensions of 119 × 74 centimeters (47 x 29 inches).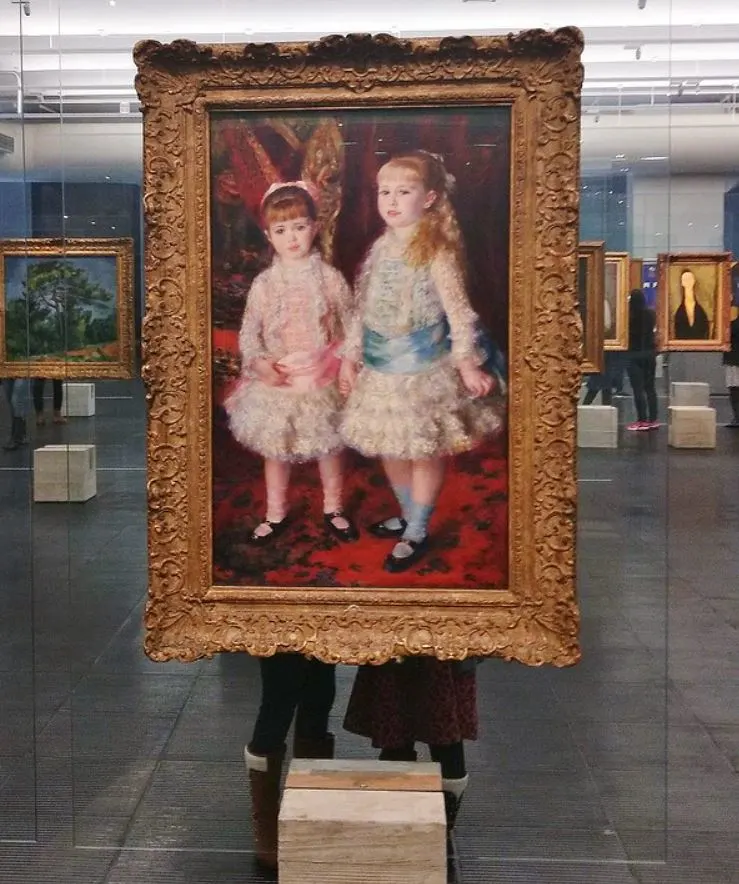 8. Where is Renoir's masterpiece located today?
If you want to admire Renoir's masterpiece then you'll have to visit South America because it's held in the most popular museum in Brazil's largest city, São Paulo.
Pink and Blue is one of the most popular paintings at the São Paulo Museum of Art or "MASP," a museum that houses an amazing collection of fine art.