Without the title, it would be impossible to figure out what this painting is about. It is, however, one of the most important works of art of the early 20th century.
Georges Braque (1882-1963) was a French artist and a good friend of Pablo Picasso (1881-1973). Together, they developed a revolutionary new style known today as "Cubism."
This Cubist painting was completed in the very early stages of the movement and was probably nothing more than an experiment.
In this article, you'll discover some of the most interesting facts about Houses at l'Estaque, one of Braque's most important paintings.
1. It was completed shortly after Braque radically changed his style
Georges Braque is often overshadowed by his friend and colleague Pablo Picasso, but his contributions to the development of modern art are at least equally important.
He grew up in Le Havre and received formal art education at the local art school. He later continued his studies in Paris and was trained at the Académie Humbert.
He became involved with a group of Avant-Garde artists who were later referred to as "Les Fauves" or the "Wild Beasts."
Fauvism paintings revolve around unnatural and bright colors and he was heavily influenced by this group as his early works feature a similar style.
It wasn't until 1907 that he started experimenting with abstract geometric forms and developed a style known today as "Proto-Cubism."
---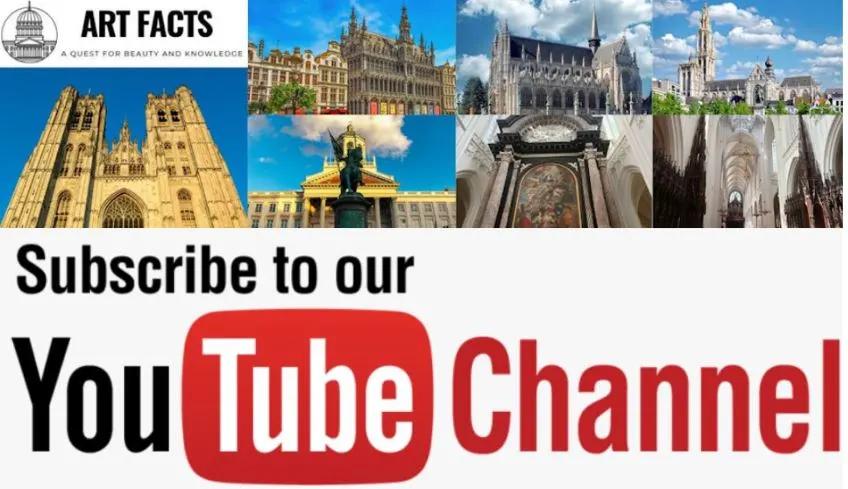 ---
Braque painted Houses at l'Estaque in 1908, the time that he started experimenting with this revolutionary new painting technique.
2. It depicts an abstract landscape of a small village near Marseille
The painting is known as "Maisons à l'Estaque" or "Houses at l'Estaque" but is also known as "Maisons et Arbre" or "Houses and Tree."
l'Estaque is a small village that is located just northwest of Marseille that has been absorbed by the metropolitan area of this major city in Southern France.
The tree can be distinguished but this isn't exactly the case for the houses which appear as nothing more than large cubes.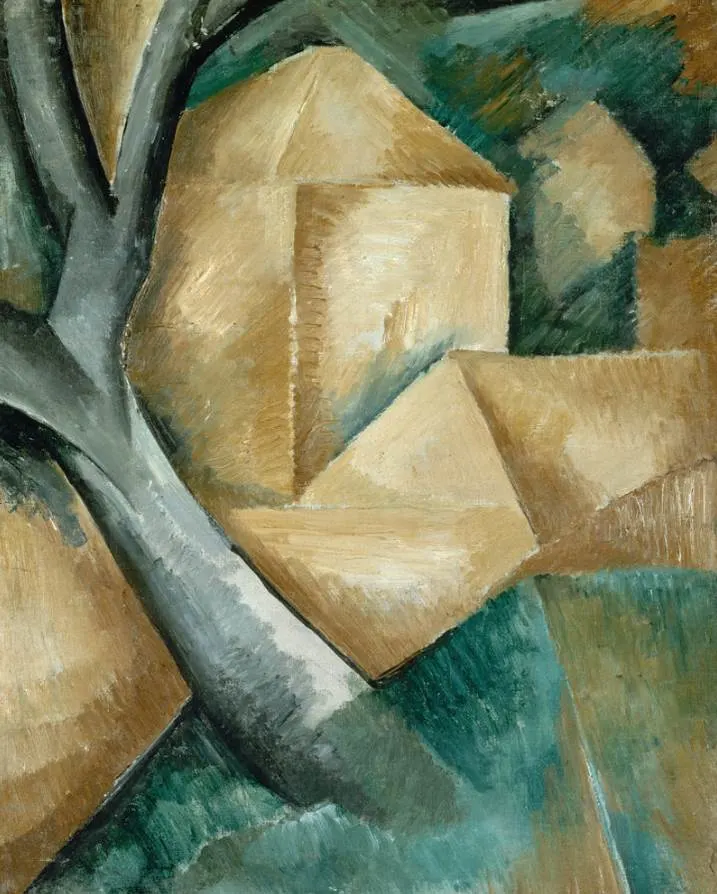 3. It's considered to be the first Cubist landscape ever completed
l'Estaque is a picturesque village that was popular among both Impressionist artists and Post-Impressionist artists during the late 19th century.
The view of the Bay of Marseille, the roads leading up to the village in the mountainous landscape, and the Viaduct of l'Estaque all served as a source of inspiration for painters.
Braque's painting of the area was a profound shift away from how the village and its surroundings had been painted before. It's impossible to recognize the location as it appears as nothing more than geometric forms.
Houses at l'Estaque by Georges Braque is therefore considered to be the first Cubist landscape ever painted.
4. It was inspired by another famous French artist who once lived at l'Estaque
Paul Cézanne (1830-1906) passed away in 1906 and a retrospective of Cézanne's paintings was held at the Salon d'Automne in 1907.
Georges Braque visited this event and it served as the inspiration for the Cubist style he developed. After all, Picasso once referred to Cézanne as "the father of us all."
He was definitely ahead of his time because he was the first to experiment with other ways to create a sense of depth in flat canvases. He also broke down elements into their simplest geometrical forms using short brushstrokes.
Cézanne lived and worked here for extended periods of time in the 1870s and 1880s and produced many paintings of l'Estaque and its surroundings.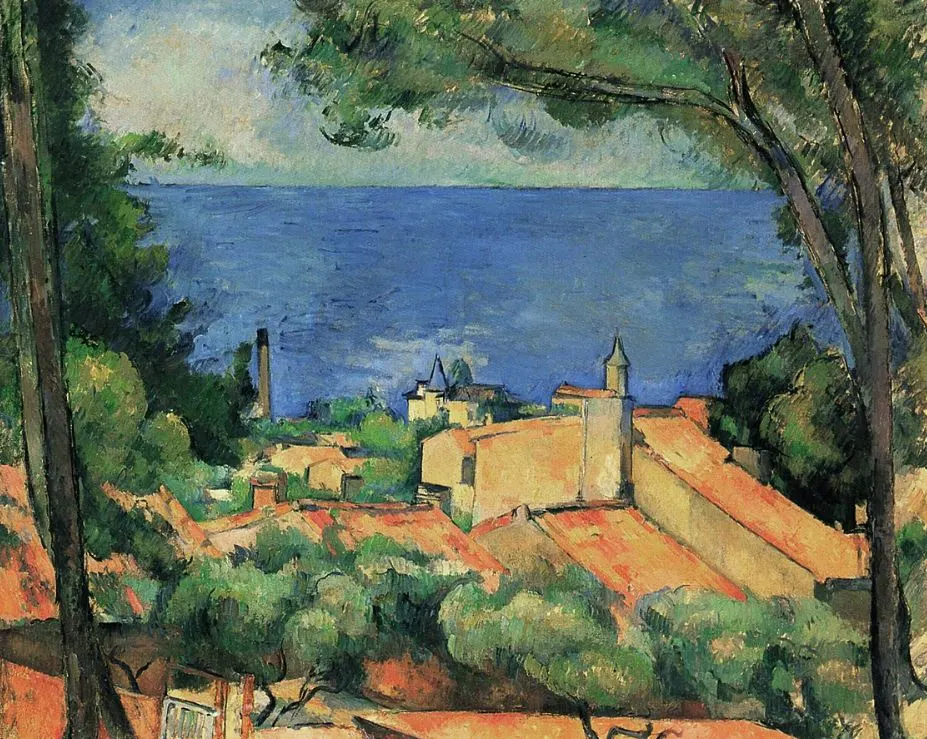 5. All but two versions were rejected at the Salon d'Automne of 1908
Georges Braque was experimenting with these works and he produced several versions. He presented 6 similar paintings to the jury of the Salon d'Automne in 1908 but all of them were initially rejected.
Even though two of them were eventually accepted, Braque refused to exhibit them at the event out of protest.
German-born art collector Daniel-Henry Kahnweiler offered Braque a one-man exhibition of his remarkable paintings in Paris that same year.
6. This painting was the reason why the movement was named Cubism
Even though Braque's solo exhibition took place in an obscure art gallery behind La Madeleine in Paris, it attracted quite a few eyeballs.
The paintings had been described by Henri Matisse (1869-1954) as consisting of "little cubes." This somehow stuck and art critics started using it to describe the paintings.
Art critic Louis Vauxcelles already coined the term Fauvism a couple of years earlier and did the same when he referred to these specific works of art as "Cubism."
Cubism was further developed by Braque and Picasso in the years leading up to World War I and it took on many forms throughout the 1920s.
7. How big is Houses at l'Estaque by Georges Braque?
The influence of the paintings that the French artist completed in 1908 was immense and that's not because of their size.
It revolutionized the way painters thought about perspective and offered something different than the linear perspective that was developed during the Renaissance.
Houses at l'Estaque by Georges Braque is a small oil on canvas painting that has dimensions of 40.5 × 32.5 centimeters (15.9 × 12.7 inches).
8. Where is Braque's important painting located today?
If you want to admire some of the most important Cubist paintings in history then you have to visit a popular museum of modern art in Lille, a major city in Northern France.
The Lille Métropole Museum of Modern, Contemporary, and Outsider Art is located in Villeneuve d'Ascq, a city that is part of the metropolitan area of Lille.
Paintings by Braque, Picasso, Derain, and other important artists of the early 20th century can be found here.