The life of one of the most renowned Spanish artists in history reads like a dramatic story, regardless of the copious amounts of talent that he was blessed with.
Francisco José de Goya y Lucientes (1746-1828) is better known as simply "Francisco Goya."
His career started extremely successful and was dominated by several incidents later on in life, including a mysterious illness and the Peninsular Wars.
The leading artist of the Romantic era in Spain produced some of the most fascinating Romantic paintings in history, often defined by the turbulent times in which he lived.
Without further ado, here are some of the most interesting facts about Francesco Goya, an immensely intriguing artist who produced some fascinating paintings.
1. He was born in a small town in the northeast of Spain
The story of Francisco Goya begins in a small town called Fuendetodos, in the autonomous community of Aragón in the northeast of Spain.
His family was middle-class and had moved here from the nearby big city of Zaragoza. It's unclear why exactly they decided to move from the city to a rural village.
They didn't stay here for long and moved back to Zaragoza in 1749 when Francisco was just 3 years old. This means that he spent most of his childhood in this city and he attended public school there, receiving a basic education.
2. His artistic talent was recognized from an early age
The young Francisco showed great talent in drawing and studied under the Spanish Baroque artist José Luzán (1710-1785) in his home city of Zaragoza at the age of 14.
---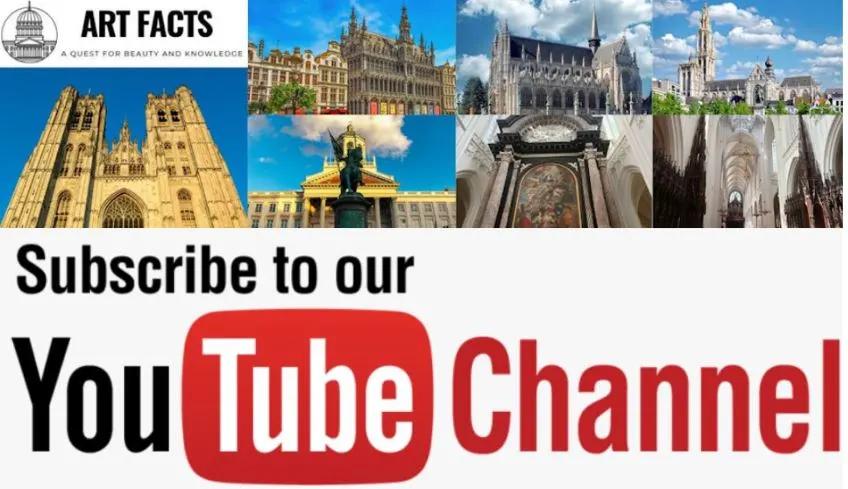 ---
He moved to Madrid when he was still a teenager and studied under Neoclassical artist Anton Raphael Mengs (1728-1789).
This German artist lived during the Rococo era but had adopted a Neoclassical style which became an important precursor for future Neoclassical art.
The two didn't get along well together as Goya had even more radical ideas. Despite the notion that Mengs might have provided him patronage from members of the Spanish royal family, the days of both artists separated.
3. He traveled to Italy in his early twenties at his own expense
Disappointed after his first stay in Madrid, the young aspiring artist decided to make a daring move and he traveled to Rome in his early twenties.
This idea came about when he was denied access to the academy in Madrid after submitting entries for the Real Academia de Bellas Artes de San Fernando in 1763 and 1766.
Little is known about his life in Italy, except that he probably painted a few works named "Sacrifice to Vesta" and "A Sacrifice to Pan" (both 1771). He also won second prize in a competition organized by the City of Parma.
However, the experience he gained was undeniable and had a great effect on the career of the young artist.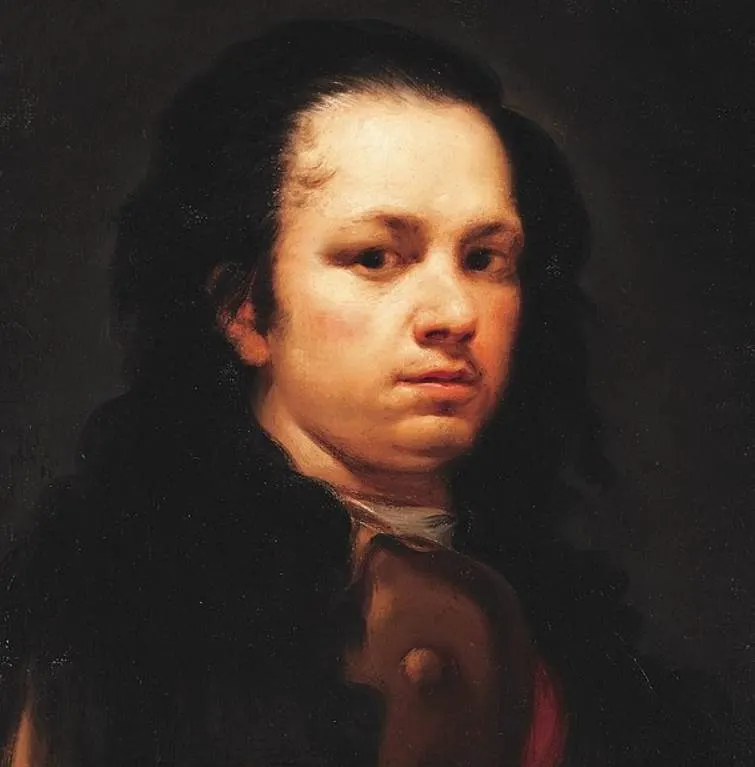 4. He married the daughter of his Neoclassical master in the early 1770s
He returned to Zaragoza with a bag of experience from Italy and started earning commissions in his native city. This included the cupolas of the Basilica of the Pillar and paintings for a local monastery and palace.
He had much to owe to his colleague, an Aragonese master named Francisco Bayeu y Subías (1734-1795), who also painted in the Neoclassical style.
He married Bayeu's sister named Josefa, a woman he referred to as "Pepa," on July 25, 1773, and a year later their first child named Antonio Juan Ramon Carlos was born.
5. His first royal commissions were a set of tapestry cartoons and engravings
His marriage to Pepa was a great career move as well because Francisco Bayeu had achieved something Goy didn't manage to achieve.
Bayeu was awarded membership to the Real Academia de Bellas Artes de San Fernando in 1665 and this opened the door for Goya to earn royal commissions.
In 1777, The Royal Tapestry Factory commissioned Goya to design a set of 42 tapestry patterns accompanied by engravings. He worked on this commission for the following 5 years.
These were intended to decorate El Escorial and the Palacio Real del Pardo, both residences of the Spanish Royal family at the time.
One of the most interesting facts about Francisco Goya is that he based his designs on paintings by Diego Velázquez (1599-1660), the other Spanish master of the Baroque era.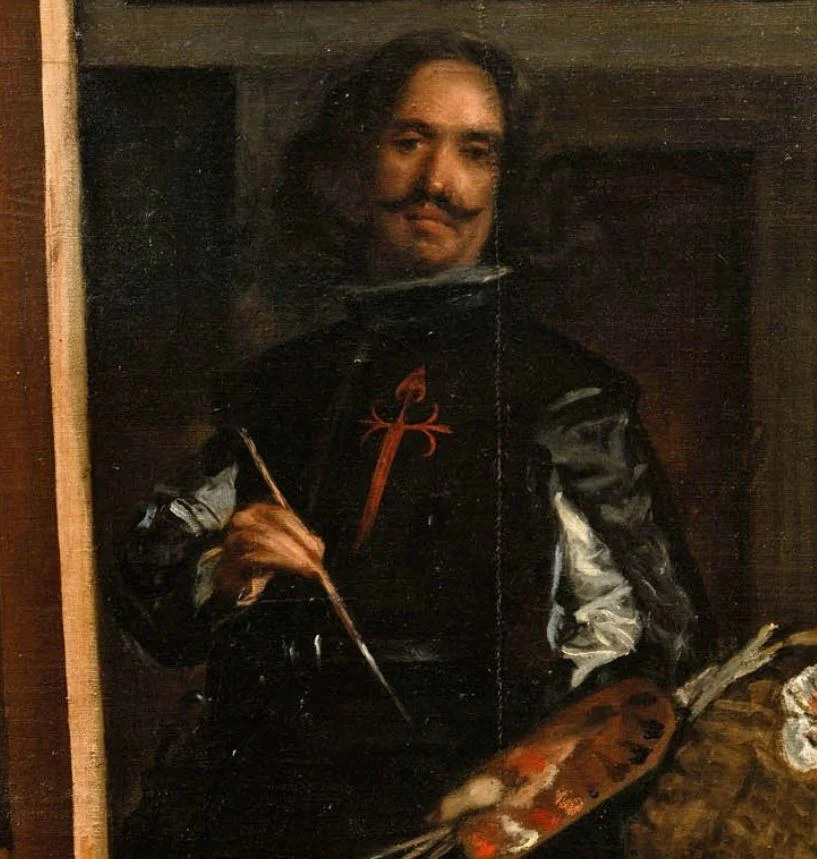 6. He became the court painter to King Charles IV in the 1780s
Another important friendship in the life of Francisco Goya was that with Luis Antonio Jaime of Spain (1727-1785), the half-brother of King Charles III (1716-1788) of Spain.
He spent several summers with Luis and painted multiple portraits of him and his family in the early 1780s. This opened many doors and the list of patrons lining up increased.
He was first hired by King Charles III as a salaried painter and became the official first painter of King Charles IV (1748-1819) in 1790.
One of his most famous works was completed in the early 19th century and is titled "Charles IV of Spain and His Family." This painting is on display at the Prado Museum in Madrid.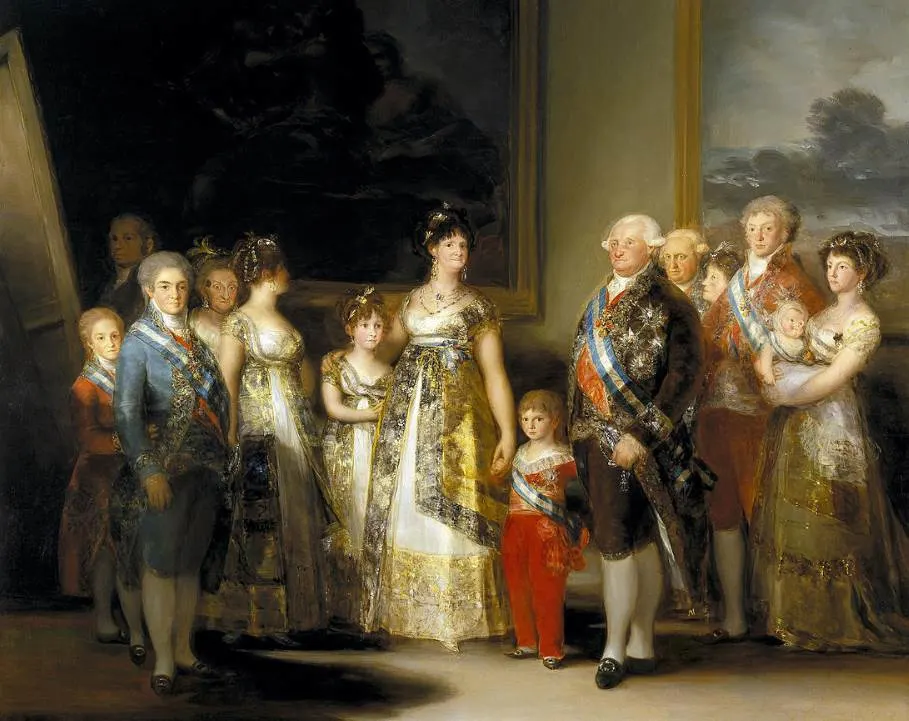 7. He painted the first profane life-sized nude in Western art
Before he completed his masterpiece that depicts the Spanish Royal family, he painted a controversial work as well.
The period between 1793 and 1799 is described as his "Middle Period" and this was the time that he completed his famous "La Maja Desnuda" (1790-1800).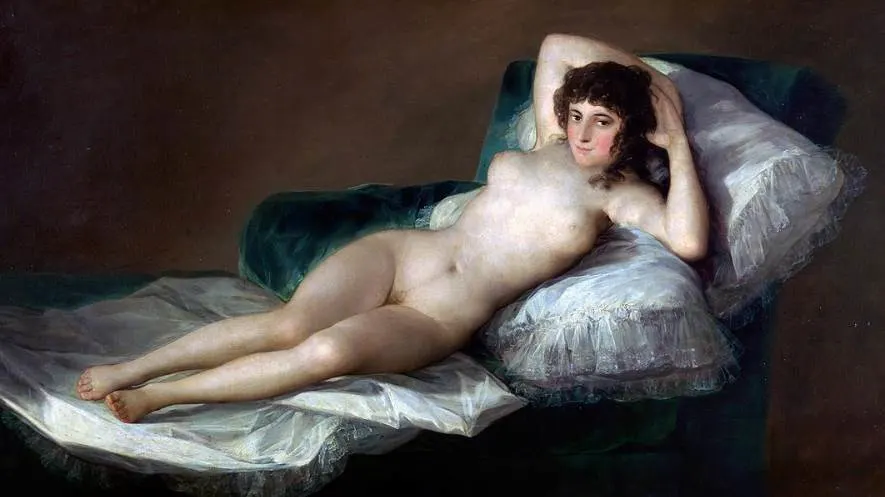 The identity of the model of the painting is unknown. Art historians have pinpointed her as either the Duchess of Alba (1762-1802, a potential mistress of the artist, or Pepita Tudó, the mistress of Spanish politician Manuel Godoy (1767-1851).
He also painted a version in which the woman wears clothes titled "La Maja Vestida" (1800-1805). They were owned by Godoy and were never displayed publicly during Goya's lifetime.
8. An illness turned him deaf in the 1790s and it defined the rest of his career
Somewhen between 1792 and 1793, Goya suffered from a mysterious illness that had grave consequences on his life.
This diagnosed illness left him completely deaf and his mental state deteriorated rapidly. He became more withdrawn, and although he didn't talk about his condition, it's reflected in his art.
He started focusing on the dark realms of the human mind and painted a work that defines this transition between 1793 and 1794 called "Yard with Lunatics."
He suffered a mental breakdown during this period as well and was often complaining about his health problems.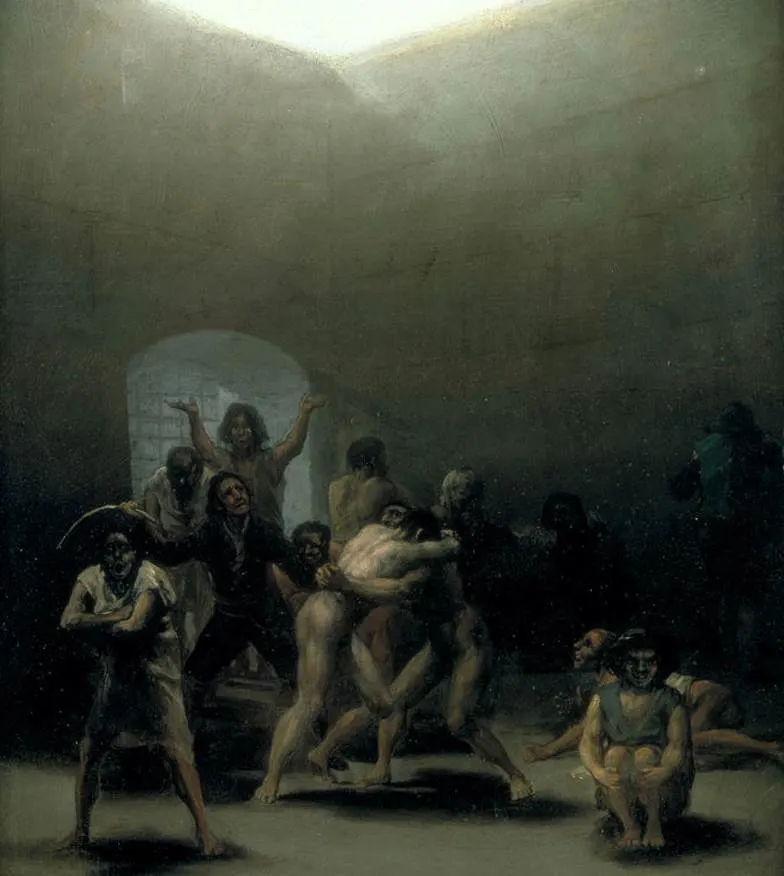 9. The horrors of the Peninsular War had a profound impact on Goya
He continued to struggle with his health. It's possible he had "Ménière's disease" or lead poisoning from grinding his painting materials
Another devastating event in his life occurred in the first decade of the 19th century as the Napoleonic Wars entered Spain, an event now referred to as the "Peninsular Wars (1808-1814).
His wife Josefa died in 1812 and this was a period in which he painted a work depicting the atrocities committed by the invading French army.
These paintings are some of the first anti-war images in history and are titled "The Second of May 1808" and "The Third of May 1808."
Between 1810 and 1820, he produced a series of 82, often disturbing prints, titled "The Disasters of War" or "Los Desastres de la Guerra.
He never spoke about what he witnessed, but these prints allow us to get a glimpse of the horrors he experienced first-hand during this terrible war.
10. He produced his Black Paintings in his house known as "La Quinta del Sordo"
In between producing these macabre prints, he was commissioned to paint several portraits between 1814 and 1819, as well as the altarpiece titled "Santa Justa and Santa Rufina" for Seville Cathedral.
Goya was already in his early 70s when he decided to buy a house called "La Quinta del Sordo" or "The House of the Deaf Man."
This is not a reference to himself but to a deaf man who once occupied this house on the outskirts of Madrid.
He produced some of the most remarkable paintings while living in a state of isolation and mental despair. These 14 artworks are referred to as his "Black Paintings" and include his disturbing masterpiece "Saturn Devouring his Son."
Initially painted onto the walls of his house, these paintings were transferred to canvas later and are now part of the collection of the Prado in Madrid.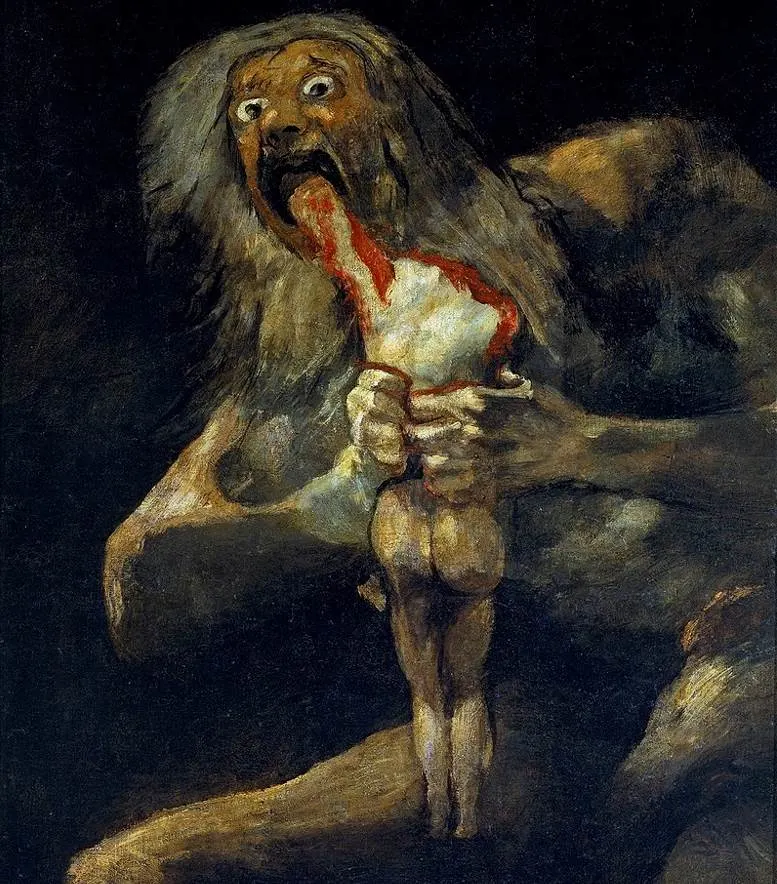 11. He spent his final years with his maid living in Bordeaux
Goya was taken care of by his maid Leocadia Weiss (1790-1856), a woman who was 35 years younger than himself. She lived with him together with her daughter Rosario in the Quinta del Sordo.
They lived here until 1824 when Goya decided to move to the French city of Bordeaux where he spent his final years between 1824 and 1828.
Nothing is known about the details of the relationship between the two, but she was likely nothing more than a caregiver who reminded Goya of his first wife Josefa.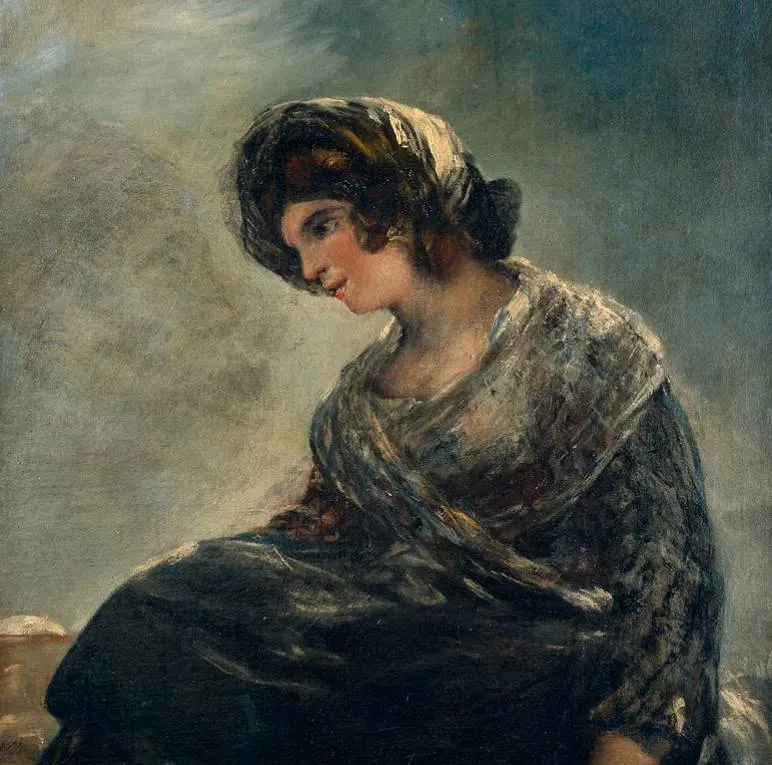 12. Francisco Goya had a profound impact on the world of art
The first profane nude female and the first major anti-war paintings are just a few of the works that define the career of this intriguing master of the Romantic era.
His legacy is best referred to as being the "last of the Old Masters and the first of the moderns."
He is considered to be the most important Spanish artist of the late 18th and early 19th centuries and he had a great influence on multiple modern artists, including Pablo Picasso and Salvador Dalí.