The Passion of Jesus Christ, the brief period during the final days of his life and after his death, has been a popular subject in Christian art for centuries.
This period generally starts with his triumphal entry in Jerusalem and ends with his Resurrection following his Crucifixion.
Many Crucifixion paintings, Last Supper paintings, and other important events have been produced, as well as countless paintings depicting his miraculous Resurrection.
This particular episode allowed painters to add a sense of shock to the people who surround his tomb. This was achieved in various different ways.
In this article, you'll discover some of the most famous Resurrection paintings in history.
1. Fra Angelico's Resurrection
Date created: 1439-1441
Dimensions: 181 x 151 centimeters (71.2 x 59.4 inches)
Location: Museum of San Marco, Florence, Italy
Fra Angelico's Resurrection is a 15th-century fresco that is also known as "Christ and Women at the Tomb." It was painted in the typical early-Renaissance style of the first half of the 15th century that Italian artist Fra Angelico (1395-1455) was known for.
Not all parts of this work were painted b the renowned Renaissance master. It's believed that the women on the right were painted by Benozzo Gozzol, one of Angelic's pupils. The painting decorates the medieval Dominican convent of San Marco which was transformed into the Museo Nazionale di San Marco in Florence.
2. Dieric Bouts' Resurrection
Date created: 1455
Dimensions: 89.9 x 74.3 centimeters (35.3 x 29.2 inches)
Location: Norton Simon Museum, Pasadena, United States
Dieric Bouts' Resurrection is one of the best-known works of the Northern Renaissance artist. Here you can already see the advancements of the Renaissance in this part of Europe which emphasizes the emotional involvement of the depicted figures, something that was lacking in medieval art.
Just like many other similar works by the Flemish Primitives, this painting by Bouts was originally part of an altarpiece that featured 4 or 5 panels. Some are on display in other museums, including "The Entombment" at the National Gallery in London and "The Annunciation" at the Getty Museum in Los Angeles.
3. Raphael's Resurrection
Date created: 1499-1502
Dimensions: 56.5 x 47 centimeters (22.2 x 18.5 inches)
Location: São Paulo Museum of Art, São Paulo, Brazil
---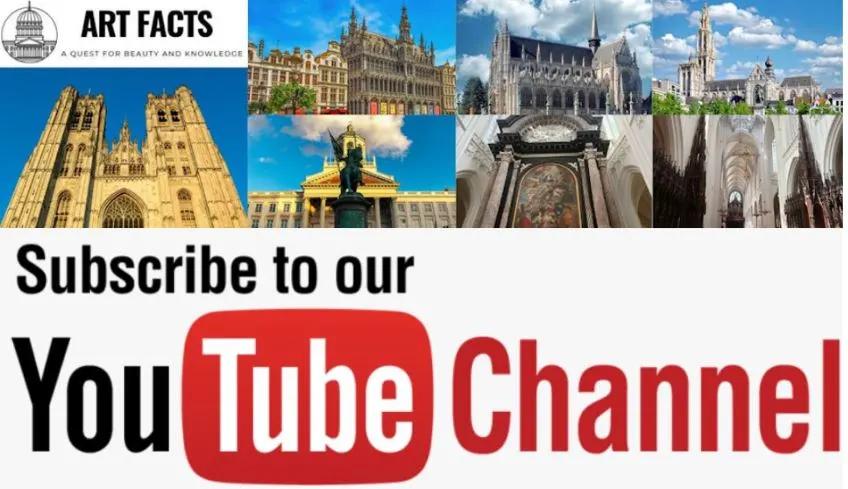 ---
Raphael's Resurrection is a fascinating work of art by the master of the High Renaissance. It's one of his earliest works, completed while he was still a teenager. It's likely that this work was part of a predella part of a much larger unknown altarpiece.
This painting by Raphael is also known as the Kinnaird Resurrection, a reference to Lord Kinnaird who once owned this colorful work of art. The Renaissance painting was acquired by the São Paulo Museum of Art in 1954 and remains the only work by the artist in the Southern Hemisphere today.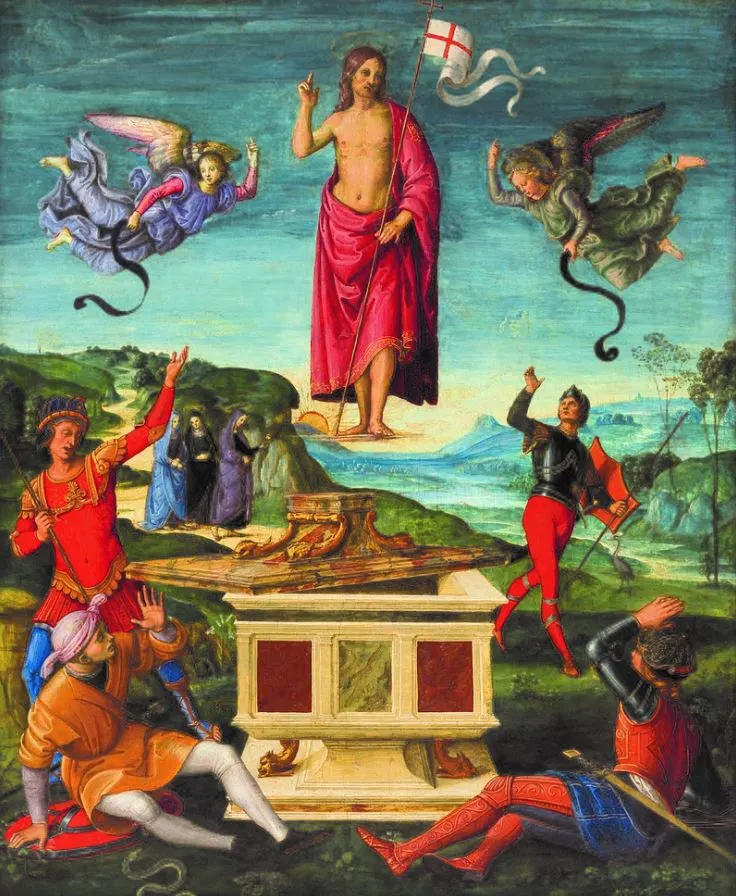 4. Veronese's Resurrection
Veronese's Resurrection is a beautiful work of art by Palo Veronese, one of the three major Venetian artists of the 16th century. Even though the width and height of this work exceed well over 1 meter, it's considered to be a relatively small painting by the Italian artist.
As in most Resurrection paintings, Veronese placed the main focus of the work on Jesus emerging from his tomb. He is brightly illuminated as he travels to the Heavens above, while the soldiers are cast in a dark shadow. This is something that highlights the dramatic effect of the painting.
5. El Greco's Resurrection
Date created: 1597-1600
Dimensions: 275 x 127 centimeters (108.2 x 50 inches)
Location: Prado Museum, Madrid, Spain
El Greco's Resurrection is a very distinctive painting by El Greco, the Mannerist artist who was born in Greece but who spend the final 3 decades of his life in Toledo, Spain. The elongated figures and the extremely pale color of Christ are typical elements that El Greco included in his art.
It's no surprise that Domḗnikos Theotokópoulos (1541-1614), the real name of the Greek-born artist, became a major source of inspiration for Avant-Garde artists in the early 20th century. His use of color and composition was well ahead of its time in the late 16th and early 17th centuries.
6. Rubens' Resurrection
Date created: 1611-1612
Dimensions: 138 x 98 centimeters (54.3 x 38.5 inches) (central panel)
Location: Cathedral of Our Lady, Antwerp, Belgium
Rubens' Resurrection is a triptych painting by Peter Paul Rubens, one of the greatest Flemish artists in history. It's one of at least two paintings by the artist on this subject. Another was completed in 1616 and is on display at the Pitti Palace in Florence.
The central panel shows the illuminated Resurrection of Jesus Christ in front of muscular Roman soldiers. The left panel depicts Saint John the Baptist and on the right Matina of Rome, a Christian martyr from the 3rd century. This work is on display in the main cathedral of Antwerp, Rubens' former home city.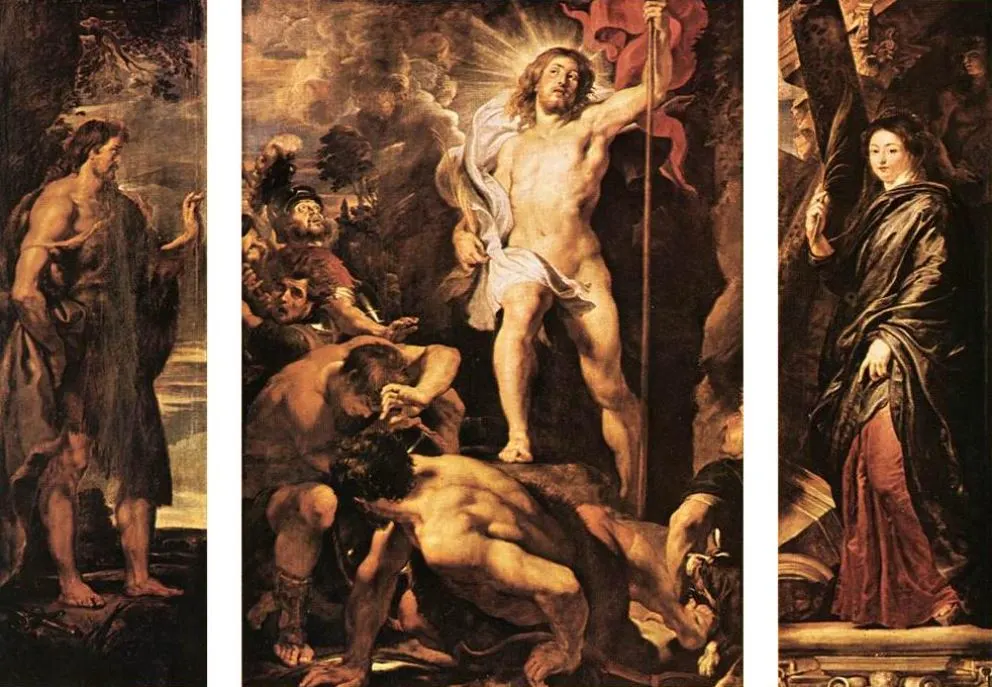 7. Van Dyck's Resurrection
Date created: 1631-1632
Dimensions: 46 x 40 centimeters (18.1 x 15.7 inches)
Location: Wadsworth Atheneum, Hartford, United States
Van Dyck's Resurrection is a painting by Anthony van Dyck (1599-1641), another great Flemish painter who was successful in Antwerp, Italy, and England. Van Dyck was trained in the studio of Peter Paul Rubens from an early age and this is very much reflected in his paintings.
This work is dominated by the yellow hue in the upper section, something that highlights the Resurrection of Jesus Christ. That's especially the case as the five terrified Roman soldiers at the bottom are cast in a dark shadow as they display a variety of emotions.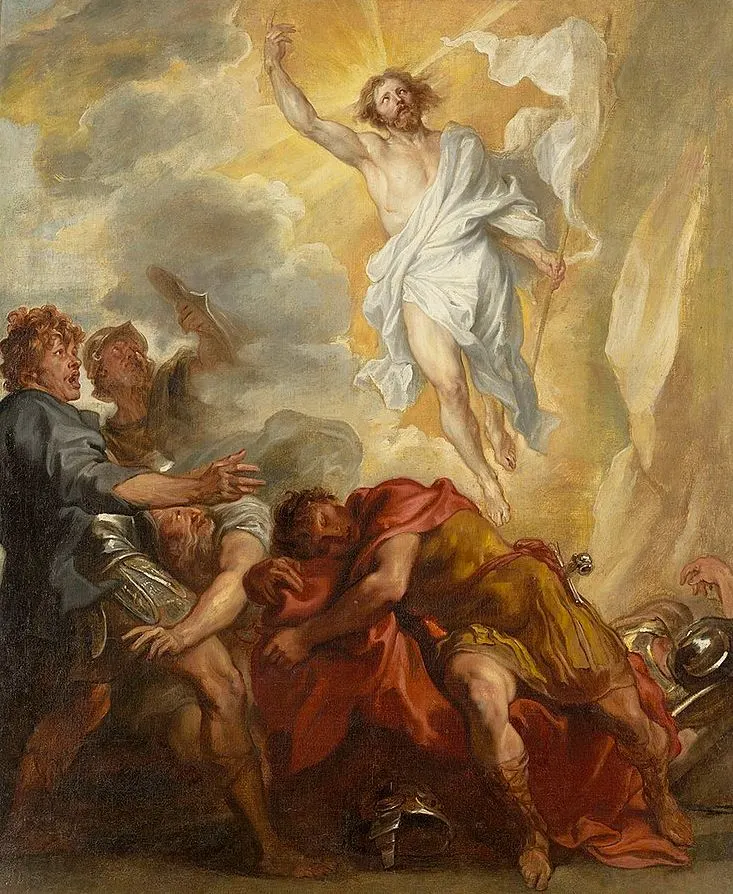 8. Carracci's Resurrection
Date created: Late 16th century
Dimensions: 217 x 160 centimeters (85.4 x 62.9 inches)
Location: Louvre Museum, Paris, France
Carracci's Resurrection is a beautiful painting by Annibale Carracci (1560-1609), the Italian artist from Bologna who founded the Bolognese School of Baroque art during the late 16th century. The painting was completed in the early 1590s, shortly before the artist moved to Rome.
The painting was commissioned to decorate a small chapel at the Palazzo Luchini in Carracci's native Bologna. It was long owned by the Angelelli family from Bologna who owned the palace. It is, therefore, also sometimes referred to as the "Angelelli Resurrection."
9. Bellini's Resurrection
Date created: 1475-1479
Dimensions: 148 × 128 centimeters (58 × 50 inches)
Location: Gemäldegalerie, Berlin, Germany
Bellini's Resurrection is a Renaissance painting by Giovanni Bellini (1430-1516), a Venetian artist who was a member of the artistic Bellini family. The painting was commissioned to decorate the Marino Zorzi chapel at the church of San Michele di Murano.
This church is located on the relatively small San Michele in Isola, just north of the city. What's remarkable is that the painting has been attributed to a large number of artists. It was only after a thorough restoration in the 20th century that it was confirmed to be a work by Giovanni Bellini.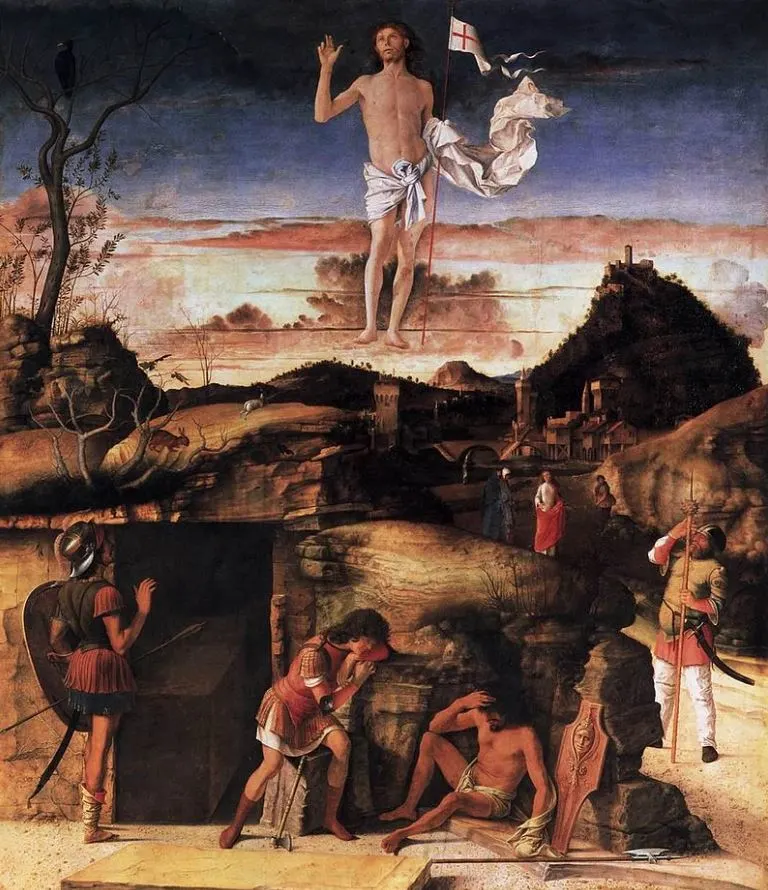 10. Cecco del Caravaggio's Resurrection
Date created: 1619-1620
Dimensions: 339.1 × 199.5 centimeters (133.5 × 78.5 inches)
Location: Art Institute of Chicago, Chicago, United States
Cecco del Caravaggio's Resurrection is a painting by an artist referred to as Cecco del Caravaggio. The identity of this painter from Rome remains a mystery but it's certain that he was an early follower of Caravaggio (1571-1610), the famous Baroque master.
Caravaggio's paintings are defined by the chiaroscuro style, which is a strong contrast between light and shadow. Although the quality of this painting, the only one positively attributed to Cecco del Caravaggio, is not as high, he definitely copied his master's painting technique.