Did you know that the oldest continuously operating art museum in the United States is located in the capital city of Connecticut?
The Wadsworth Atheneum is located in Hartford and was established in 1842. It first opened its doors to the public just two years later in 1844.
The museum is commonly referred to as "The Wadsworth" and was named after its founder, Daniel Wadsworth (1771-1848).
Daniel was an amateur artist himself and also an avid art collector. He was able to collect fine art because his father, Jeremiah Wadsworth, was the wealthiest man in Hartford.
The original building of the museum resembles a castle and was constructed on the premises of the family in what is now downtown Hartford.
Today, the museum houses an incredible collection of fine art that ranges from Baroque paintings to Impressionist masterpieces.
In this article, you'll discover some of the most famous paintings at the Wadsworth Atheneum.
1. Saint Francis of Assisi in Ecstasy – Caravaggio
Date created: 1595
Dimensions: 92.5 × 127.8 centimeters (36.4 × 50.3 inches)
Saint Francis of Assisi in Ecstasy is one of the many masterpieces by Caravaggio, the troubled Italian artist who developed a remarkable style using chiaroscuro. The painting isn't dated but is believed to have been completed in the mid-1590s.
It's probably the first painting by the artist which features a religious subject and the style that made him so famous using a strong contrast between light and shadow can already be seen here. It took several more years before he got his major breakthrough in 1600.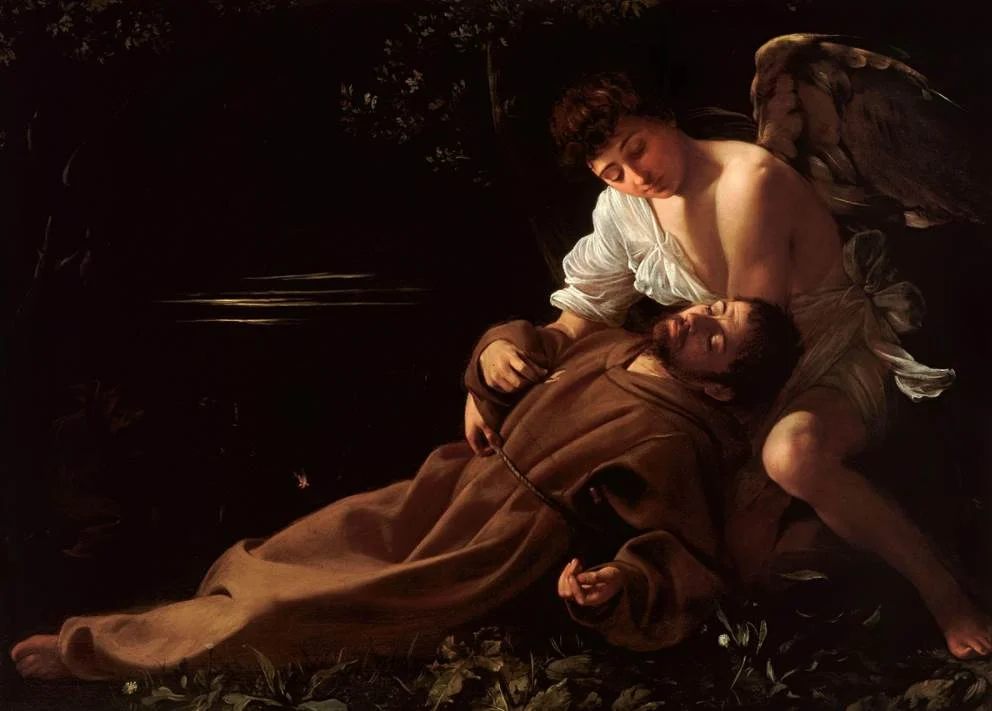 2. Mount Etna from Taormina – Thomas Cole
Date created: 1843
Dimensions: 199.8 x 206.4 centimeters (78.6 x 81.2 inches)
---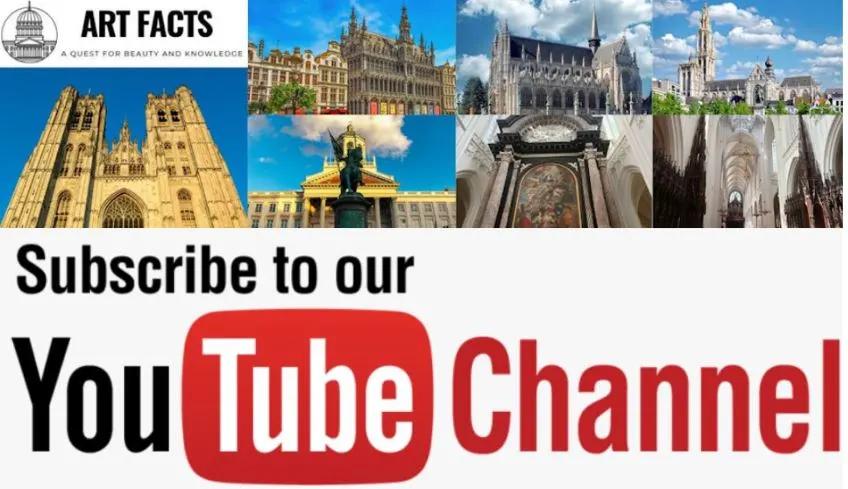 ---
Mount Etna from Taormina is a painting by Thomas Cole (1801-1848), an English-born American artist who was the leading figure of the Hudson River School of painting. Although he mainly focused on depicting the American landscape, he traveled several times.
During his stay in Italy in the early 1840s, he became fascinated by Mount Etna, the highest volcano in Europe which is located on the Italian island of Sicily. He made countless sketches of the mountain and at least 6 oil paintings, including this mesmerizing work of art at the Wadsworth Atheneum.
3. The Resurrection – Anthony van Dyck
Date created: 1631-1632
Dimensions: 46 x 40 centimeters (18.1 x 15.7 inches)
The Resurrection is a relatively small painting by Flemish artist Anthony van Dyck (1599-1641), a man who is best known for his portraits. He did, however, paint many religious works of art as well, including this work of Jesus Christ emerging from his tomb.
It's not exactly sure when van Dyck completed this painting but it has been dated to the early 1630s. This was a time known as his "Second Antwerp Period," shortly after returning from an extended visit to Italy and before he moved to England. There, he became the court painter of Charles I of England.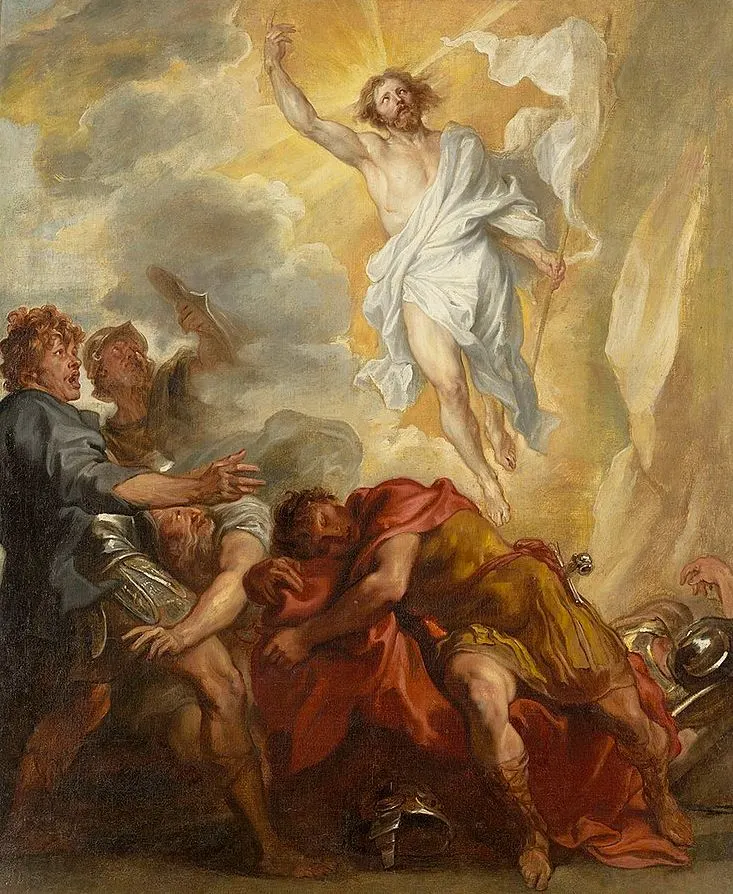 4. Judith and Her Maidservant with the Head of Holofernes – Orazio Gentileschi
Date created: 1621-1624
Dimensions: 134.6 × 157.4 centimeters (53 × 62 inches)
Judith and Her Maidservant with the Head of Holofernes is a rather gruesome painting by Orazio Gentileschi (1563-1639), an Italian Mannerist artist who later became influenced by Caravaggio. This influence shows in its work which features a strong use of chiaroscuro.
This painting was completed in the first couple of years of the 1620s, shortly before the artist moved to Paris. He only stayed 2 years here before moving the England where he lived for the rest of his life. There, he worked together with Anthony van Dyck at the court of Charles I.
5. Interior of a Picture Gallery with the Collection of Cardinal Silvio Valenti Gonzaga – Giovanni Paolo Pannini
Date created: 1749
Dimensions: 198 x 268 centimeters (78 x 105.5 inches)
Interior of a Picture Gallery with the Collection of Cardinal Silvio Valenti Gonzaga is a large painting by Giovanni Paolo Pannini (1691-1765), another Italian artist of the final phase of the Baroque era. It has a rather self-explanatory title as it depicts the art collection of a rich cardinal.
This type of work first emerged in Flanders in the early 17th century where it was referred to as the "Kunstkamer" or "Art Room." What's fascinating about this work is that all the depicted artworks really belonged to the Cardinal which was quite amazing.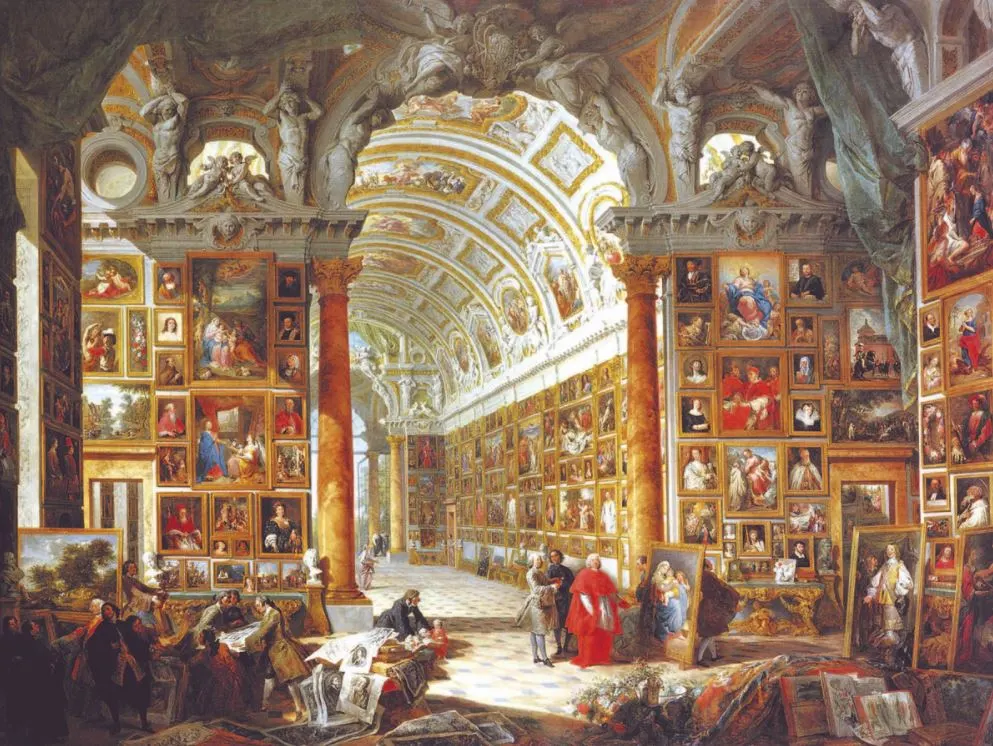 6. The Nooning – Winslow Homer
Date created: 1872
Dimensions: 33.9 x 49.9 centimeters (13.3 x 19.6 inches)
The Nooning is a rather small painting by Winslow Homer (1836-1910), one of the most notable American artists of the late 19th and early 20th centuries. Homer traveled frequently and often visited rural towns, especially in the period following the American Civil War.
This painting depicts such a setting that brought back a sense of nostalgia at a time when the urbanization was increasing rapidly. Another famous work by the artist from this period is "Snap the Whip" (1872), one of the most iconic American paintings ever produced.
7. Claude Monet Painting in His Garden at Argenteuil – Pierre Auguste Renoir
Date created: 1873
Dimensions: 61 × 50 centimeters (24 × 20 inches)
Claude Monet Painting in His Garden at Argenteuil is a painting by Pierre Auguste Renoir (1841-1919, a French artist who was one of the leading figures of the Impressionist movement of the late 19th century. This work is a great example of the enthralling style he developed during the 1870s.
As the title suggests, we can see his colleague Claude Monet (1840-1926) while he was completing one of his masterpieces at Argenteuil. He lived here following his exile to London during the Franco-Prussian War in the early 1870s.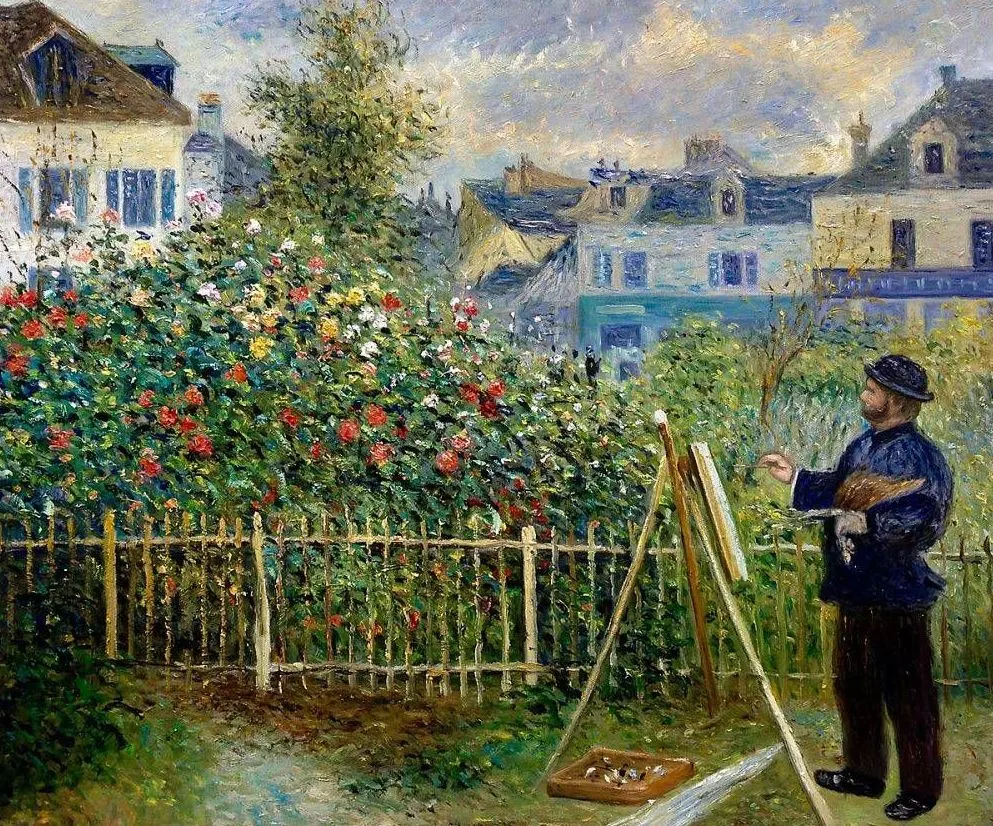 8. Hooker and Company Journeying through the Wilderness from Plymouth to Hartford, in 1636 – Frederic Edwin Church
Date created: 1846
Dimensions: 102 x 152 centimeters (40.25 x 60.18 inches)
Hooker and Company Journeying through the Wilderness from Plymouth to Hartford, in 1636 is the long title of a magnificent landscape painting by American painter Frederic Edwin Church (1826-1900), another prominent member of the Hudson River School.
It depicts a scene that took place in 1636 when Puritan religious leader Reverend Thomas Hooker embarked on a journey from Boston to Connecticut. He traveled through the wilderness with 100 men, women, and children, for 100 days before reaching his destination. It's surely an idyllic depiction of this event.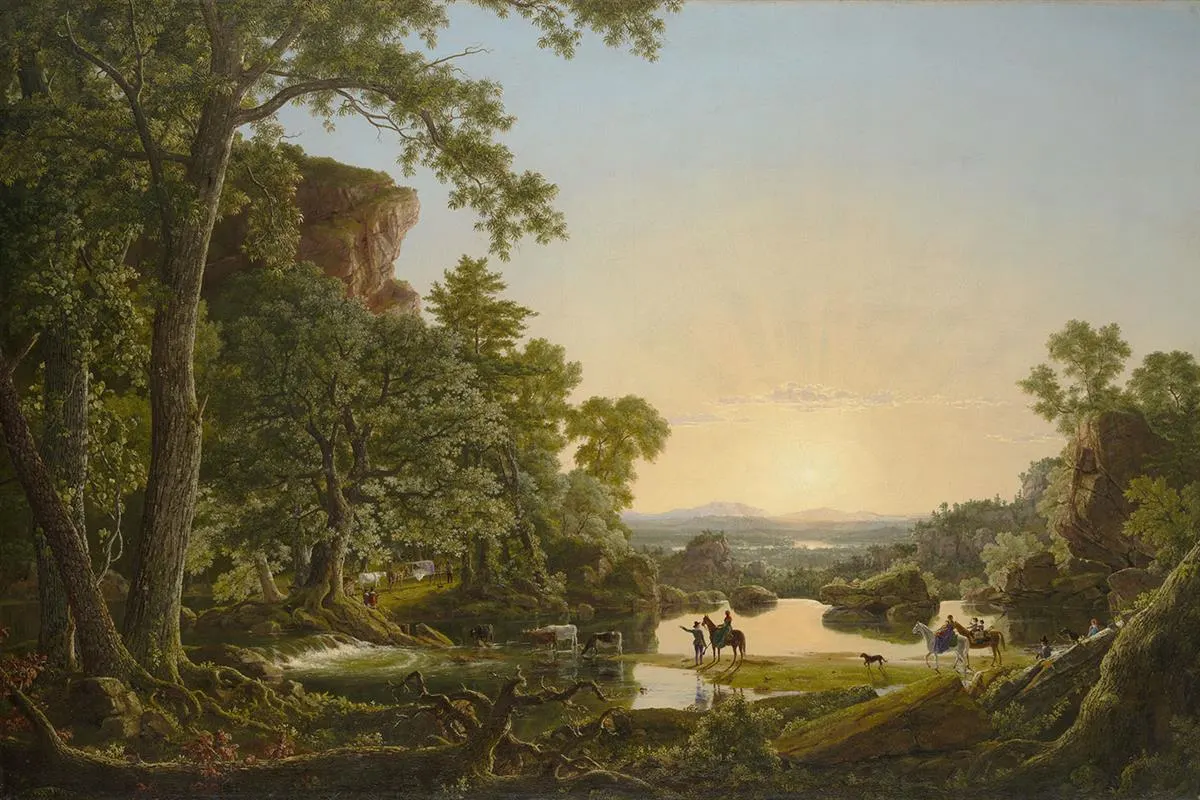 9. Landscape with Saint George and the Dragon – Claude Lorraine
Date created: 1643
Dimensions: 113.6 x 149.8 centimeters (44.7 x 59 inches)
Landscape with Saint George and the Dragon is a rather similar landscape painting by Claude Lorraine (1600-1682), a French Baroque artist who lived and worked most of his career in Italy. Apart from Dutch artists during the Dutch Golden Age, he was one of the first successful landscape artists in history.
His paintings are remarkable because he often included small figures which transform them into mythological or religious artworks. That's mainly because landscapes were held in much lower regard, making it a smart trick to earn more money. The quality of his works is pretty amazing, though.
10. The Lady of Shalott – William Holman Hunt
Date created: 1888-1905
Dimensions: 188.3 × 146.4 centimeters (74.1 × 57.6 inches)
The Lady of Shalott is a painting by English artist William Holman Hunt (1827-1910) and one of the many depictions of the 1833 poem by Alfred Tennyson with the same name. This is the main version and a smaller one is held at the Manchester Art Gallery in England.
The Lady of Shalott is confined to a tower near Camelot and isn't allowed to watch outside of the windows. She spent her time weaving a tapestry and witnessed the outside world through a mirror. This colorful work is one of the most remarkable versions of this story.