Fruit hasn't been the most popular subject matter for painters. It has been regarded as too simplistic to be transformed into a masterpiece.
Caravaggio (1571-1614) had a brief spell in which he realistically depicted fruit, some of it rotten such as in his famous Basket of Fruit.
He was one of the few Old Masters who talked positively about this subject matter and nobody talked about it when the Neoclassical artists became dominant in the late 18th century.
One of the most famous still lifes in the wake of the modern era was painted by an influential French artist named Paul Cézanne (1839-1906).
In this article, we'll take a closer look at some of the most interesting facts about The Basket of Apples by Paul Cézanne, one of the artist's influential paintings.
1. It was completed in the final decade of the 19th century
Paul Cézanne was a Post-Impressionist artist who was born in Aix-en-Provence in southern France in the year 1839. He moved to Paris in his younger years to pursue a career as an artist.
The 1860s was a period in which the Impressionist artists emerged and he was highly influenced by their Impressionist paintings, especially those of Pissarro whom he had befriended.
He finally managed to become successful, although with a rather young audience. The established art critics didn't like the experimental nature of his mature works.
He completed The Basket of Apples around 1893, the final period of his life which he spent in his native Aix and which was dominated by health problems that made him live a reclusive lifestyle.
2. Cézanne liked the idea that fruit wasn't a popular subject matter in art
Like most influential artists, Cézanne always sought to test the boundaries of art. His small brushstrokes transform fields of colors into complex subject matters.
His style is easily recognizable and was in contrast with the ideals of the Impressionist artist who preferred loose and wide brushstrokes.
Producing still-life paintings was something that interested Cézanne a lot because of the simplicity in which he could paint certain elements.
A basket of apples, a wine bottle, and a plate of cookies are placed on a simple table. These are elements that allowed Cézanne to experiment with a perspective unlike any other artist had done before him.
3. Several elements of the painting aren't realistically depicted
When you take a closer look at the various elements in this painting, you'll instantly notice that several objects simply don't make sense.
Some things that don't appear right are:
The tilted wine bottle appears to be falling over.
The basket of apples is also tilted but it somehow manages to remain balanced.
The table is tilted at an impossible angle.
The plate of cookies appears to be much closer than it could be based on the perspective of the table cloth.
4. The artist somehow managed to produce a balanced composition
Just to make clear, Paul Cézanne never tried to produce a realistic depiction of the elements on the table. He purposely distorted a realistic view such as a wine bottle that leans to the left.
One of the most important aspects of most paintings is to create a sense of depth. Renaissance artists were the first to use a single vantage point to make this happen.
Cézanne was one of the few who attempted to break down this centuries-old technique and integrate several lines of perspective to create a painting that can be viewed from various angles.
He used dense brushstrokes in combination with multiple viewing angles of the different elements to create a harmonious overall composition. This was quite revolutionary at the time.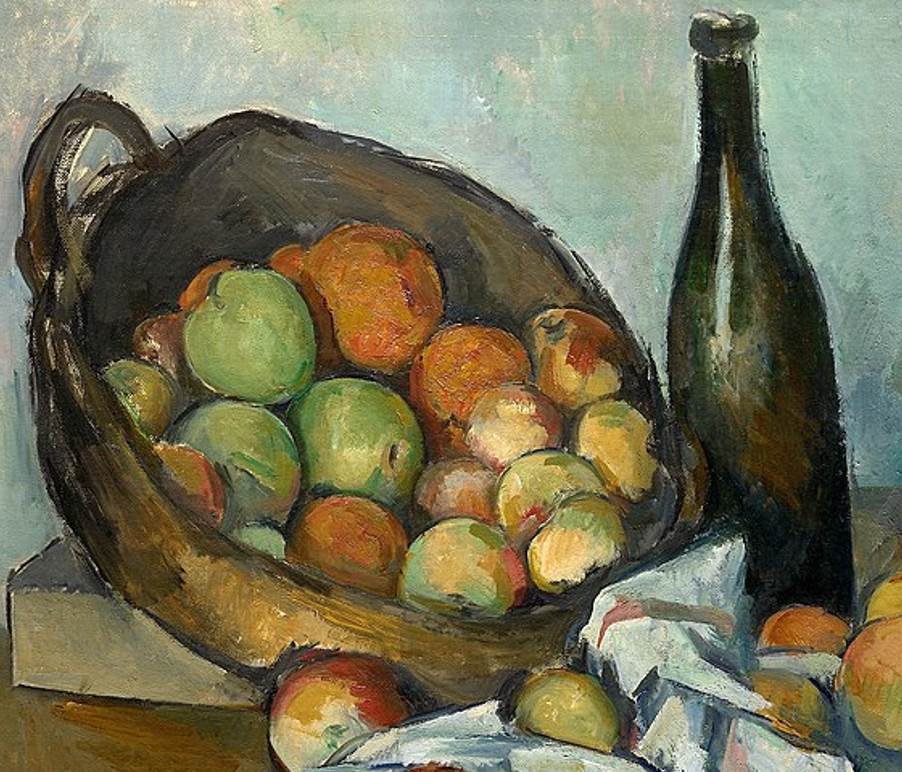 5. It wasn't the artist's only experiment with still life during this phase
The Basket of Apples is without a doubt one of the most famous still lives produced by Paul Cézanne, but it wasn't his only work featuring this subject matter.
He already experimented with this in the 1860s when he completed "Still Life with an Open Drawer" (1867-1869), a painting in the collection of the Musée d'Orsay in Paris.
Cézanne painted several variations of the painting described in this article during the 1890s, including:
Still Life, Drapery, Pitcher, and Fruit Bowl – 1893–1894 – Whitney Museum of American Art, New York City, United States.
Still Life with Cherub – 1895 – Courtauld Institute of Art, London, United Kingdom.
Still Life with Plaster Cupid – 1890s – Nationalmuseum, Stockholm, Sweden.
6. Cézanne's painting was highly influential for artists in the 20th century
The experimental nature of Paul Cézanne's paintings caught the attention of young emerging artists at the time, including Pablo Picasso and Henri Matisse.
He influenced both the Fauvist artists and Cubist artists of the early 20th century because of his painting technique and the dissection of his subject matter.
He was one of the first artists who ditched the idea that a single perspective was the only way a painting could be produced, and this idea was the foundation of modern art.
In that sense, it's fair to conclude that this painting heavily contributed to the transition into the new modern era.
7. How big is The Basket of Fruit by Paul Cézanne?
Because the artist saw these still lifes as experiments in perspective, these are relatively small works of art.
The Basket of Apples by Paul Cézanne is an oil on canvas painting that has dimensions of 65 × 80 centimeters (25.6 × 31.5 inches).
8. Where is the painting located today?
The painting switched hands a number of times before arriving in the United States in 1925.
It was acquired by Frederic Clay Bartlett (1873-1953), an American artist who was also a renowned collector of Post-Impressionist paintings.
He was a founding member of the Arts Club of Chicago and donated the painting to the Art Institute of Chicago in the year 1926.
Today, it's still part of the Helen Birch Bartlett Memorial Collection at the Art Institute of Chicago, the most popular museum in the city.