When Michelangelo Merisi da Caravaggio (1571-1610) arrived in Rome in the early 1590s, he was an unknown artist who was in dire need of help. He gradually picked himself up and started working in a popular workshop.
During his period, he tried to emphasize his talent to come into contact with rich patrons. The young Baroque artist managed to do so by painting still lives and portraits, including a couple of self-portraits such as "Young Sick Bacchus."
In this article, we'll take a closer look at some of the most interesting facts about Basket of Fruit by Caravaggio, one of his most remarkable paintings for several reasons.
1. It was probably painted in the late 16th century
Caravaggio is one of the most mysterious characters in the history of art. He was extremely talented, yet couldn't avoid getting into trouble several times in his life.
He committed a crime in his native Milan (he was born here but raised in a village called Caravaggio near Milan) and was forced to flee to Rome.
In desperate need, he eventually found shelter at the workshop of the famous Mannerist artist Giuseppe Cesari (1568-1640), a man who had Pope Clement VIII as his patron. This opened doors to the young artist in his career.
He produced multiple still lifes and portraits during this period. Although it's unclear when he painted this work, some art historians claim that he painted Basket of Fruit around 1596.
2. It depicts a wide variety of summer fruits
The painting only depicts the basket of fruit that seems to be placed on top of a ledge, slightly balancing over it. It depicts a wide variety of summer fruits, including:
A light-red peach
A yellow and red apple
A yellow pear
Two white figs and two purple figs
A quince
Four clusters of black, red, golden, and white grapes
Despite the wide variety of depicted fruits, they have one thing in common, which is that they all appear to be in the process of rotten or being eaten by insects or worms.
---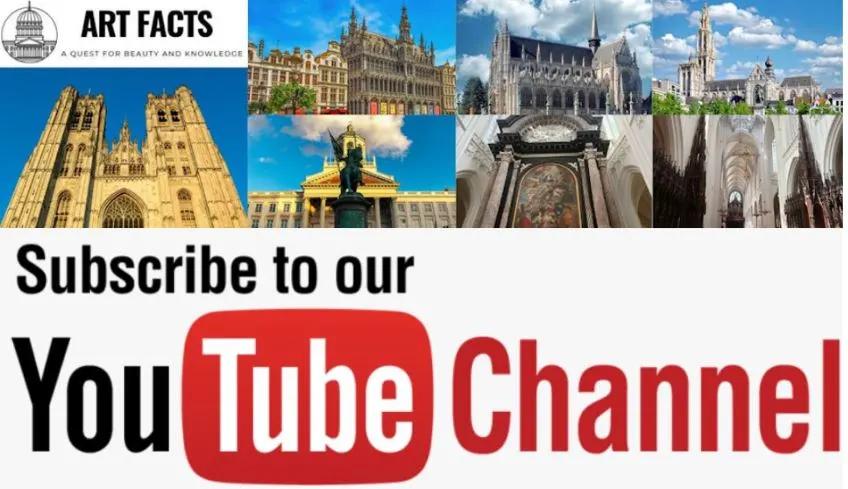 ---
Yes, you don't feel the urge to pick up one of these pieces and start eating it, that's for sure!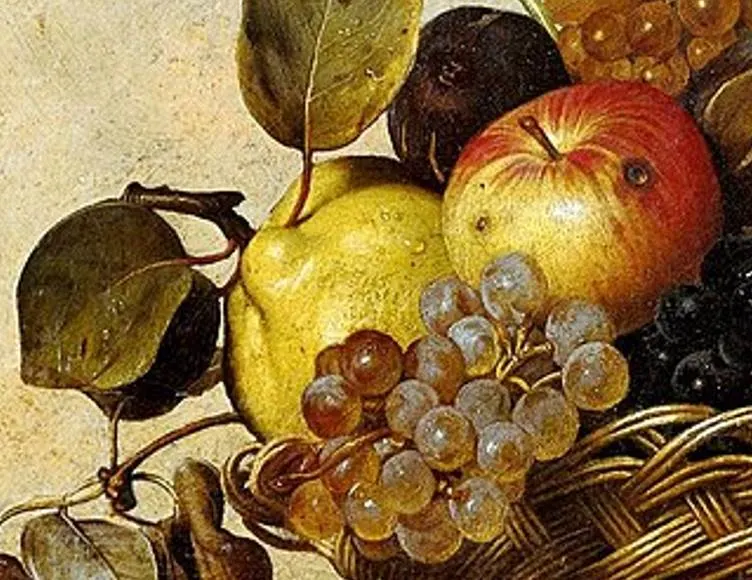 3. He painted a similar basket in one of his most famous paintings
It's assumed that Caravaggio painted this work around 1596, but every year between 1596 and 1601 has been suggested as a possible date.
One of the most probable theories is that the work was produced around 1601. That's for the simple fact that he included a very similar basket into the first version of "Supper at Emmaus," a painting in the National Gallery in London that was completed that year.
The fruit in the basket of this painting looks similarly unappealing and also balances on the edge of the table, almost falling out of the painting. This was a trick used by Caravaggio to invite viewers into the painting.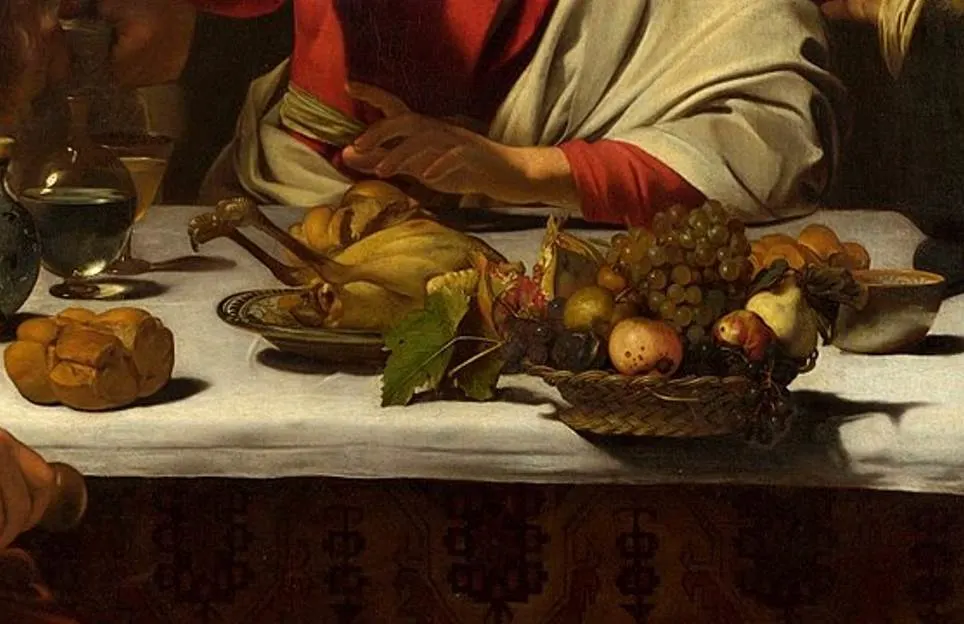 4. Caravaggio didn't look down upon painting fruit as others
Painting fruit wasn't something that most artists focused on in the late 16th and early 17th centuries. That's putting it euphemistically because it was regarded as too ordinary for most painters at the time.
Caravaggio had another opinion on the matter, something emphasized by the fact that he included many still lifes into his works during his early period in Rome, including the now world-famous Supper at Emmaus.
He once commented on the matter saying:
It takes as much workmanship to do a good picture of flowers as it does to do one of human figures.
5. It might be a metaphor for the state of society in this period in history
The main question we can ask when looking at Basket of Fruit by Caravaggio is why did he depict the fruit in such a deteriorated condition?
Just about every piece of fruit appears to be worm-eaten or devoured by some nasty insect. Granted, Caravaggio wasn't the most predictable of fellows but this is still a question that art historians ponder on today.
A credible explanation would be the perceived crumbling of society and culture in the late 16th century. This was a period in history in which the Catholic church received a serious blow with the Protestant Reformation.
These events split the Western Christian Church into the Protestant and Roman Catholic Churches that we know today.
The notion of this painting serving as a metaphor for these events is credible because the painting was owned by the Archbishop of Milan Federico Borromeo (1564-1631) in 1607. He was the cousin of Saint Charles Borromeo (1538-1584), a major figure in the Catholic Counter-Reformation.
Federico spent time in Rome between 1597 and 1602 and was a guest of Cardinal Francesco Maria Del Monte in 1599, the main patron of Caravaggio during the early phase of his career.
6. It's only one of two independent still lifes that he produced
Despite the high value that the artist put on Still life, he mainly used it as a supplement to the main subject of various paintings. These mostly included portraits, such as "Boy Bitten by a Lizard" and "Bacchus," but also monumental works of art such as Supper at Emmaus.
Basket of Fruit is one of just two independent still lifes produced by the artist. The other one is called "Still Life with Fruit" and was produced sometime during the first decade of the 17th century.
This work is privately owned and has dimensions of 87.2 × 135.4 centimeters (34.3 × 53.3 inches). It's considered to be the epitome of still life in Rome, especially because this genre was not popular at the time.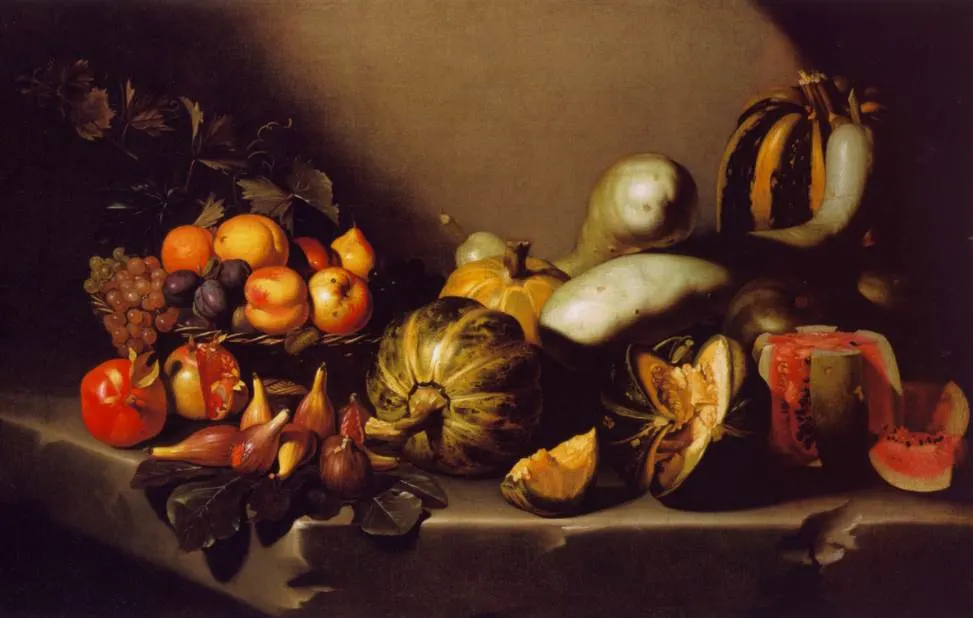 7. How big is Basket of Fruit by Caravaggio?
The second still life that is credited to the artist is much larger than the first independent still life that he produced. It has dimensions of 46 × 64.5 centimeters (18 × 25.4 inches).
8. Where is the painting located today?
Federico Borromeo was a great patron of the arts and became Archbishop of Milan in 1595. During his stay in Rome, he not only became interested in the world of the young artist Caravaggio but also those of Jan Brueghel the Elder, a renowned Flemish artist who was in Rome at the time.
He brought Basket of Fruit back to Milan as it was in his collection in 1607, and it never left the city since.
Today, the painting can be admired at a historic building in Milan called the Biblioteca Ambrosiana. This historic library was founded by Federico Borromeo and houses the Pinacoteca Ambrosiana, the library's art gallery.
The other masterpiece in the museum's collection is "Portrait of a Musician," the only male portrait painted by Leonardo da Vinci.