This fantastic painting by one of the leading Romantic artists of his generation has a remarkable backstory.
John Constable (1776-1837) was an English painter who produced his most famous paintings in Suffolk, and more specifically, the area known as Dedham Vale.
It was only later in his career that he traveled more frequently and produced much larger paintings, including this work depicting a famous Gothic Cathedral.
In this article, you'll discover some of the most interesting facts about Salisbury Cathedral from the Meadows by John Constable, an intriguing work of art for several reasons.
1. It was completed during a hard time in the artist's life in the early 1830s
John Constable was a landscape painter who revived this genre during a period when this type of painting wasn't held in very high regard.
The downside for him was that it didn't bring in large amounts of money as portraits did, regardless of the fact that his works were displayed at the Royal Academy.
He continued to produce landscapes his entire career and the place he depicted most, Dedham Vale, is now known as "Constable Country."
He got married to his childhood love Maria Elizabeth Bicknell in 1816 and started experimenting with larges canvases referred to as "Six-Footers."
Unfortunately, tragedy struck in 1828 when his wife Maria died of tuberculosis. He completed Salisbury Cathedral from the Meadows just 3 years later in 1831.
2. It depicts a stunning Gothic cathedral in South West England
---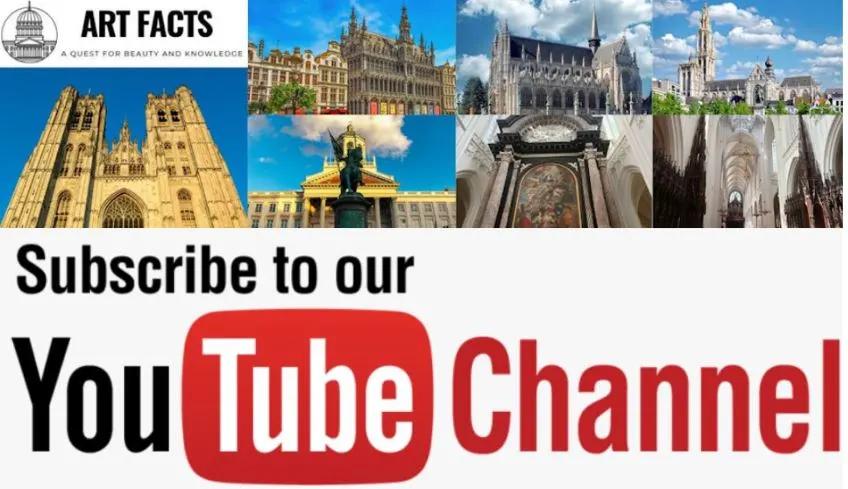 ---
As the name of the painting suggests, it depicts Salisbury Cathedral, the main church in the town of the same name in Wiltshire, South West England.
This amazing structure was constructed between 1220 and 1320 and is considered to be one of the best examples of Early English Gothic architecture.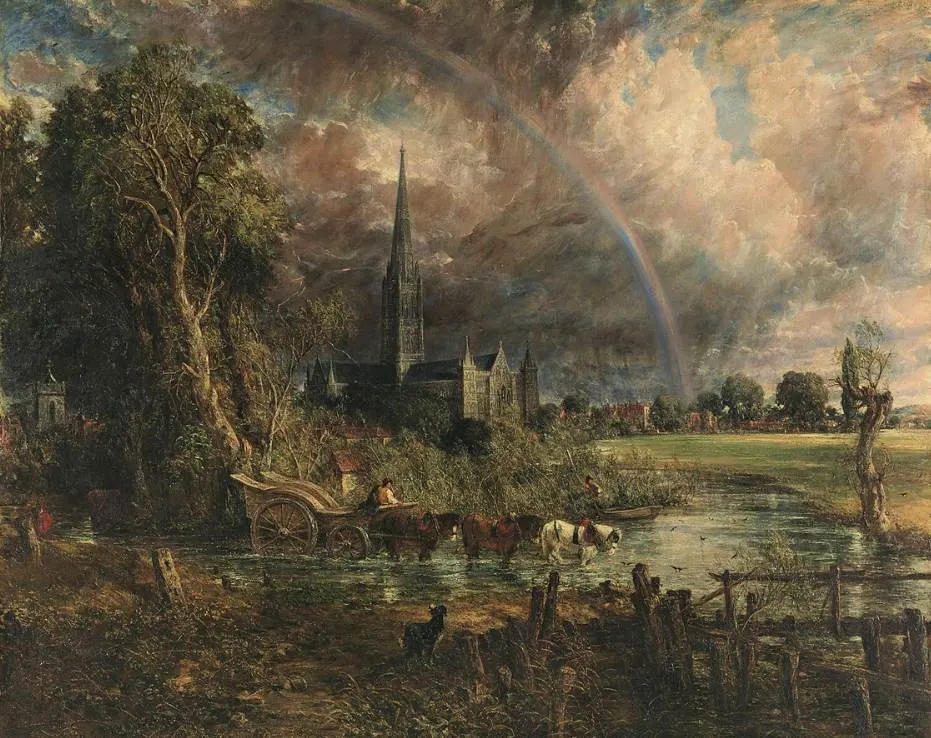 The view of the cathedral is from the northwest, looking across the River Nadder and not too far from a footbridge referred to as "Long Bridge."
Like in most of his works, Constable's nostalgia for a simple life is emphasized by the three horses that are pulling a carriage across the river.
The years following his wife's death were hard for John Constable. They had spent 4 years in Brighton with the hopes that the sea breeze would be beneficial but it didn't help.
It reflected in his art because he started to include turbulent skies instead of idyllic ones. His style shifted from tranquil landscapes to compositions full of turmoil.
This painting featured a cloudy sky in Salisbury Cathedral from the Meadows and also included several symbols that related to his wife's passing:
A grave marker – A direct reference to his deceased wife.
An Ash tree – The symbol of life.
The Cathedral – A symbol of faith and resurrection.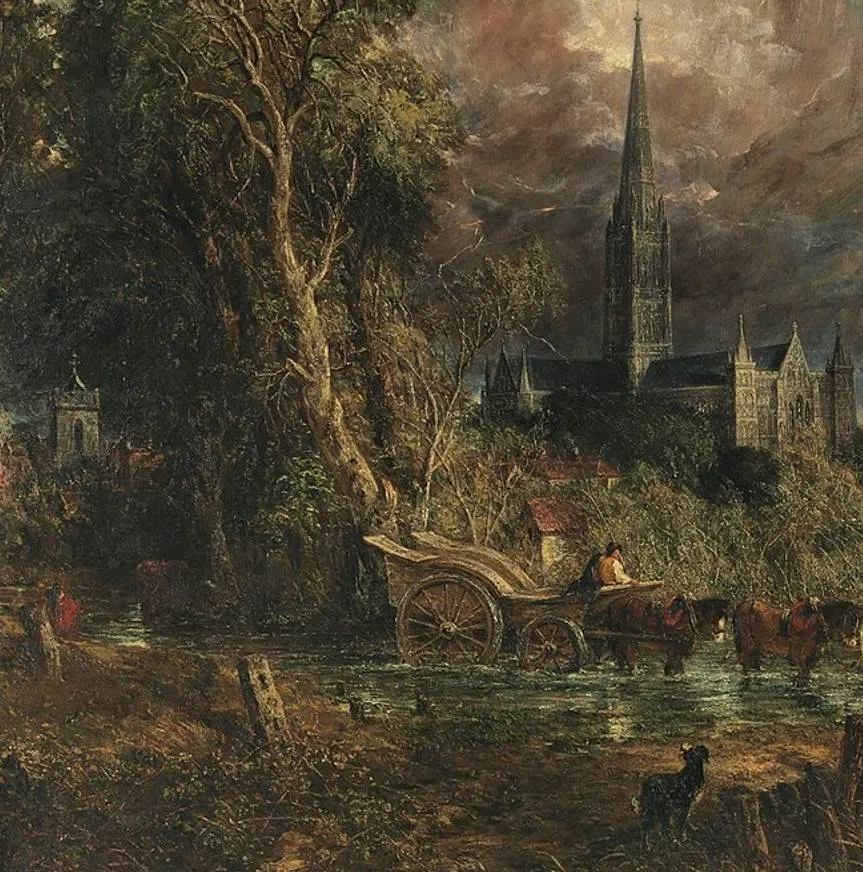 4. Constable still made an important addition 3 years after it was completed
The painting was first displayed at the Royal Academy's annual exhibition in 1831. He did, however, made some small changes to the canvas a couple of years later in 1833 and 1834.
He added 9 lines from a poem titled "The Seasons" by Scottish author James Thomson (1700-1748). This poem cycle was published between 1726 and 1730.
Just like in Constable's own life, the main character in this work, Celadon, suffers a devastating loss when his young lover Amelia dies in his arms.
This emphasizes the notion that Constable was still trying to cope with his loss. The rainbow in the painting is a sign of hope for the future.
5. It wasn't Constable's first painting depicting Salisbury Cathedral
One of the main reasons why John Constable was so fond of Salisbury is because he was a close friend of the Bishop of Salisbury, John Fisher.
Fisher commissioned a painting from Constable in the early 1820s and the main version "Salisbury Cathedral from the Bishop's Grounds" (1823) is part of the collection of the Victoria and Albert Museum in London.
There are two more versions of this work, one at the São Paulo Museum of Art (1821-1822) and another at the Frick Collection (1825) in New York City.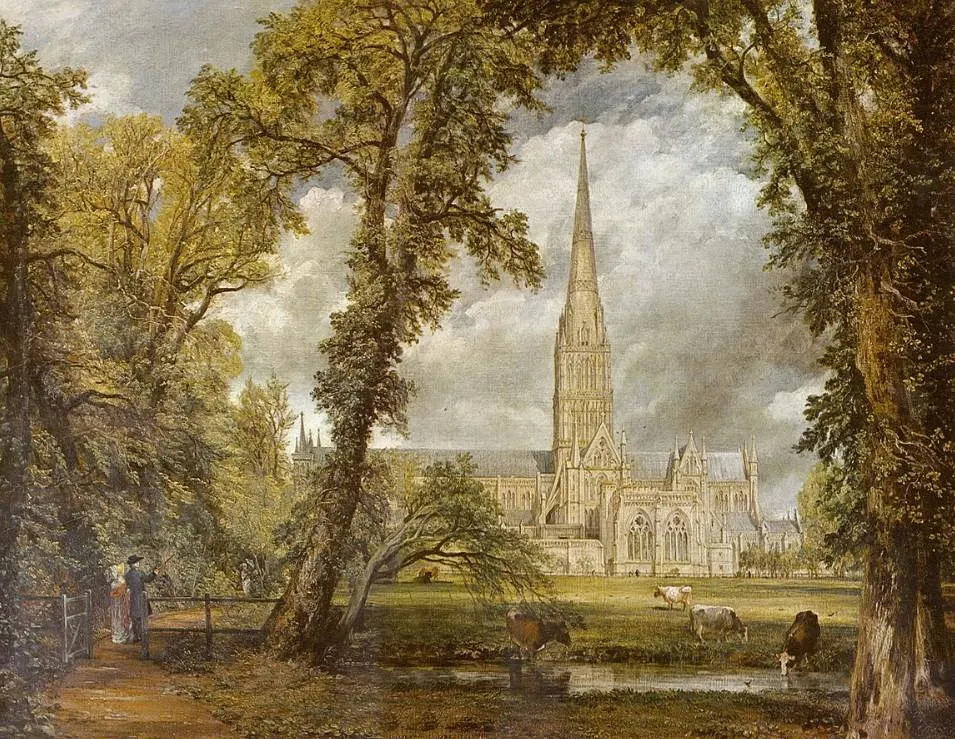 6. There's a remarkable backstory about its first Royal Exhibition in 1831
John Constable stuck to landscape painting for the duration of his career, and that's one of the main reasons why he only became a member of the Royal Academy in London at the age of 52.
A remarkable story is related to his clash with J.M.W. Turner (1775-1851), the eccentric Romantic artist who didn't shy away from making his opinion heard.
Constable was in charge of putting the paintings in place for the Royal Exhibition of 1831. He hung Turner's painting titled "Caligula's Palace and Bridge" (1831) in a rather obscure location.
This wasn't to the liking of the outspoken artist and a confrontation ensued during a dinner attended by both painters later that night.
Perhaps Turner was a bit jealous of the quality of Constable's work?
The irony of this story is that both paintings hang side by side today in their current location.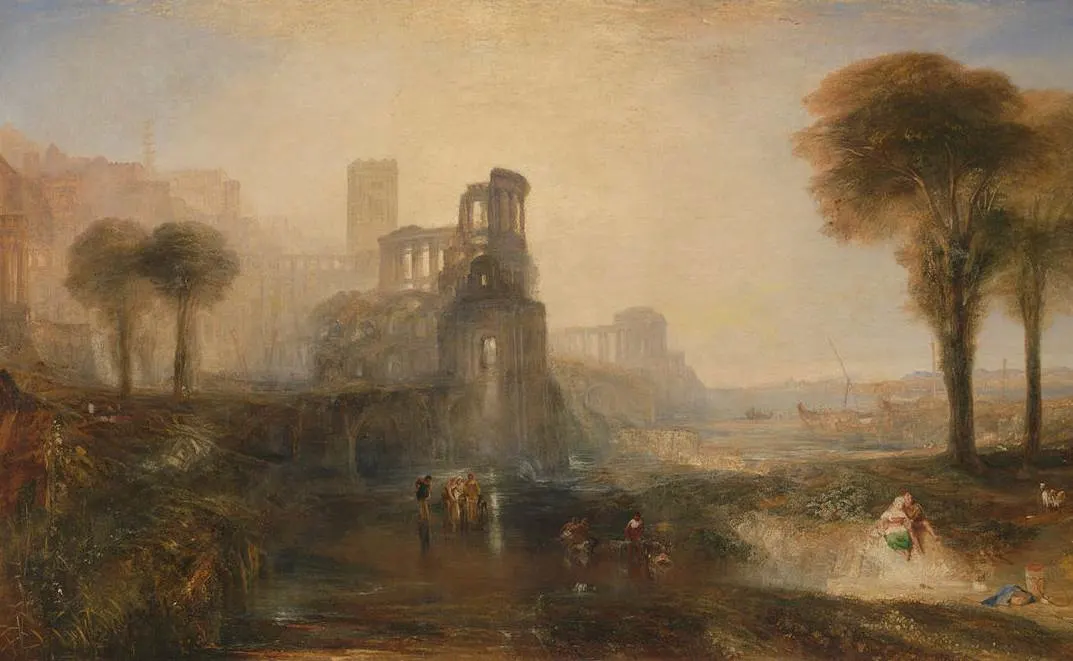 7. How big is Salisbury Cathedral from the Meadows by John Constable?
This painting is substantially larger than most of Constable's works from the early phase of his career. He already experimented with even larger paintings starting in 1819.
Salisbury Cathedral from the Meadows by John Constable is an oil on canvas painting that has dimensions of 153.7 × 97 centimeters (60.5 × 38 inches).
8. Where is the painting located today?
This painting is considered to be one of John Constable's ultimate masterpieces, and this is reflected by the fact that it was purchased for £23,100,000 in 2013.
It had been on display at the National Gallery in London for 30 years but its owner presumably had plans to sell it abroad.
With the help of the Heritage Lottery Fund, the Art Fund, The Manton Foundation, and Tate Members, the painting was acquired by a partnership named "Aspire."
Apart from Tate, these were the 4 museums involved in this deal:
National Museum Wales
National Galleries of Scotland
Colchester and Ipswich Museums Service
Salisbury and South Wiltshire Museum
Today, you can admire Salisbury Cathedral from the Meadows in London because it's part of the collection of Tate Britain.